MTB index page for all MTB content
MTB World Cup XC #4 & DH #3 - CDM
Mont Sainte Anne, Quebec, Canada, June 22-24, 2007
Main Page Results Previous Race Next Race
Race 3 - June 23: Elite Men Cross Country
Absalon takes French Canadian win
By Mike Badyk and Rob Jones
Julien Absalon (Orbea)
Photo ©: Frank Bodenmuller / PhotoSport International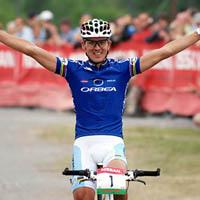 Julien Absalon (Orbea) continued his stellar season with his third consecutive World Cup XC win of the season. This one was hard fought, with Jose Hermida (Multivan Merida) giving Absalon a true battle throughout the race. Much to the pleasure of the Canadian fans gathered at Mont-Sainte-Anne, Geoff Kabush (Maxxis) rode hard and smart to claim third place.
For the first non-European World Cup of the season, only 101 competitors were on the line. Compared to the opener in Houffalize, Belgium where over 200 started, this was a much more manageable field. The riders managed to stay together through the one and a half start loops, but the fireworks commenced as soon as the riders reached the first climb. Immediately the pack was shredded with a select group including Absalon, Hermida and Roel Paulissen (Cannondale-Vredestein) leading the charge.
The leaders were well established by the end of the first of seven laps. Hermida and Nino Schurter (Swisspower) had built a 15 second lead over Paulissen and Absalon. A further five seconds back from them was a chase group of Christoph Sauser (Specialized), Ralph Naef (Multivan Merida), and Cedric Ravanel (Lapierre). Kabush was riding hard and had already moved up to 11th. Seamus McGrath (Rocky Mountain Haywood) had also moved up well through the pack and was sitting in 13th.
Hermida attacked on the climb during the second lap and built a small lead by the end of the lap. Schurter and Absalon were 10 seconds back, and Kabush continued to move up the field, now holding seventh place.
An aggressive Hermida was holding nothing back and still looking strong after three laps, extending his lead over Absalon, who had dropped Schurter, to 15 seconds. A further 30 seconds back Fredrik Kessiakoff (Cannondale-Vredestein) and Paulissen in fourth and fifth place respectively while local hope Kabush remained in seventh.
Hermida maintained his lead over Absalon as Paulissen and Schurter fell back to 55 seconds, with Kessiakoff 1.05 back followed closely by the charging Kabush and Sauser at 1.08. However Hermida was beginning to show some signs of fatigue and by the end of the fifth lap, Absalon was only eight seconds behind the early leader.
As Hermida drew closer on the sixth lap Absalon made his move at the bottom of the zig-zag climb. Absalon caught Hermida and immediately attacked, breaking ahead of the rider despite Hermida's exhausted attempts to counter attack. By the top of the climb Absalon was already 10 seconds up and never looked back. At the same time Kabush was continuing to reel in riders, moving up to third place after posting the fastest times of the field on both the fourth and fifth laps.
Meanwhile, Paulissen had a flat on the rocky descent, and had to run a long way to get to the tech support zone. "I felt good," said Paulissen. "I felt strong and it happened at the worst possible moment. It was on the rocky descent so I had to run a long way. I think today I had the legs to be on the podium."
By the end of the sixth lap Absalon was sitting comfortably 15 seconds up on Hermida, with Kabush alone in third, one minute down. There was little change on the final lap as Absalon cruised home for the win, 23 seconds up on Hermida. Kabush faded in the final lap but had built enough of a gap to finish third, 30 seconds up on Sauser while Schurter took fifth, a further 48 seconds behind Sauser.
"It was a hard race," confessed Absalon. "I pushed a lot. The only reason I attacked was that I saw that Jose was showing some signs of fatigue. When I went by I took a look at him and decided to attack. Fortunately, he wasn't able to catch me. I wasn't sure that the gap would last because I was having a difficult time staying with him earlier in the race. I'm very happy to win here. This has always been one of my favourite courses."
Despite ultimately loosing out to Absalon, Hermida was pleased with his second place and commended his French rival on a brilliant ride. "Absalon is the guy right now," admitted the Spaniard. "You maybe only find a rider like him every 10 years. I felt pretty good. I'm happy and I gave my best. To finish so well on one of the most beautiful courses in the World is great. Even though I got second I'm proud to lose against a guy like Julian. I'm pretty happy. This is my best finish here. I hope one day to win here on one of my favourite courses."
Despite looking tired and suffering from a sore back after the race Kabush was delighted with his podium finish on home turf. "I felt fabulous today but unfortunately they got a gap on the first lap," noted the Canadian. "I just rode my own pace and worked my way up to that little chase group and then on the fifth lap opened a gap on the others. I thought I had a chance to close in on second with two to go but they put the gas down. I'm just happy to be able to hold on for third. I'm really happy with my ride here and I'm really looking forward to St. Felicien next week."
Photography
For a thumbnail gallery of these images, click here
Images by Frank Bodenmuller / PhotoSport International www.mtbsector.com
Images by Rob Jones/www.canadiancyclist.com
Results
1 Julien Absalon (Fra) Orbea                                 1.54.49
2 José Antonio Hermida Ramos (Esp) Multivan Merida Biking Te    0.23
3 Geoff Kabush (Can) Maxxis                                     1.26
4 Christoph Sauser (Sui) Specialized                            1.56
5 Nino Schurter (Sui) Swisspower Mtb Team                       2.44
6 Fredrik Kessiakoff (Swe) Cannondale-Vredestein                2.53
7 Roel Paulissen (Bel) Cannondale-Vredestein                    4.44
8 Kashi Leuchs (NZl) Cannondale-Vredestein                      5.36
9 Florian Vogel (Sui) Swisspower Mtb Team                       5.43
10 Jakob Fuglsang (Den) Cannondale-Vredestein                   5.56
11 Cédric Ravanel (Fra) Team Lapierre Internation               6.29
12 Wolfram Kurschat (Ger)                                       7.08
13 Filip Meirhaeghe (Bel) Versluys-Landbouwkrediet              7.35
14 Seamus Mcgrath (Can) Rocky Mountain Haywood                  7.41
15 Inaki Lejarreta Errasti (Esp) Orbea                          7.47
16 Manuel Fumic (Ger) Fumic.Brothers.Internatio                 8.10
17 Ruben Ruzafa Cueto (Esp) Orbea                                   
18 Milan Spesny (Cze) Merida Biking Team                        8.23
19 Lado Fumic (Ger) Fumic.Brothers.Internatio                   8.28
20 Max Plaxton (Can) Rocky Mountain Haywood                     8.36
21 Stefan Sahm (Ger) Team Bulls                                 8.43
22 Adam Craig (USA) Giant Mountain Bike Team                    8.57
23 Jeremy Horgan-Kobelski (USA) Subaru-Gary Fisher              9.22
24 Todd Wells (USA) Gt                                          9.33
25 Burry Stander (RSA) Gt                                       9.35
26 Ricky Federau (Can)                                          9.36
27 Emil Lindgren (Swe) Gewiss Bianchi                           9.49
28 Michael Weiss (Aut) Bikin'cyprus Int'l Mtb Te               10.26
29 Jader Zoli (Ita) Asd Ktm International Tea                  10.56
30 Bas Peters (Ned)                                            11.13
31 Ricardo Pscheidt (Bra)                                      11.34
32 Ralph Näf (Sui) Multivan Merida Biking Te                   11.52
33 Jelmer Pietersma (Ned)                                      12.00
34 Christoph Soukup (Aut)                                      12.01
35 Marti Gispert Labarta (Esp) Spiuk-Tau Ceramica              12.10
36 Torsten Marx (Ger) Team Alb-Gold Mountainbik                12.16
37 Mathieu Toulouse (Can) Maxxis                               12.27
38 Carlos Coloma Nicolas (Esp) Spiuk-Tau Ceramica                   
39 Valeriano Rubens Donizeti (Bra)                                  
40 Jochen Kass (Ger) Team Alb-Gold Mountainbik                 12.48
41 Marco Aurelio Fontana (Ita)                                 12.54
42 Alexandre Moos (Sui) Bmc Racing                             13.04
43 Sergiy Rysenko (Ukr)                                        13.10
44 Hannes Metzler (Aut)                                        13.13
45 Christof Bischof (Sui) Bikin'cyprus Int'l Mtb Te            13.20
46 Jan Skarnitzl (Cze)                                         13.44
47 Andrew Watson (Can)                                         13.58
48 Nicolas Filippi (Fra) Scott Valloire Galibier               14.14
49 Moritz Milatz (Ger) Multivan Merida Biking Te               14.20
50 Derek Zandstra (Can)                                        14.25
51 Neal Kindree (Can) Kona Les Gets                            14.30
52 Michael Broderick (USA)                                     14.36
53 Jeff Hall (USA)                                             14.44
54 Karl Platt (Ger) Team Bulls                                 15.44
One lap down
55 Jiri Friedl (Cze) Merida Biking Team                             
56 Miha Solar (Slo)                                                 
57 Oleksandr Yakymenko (Ukr)                                        
58 Olivier Maignan (Fra) Bh-Sr. Suntour                             
59 Benoit Simard (Can)                                              
60 Klaus Nielsen (Den) Team Alb-Gold Mountainbik                    
61 Filip Eberl (Cze)                                                
62 Raphael Gagne (Can) Rocky Mountain Haywood                       
63 Tim Heemskerk (Ned)                                              
64 Carl Decker (USA) Giant Mountain Bike Team                       
65 Edivando Cruz (Bra)                                              
Two laps down
66 Samuel Schultz (USA) Subaru-Gary Fisher                          
67 Sam Jurekovic (USA)                                              
68 Nicolas Bazin (Fra) Bh-Sr. Suntour                               
69 Giuseppe Lamastra (Ita)                                          
70 Pierre Lebreton (Fra) Bh-Sr. Suntour                             
71 Lee Williams (Gbr)                                               
72 Frederic Bussieres (Can)                                         
73 Matthew Hadley (Can) Rocky Mountain Haywood                      
74 Stuart Houltham (NZl)                                            
75 Kenji Takeya (Jpn)                                               
76 Eric Drower (NZl)                                                
77 Cristobal Silva (Chi)                                            
78 Colin Cares (USA)                                                
79 Martin Lazarski (Can) Rocky Mountain Haywood                     
80 Spencer Paxson (USA)                                             
81 Adam Snyder (USA)                                                
82 Andreas Kugler (Sui) Fischer-Bmc                                 
83 Christian Favata (USA)                                           
Three laps down
84 Kris Sneddon (Can) Kona Les Gets                                 
85 Troy Wells (USA)                                                 
Four laps down
86 Roddi Lega (Can)                                                 
87 Justin Price (NZl)                                               
88 Sid Taberlay (Aus) Dolphin Bike Team                             
89 Chris Jongewaard (Aus) Dolphin Bike Team                         
90 Dror Pekatch (Isr) Subaru-Gary Fisher                            
91 Andrew Freye (USA)                                               
DNF Jean-Christophe Peraud (Fra) Orbea                              
DNF Rudi Van Houts (Ned) Dolphin Bike Team                          
DNF Balz Weber (Sui) Bikepark.Ch Tui                                
DNF Clinton Robert Avery (NZl)                                      
DNF Mike Garrigan (Can)                                             
DNF Simon Richardson (Gbr)                                          
DNS Stefan Widmer (Can)                                             
DNS Bart Brentjens (Ned) Dolphin Bike Team                          
DNS Jeremiah Bishop (USA) Trek-Vw                                   
 Peter Riis Andersen (Den) Team Alb-Gold Mountainbik