MTB index page for all MTB content
MTB World Cup XC #5 - CDM
St FÚlicien, Quebec, Canada, July 1, 2007
Race 1 - July 1: Elite Women Cross Country, 33.6km
Kalentyeva sures up World Cup hopes
By Rob Jones
Irina Kalentyeva wins
Photo ©: Rob Jones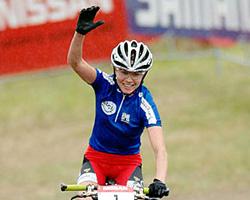 Irina Kalentyeva (Ergon-Topeak) took her third win in the cross-country World Cup on Sunday at round five in St-Felicien, Quebec, and has all but assured herself of overall series victory with one race remaining. Kalentyeva has 1014 points to second placed Marie-Helene Premont's 840.
Offering a mix of steep climbs and technical sections, the course required a rider to be totally focused, very fit and a superb bike handler. The women did one start loop and five laps of the 6.4 kilometre circuit. The start loop proved to be surprisingly difficult, opening with a very steep climb that immediately blew apart the field. A poor ride here left little chance to move up later.
The women's race for the top spot was down to two riders by the end of the first lap - Kalentyeva and Premont. Premont was the one pushing the pace for the first two laps - indeed, she set the fastest lap of the race in lap two - but Kalentyeva was biding her time, and moved to the front on the third lap. After that, she steadily pulled away - despite an enormous cheering section for Canadian Premont - to win by a minute even.
"I realized that when I got to the front with Marie-Helene, that she was not so good on this course," noted Kalentyeva. "I went as hard as I could, and I got a gap, so I went even faster! But she was close, so it was only on the last lap that I began to feel safe."
Marie-Helene Premont (Rocky Mountain Haywood)
Photo ©: Rob Jones

Premont agreed that she was not riding with her usual verve. "I was making many little mistakes in the descents - she was just so fast there," said Premont. "So I tried to go faster, to make up time and I just made more mistakes. It is disappointing not to have a win here in Quebec, but she was just stronger today. I tried several times to build a lead but she kept pressuring me. It's always difficult to ride when someone is right on your wheel. We were even until the fourth lap but she made a push and I couldn't keep up. That's when the gap widened."
Premont's determination and the loud crowd support kept her on the podium. "I gave everything I had," she said. "It's a long and difficult race but the crowd was behind me. It's a great event for Quebec."
Behind, a real battle was developing for the remaining podium spots. Willow Koerber (Subaru-Gary Fisher), Georgia Gould (Luna), Sabine Spitz (Ghost) and Ren Chengyuan (China) gradually coalesced into a chase group by lap three, but were nearly two minutes down on the leaders. Ren was dropped on the fourth lap and, despite multiple attacks by the two Americans Koerber and Gould, Spitz proved to be the stronger and rode clear on the final lap to take third, followed by the pair.
The women's top five
Photo ©: Rob Jones

"I had a flat at the beginning of the second lap," explained Koerber, "and I had to ride to the tech zone for six or seven minutes. After that, I had to ride as hard as I could just to get back up. I'm so happy to have made it back, because sometimes you never get back after a flat. But we had a battle going there. Georgia and I were doing mini attacks, but we couldn't get clear of Sabine. Then she got a little gap on the climbing in the start of the last lap, and that was it."
Following this chase group, Canada's newest mountain bike sensation, Catharine Pendrel (Norco), had worked her way up to seventh, and was close to challenging Ren for sixth on lap four when disaster struck: her left pedal fell off, the threads in the crank arm stripped. Pendrel had dropped to the 30s before she got rolling again, and finished a disappointing 30th. However, she served notice that she is now a legitimate podium threat for the world championships.
"It was very disappointing" said a tearful Pendrel immediately after the race. "I was feeling so good. I lost a bit on the start loop, but after that I was riding everything well and moving up. It happened on the fourth lap, the pedal just came off; I tried to screw it back on a few times, but it was totally stripped. I know I was there, and the podium was a possibility".
Photography
For a thumbnail gallery of these images, click here
Images by Rob Jones/www.canadiancyclist.com
Images by Frank BodenmŘller/Photosport International
Results - 33.6 km
1 Irina Kalentyeva (Rus) Topeak-Ergon                    2.02.02
2 Marie-Helene Premont (Can) Rocky Mountain Haywood         1.00
3 Sabine Spitz (Ger) Ghost International Racing             3.15
4 Willow Koerber (USA) Subaru-Gary Fisher                   3.24
5 Georgia Gould (USA) Luna Womens MTB Team                  3.33
6 Ren Chengyuan (Chn) Chinese National                      4.42
7 Katerina Nash (Cze) Luna Womens MTB Team                  5.49
8 Lene Byberg (Nor) Specialized                             6.15
9 Mary McConneloug (USA) Kenda Seven                        6.45
10 CÚcile Rode Ravanel (Fra) Team Lapierre International    7.19
11 Petra Henzi (Sui) Fischer-BMC                            7.55
12 Ivonne Kraft (Ger) La Carrera-BTS                        8.09
13 Jingjing Wang (Chn) Chinese National                     8.12
14 Laura Turpijn (Ned)                                      8.20
15 Blaza Klemencic (Slo) Pintatim Full-Dynamix              8.41
16 Nina G÷hl (Ger) Multivan Merida Biking Team              8.42
17 Tereza Hurikova (Cze) Ceska Sporitelna MTB               9.11
18 Laurence Leboucher (Fra)                                 9.15
19 Anna Enocsson (Swe) Ghost International Racing           9.21
20 Heather Irmiger (USA) Subaru-Gary Fisher                 9.29
21 Sandra Walter (Can) XO Felt                             10.01
22 Kiara Bisaro (Can) Opus                                 10.29
23 Magdalena Sadlecka (Pol) Halls Professional MTB Team    10.42
24 Nina Homovec (Slo)                                      10.57
25 Anna Szafraniec (Pol) Halls Professional MTB Team       11.13
26 Mical Dyck (Can) Terrascape Trek                        11.35
27 Susan Haywood (USA) Trek-VW                             12.32
28 Sabrina Enaux (Fra) Team Lapierre International         13.34
29 Wendy Simms (Can) Kona Les Gets                         13.52
30 Catherine Pendrel (Can) Norco                           14.15
31 Lea Davison (USA) Trek-VW                               14.42
32 Laura Lorenza Morfin (Mex)                              15.25
33 Bernardine Boog-Rauwerda (Ned)                          15.48
34 Tanja Zakelj (Slo)                                      15.59
35 Amanda Sin (Can) 3Rox Racing                            16.28
36 Helene Marcouyre (Fra)                                  17.06
37 SÚverine Hansen (Fra) Bh-Sr. Suntour                    17.09
38 Maroussia Rusca (Sui)                                   17.21
39 Jaqueline Mourao (Bra) Scott/RedBull/Exceed             17.27
40 Dellys Starr (Aus)                                      18.14
41 Emily Batty (Can) Team R.A.C.E.                         18.49
42 Rie Katayama (Jpn)                                      19.03
43 Yolanda Speedy (RSA)                                    19.31
44 Nataliya Krompets (Ukr)                                 20.10
45 Tory Thomas (Aus)                                       20.21
46 Liliya Zaytseva (Ukr)                                   20.25
47 Jennifer Smith (NZl)                                    20.43
48 Patricia Sinclair (Can) Scott                           20.54
49 Sarah Koba (Sui)                                        21.39
50 Jean Ann McKirdy (Can) Rocky Mountain Haywood           22.57
One lap down
51 Kathy Sherwin (USA)                                          
52 Sandra Dolcerocca (Den)                                      
53 Julie Sanders (Can) Marin Bikes                              
54 Kathleen Villeneuve (Can) Equipe du Quebec                   
55 Ksenia Chernykh (Rus)                                        
56 Erika Gramiselli (Bra)                                       
57 Catherine Vipond (Can) Team Trek Store                       
58 Chloe Forsman (USA) Luna Womens MTB Team                     
59 Amy-Jane Mundy (RSA)                                         
60 Caroline Villeneuve (Can)                                    
61 Karine Travaillaud (Can) CVM Val-David                       
62 Sara Bresnick (USA)                                          
63 Joanna Wall (Aus)                                            
64 Marie Kunst (Den)                                            
65 Zoe King (Aus)                                               
66 Sabra Davison (USA)                                          
Two laps down
67 Inbar Ronen (Isr)                                            
68 Rosemary Barnes (Aus)                                        
DNF Renata Bucher (Sui)                                         
DNF Katrin Leumann (Sui)                                        
DNF Tarja Owens (Irl)                                           
DSQ Ying Liu (Chn) Chinese National