Recently on Cyclingnews.com
MTB index page for all MTB content
Australian MTB Series - NE
Thredbo, NSW, Australia, December 15-16, 2007
Race 1 - December 15: Four cross
Buchanan wins two awards and one race in one night
By Sharon Payne
Caroline Buchanan on her way
Photo ©: Evan Jeffery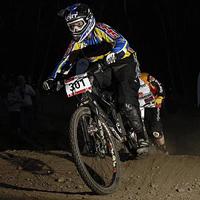 Canberra's Caroline Buchanan capped off a successful evening during which she won cycling awards in both mountain biking and BMX. The 17 year-old National Four Cross Champion was unable to attend the Cycling Australia Awards held in Adelaide previous night as she preferred to race the National Series Four Cross event in Thredbo.
Buchanan won the elite women's race beating World Championship silver downhill medallist Tracey Hannah from Cairns after a close contest in the preliminary heats. Buchanan now leads the national series with third place Sarsha Huntington (Brisbane) retaining her second place overall.
Buchanan and Hannah were close in the heats but according to bystanders Buchanan raised the bar in the final. "I think I just got adrenaline in the final," explained Buchanan. "I tried a different line in the first corner and it worked. I had a good start as well."
"I knew if I got around the first corner I could hold it from there,"she said.. With only two rounds remaining in the national series Buchanan is favourite to take out the series title for a second year in a row.
Leigh Darrell, made it a Canberra double when he won the elite men's class securing a firm hold on the series lead. Darrell did not let his guard down and won every race throughout the night. He rode the first off camber sweeper to perfection and got the edge over his opponents.
Second was Thomas Hubert (Merewether) and third went to Queenslander Adam Nicholson. Tim Dunn (Warrimoo) had the best gate starts all night and placed fourth in the final.
Shaun O'Connor was the top U19 man while U17 rider Ben Clark won against a top field. Adelaide's Connor Fearon won the Under 15 class.
Photography
For a thumbnail gallery of these images, click here
Images by Evan Jeffery/www.evanjeffery.com.au
Results

Elite Men
 
1 Leigh Darrell                                                                                         
2 Thomas Hubert (Elite cycle imports, freak industries, FUNN)                                           
3 Adam Nicholson                                                                                        
4 Tim Dunn (Lifecycles - Penrith)                                                                       
5 Jarah Breese (39) (SWIFT STRENGTH AND CONDITIONING, SCOTT GOGGLES, STREAMLINE CYCLES)                 
6 Thomas Twentyman                                                                                      
7 James Maltman                                                                                         
8 Alex Lloyd                                                                                            
9 Ricky Boyer                                                                                           
10 Terry Scarr                                                                                          
11 Randal Huntington (For The Riders.com , Norco , Sram , Trivativ)                                     
12 James Collins (Trek Australia, Bontrager)                                                            
13 Shane Wode                                                                                           
13 Cody Eichhorn (Spy Optic, EVS, Spearman Cycles)                                                      
15 Nathan Rennie                                                                                        
16 Joshua Button (Mongoose-fox,lotek,maxxis,crankbrothers,sram,rockshox,adidas)                         
 Michael Young (UMF Bikes, Answer, Utopia Optics)                                                       
 Ashley Gray                                                                                            
 Adam Smithson                                                                                          
 Cameron Allonby (ForTheRiders.com)                                                                     
 Dennis Beare (Unit, Specialized)                                                                       
 Daniel Castillo                                                                                        
 Chris Herron                                                                                           
 Mitchell Scarr                                                                                         
 Gavin Turner                                                                                           
DNS Ricky Lee (Raw NRG)                                                                                 
DNS Luke Madill                                                                                         
DNS Amiel Cavalier                                                                                      
DNS Barton Moore                                                                                        
 
Open Women
 
1 Caroline Buchanan (KHS Bicycles, Unit Clothing , Crank Bros, Bike Shed CBR, RawNRG)                   
2 Tracey Hannah (Raw NRG)                                                                               
3 Sarsha Huntington (For The Riders.com , Norco)                                                        
4 Emma Tatum (U19)                                                                                      
 Danielle Beecroft (U19)                                                                                
 
U19 Men
 
1 Shaun O'connor (614)                                                                                  
2 Matt Walker (Sombrio/Drift bike style newcastle)                                                      
3 Ryan Hunt (Utopia optics, Camden cycles)                                                              
4 Rhys Willemse (Intense Tyre System, Santa Cruz Bikes, Cropthorn Clothing, FTR, Funn, The Products)    
5 Jock Farrington                                                                                       
6 Oscar Lapstun                                                                                         
7 Mitch Forbes                                                                                          
8 Hugh Balcom                                                                                           
 James Horton                                                                                           
 Ben Wilson                                                                                             
DNS Raffi Moss (Raw NRG, Castech Sports Timing)                                                         
DNS John Stewart                                                                                        
 
Veteran Men
 
1 Stephen Robinson                                                                                      
2 Kym Boxall (C.R.I.M.E)                                                                                
3 Mic Longhurst (Percentage Bikes)                                                                      
4 Albert Bacci                                                                                          
 Ed Breen (Mad Dog)                                                                                     
 Steven Humphreys                                                                                       
 
U17 Men
 
1 Benjamin Clarke (Blackmans Cycles GT Cycles)                                                          
2 Graeme Mudd                                                                                           
3 Blake Nielsen ( COVE BIKES SOUTHSHORE DIST LIFECYCLES)                                                
4 Ryan Henderson (MCS BYCICLES)                                                                         
5 Samuel Jones ("Spearman Cycles "Spearman Cycles Mum and Dad")                                         
6 Mum and Dad"                                                                                          
7 James Shepherd (CRIME Cycles)                                                                         
8 Liam Melville (Turramurra Cyclery)                                                                    
9 Benjamin Leslie (Sombrio)                                                                             
10 James Green                                                                                          
11 Brendon Jones                                                                                        
12 Matthew Mullins ("Endeavor Cycles)                                                                   
13 M&D                                                                                                  
 Max Lobigs                                                                                             
 Beaver Tim (Raw NRG)                                                                                   
 Nicholas Luxford                                                                                       
 Michael Dargan (Raw NRG)                                                                               
DNS Keiran Sullivan                                                                                     
DNS Brock Harrison                                                                                      
DNS David Manton (Mum and Dad)                                                                          
 
U15 Men
 
1 Connor Fearon                                                                                         
2 Bowen Muncaster                                                                                       
3 Max Hughes                                                                                            
4 Jordan Butler                                                                                         
5 Angus Easthope                                                                                        
6 David Strain                                                                                          
7 David McMillan                                                                                        
7 Aidan Vahtrik                                                                                         
 Joey Vajvoda                                                                                           
 Keiran Dixon                                                                                           
 David Maggs                                                                                            
 Cameron Patterson                                                                                      
 Joel Willis                                                                                            
 
Sport Men
 
1 Shaun Hughes                                                                                          
2 Rick Franzolini                                                                                       
3 Thomas Markus                                                                                         
4 Chris Quain                                                                                           
 Russell Luczka                                                                                         
 Sam Whittemore                                                                                         
 Nathan Valbonesi                                                                                       
DNS Jiel Case                                                                                           
DNS Shaun Fry                                                                                           
DNS Jarrah Davies                                                                                       
DNS Michael Houghton                                                                                    
DNS Joshua Dallas                                                                                       
DNS Julian Lang                                                                                         
DNS Nick Maher                                                                                          
DNS Gavin Maiden                                                                                        
DNS Robert Hochings