MTB index page for all MTB content
National Mountain Bike Series 7 (NMBS-AMBC) - 1
Snowmass, Colorado, USA, August 10-12, 2007
Main Page Results Overall standings Previous Stage Next Stage
Race 7 - August 11: Pro Men Cross Country,
Kabush takes tight win over Bishop and wraps up series title
By Sue George
Geoff Kabush (Maxxis) outsprints Jeremiah Bishop (Trek/VW)
Photo ©: Dave McElwaine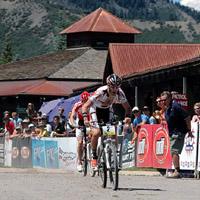 The top two men from the last Sugar Mountain NMBS round were left to battle it out again in Colorado for the final race in the series. Geoff Kabush (Team Maxxis) had a shadow in the form of Jeremiah Bishop (Trek / VW), whom the Maxxis rider could not shake.
Kabush, sponsored by a tire manufacturer, made a calculated gamble by choosing to race with super light tires. He hoped the gains he would experience on the climbs would offset any caution he'd have to employ not to flat on the downhills, and no matter what happened, he'd still win the series, if not the race.
Kabush had raced the tires before, like at Sea Otter, and he said they're great for climbing courses. He'll often use them on the short track. "When I can use them, it drops over a pound from my bike."
"I already had the series wrapped up, so there was less pressure," said Kabush. "The course at Snowmass was pretty incredible. It had lots of climbing which is generally not my strength. I ran superlight Maxxis 310 g. It was craziest (rockiest) course I've ever ridden them on. I tried to use them to go uphill as fast as I could and crack the guys, but Jeremiah was riding really well."
"Kabush was running a risky setup in my opinion," said Bishop after the race. "The one thing that would have derailled his day was a double flat or a slashed sidewall. The wheelset was a shock to me when we started the race and I saw what he was running. I can't believe he didn't flat." After seeing the course, Bishop ran a full 2.2" mountain bike tire on the rear, which he said paid off on the descents.
Organizers changed the course just before the event, so instead of climbing just halfway up the mountain and descending each lap, racers went all the way, on a more old-school style course.
Kabush would sometimes shake Bishop on or just after the climb, but Bishop would always get him back on the downhill, so inevitably the race would turn into a sprint finish, won by Kabush. Bishop finished just one second behind.
"Every climb, I'd get a bit of a gap, 20-30 seconds," said Kabush. "On the last time over the top it was 45 seconds or even a minute. It was a 25 minute descent to the finish. He caught up with me seven or eight minutes to go."
"It made for an intense finish. I'd push it on any uphill, but he kept coming back to me. On the final grass sweeping corner to the finish, we were neck and neck. We were both drifting on the gravel in the corner," recalled Kabush.
"It made for a really interesting race, probably the most exciting race of the year," said Bishop. "We would yo-yo back and forth. I would catch up to him and he'd pull away on steep climb, and I'd think I was done and dropped, and then I'd rip downhill at a steady place, and I'd see him slowing down for a stream crossing and I'd blast right through and catch back up."
Kabush said he was not bothered by the altitude. When not travelling for racing, he lives in Albuquerque, New Mexico, at 6,000 feet altitude, not quite as high as the 9,000 feet at Snowmass. He'd had over a week to re-acclimated after racing in North Carolina. In contrast, Bishop, who resides nearer to sea level, chose the arrive-at-the-last-minute strategy and said he felt fine at altitude Saturday, but suffered Sunday.
National champion Adam Craig (Giant) finished third, back 2'30". Todd Wells (GT) and Jeremy Horgan-Kobelski (Subaru - Gary Fisher) rounded out the podium for fourth and fifth.
The Canadian Kabush claimed the overall national series title with Horgan-Kobelski in second. Bishop's strong two series-ending performances helped him step up to third overall, and he said he felt on track for the rest of the major races for the season. Wells (GT) and Barry Wicks (Kona) finished off the series podium.
Photography
For a thumbnail gallery of these images, click here
Images by Dave McElwaine/www.trailwatch.net
Results
1 Geoff Kabush (Can) Team Maxxis                                   1.38.20
2 Jeremiah Bishop (USA) Trek/VW                                       0.01
3 Adam Craig (USA) Giant                                              2.30
4 Todd Wells (USA) GT Bikes                                           3.10
5 Jeremy Horgan-Kobelski (USA) Subaru-Gary Fisher                     4.29
6 Sam Jurekovic (USA) U23 National Team                               5.52
7 Jay Henry (USA) Tokyo Joes                                          7.22
8 Jeff Hall (USA) Salsa Cycles                                        8.28
9 Ryan Trebon (USA) Kona/Lesgets                                      9.31
10 Carl Decker (USA) Giant                                            9.33
11 Cody Peterson (USA) Scott Bicycles                                10.25
12 Barry Wicks (USA) Kona                                            10.57
13 Andy Schultz (USA) Bear Naked/Cannondale                          11.06
14 Alan Obye (USA) Jamis                                             11.15
15 Kris Sneddon (Can) Kona                                           11.18
16 Sam Schultz (USA) Subaru-Gary Fisher                              11.50
17 Brian Smith (USA) Trek/VW                                         11.59
18 Tad Elliott (USA) U23 National Team                               12.46
19 Colin Cares (USA) U23 National Team                               12.47
20 Charles Pendry (USA) Inland - Btd                                 13.00
21 Alex Grant (USA) Titus/Pearl Izumi                                13.24
22 Bryan Alders (USA) Mona-Vie/Cannondale                            13.33
23 Mathieu Toulouse (Can) Team Maxxis                                14.01
24 Mitch Hoke (USA) Tm Radical Racing                                14.22
25 Erik Tonkin (USA) Kona Les Gets                                   14.46
26 Adam Snyder (USA) 3-D Racing                                      14.50
27 Peter Stetina (USA) Tokyo Joes                                    15.03
28 Barkley Robinson (USA) Giant                                      16.19
29 Andrew Lee (USA)                                                  16.44
30 Spencer Paxson (USA) Discover Bicycles Hood River                 16.45
31 Thomas Turner (USA) Bear Naked/Cannondale                         16.48
32 Ignacio Torres-Acosta (Mex) Turbo                                 16.57
33 Jeff Schalk (USA) Trek VW- East                                   17.49
34 Cale Redpath (USA) 3D Racing                                      18.31
35 Sean Donovan (USA) Cytomax/Khs                                    19.20
36 Adrian Garcia Velarde (Mex) Crazy Cat                             20.32
37 Brett Morgan (USA) Bear Naked/Cannondale                          20.47
38 Mcconnell Franklin (USA) Devo                                     20.56
39 Jesse Swift (USA)                                                 21.00
40 Todd Helmick (USA) Trek/VW                                        21.01
41 Tim Olson (USA) Trek/VW                                           21.21
42 Travis Woodruff (USA) Momentumendurance.Com                       22.24
43 Bryan Fawley (USA) Kenda/X-Fusion/Titus                           22.34
44 Ryan Artale (USA) Maverick/Mafiaracing.Com                        22.37
45 Jake Wells (USA) Mafiaracing.Com                                  23.17
46 Dana Weber (USA) Jax Bicycle Center                               23.21
47 Brandon Draugelis (USA) Bear Naked/Cannondale                     24.14
48 Jamie Morgan (USA) Moots Cycles                                   25.41
49 Ryan Lynch (USA) James Frames/Mafia                               25.42
50 Mike Phillips (USA) Alterra/Specialized                           26.35
51 Michael Raney (USA) Voo-Doo                                       27.00
52 Chris Peariso (USA) Titus / Muddy Cup                             27.39
53 Dave Harrison (USA) Reddrox/Tamarack Resort                       27.51
54 Trevor Downing (USA) Team Devo                                    28.40
55 Blake Zumbrunnen (USA) Revolution/Crank Bros                      30.30
56 Nick Martin (USA) Trek/VW                                         31.10
57 Bear Perrin (USA) Kenda                                           31.27
58 Matt Freeman (USA) Pass Pt/Gary Fisher                            31.56
59 Eric Neat (USA) Schampa                                           32.01
60 Keith Hickerson (USA) Tamarack                                    33.40
61 Rotem Ishay (Isr) Spider Cc                                       34.44
62 Paul Hanson (USA) Bear Naked/Cannondale                           34.45
63 Aroussen Laflamme (Can) Cbsf/Normandin/Faire                      36.57
64 Aaron Snyder (USA) South Mountain Cycles                          40.32
65 Mitchell Peterson (USA) Devo                                      40.54
66 Jason Sager (USA) Monavie/Cannondale                              44.04
67 Yuki Saito (USA) Fuentes Design/Walt Works                        47.58
68 Fabio Dias (USA) Brazil                                           48.13
DNF Nat Ross (USA) Subaru-Gary Fisher                                     
DNF Jeffery Mccullough (USA) Ruby Canyon/Mrp/MTB StrenGTh/Smith/Maxxis    
DNF Brian Fuentes (USA) Waltworks/Fuentes Designs                         
DNF Ken Burt (USA) Motionbased/Garmin MTB                                 
DNF Colin Osborn (USA) Team Gofast/Bikeparts.Com                          
DNF Josh Bezecny (USA) Target Training                                    
DNF Kevin Rice (USA) Tokyo Joes                                           
DNF Micah Joseph (USA)                                                    
DNF Kelly Magelky (USA) Bmc/Sports Garage                                 
DNF Troy Wells (USA) Tokyo Joes            

Final NMBS Standings

1 Geoff Kabush (Can) Team Maxxis                     900 pts
2 Jeremy Horgan-Kobelski (USA) Subaru-Gary Fisher    836
3 Jeremiah Bishop (USA) Trek/VW                      771
4 Todd Wells (USA) GT Bikes                          761
5 Barry Wicks (USA) Kona                             739
6 Carl Decker (USA) Giant                            668
7 Adam Craig (USA) Giant                             616
8 Andy Schultz (USA) Bear Naked/Cannondale           600
9 Kris Sneddon (Can) Kona                            600
10 Mathieu Toulouse (Can) Team Maxxis                590
11 Ryan Trebon (USA) Kona/Lesgets                    585
12 Sam Jurekovic (USA) U23 National Team             535
13 Jeff Hall (USA) Salsa Cycles                      507
14 Cody Peterson (USA) Scott Bicycles                507
15 Sam Schultz (USA) Subaru-Gary Fisher              468
16 Jeff Schalk (USA) Trek VW- East                   459
17 Ross Schnell (USA) Trek/VW                        431
18 Adam Snyder (USA) 3-D Racing                      423
19 Thomas Turner (USA) Bear Naked/Cannondale         409
20 Dana Weber (USA) Jax Bicycle Center               399
21 Colin Cares (USA) U23 National Team               379
22 Alan Obye (USA) Jamis                             355
23 Brian Fuentes (USA) Waltworks/Fuente              339
24 Charles Pendry (USA) Inland - Btd                 331
25 Cale Redpath (USA) 3D Racing                      328
26 Sean Donovan (USA) Cytomax/KHS                    327
27 Erik Tonkin (USA) Kona Les Gets                   319
28 Ryan Woodall (USA) Industrynine/Titus             316
29 Matthew Hadley (Can) Rocky Mountain               309
30 Max Plaxton (Can) Rocky Mountain                  287
31 Michael Broderick (USA) Kenda/Seven Cycle         274
32 Keith Hickerson (USA) Tamarack                    268
33 Roddi Lega (Can) United Cycle                     264
34 Tad Elliott (USA) U23 National Team               258
35 Jay Henry (USA) Tokyo Joes                        248
36 Bryan Fawley (USA) Kenda/X-Fusion/Titus           225
37 Ryan Lynch (USA) James Frames                     219
38 Brandon Draugelis (USA) Bear Naked/Cannondale     201
39 Travis Livermon (USA) Cycling Spoken              191
40 Tristan Uhl (USA) Team Hotel San                  186
41 Chris Winn (Aus) Gt/SRAM Australia                171
42 Travis Woodruff (USA) Momentumenduran             163
43 Paul Hanson (USA) Bear Naked/Cannondale           160
44 Brent Miller (Aus) Kenda/X-Fusion/Titus           159
45 Bryan Alders (USA) Mona-Vie/Cannondale            156
46 Mcconnell Franklin (USA) Devo                     156
47 Mitchell Peterson (USA) Devo                      156
48 Christian Ball (USA) Yeti/Mafia                   153
49 Troy Wells (USA) Tokyo Joes                       153
50 Eric Ransom (USA) Team Tamarack                   151
51 Ken Burt (USA) Motionbased/Garmin                 144
52 Spencer Paxson (USA) Discover Bicycles            141
53 Bruce Muhlfeld (USA) Trek-VW                      136
54 Mitch Hoke (USA) Tm Radical Racing                134
55 Michael Raney (USA) Voo-Doo                       132
56 Burry Stander (RSA) Gt Bikes                      132
57 Charles Jenkins (USA) Ie Bikes Racing             131
58 Yuki Saito (USA) Fuentes Design                   127
59 Rick Wetherald (USA) Tamarack Resort              126
60 Todd Helmick (USA) Trek/VW                        125
61 Barkley Robinson (USA) Giant                      122
62 Aren Timmel (USA) Team Chico                      122
63 Seamus Mcgrath (Can) Rocky Mountain               122
64 Kevin Smallman (USA) Bear Naked/Cannondale        112
65 Mike Phillips (USA) Alterra/Specialized           111
66 Samuel Koerber (USA) Pro Bikes                    108
67 Brig Brandt (USA) Bend Elite                      104
68 Michael Lee (USA) Trek/VW West Coast              102
69 Brian Smith (USA) Trek/VW                          99
70 Tim Olson (USA) Trek/VW                            97
71 Scott Keller (USA) Schampa/Jamis                   97
72 Jesse Swift (USA)                                  96
73 Kevin Bradford Parish (USA) Lapirre USA            96
74 Chance Noble (USA) Cal Giant/Specialized           95
75 Nat Ross (USA) Subaru-Gary Fisher                  93
76 Nicholas Stevens (GBr) Orbea USA                   92
77 Neal Kindree (Can) Kona                            90
78 Leonardo Sandoval (USA) Socal Specialized          90
79 Alex Grant (USA) Titus/Pearl Izumi                 87
80 Adrian Garcia Velarde (Mex) Crazy Cat              84
81 Mike Andres (USA) Trek VW                          84
82 Brett Morgan (USA) Bear Naked/Cannondale           81
83 Ben Thompson (USA) Bend Elite                      78
84 Shun Matsumoto (Jpn) Trek Japan                    78
85 Hal Helbock (USA) Cytomax/KHS                      78
86 Tim Heemskerk (Can) United Cycling Race            78
87 Nick Martin (USA) Trek/VW                          76
88 Chris Peariso (USA) Titus / Muddy Cup              74
89 Aaron Snyder (USA) South Mountain                  74
90 Miguel Valadez (Mex) Tecate Mex                    73
91 Bear Perrin (USA) Kenda                            71
92 Peter Stetina (USA) Tokyo Joes                     69
93 Brett Racine (USA) Bliss Racing                    69
94 Bart Gillespie (USA) Mona Vie/Cannondale           69
95 Paul Freiwald (USA) Titus Cycles                   68
96 Ryan Artale (USA) Maverick/Mafiaraci               67
97 Kyle Hammaker (USA) Cadence                        66
98 Andrew Lee (USA)                                   63
99 Blake Zumbrunnen (USA) Revolution/Crank            62
100 David Yakaitis (USA) Garmin/Jamis                 60
101 Grant Kier (USA) Redbarnbicycles                  60
102 Greg Randolph (USA) Team Road & Dirt              58
103 Tristan Schouten (USA) Trek/VW                    58
104 Ignacio Torres-Acosta (Mex) Turbo                 56
105 Dave Harrison (USA) Reddrox/Tamarack              56
106 Dustin Wanstrath (USA) Team Tamarack              55
107 Damian Calvert (USA) Bear Naked/Cannondale        54
108 Jamie Morgan (USA) Moots Cycles                   53
109 Dylan Alesio (USA) Wild Blues                     52
110 Jake Wells (USA) Mafiaracing.Com                  51
111 Daniel Corum (USA) Inland/Btd                     50
112 Trevor Downing (USA) Team Devo                    47
113 Kamden Reedy (USA) Titus Cycles                   46
114 Andrew Alesio (USA) Wild Blues                    44
115 Shawn Altizer (USA) Bear Naked/Cannondale         42
116 Christian Helmig (USA) Mad Duck                   42
117 Eric Neat (USA) Schampa                           41
118 Alex Ryan (USA) Land Rover/Cannodale              41
119 Colin Osborn (USA) Team Gofast/Bike               39
120 Andy Johnston (USA) Kenda/KHS/Cycle               38
121 Kevin Day (USA) Bikers Edge                       38
122 Stephen Iles (USA) Comotion Sports                37
123 Kelly Magelky (USA) BMC/Sports Garage             34
124 Chris Heinrich (USA) Bicycle Johns                33
125 Thomas Spannring (Aut) Cannondale/Mona            32
126 Lucas Livermon (USA) Inland/Bto                   28
127 Noah Holcomb (USA) Bear Naked/Cannondale          28
128 Sloane Anderson (USA) Clifbar/Smith               27
129 Shannon Boffeli (USA) Revolution Mtn              25
130 Kevin Rice (USA) Tokyo Joes                       23
131 Matt Freeman (USA) Pass Pt/Gary Fisher            22
132 Andrew Freye (USA) Bikeman.Com/Salsa              22
133 Steve Kinney (USA) Big Bear Lake                  21
134 Rotem Ishay (Isr) Netanya                         19
135 Aroussen Laflamme (Can) Sunnyvale                 17
136 Joshua Powers (USA) Flagstaff                     17
137 Kristophe Holden (USA) Spokane                    15
138 Jason Sager (USA) Boulder                         14
139 Fabio Dias (USA) Colorado Springs                 12
140 Masashi Imai (Jpn) Okayama-Shi                    11
141 Kirk Turner (USA) Harrison                        10
142 Miles Venzara (USA) Durango                        9