MTB index page for all MTB content
12th 24 Hours of Moab - NE
Moab, Utah, October 14-15, 2006
Amid confusion and torrential rains, Ross wins solo men's category and National Points Series
Flash floods and course changes create extreme conditions
Nat Ross
Photo ©: Xavier Fane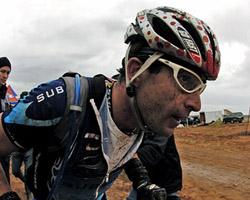 Nat Ross (Subaru/Gary Fisher) overcame extreme conditions and confusion at the 12th Annual 24 Hours of Moab to win the men's solo division and the entire National Points Series sponsored by Granny Gear Productions. Lynda Wallenfels took the women's race.
According to local sources, a 105-year-old record for rainfall was broken by Friday before the race, and while the rain backed off to a drizzle for Saturday's race start, a torrential downpour resumed around 7 PM. The desert could not absorb so much water so quickly, so water ran everywhere, eroding the course so that lines differed from lap to lap.
Ross led four contenders at the end of lap one. At only eight seconds, Nick Martin (Trek/VW) followed. The two would stay within only 14 seconds for the next six-and-a-half hours.
Martin said, "My plan was to stick to Nat's wheel - to be that annoying pest behind Nat, but we're really good friends, and I made my intentions clear to him. Our first laps felt pretty comfortable. Nat was setting the pace the whole time and I was just respecting the fact that it was Nat's territory."
Martin and Ross
Photo ©: Xavier Fane

Meanwhile, Josh Tostado (Giant) gained time each lap, chiseling away at the lead held by Ross and Martin by lowering his own lap times by at least a minute per lap.
When the rain arrived in earnest five hours into the race, the downpour caused flash floods that washed away huge sections of the course, in some instances rerouting it entirely. New rivers flowed on each lap, sometimes moving basketball-sized rocks, which required racers to rethink lines each lap.
Commenting on the extreme conditions, Tostado said, "The diciest area was probably the last downhill fire road section where there was actually a three-foot crevasse. It was downhill so if you were coming around a corner, you would drift into it. Or maybe you'd be coming downhill and you'd hit a three-foot river." Both Tostado and Ross crashed there because conditions had changed so much from lap to lap.
One for the record books:
Photo ©: Xavier Fane

Wet sand stuck to any and every surface and racers burned through an average of about one set of brake pads per lap. Due to the extreme conditions and in the interest of rider safety, the promoter suspended the race at around 10:30 PM on Saturday. Martin said, "The course was a disaster. Moab doesn't hold up well under rain like that."
As Martin finished his last lap, he heard that the race was called. "I thought I was hallucinating because I was hypothermic and bonking and I really wanted it to be over." At the time, organizers told crews and racers to come back at 7:30 AM the next morning to resume racing. Everyone showed up, but solo riders decided not to continue. Other categories kept racing until the scheduled noon finish, only to have those final four hours of morning racing ultimately not count toward final results. Stopping the race at 10:30 PM had created too much confusion with the results.
Even without the morning laps, the solo category results were confused. No one could decide whether to count that final night lap. If they had not counted the last lap, Martin would have won, and in fact, he thought he had done so until an hour and half later, when organizers changed their mind and included the last lap in final results.
What happened was that Ross had launched a confused false chase going out on the last lap that ultimately won him the race. Ross and Martin had arrived at the pit at about the same time at the end of the previous lap. Referring to Martin, who was changing clothes and eating, someone mistakenly said, "He's leaving! Nat you gotta get out of here!" So Ross chased off after Martin, but in reality Ross was chasing someone else. Eventually Ross caught the other rider and realized it wasn't Martin, but he pressed on knowing that Tostado would soon challenge. Ross and Tostado later dueled, but after a few attacks, Ross shed Tostado for good and secured the win over Tostado. Dave Harris (HealthFX) took third after Martin suffered chainsuck and hypothermia and dropped to fifth place.
Martin was realistic about what happened. "I was disappointed not to continue racing in the morning because it would have been like a 4 hour cross country race, and I can do that well. If I'd known the last lap was my last lap, I would have ridden differently. Then, I was bonking and thinking I had 15 hours to go. But that's racing, and the best man still won."
Cyclingnews awaits results from the solo women's, team, and other categories.
Photography
For a thumbnail gallery of these images, click here
Images by Xavier Fane/www.xavierfanephoto.com
Results (Preliminary)
Solo Men
Men's Solo
1. Nat Ross (Subaru/Gary Fisher)
2. Josh Tostado (Giant)
3. David Harris (HealthFX)
4. Peter Kenyon (Paragon Ski & Sport)
5. Nick Martin (Trek/VW)
Women's Solo
1. Lynda Wallenfels (Desert Cyclery - HealthFX)
2. Danelle Ballangee (Spyder - ECaps Hammer Gel)
3. Jari Kirkland (Over the Edge Sport-Back Door Cafe)
4. Erin Duggan (Maverick-Kenda)
5. Erika Tieszen
Co-ed Pro-Am
1. Mad Dog #1: 29er's Go-26ers Slow
2. Julie's Angels
3. New Team but it Still Will Not Rain!
4. Bear Naked Ladies of Cannondale
5. Tough Girl
Duo Pro
1. Rocky Mountain Duo
2. Beaver Creek Resort
3. galapagilians
4. Dynamic Duo
5. 5 Cent Refund
Full results not yet available.