MTB index page for all MTB content
Australian MTB Series 2006 Round 1 - NE
Lithgow, NSW, October 29, 2006
Buchanan wins second round as Men's Final ends early

Bryn Atkinson finishing second
Photo ©: Evan Jeffery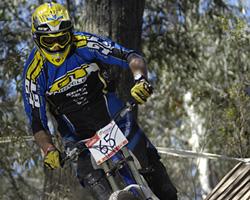 By Sharon Payne
The Men's final run down the State Mine Track at Lithgow was cancelled in an unprecedented decision by officials at the Australian National Mountain Biking Series opening round. The decision saw elite men and under 19 riders unable to complete their final run today. Record numbers of riders, delays in accessing a section of the track to assist injured rider and concern over safety as light began to fade led to the organiser's decision.
"The decision was based on the injured rider's safety and the number of competitors yet to go down the track," said Chief Commisaire Grant Medlock. "It's the first time I've had to make that type of decision. In the 20 years of mountain biking it's the hardest decision I've had to make."
Evan Hoar having a rather dirty run
Photo ©: Evan Jeffery

Tony Scott, the CEO of Mountain Biking Australia added, "There is a technical rule that allows the winners to be recorded from their qualification times."
World bronze medallist, Nathan Rennie (Gold Coast), qualified in tenth place and had no chance to improve his position or breaking his course record of 2.58.0 due to the cancellation. Brad Kelly (Sydney) qualified the fastest in the seeding run, posting a time of 3.05.59, and was the eventual winner. Bryn Atkinson (Victoria) was second fastest and second overall while Adam Smithson (Newcastle) and Dave West (Adelaide) qualified third and fourth respectively. The 2005 World Junior Champion, Amiel Cavalier (Wollongong) qualified fifth fastest.
Canberra's second placed Cara Smith
Photo ©: Evan Jeffery

The women riders made their final run before the track was closed with Caroline Buchanan (Canberra) taking her second National Series race victory in one week. It was the young BMX rider's first foray into downhill racing. "Now when I look at BMX tracks they look easy," she joked. Buchanan won in 3.55.71 with fellow ACT riders Cara Smith and Claire Whiteman finishing second and third respectively.
Whiteman was the highest placed Australian in 17th place at the World Mountain Bike Championships in Rotorua during August. Both Whiteman and Smith had crashes in the switchback section of the track but finished the final run.
Photography
For a thumbnail gallery of these images, click here
Images by Evan Jeffery
Results

DH Elite Men
1 Brad Kelly                                                              3.05.59
2 Bryn Atkinson                                                           3.07.11
3 Adam Smithson                                                           3.08.86
4 Dave West                                                               3.09.85
5 Amiel Cavalier                                                          3.09.89
6 Miles Mead                                                              3.11.81
7 Adam Dossetor                                                           3.13.63
8 Alan Crisp                                                              3.13.72
9 Shane Wode                                                              3.14.05
10 Nathan Rennie                                                          3.14.16
11 Alex Swann                                                             3.14.93
12 Rick Boyer                                                             3.14.97
13 James Bardford                                                         3.15.22
14 Gareth Paton                                                           3.15.52
15 Ricky Lee                                                              3.16.41
16 David Howse                                                            3.16.58
17 Steve Marsh                                                            3.17.29
18 Lincoln Verass                                                         3.17.30
19 Ben Tregoweth                                                          3.17.77
20 Dean Robson                                                            3.18.31
21 Timothy Eaton                                                          3.18.62
22 Chris Whitelock                                                        3.19.12
23 Ayden Eves                                                             3.19.23
24 dennis beare                                                           3.19.45
25 Regan Arthur                                                           3.20.34
26 Hamish Armstrong                                                       3.21.10
27 Scott Graham                                                           3.21.37
28 Andrew Eckett                                                          3.22.59
29 Ben Morrison                                                           3.22.67
30 Rohan Gearing                                                          3.23.05
31 Tim Cox                                                                3.23.64
32 John Farrow                                                            3.23.74
33 Jason Blackmore                                                        3.23.96
34 Dan Aitken                                                             3.24.60
35 Cody Eichhorn                                                          3.26.07
36 Llewellyn Cameron                                                      3.26.41
37 Mitch Afflick                                                          3.27.72
38 Troy Fraser                                                            3.28.15
39 Dean Davies                                                            3.28.25
40 Ben Mundy                                                              3.30.03
41 Christopher Herron                                                     3.30.04
42 Jake Pendleton                                                         3.30.36
43 Josh Boyd                                                              3.31.37
44 Scott Grundy                                                           3.31.80
45 Thomas Cranston                                                        3.32.08
46 Ben Goff                                                               3.32.39
47 rhys atkinson                                                          3.32.63
48 Jonathan Taylor                                                        3.32.63
49 Joshua Lansdown                                                        3.32.92
50 Oliver Kristevic                                                       3.33.88
51 Isaac Heppell                                                          3.34.82
52 Brendan Wood                                                           3.35.72
53 Trevwah Burke                                                          3.36.42
54 Stewart Bruce                                                          3.37.38
55 Geoff Grennan                                                          3.52.58
56 Brad McDonnell                                                         4.02.65
57 Damien Reeve                                                           4.33.74
58 Aaron Bashford                                                         6.08.60

DH Under 19 Men
1 William Rischbieth                                                      3.12.98
2 David Hetherington                                                      3.15.69
3 Chris Coombe                                                            3.16.98
4 James Brodie                                                            3.17.46
5 Dylan Prohm                                                             3.18.00
6 Samuel Ward                                                             3.18.48
7 Joshua Button-Janco                                                     3.19.60
8 Mark Beeksma                                                            3.19.99
9 Tom Brodie                                                              3.20.99
10 Matthew Vincent                                                        3.22.20
11 Fergus Milne                                                           3.22.49
12 Cameron Allonby                                                        3.24.27
13 Llewellyn Griffith                                                     3.25.31
14 Kent Hamilton                                                          3.25.75
15 Jarred Tatum                                                           3.26.12
16 David Maud                                                             3.27.56
17 Ryan Armstrong                                                         3.27.56
18 Dale Grixti                                                            3.27.88
19 Jamie Dunlap                                                           3.28.70
20 Toby Breheny                                                           3.29.54
21 Tom Patton                                                             3.29.76
22 Clark Hawke                                                            3.30.40
23 James Maltman                                                          3.33.12
24 Jack Bellotti                                                          3.33.15
25 Ben Leaper                                                             3.34.11
26 Tom Fogarty                                                            3.34.12
27 David Habicht                                                          3.34.27
28 Oscar Buckle                                                           3.34.32
29 Thomas McWiven                                                         3.35.20
30 Jared Blay                                                             3.38.28
31 Johnathan Archibald                                                    3.40.86
32 Ben Thomas                                                             3.41.08
33 Branden Taylor                                                         3.41.30
34 David Gnany                                                            3.42.21
35 Jacob Bresac                                                           3.44.23
36 Michael Walsh                                                          3.44.63
37 Peter Hicks                                                            3.44.76
38 Jarrad Boyd                                                            3.44.87
39 Tim Windshuttle                                                        3.45.98
40 Patrick Young                                                          3.46.29
41 Brad Morris                                                            3.46.91
42 Darcy Murrell                                                          3.47.46
43 Cody Strictland                                                        3.51.17
44 Kyle McLeod                                                            3.52.90
45 Rhys Collins                                                           3.54.41
46 Michael Jobson                                                         3.54.87
47 Jeremy Powell                                                          3.56.74
48 Joshua Callaghan                                                       3.58.78
49 Nick Kellie                                                            4.02.32
50 Sean Oliver                                                            4.07.06
51 Glen Hopwood                                                           4.08.46
52 William Arnott                                                         4.38.31
53 Jared Gill                                                             4.43.72
54 Michael Napthali                                                       7.07.21

DH Elite Women
1 Caroline Buchanan                                                       4.01.10
2 Cara Smith                                                              3.52.44
3 Claire Whiteman                                                         3.47.64
4 Carly Bingham                                                           4.24.40
5 Kristina Shiel                                                          4.08.50
6 Samantha Thompson                                                       4.39.20
7 Joanne Fox                                                              5.05.30

DH Masters Women
1 Susan Forrester                                                         5.23.76
2 Rehrer Nancy                                                            5.47.22

DH Sport Women
1 Alice Minahan                                                           4.17.03

DH Super masters Men
1 Stephen Coles                                                           4.29.40
2 Steven Humphreys                                                        4.39.44
3 Martin Griffith                                                         4.44.21

DH Masters Men
1 Troy Rowell                                                             3.29.35
2 Paul Grimstead                                                          3.34.22
3 David Badman                                                            3.39.54
4 Harald Eberhardt                                                        3.40.49
5 Justin Barnes                                                           3.40.81
6 Geoff Lovie                                                             3.42.12
7 Darryl Ashlin                                                           3.43.04
8 Peter Lucas                                                             3.46.16
9 Mark Cranston                                                           4.20.42
10 Neil Scruton                                                           4.56.68
11 Scott Morelli                                                         12.13.26

DH Veteran Men
1 Joshua Lester                                                           3.29.93
2 Daniel Segeri                                                           3.33.53
3 Tony Minahan                                                            3.35.57
4 Lee Treasure                                                            3.37.13
5 Adam Fernyhough                                                         3.37.18
6 Drew Hamilton                                                           3.37.40
7 Minguet laurent                                                         3.38.44
8 Jason Archer                                                            3.39.21
9 Darren Willis                                                           3.44.11
10 David Grupe                                                            3.44.50
11 Brett Minion                                                           3.48.66
12 Marc Ellis                                                             3.49.19
13 Tyron McLean                                                           3.49.36
14 Paul Roff                                                              3.49.69
15 Aaron Simmons                                                          3.52.87
16 Scott Watkins                                                          3.53.66
17 James Harris                                                           3.53.88
18 Mike Kennedy                                                           4.03.04
19 Andrew Smith                                                           4.04.26
20 Troy Bromley                                                           4.06.94
21 Adrian Forrester                                                       4.08.16
22 Rodney Bryant                                                          4.08.91
23 Zaid Mohsen                                                            4.11.94
24 Paul Kennedy                                                           4.26.62
25 Edmond Fowke                                                           4.31.88

DH Expert Men
1 Dylan Wolsky                                                            3.23.31
2 Tom Lewis                                                               3.23.41
3 Simon Ballard                                                           3.24.57
4 Daniel Lyons                                                            3.25.50
5 Daniel Chermak                                                          3.26.28
6 Bram Dutton                                                             3.26.53
7 Brett Blackman                                                          3.27.07
8 David Gibbs                                                             3.27.88
9 Lee Watts                                                               3.28.28
10 Martin Clarke                                                          3.28.58
11 Peter Krause                                                           3.30.20
12 Andrew Fellows                                                         3.31.23
13 Benjamin Ayling                                                        3.33.10
14 David Waid                                                             3.33.60
15 Jacob Coles                                                            3.34.67
16 Rodrigo Bravo                                                          3.35.25
17 Juan Roncallo                                                          3.36.07
18 Jason Miller                                                           3.36.62
19 Daniel Allen                                                           3.37.84
20 Chris Barlin                                                           3.38.70
21 Mathew Crossley                                                        3.38.79
22 Nicholas Bailly                                                        3.39.65
23 Matt Fennell                                                           3.40.24
24 Angus Coombe                                                           3.40.62
25 Scott Harrison                                                         3.41.01
26 Mikhail Chai                                                           3.42.23
27 Armando Florez Cabarcas                                                3.42.70
28 Matthew Triffett                                                       3.43.00
29 Brendan Cronk                                                          3.44.66
30 Nich Shields                                                           3.47.67
31 James Russell                                                          3.48.06
32 Nathan Collins                                                         3.49.05
33 Kenneth Cheung                                                         3.50.77
34 Nathan Valbonesi                                                       3.52.22
35 daniel kilburn                                                         3.54.07
36 Peter Coombs                                                           3.57.24
37 Dave  Mullins                                                          4.04.49
38 Todd Mewburn                                                           4.05.39
39 Gareth Blower                                                          4.09.32
40 Garrett Sherman                                                        4.12.44
41 David Andrews                                                          5.39.69

DH Under 17 Men
1 Shaun O'Connor                                                          3.10.12
2 William Gower                                                           3.15.35
3 Ben Nylen                                                               3.22.68
4 Laurie Dinham                                                           3.23.57
5 Tamryn Murrell                                                          3.26.16
6 Rhys Willemse                                                           3.28.02
7 Jesse Went                                                              3.29.21
8 Chris Leaper                                                            3.29.67
9 mitch forbes                                                            3.30.38
10 Josh Cook                                                              3.37.73
11 Daniel Lavis                                                           3.42.17
12 James Butler                                                           3.42.31
13 Blake Nielsen                                                          3.42.65
14 Aaron Oates                                                            3.42.70
15 Jayce Starr                                                            3.43.31
16 Nelson Andrado                                                         3.46.75
17 Oscar Lapstun                                                          3.47.56
18 Obi Nobel                                                              3.48.81
19 Steven Reidy                                                           3.51.18
20 Drew Jonceski                                                          3.52.65
21 Samuel Jones                                                           3.55.35
22 Oliver Le Lievre                                                       3.57.51
23 Lucas Duggan                                                           4.04.09
24 Nathan Kaw                                                             4.05.03
25 Dan Whyte                                                              4.07.65
26 Ryan Hunt                                                              4.07.89
27 Ben Barrett                                                            4.09.43
28 Elliot Davies                                                          4.12.08
29 Lachlin Sanders                                                        4.12.71
30 Anthony Fedorovitch                                                    4.30.15
31 Bobby Davies                                                           4.53.34

DH Under 15 Men		 
1 Troy Brosnan                                                            3.46.63
2 Riley Wilson                                                            3.54.97
3 Bradley Bellotti                                                        4.00.62
4 Aaron Attard                                                            4.00.79
5 Tim Bransgrove                                                          4.21.83
6 Michael Dargan                                                          4.55.34
7 Blair Jonceski                                                          6.08.93

DH Hardtail
1 John Campbell                                                           3.53.57
2 Brendon Dowler                                                          4.07.64
3 Mitchell Turner                                                         4.07.98
4 Liam Howarth                                                            4.08.14
5 Nick Simpson                                                            4.11.21
6 Bradley Doonan                                                          4.15.90
7 Kallan Boyd                                                             4.25.40
8 Joseph Measures                                                         4.56.75

DH Sport Men
1 Greg Stephens                                                           3.31.86
2 Anthony McLean                                                          3.41.74
3 Brett Jones                                                             3.43.58
4 Chris Lombardo                                                          3.47.31
5 chris davis                                                             3.48.39
6 Michael Treble                                                          3.49.12
7 Scott Clancy                                                            3.49.79
8 Lachlan Skinner                                                         3.51.03
9 daniel black                                                            3.52.23
10 Evan Hoar                                                              3.52.68
11 Niel Linkston                                                          3.53.46
12 James Eves                                                             3.55.65
13 Bryce Harris                                                           3.58.49
14 Matthew Baccin                                                         3.59.41
15 Aaron Millard                                                          4.00.30
16 Brett Hill                                                             4.02.32
17 William Geor                                                           4.02.41
18 Warren Lack                                                            4.06.10
19 David Edwards                                                          4.06.96
20 Justin Hardiman                                                        4.09.90
21 John Stewart                                                           4.17.11
22 Dylan Forster                                                          4.17.62
23 Phil Macleod                                                           4.19.46
24 Matthew Le Cornu                                                       4.20.42
25 Robert Stein                                                           4.21.28
26 Leonard Allen                                                          4.21.70
27 Dylan Cooper                                                           4.22.16
28 Bryan Lucas                                                            4.30.46
29 Daniel Curci                                                           4.31.52
30 Andrew Tiddy                                                           4.34.78
31 James  Nobbs                                                           4.36.64
32 Dave Casey                                                             4.48.62
33 Adam Playne                                                            4.58.80
34 Bradley Goff                                                           5.08.49
35 Thamba Pathmanathan                                                    5.40.11