MTB index page for all MTB content
24 Hours of Adrenalin World Solo Championships- NE
Conyers, GA, USA, Oct 7, 2006
Live Updates Most Recent Update Email the commentator Results
Eatough goes for seventh world championship
By Steve Medcroft
Chris Eatough
Photo ©: Bill McCarrick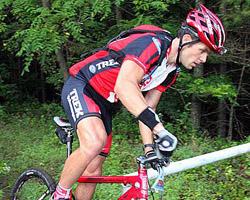 In the world of off-road endurance racing, there simply is no counterpart to 31 year old Chris Eatough (Trek/VW). For the last six years, Eatough has been a model of consistency and perseverance as he's pursued the lonely world of 24 hour solo racing. Through extreme heat, cold, rain and even tornado warnings, Eatough has steadfastly pedaled around the clock logging more miles in one 24 hour span than most people log in over a month. His six consecutive world championship titles more than prove his mettle in what is undoubtedly the most difficult form of off-road competition.
In the 24 Hours of Adrenalin World Championships, held October 7-8 in Conyers, Georgia (site of the 1996 Olympic mountain-bike cross country race), Eatough will attempt to win his seventh consecutive title.
He'll face challengers from a growing core of endurance pros including 2005 second-place runner up Ernest Marenchin as well as recently-crowned Australian marathon national champion Craig Gordon.
In the women's event, endurance phenom and 2005 US 24 Hour Solo national champion Monique Sawicki is seemingly over the injuries she suffered in a crash at the marathon in Mont Sainte Anne going up against, among others, 2005 world champion Marg Fedyna, Trek/VW's Susan Haywood, and National MTB Ultra Endurance Series competitor Rebecca Rusch.
See also: 2005 24 Hours of Adrenalin World Solo Championships
Live Updates:
Running for the bikes
Photo ©: Tracy Posner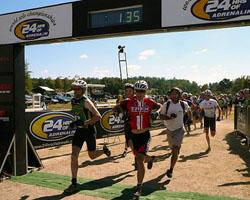 10:50 EST
Welcome to Cyclingnews special coverage of the 2006 24 Hours of Adrenalin World Solo Championships. We'll be bringing you hourly updates from Conyers including preliminary lap counts from the men and women's solo race field.
The weather is clear and warm (should be between 50 and 71-degrees Fahrenheit over the course of the race) in Georgia and the racers and preparing for the start. The Trek/VW camp is packed with activity as a group of support staff (including team manager, mechanic, spouses and is bustling to be ready to do whatever they need to do to support Eatough's attempt at a seventh consecutive world championship and teammate Susan Haywood's attempt at her first. The challengers are active as well; Ernest Marenchin (Asylum Cycles), second at last year's worlds, says he's feeling good and with the support of his wife and crew, is ready to see what the day brings.
The race begins at noon with a le mans-style run and concludes in 24 hours.
12:15 EST
The race is underway. According to Trek/VW team manager Jona Posner, Eatough was the first rider on course on a bike, with a crowded group of riders right on his heels. 2004/2005 NORBA Marathon National Series winner Monique Sawicki (Team MATA), appeared to be the leading woman on the course.
As for the course; it's a reported eight-mile loop with enough technical elements that riders will have to stay alert at all times - no flat-out and fast sections. In fact, the Trek crew is reported to have locked out the big chainring because they feel they won;t need it. We expect laps in the 40-minute range so stay tuned for an update of the position of the leaders as we get news from Conyers.
12:55 EST
The men are through the first lap. Australian marathon champ Craig Gordon (Bear Naked/Cannonndale), Kelly Magelky (Sports Garage) and Chris Eatough are together; posting a first-lap time of 37:28. Eatough appears to be sitting on while the other two are setting a world-class cross-country pace on the short course. Ernest Marenchin was next across the line at 41:34. In the women's race, Sue Haywood came through the start/finish in first with Monique Sawicki and a third rider we didn't yet identify.
Super-hard early laps can be risky - giving too much energy too early can leave nothing for later in the race. But for seasoned riders like Eatough and Gordon, setting a hard pace can pay off by allowing them to spend the remainder of the race in gap-preservation mode and not having to stay on the attack. Marenchin's is actually till in good position despite losing ground in the first lap; in an interview earlier this year he said that he preferred consistent, day-long effort to the spikes in activity that come with running at the world cup pace a rider like Eatough can set.
13:30 EST
Lap two is in the books for the men. Gordon has opened a 40-second gap on Eatough and ran a 37:05 lap with his head down and no signs of letting up the pace. Magelky is still behind Eatough on the trail. The women are not yet through their second lap.
Haywood leading the race
Photo ©: Tracy Posner

13:33 EST
Riders are setting amazing early paces for such a long event. The women just tore through the start/finish line. Sue Haywood retains the lead on course, 30 seconds ahead of 2006 US 24 Hour Solo National Champion Rebecca Rusch and 35 seconds in front of Monique Sawicki.
14:45 EST
The leaders are through their fourth lap after less than three hours of racing. Eatough is ten seconds off Gordon's wheel after a ten-second pit stop.
14:58 EST
Rebecca Rusch's mother Judy just reported in that her daughter is looking comfortable holding on to her position with Sue Haywood and Monique Sawicki in the lead group. "They're on their fourth lap," she said, "and haven't been more than a minute and a half apart." She says the 24 Hours of Adrenalin World Solo Championships is only Rebecca's third solo 24 hour race. She won the first two; the NORBA event in Spokane earlier this year and, of course, the 24 Hours of Nine Mile to grab her Stars and Stripes jersey. "You guys don't know her much yet because she's been doing adventure racing for the past ten years - Eco Challenge and races like that. But she did MOAB last year with a team of women (and won that too) and says she loves (24 Hour racing)." Rebecca is 38 and lives in Ketchum, Idaho.
15:08 EST
The Bear Naked/Cannondale team mechanic, Scott Hodge, just checked in. He says Australian marathon national champion Craig Gordon is comfortable at the pace he's riding and likes the course. "Gordo said that he rides a lot of stuff like this in Australia and the course feels smooth," a contrary opinion to the buzz about the course Hodge says. Smooth enough that even though Gordon has a full-suspension Scalpel in the pit, he's riding a hardtail (Optimo) in the early laps.
Craig Gordon
Photo ©: Tracy Posner

As for position, Gordon still leads the race. "Gordo just feels really strong," Hodge says. "The last time they came in (end of lap four), they were two second apart. But just a few minutes ago, at the halfway point in the lap, Gordon had put a minute on Chris. It's going to be close."
Close battles are setting up in both categories but with 20 hours still to grind away at rider's bodies and minds, anything can happen and we'll keep a close tab on the race.
15:15 EST
The lead men just came through to start their fifth lap and Gordon still leads Eatough by about 35 seconds. The third place rider has fallen behind by more than five minutes and we'll get an update of his gap when we can. The race should start to settle into a rhythm now. And the leaders will start having to deal with traffic as a couple hundred riders crowd their way around the eight-mile lap.
16:13 EST
Headed out for lap six, Gordon and Eatough are still together at the front of the race, but Eatough slipped into the lead. The women's race is stating to settle with Sue Haywood still in first - about six minutes up on Rebecca Rusch headed out for lap five.
Known for super efficient pits,
Photo ©: Tracy Posner

17:28 EST
Craig and Eatough continue to ride together and are now heading out for their eighth lap. But they are starting to encounter traffic and the changes in pace required to get around slower competitors can be tiresome and all it takes is a small gap to gain a mental advantage heading into the night laps.
17:34 EST
Judy Rusch, mother of US 24 Hour Solo National Champion Rebecca Rusch, reports that her daughter is holding an approximately six-minute gap to leader Susan Haywood. minutes back to Monique. Rusch has approxmately two minutes on Sawicki. The lead women have complete five laps. At 6pm, all competitors must equip their bikes with lights and with a sunset at 7pm and sunrise at 7:15am, the riders will be in for a full twelve hours of night riding. Judy Rusch says that all three leading women look comfortable.
17:40 EST
Trek/VW team manager Jon Posner says both Eatough and Gordon will make it through the next lap before six and won't mount lights until their tenth laps.
17:56 EST
Ernie Marenchin's wife Jennifer just checked in with an update on her husband's progress. Sitting fourth in the solo men's event with a twenty-minute gap up to Eatough and Gordon, Marenchin is holding consistent lap times and doesn't seem worried about the gap. At last year's worlds, Marenchin fell behind Eatough by 50 minutes but held a consistent pace and even started closing the gap once the sun came up - causing Eatough to have to shift strategy and lift his pace late in his race. Marenchin is riding his sponsor's two-niner.
18:38 EST
Just got an update on the top ten men and top five women as of their last posted lap times. Looks like the lead riders are staying close to each other on time and no one is able to gain the kind of mental advantage heading into the night laps that will allow them to relax. So we'll have tense riders with their throttles still wide open handling a short, technical track at night. In traffic. Don't be surprised if we see a complete shakeup after the midnight hour - a mental and physical barrier in a 24-hour race where the body has reached it's limit and is running at whatever it's long-term sustainable pace is and the mind is still looking at half the race left to go and playing games with the rider's motivation.
Craig Gordon
Photo ©: Tracy Posner

18:47 EST
Pit strategy will become important through the night and Eatough, whose father has an engineering background, has analyzed every aspect of his pit stops to streamline every spare second. He has said that his philosophy that two minutes spent in a pit is not rest, it's two minutes off the bike. Case in point is the pit stop Eatough and Gordon made heading out for their tenth lap just a few minutes ago; Gordon stopped for 1:06 according to Trek/VW team manager Jon Posner. Eatough? Rolled through the pit without coming to a full stop.
20:40 EST
Night has fallen in Conyers and the riders are wearing lights. The lead in the men's race briefly changed as Gordon slipped, unseen, in front of Eatough while Eatough's team strapped up his night lights but Eatough. "Gordo came through and he went to a head mounted lamp," said team mechanic Scott Hodge "We lost a minute. In the following lap, Gordo didn't change anything and Eatough though he was still behind. Gordo was still drilling it and put two minutes." Will the Australian stay on the attack and try to expand the gap? "He said he was going to keep it steady and make him close the gap, but it's not really an attack." The Australian marathon champ has switched to a full suspension bike for the night as well. The pair are about to finish their twelfth lap.
Sue Haywood stopped for six minutes in the pits to change clothes, shoes and helmet and still holds a four-minute lead over Rebecca Rusch. We'll try to get a full update on times (and some info on the singlespeed class) in the net hour.
21:25 EST
Temperatures have dropped and riders are now wearing long-sleeved jerseys or arm warmers. We recieved a text update from the camp of Kelly Magelky (Sports Garage). "Kelly is sitting sixth with only 10 minutes separating him from third. The race will be intense tonight as these guys push for high placing. Kelly's calm and collected for sure."
22:22 EST
Gordo has extended his lead to between seven and nine minutes as of the last time through the start/finish (about 22:20 EST). His mechanic says Gordon didn't stop - had food and drink already - and only drifted slow enough to yell out how much he was loving the race. Trek/VW team manager puts the gap at closer to 11 minutes and says Eatough is rolling steady and keeping his pace high but adds that Gordon "is flying."
23:00 EST
Just received an update from race promoter Stuart Dorland. Gordon is the pacemaker as night wears on. His speed has put a six-time world champion into difficulty and built a gap of greater than one complete lap over every one else who hoped to contend for the 24 Hours of Adrenalin World Solo Championship for 2006.
The women's race is turning into a true drag race as well. Who would have though that after 11 hours of racing, four women would still be riding on the same lap and the gap between the top three would be less than 20 minutes!
Craig Gordon; earlier
Photo ©: Trish Albert

00:37 EST
We're not going to get a lot of information through the night but it seems like the first two positions in the men's race and the first four positions in the women's race are holding.
The Trek/VW team camp reports that "Chris (Eatough) and Craig (Gordon) are approx. 15-16 min apart with Craig in the lead. The pit strategy has changed and Chris is no longer stopping, unless he just hops off to grab a bike."
Which means that, after almost thirteen hours of racing, the men's race has turned into a poker game between two riders. Eatough is keeping the pressure high; by not pitting, he's unwilling to concede even thirty seconds of stoppage time to Gordon. And although the Australian holds the lead and is cruising at a cross-country race pace, it's still up to him to crack the six-time champion if he can. Work that carries with it the risk of him blowing up.
The two riders will attempt to hold the cards they've been dealt through the night and the win may go down to who blinks - in the form of a mechanical, a botched pit stop, or a physical breakdown - first.
01:30 EST
Thanks to our insiders on the ground, we have a more complete set of results for the men - but only from 11pm. Stay tuned for another update late in the morning.
04:30 EST
No change in the leadership of the race as Gordon continues to stay in front after 21 laps and, at last report, has a 20 minute lead over Chris Eatough. Haywood continues to lead the women's race with 18 laps complete. Temperatures are down but the riders aren't finding the cold anything to complain about.
06:30 EST
Tracy Posner, wife of Trek/VW team mechanic Jon Posner, just sent us an email updating the current situation: "Its about 5:30AM here in Conyers, GA and the temperature has definitely dropped as all of us are wearing anything that may pass as clothing and help to keep us warm. We are guessing it is down in the 40s. 24hrs of Adrenaline have just posted the 5AM results. Chris has been lapped by Craig Gordon and is about 1 lap and 6 min behind. Brandon Draugelis is in 3rd approximately 1 lap and 16 min behind Chris."
"Mark Hendershot and Ernie Marenchin are about 40 secs apart on their 20th lap. They are due in any minute and Chris is going to take a little longer pit this time to warm up a bit and get some caffeine with some coffee and warm food. Craig Gordon still looks good and is averaging approximately 45 min laps, more or less, according to my calculations. This is a tough race, both Craig and Chris are a lap or two ahead of the field, but as we get to the early morning hrs it is getting pretty tough. I am sure the sun coming up soon will be welcome sight to all the riders on the course.
"Sue is doing great and still leading the women."
09:30 EST
Only two and a half hours of racing remain before the 2006 24 Hours of Adrenalin World Solo Champions are crowned. Craig Gordon is still more than a lap up on six-time champion Chris Eatough. That lap is a huge psychological and physical advantage; Gordon can simply ride at his own pace until 11am then sit and watch Eatough to make sure he doesn't come close to regaining ground before crossing the line at noon to claim the victory.
Eatough's camp reports that the champ has eaten and recovered and is posting faster laps now in the daytime than he did through the night but it would take a catastrophe on Gordan's behalf for Eatough to still win.
Further back in the field, positions are being shuffled as rider either faded through the night or recovered and gained once the sun came out. Kelly Magelky, for example, who rode with Gordon and Eatough in those insanely-fast opening laps but faded to fifth by midnight, is still fighting. His camp report "Kelly fully recovered and is flying. It's a 24 hour race and its not over in Kelly's eyes."
The drama continues in the women's race. Rebecca Rusch, a longtime adventure racer who made the switch to 24 hour solo racing only one year ago, has stayed within a lap of Susan Haywood all day. Haywood needs to stay on the bike and keep her laps together to hold on.
We'll check in with the team camps and try to get you some reactions to the race as things wind down so stay tuned.
A cutout of former
Photo ©: Trish Albert

09:52 EST
Just chatted with Craig Gordon's mechanic Scott Hodge. He says that Gordon had some cramping issues with his calf earlier this morning but otherwise the Australian champion is "really, really pumped. This is a World Championship. There are a hundred other guys racing and he's come a long way."
Hodge says Gordon is taking any and all food given to him. "He's got an Iron gut." The tactic for the rest of the race is for Gordon to turn in one-hour laps (a little slower than the 50 to 55-minute pace he's been keeping through the whole day) and stop riding with his one-lap margin to Chris Eatough in tact.
10:14 EST
One more interesting note about our probable new 24 Hours of Adrenalin World Solo Champion - although he is riding under the Bear Naked/Cannondale team banner, Gordon is not actually a professional mountain biker. He works 40 hours a week at a factory near his home in the Sydney suburbs and still manages to train enough to compete at the highest level against riders who have every technological and physical advantage a life as a professional athlete affords them.
10:30 EST
Eatough is mounting a push now that Gordon's pace has slowed a little. It's a tall order to pull back a lap and a half in 90 minutes but this is bike racing and anything can happen.
11:14 EST
The proverbial Fat Lady is warming up her voice as Craig Gordon is still on course and safely ahead of Chris Eatough for what will be is first-ever 24 Hours of Adrenalin World Solo Championships victory. Sue Haywood has also put a complete lap on second place in the women's competition and will likely be the victor in her first-ever World Solo Championships as well. Stay tuned for final results as we get them and more pictures from Conyers.
12:25 EST
The race for the championship is over. Riders still have to check in after their final laps but Craig Gordon is in and has earned the championship; even though reports are that he went out for a safety lap but but finished pedaling with one leg in an uncharacteristically slow time.
Gordon's first words as he crossed the line, according to Trek/VW marketing man Zapata Espinoza were "I'm hammered." The championships were the Australian's second-only 24-hour race. On the podium, Gordon said his game plan was to go out hard, let Eatough set the pace and come on strong in the morning. But his blistering pace early in the race set a different tone and even though Eatough managed to reel back in some time over the last two hours, Gordon had enough of a lead to relegate Eatough to second place in a competition that was his to own for every one of the last six years. Brandon Draugelis finished third.
Sue Haywood, US short-track national champion, has demonstrated versatility by earning a 24 Hours of Adrenalin World Solo Championship in her first attempt. Rebecca Rusch finished second. Louise Kobin finished third, Katrin Van der Speigal fourth and, presumably, Monique Sawicki fifth.
12:27 EST
Our mission at this point is to get you as complete a set of results as we can but we are being told that it will be approximately two hours before all the solo riders finish their final laps and are scored. So stay tuned.
Photography
For a thumbnail gallery of these images, click here
Images by Tracy Posner/www.ride424.com
Images by Trish Albert/www.southeasterncycling.com
Final results (top 5)
Elite Men
 
1 Craig Gordon (Aus)              30 laps
2 Chris Eatough (USA)             29
3 Brandon Draugelis (USA)         29
4 Mark Hendershot (USA)           28
5 Ernesto Marenchin (USA)         27
6 Kelly Magelky (USA)             26
7 Steve Schwarz (USA)             26
8 Andrew Parry (USA)              26
9 Yuri Hauswald (USA)             25
10 Scott Cole (USA)               25
11 Nicholas Kindt (USA)           24
12 Matthew Hart (USA)             24
13 Paul Watson (USA)              24
14 Jonathan Kindig (USA)          23
15 Javaun Moradi (USA)            23
16 Ian Leitch (USA)               22
17 Chris Gagnon (USA)             22
18 Matt Miller (USA)              22
19 Gavin Rossouw (RSA)            22
20 Karl Etzel (USA)               22
21 Greg Martin (USA)              21
22 Jake Kirkpatrick (USA)         20
23 Rob Lichtenwalner (USA)        18
24 David Stiles (USA)             17
25 Richard Nielsen (USA)          16
26 Marcin Nowak (USA)             14
27 Jerry Johanson (USA)           13
28 Stephen Perkins (USA)           8
29 Kip Biese (USA)                  
30 Craig Savage (USA)               
 
Elite Women
 
1 Sue Haywood (USA)               26 laps
2 Rebecca Rusch (USA)             25
3 Louise Kobin (USA)              25
4 Katrin Van der Spiegel (Aus)    24
5 Monique Sawicki (USA)           22
6 Joany Verschuuren (USA)           
7 Jennifer Wills (USA)              
 
Elite Singlespeed
 
1 Rich Dillen (USA)               22 laps
2 Sean Sullivan (USA)             18
3 Cameron Chambers (USA)          16
4 Jason Achilich (USA)            15
5 Damon Mann (USA)                12
 
Men 55-plus
 
1 John Mazzola (USA)              16 laps
2 John Lilly (USA)                12
3 Bob Waggoner (USA)                
 
Men 50-54
 
1 Marshall Reeves(USA)            22 laps
2 Ken Vandermeer (USA)            21
3 Trevor Kloeden (AUS)            19
4 Douglas Smith (USA)             19
5 Randy Profeta (USA)             18
6 Dale Greenhalgh (USA)           18
 
Men 45-49
 
1 Craig Peacock (AUS)             24 laps
2 Brian Culbert (Can)             19
3 Chris Baker (USA)               13
4 William Feier (USA)             12
5 Jim Perkins (USA)                8
 
Men 40-44
 
1 Alec Petro (USA)                23 laps
2 William McFadden (USA)          22
3 Andrew Gilchrist (USA)          22
4 S. John Millon (USA)            21
5 Pat Connelly III (USA)          18
6 Jono Senk (USA)                 17
7 Peter Rajcani (USA)             16
8 Fred Spring (USA)               12
9 Luther Papenfus (USA)           10
10 Paul Van Der Heide (USA)        6
 
Men 35-19
 
1 Damian Richmond (AUS)           24 laps
2 Craig Bartlett (Can)            22
3 Steve Swenson (USA)             19
4 Kevin Goodman (USA)             14
5 Michael Ray (USA)               14
6 Don Hart (USA)                    
7 Chris Harry (USA)                 
 
Men 30-34
 
1 Brian Sevall (USA)              24 laps
2 Toby Porter (USA)               21
3 Andrew Wegener (Aus)            19
4 Josh Smith (USA)                13
5 Mario Amann (USA)               11
6 Michael Harris (USA)            10
 
Men 25-29
 
1 Charles Clarkson (USA)          16 laps
 
Men U25
 
1 Luke Rozanski (USA)             21 laps
2 Dave Holmes (USA)               18
3 Constantine Peters (USA)        15
4 Chris Janiszewski (USA)         14
5 David Diamond (USA)             14
 
Women 40-45
 
1 Vivian Chwalinksi (USA)         11 laps
 
Women 35-39
 
1 Carey Lowery (USA)              20 laps
2 Sandra Tomlinson (USA)          17
3 Laureen Coffelt (USA)           16