MTB index page for all MTB content
MTB World Cup XC #5, DH #4, 4X #4 - CDM
Mont Ste Anne, Canada, June 24-25, 2006
Main Page Results Previous Race Next Race
Race 2 - June 24: Men's downhill
Kovarik clips Minaar for Mont Ste Anne win
Chris Kovarik (MS-Intense Factory-Racing)
Photo ©: Rob Jones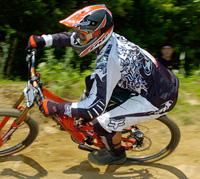 80 men qualified for the Final of the men's downhill in Mont Ste Anne on Saturday. Canadian Dominick Menard was the first to claim the Hot Seat for an extended period. This was his first time in this hallowed place. "It felt really weird at first," he said, "but it started to feel really good after a few seconds. I knew I wasn't going to be there indefinitely but it felt good. I made a couple of mistake that cost me 4 or 5 seconds."
A crowd favourite eventually claimed the hot seat. Steve Peat (GBR) who had won here in 2002, 2003 and 2004 laid down a fast run of 4:46.86. Peat had been nursing a broken knuckle thanks to an altercation after a race in Portugal. "The hand is fine now. I've got a good grip again. It was a tough run today. I made a few mistakes. I've won here before but there are still some fast guys to come down the course."
Peat was able to sit nervously in the hot seat for only a few riders until Sam Hill (AUS) displaced him. Hill never made it to the hot seat, with next arrival Chris Kovarik (AUS - MS-Intense Factory Racing Team) smoking the course in 4:44.20. Kovarik was exhausted after his run. He looked anxiously up the hill waiting for the final 4 to come down.
Gee Atherton (GBR - Team Animal/Giant) couldn't do it (9th place). Neither could Marc Beaumont (GBR, Team Mbuk SantaCruz) - 4th place. Nathan Rennie (AUS) who has been training on the mountain for several weeks could only manage 8th. The top seed Greg Minnaar (RSA - Team G-Cross Honda) had the only chance to beat Kovarik. He came up .32 seconds short.
Kovarik was elated. "The course was good for me. It really suited my style. It was really nice to get the win here. My bike was great and everything went perfectly." Kovarik's win moved him up to 7th in the World Cup standings.
Minnaar - "I was really pleased with my semi run, but in the final at the top of my run I was carrying too much speed and got off the course a bit. I had to swing the rear end out to get back on to the course and that scrubbed a lot of speed. I'm gradually reeling in Peat - I'm only 40 points back now. There are a couple of races left and I'd like to get another win."
Notes - World Champion Fabien Barel was not here this weekend after a crash during a photo shoot in France where he injured his arm. He hopes to be back in time for the World's.
Photography
For a thumbnail gallery of these images, click here
Images by Rob Jones/www.canadiancyclist.com
Results
1 Chris Kovarik (Aus) Ms-Intense Factory-Racing       4.44.20
2 Greg Minnaar (RSA) Team G-Cross Honda               4.44.52
3 Samuel Hill (Aus)                                   4.45.44
4 Marc Beaumont (GBr) Team Mbuk Santacruz             4.45.84
5 Steve Peat (GBr) Santa Cruz Syndicate               4.46.86
6 Matti Lehikoinen (Fin) Team G-Cross Honda           4.47.59
7 Cédric Gracia (Fra) Commencal                       4.49.83
8 Nathan Rennie (Aus)                                 4.50.73
9 Gee Atherton (GBr) Team Animal / Giant              4.52.38
10 Julien Camellini (Fra)                             4.53.13
11 Michael Hannah (Aus) Cannondale/The Cut            4.53.94
12 Andrew Neethling (RSA)                             4.54.00
13 Filip Polc (Svk) Gravity Group                     4.55.81
14 Nico Vink (Bel) Dolphin                            4.56.39
15 Justin Leov (NZl) Yeti Fox Racing Factory          4.56.94
16 Jared Rando (Aus)                                  4.57.24
17 Neil Donoghue (GBr) Team Mbuk Santacruz            4.58.28
18 Duncan Riffle (USA)                                4.58.65
19 Claudio Caluori (Swi) Ms-Intense Factory-Racing    4.58.70
20 Damien Mermoud (Swi) Suspension Center             4.59.20
21 John Kirkcaldie (NZl)                              4.59.72
21 Maxime Remy (Fra) Team Bikepark.Ch Tui                    
23 Oscar Saiz Castañe (Spa) Giant-Racing-Team         4.59.90
24 Thomas Braithwaite (GBr)                           5.00.76
25 Dave Wardell (GBr)                                 5.01.90
26 Andrew Mitchell (Can)                              5.02.02
27 Amiel Cavalier (Aus)                               5.02.13
28 Samuel Blenkinsop (NZl) Gravity Group              5.02.30
29 Lars Peyer (Swi) Suspension Center                 5.02.69
30 Ben Cathro (GBr)                                   5.03.29
31 Alan Beggin (Ita)                                  5.03.46
32 Herman Olund (Swe)                                 5.03.76
33 Will Longden (GBr)                                 5.04.07
34 Ben Reid (Irl)                                     5.04.16
35 Luke Strobel (USA)                                 5.04.23
36 Kyle Strait (USA)                                  5.04.53
37 Luke Kitzanuk (Can)                                5.05.87
38 Cyrille Kurtz (Fra)                                5.06.32
39 Jürgen Beneke (Ger)                                5.06.77
40 Samuel Zbinden (Swi)                               5.07.84
41 Richard Houseman (USA)                             5.08.02
42 Cole Bangert (USA)                                 5.08.42
43 Naoki Idegawa (Jpn)                                5.08.96
44 Dominick Menard (Can)                              5.09.37
45 Ryan Condrashoff (USA)                             5.09.52
46 Sanjay Shanbhag (USA)                              5.10.05
47 Joris Bigoni (Fra)                                 5.10.35
48 Cody Warren (USA)                                  5.11.13
49 Mickael Pascal (Fra)                               5.11.37
50 Ruben Garcia Ramon (Spa)                           5.11.83
51 Robin Wallner (Swe)                                5.13.06
52 Pierre Charles Georges (Fra)                       5.13.60
53 Kamil Tatarkovic (Cze)                             5.14.80
54 Cameron Zink (USA)                                 5.14.97
55 Tim Sharp (USA)                                    5.15.84
56 Evan Turpen (USA)                                  5.15.92
57 Jyunya Nagata (Jpn)                                5.16.26
58 Jamie Biluk (Can)                                  5.17.12
59 Florent Payet (Fra)                                5.17.23
59 Justin Havukainen (Aus)                                   
61 Fabien Pedemanaud (Fra)                            5.17.37
62 Hans Lambert (Can)                                 5.17.48
63 Tim Mackersy (NZl)                                 5.18.05
64 Daniel Hultgen (USA)                               5.18.13
65 Chris Heath (USA)                                  5.20.27
66 Matthew Johnston (USA)                             5.21.15
67 Chris Canfield (USA)                               5.21.64
68 Sven Martin (RSA)                                  5.22.03
69 Dan Atherton (GBr)                                 5.23.99
70 Kouji Shibata (Jpn)                                5.24.79
71 Sean Mcclendon (USA)                               5.26.00
72 Ryo Uchijima (Jpn)                                 5.31.53
73 Andrew Pierce (USA)                                5.35.50
74 Tyler Morland (Can)                                5.36.48
75 Stuart Thomson (GBr)                               5.47.14
76 Nick Dignard (Can)                                 6.12.66
77 Jared Graves (Aus)                                10.39.52
DNF Liam Panozzo (Aus)                                       
DNF Jonathan Allard (Can)                                    
DNF Ben Bel (Aus)                                            
 
World Cup Standings after round 4

 
1 Steve Peat (GBr) Santa Cruz Syndicate                   698 pts
2 Greg Minnaar (RSA) Team G-Cross Honda                   658
3 Samuel Hill (Aus)                                       579
4 Nathan Rennie (Aus) Santa Cruz Syndicate                546
5 Gee Atherton (GBr) Team Animal / Giant                  508
6 Cédric Gracia (Fra) Commencal                           503
7 Chris Kovarik (Aus) Ms-Intense Factory-Racing           485
8 Marc Beaumont (GBr) Team Mbuk Santacruz                 465
9 Michael Hannah (Aus) Cannondale/The Cut                 438
10 Matti Lehikoinen (Fin) Team G-Cross Honda              342
11 Fabien Barel (Fra) Kona Les Gets Factory Tea           324
12 Julien Camellini (Fra)                                 250
13 Filip Polc (Svk) Gravity Group                         233
14 Mickael Pascal (Fra) Qbikes                            230
15 Andrew Neethling (RSA)                                 225
16 Jared Graves (Aus) Yeti Fox Racing Factory T           217
17 David Vazquezlopez (Spa) Maxxis-Msc                    195
18 Dan Atherton (GBr) Team Animal / Giant                 163
19 Bryn Atkinson (Aus)                                    146
20 Duncan Riffle (USA)                                    143
21 Bernat Guardiapascual (Spa) Maxxis-Msc                 134
22 Neil Donoghue (GBr) Team Mbuk Santacruz                128
23 Justin Leov (NZl) Yeti Fox Racing Factory T            122
24 Claudio Caluori (Swi) Ms-Intense Factory-Racing         88
25 Damien Mermoud (Swi) Suspension Center                  86
26 Nico Vink (Bel) Dolphin                                 83
27 Markus Klausmann (Ger) Ghost International Racin        82
28 Samuel Zbinden (Swi)                                    81
29 Ivan Oulegomoreno (Spa) Massi-Abarth                    80
30 Florent Payet (Fra)                                     76
31 Fabien Cousinie (Fra)                                   76
32 Dan Stanbridge (GBr) Mojo Suspension                    72
33 Fabien Pedemanaud (Fra)                                 71
34 Damien Spagnolo (Fra) Qbikes                            69
35 Dave Wardell (GBr)                                      60
36 Maxime Remy (Fra)                                       55
37 Thomas Braithwaite (GBr)                                55
38 Lars Peyer (Swi)                                        54
39 Jared Rando (Aus)                                       54
40 Chris Ball (GBr)                                        53
41 Brendan Fairclough (GBr)                                52
42 Cyrille Kurtz (Fra)                                     49
43 Michal Marosi (Cze)                                     49
44 Kyle Strait (USA)                                       48
45 Oscar Saizcastañe (Spa)                                 47
46 Will Longden (GBr)                                      42
47 Adam Vagner (Cze)                                       41
48 Lee Bertram (GBr)                                       40
49 Pasqual Canalsflix (Spa)                                37
50 John Kirkcaldie (NZl)                                   37
51 Romain Saladini (Fra)                                   34
52 Alan Beggin (Ita)                                       33
53 Joris Bigoni (Fra)                                      33
54 Ben Reid (Irl)                                          27
55 Andrew Mitchell (Can)                                   25
56 Frank Schneider (Ger)                                   24
57 Amiel Cavalier (Aus)                                    24
58 David Schatzki (Ger)                                    23
59 Samuel Blenkinsop (NZl)                                 23
60 Rowen Sorrell (GBr)                                     23
61 Ben Cathro (GBr)                                        21
62 Herman Olund (Swe)                                      19
63 Jorge Aguincastro (Spa)                                 19
64 Thibaut Ruffin (Fra)                                    16
65 Luke Strobel (USA)                                      16
66 Luke Kitzanuk (Can)                                     14
67 Antoine Badouard (Fra)                                  13
68 Mario Jarrin (Ecu)                                      12
69 Jürgen Beneke (Ger)                                     12
70 Tom Deacon (GBr)                                        11
71 Mario Schurter (Swi)                                    10
72 Richard Houseman (USA)                                  10
73 Roger Gonzalezsalvador (Spa)                            10
74 Cole Bangert (USA)                                       9
75 Guido Tschugg (Ger)                                      9
76 Yoann Barelli (Fra)                                      9
77 Naoki Idegawa (Jpn)                                      8
78 Dominick Menard (Can)                                    7
79 Mathieu Troquier (Fra)                                   6
80 Ryan Condrashoff (USA)                                   6
81 Luke Marshall (GBr)                                      6
82 Ralph Jones (GBr)                                        6
83 André Wagenknecht (Ger)                                  5
84 Sanjay Shanbhag (USA)                                    5
85 Richard Thomas (GBr)                                     5
86 Joshua Toland (USA)                                      5
87 Darren Pokoj (Aus)                                       4
88 Herrmann Ölund (Swe)                                     3
89 Cody Warren (USA)                                        3
90 Fergus Lamb (GBr)                                        3
91 Lee Pincher (GBr)                                        2
92 Ruben Garcia Ramon (Spa)                                 1
93 Rémy Charrier (Fra)                                      1