MTB index page for all MTB content
NORBA National Series #2 - NE
Sugar Mountain, NC, USA, June 10-June 11, 2006
Main Page Results Previous Race
Race 5 - June 11: Short Track
A Luna sweep and K-Bomb's revenge
By Steve Medcroft in Sugar Mountain
All Luna all the time
Photo ©: Steve Medcroft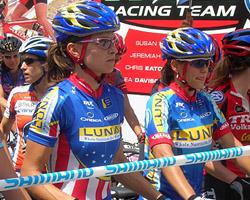 The four members of the Luna Chix team in attendance at the Sugar Mountain NORBA Short Track race worked themselves off the front as a group on Sunday to hog every spot on the podium but one. After Jimena Florit took a flyer from the first lap, her three teammates left the rest of the elite women's field behind and bridged in the final two laps of the twenty-minutes-plus-four-laps race. Former Short Track National Champion Katerina Nash (formerly Hunosova) took the win, three-time Argentinean Olympian Florit came second, former road racer Georgia Gould third and current Short Track National Champion Shonny Vanlandingham fourth. Hometown favorite Willow Koerber (Subaru/Gary Fisher) rounded out the podium in fifth.
In the men's race Geoff Kabush (Tam Maxxis) set a new Short Track wins records (10 total NORBA Short Track victories) by beating Jeremy Horgan-Kobelski (Subaru/Gary Fisher) to the line in a head-to-head final-lap battle. For Kabush, the win is redemption for an early season derailed by a late winter illness.
What's in those Luna Bars anyway?
Shonny Vanlandingham says she had a feeling a Luna Chix sweep was possible. "We talk about it before every short track," she said after the race. "We have four strong riders and we were able to tag team at the front, one after the other."
Florit, who is back to mountain biking after a two-year hiatus, was the first rider to make a break. "It was a little bit tactic and a little bit taking advantage of the opportunity," she said about how she found herself with a gap. "Everybody hesitated and I knew I had to ride harder than even maybe I wanted to to make people work behind me."
Teammates Gould, Nash and Vanlandingham sat in the chase group as Florit grew her lead to twenty seconds. They traded pulls with riders like Heather Irmiger and Willow Koerber (both Subaru/Grary Fisher) and Dara Marks-Marino (Titus/Kenda), careful not to let any one rider escape. "We're just starting to learn to use tactics like this," Vanlandingham said about the road-racing style her team used to control the race. "Katerina would go for a bit then Willow would chase then I'd pull through. We kept it together like that."
But when Heather Irmiger made a push in the closing laps, the Luna Chix knew they couldn't ride along for free any longer. Nash and Gould lifted the pace. Only Vanlandingham could follow. "Once it was all four of us," Florit said, "it didn't really matter who won at that point. We all knew we had a podium spot."
At the finish line, Luna's Short Track specialist took the win. "It was pretty cool," Florit said. "I don't think there's ever been a one, two, three, four (finish) from the same team ever."
Kabush re-armed
Kabush ahead of JHK
Photo ©: Susan Candee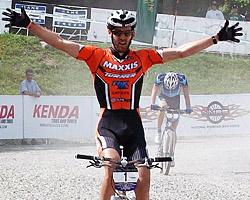 JHK says the men's race was "the most exciting last lap of a short track I think I've ever done - win or lose, that was an epic battle."
That battle set itself up when, after a few patient early laps, Jeremiah Bishop pulled the final five (Todd Wells, Ryan Trebon, JHK and Kabush) away from the rest of the group with a push through the start/finish line. Bishop wasn't able to hold his own pace though and by the final three laps, JHK and Kabush were away, Trebon and Wells were together in fourth and fifth and Bishop was stranded in no-man's land.
Kabush says he had saved energy early in the race to be ready for the finale. "I was able to get the lead the last time around the climb but Jeremy's is really strong and he came back hard on the descent and snuck by me." But Kabush says he knew there was one last spot to pass. "Right before the finish, just on this little riser."
"The fans were going crazy," JHK said. "Geoff and I passed each other about three times on that last lap." The tall four-time cross-country champion saw Kabush go and said he couldn't respond. "I felt like we were pretty evenly matched - we were both hanging a foot out and getting pretty ragged - but it took everything out of me to make that pass over the top of the climb. I was just trying to recover and he had a little more punch out of that last corner."
Because his training program was disrupted by illness in late winter (which included vertigo at the Curacao World Cup in March), Kabush says the win was a relief. "I've been off since the Commonwealth Games in Australia and it affected me quite a bit; put me behind the eight ball for the other World Cups (where Kabush was stuck staring at the back of the field). I'm coming back to have a couple of good NORBA weekends and (after a third in Cross Country and the win in Short Track) I think I'm back on track."
Photography
For a thumbnail gallery of these images, click here
Images by Steve Medcroft/Cyclingnews.com
Images by Susan Candee
Geoff Kabush (Team Maxxis) takes the short track win ahead of Jeremy Horgan-Kobelski (Subaru/Gary Fisher)
Results
Men

1 Geoff Kabush (Team Maxxis)
2 Jeremy Horgan-Kobelski (Subaru/Gary Fisher)
3 Ryan Trebon (Kona)
4 Jeremiah Bishop (Trek/VW)
2 Todd Wells (GT/Hyundai)

Women

1 Katerina Nash (Luna Chix)
2 Jimena Florit (Luna Chix)
3 Georgia Gould (Luna Chix)
4 Shonny Vanlandingham (Luna Chix)
5 Willow Koerber (Subaru/Gary Fisher)