MTB index page for all MTB content
NORBA National Series #2 - NE
Sugar Mountian, NC, USA, June 10-June 11, 2006
Main Page Results Previous Race Next Race
Race 2 - June 10: Cross Country
JHK wins by 2:45'
Photo ©: Steve Medcroft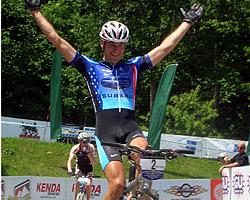 Jeremy Horgan-Kobelski (Subaru/Gary Fisher) and Shonny Vanlandingham (Luna Chix) continue to tune their cross-country skill to perfection by winning the Sugar Mountain, NC NORBA in dominating fashion. Horgan-Kobelski, fresh off a World Cup podium in Fort William, Scotland, never left a doubt that he was the strongest rider on the mostly uphill mountain course; finishing 2:45 ahead of Trek/VW's Jeremiah Bishop and three minutes over defending NORBA series champion (and points leader before the race) Geoff Kabush (Team Maxxis). Despite chaos in the women's field behind her, Vanlandingham led her race from the second of three laps and safely scored her second consecutive NORBA win.
A mountain get-away
Sugar Mountain made a strong first impression on the NORBA field this weekend. Although the air grew warm and muggy late in the men and women's cross-country races (ran 15 minutes apart on the same course), temperatures stayed in a manageable high-70-degree range, skies were clear, and the ground was packed and only muddy in shaded low spots.
The course had something to challenge everyone and invokes a balance of emotions from racers; a broad smile from second-placed Jeremiah Bishop for it's seven-minute extended final downhill (Bishop hails from similarly rooty and wooded terrain four hours North in Harrisonburg, Virginia) and grimaces of leg pain from riders like Barry Wicks (Kona) over the top of the course's 2,500 foot climb.
American cross-country champion Jeremy Horgan-Kobelski seemed to like the course most of all. He paced off the front in the first lap and did nothing more than grow his lead for the next two hours. "This is a great course for me," he said at the finish. "The more climbing the better and over the last few years, I've gotten a lot better riding the roots and rocks so I loved it. Its' real mountain biking."
JHK's confidence is soaring (as if a four-time US National Champion needs a confidence boost) after his strongest-ever World Cup finish; fifth in Fort William after leading that race at one point. "I guess when you're on, you're on," he says about his current form and success. "Having that podium in Europe gives me a lot of confidence to come back to the US and race against these guys."
JHK says his success is the result of careful preparation and training. "I definitely feel stronger than last year. And I've made more of a conscientious effort to pay attention to the little things; like diet and getting enough rest. And," he adds with a grin, "I only drink a half bottle of wine at night now, not a full bottle."
JHK says he decided the best approach to a race that would surely be settled on Sugar Mountain's long, steep climbs, was an aggressive approach. "I figured I'd take off early," he said. "I felt good from the very start. I felt smooth on the downhills every lap. I could see how far back (Jeremiah Bishop and Geoff Kabush) were. I'm happy I was able to stretch it out all the way to the end."
Canadian Ricky Federau (Teamrace.com) finished third. Team Kelley Benefits Strategies rider Nick Waite made his first NORBA podium finish by finishing fifth.
La bella Luna
Vanlandingham at the top of the climb
Photo ©: Steve Medcroft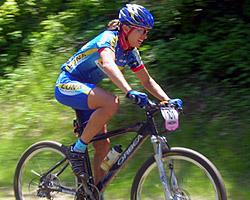 At the top of the first lap in the women's race, three Luna Chix (Shonny Vanlandingham, Jimena Florit and Georgia Gould) sat together in the lead some thirty seconds ahead of Willow Koerber (Subaru/Gary Fisher), Kiara Bisaro (Teamrace.com) and Sue Haywood. It looked as if a Luna podium sweep was setting itself up.
But Sugar Mountain is the Koerber family home course and even though Willow Koerber says she wasn't feeling great on the climb, she took chances on the downhill (which used the same course as the morning's technical Super D race). "I really like that section of singletrack so you have to have fun where you can and I ended up passing the Luna riders and coming through the start/finish area first."
Vanlandingham says she raced a conservative first lap but Koerber's aggression into the second lap set the tone for the rest of the day. "That's where the race really started," she said at the finish. "Willow's a great descender; really good at that stuff. She turned it on and went past me on the downhill and there was some separation after that."
The hometown favorite wasn't able to hold her lead though and Vanlandingham moved ahead on the second lap and held on to the finish. Behind her, positions changed faster than diapers in a family with newborn quintuplets. On the third and final lap, the heat and pitch shook the field up again one last time.
Second-place finisher Heather Irmiger (wife of men's winner Jeremy Horgan-Kobelski and a notoriously effective climber) was the seventh rider through the start/finish line after two of three total laps. "I made up a hundred percent of that time on last climb," she says. "All of a sudden, I came around a corner and saw like five or six women that had been ahead of me. I don't think I got faster - It was definitely a case of everyone else got more tired."
The only other rider not showing weakness to Irmiger was Vanlandingham. By the last lap, she had managed to put enough air between herself and some of the most talented women competing in the NORBA series to take her cross-country win in a row.
Once in the lead, Vanlandingham paced herself and finished safely, showing a return to form after illness knocked her out of Sea Otter and threatened her entire season's fitness. "I had a really bad sinus and ear infection during the first World Cup," she said. "My ears were so bad from the pressure changes when I flew home from Curacao that I was stranded in Atlanta for a week because they wouldn't let me make my connecting flight."
She says it took two weeks of antibiotics and careful training to bring herself back to form. "It's been kind of slow coming back but I'm feeling better now."
Behind Irmiger, Kiara Bisaro (Teamrace.com), Kelly Emmett (Ford Cycling) and Sue Haywood (Trek/VW) managed to get over the final climb in good enough position to make the podium.
Photography
For a thumbnail gallery of these images, click here
Images by Steve Medcroft/Cyclingnews.com
Results
Men

1 Jeremy Horgan-Kobelski (Subaru/Gary Fisher)
2 Jeremiah Bishop (Trek/VW)
3 Geoff Kabush (Team Maxxis)
4 Ricky Federau (Teamrace.com)
5 Nick Waite (Kelly Benefits Strategies)

Women

1 Shonny Vanlandingham (Luna Chix)
2 Heather Irmiger (Subaru/Gary Fisher)
3 Kiara Bisaro (Teamrace.com)
4 Kelly Emmett (Ford Cycling)
5 Sue Haywood (Trek/VW)
6 Georgia Gould (Luna Chix)