MTB index page for all MTB content
NORBA National Series #2 - NE
Park City, Utah, USA, July 6-9, 2006
Main Page Results Previous Race Next Race
Race 4 - July 8: Cross Country
JHK and Vanlandingham ride away with Deer Valley cross country
By Steve Medcroft
Jeremy Horgan-Kobelski (Subaru/Gary Fisher) and Shonny Vanlandingham (Luna Chix Women's MTB Team) continue to dominate the US NORBA National Series. The pair won their third NORBA cross-country of the season each in Park City on Saturday.
Kabush and Bishop fight for second
Photo ©: Susan Candee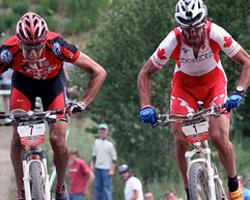 JHK took his lead from the first lap, dropping 2005 series winner and Canadian National Champion Geoff Kabush (Team Maxxis) and Trek/VW's Jeremiah Bishop by over two minutes to solo home in just over two hours leaving the pair to sprint for second.
Vanlandingham had to work herself free from a hard charging Subaru/Gary Fisher duo of Heather Irmiger and Willow Koerber to escape with a slim 15-second margin for her own win.
Kabush and Bishop battle and JHK cruises away
Men were scheduled to complete four laps of the dusty seven-mile course. Each lap featured three separate 500-feet or more climbing sections. Because of the altitude and the relentless climbing, Jeremy Horgan-Kobelski (JHK) says he felt the best tactical advantage would be to move to the front of the race early. "I wanted to get up the hill and into the singletrack first because I knew it was going to be a long, dusty race," he said by phone on Sunday. "I pushed right away and managed to actually stretch out a pretty good gap - about twenty seconds."
Behind him, Ryan Trebon (Kona/Les Gets) made a sprint to bridge and a group which included Kabush, Bishop and Ross Schnell (Trek/VW) pulled themselves together to chase after him. But the damage was already done. "By the time we caught Trebon," Bishop said, "JHK was gone."
"I knew it was going to be a long day out there by myself," JHK said about his early advantage, "but I figured I would make the most of it. Over the next lap and a half I and managed to stretch the gap out and I realized I was having a great day so I put my head down all the way to the finish."
Bishop and Kabush have been spending quite a bit of trail time together in NORBA's this season; battling head-to-head as recently as the Sugar Mountain cross country in North Carolina. The wild card in the chase group was Schnell. "Ross pushed the pace and was riding with serious intention," Bishop said. "Kabush and I were looking at each like 'man, this guy is killing us.' He even dropped us for a minute. It was a cool sign to see him ride so hard but he paid for it later."
The price Schnell paid was to lose contact with Bishop and Kabush, and ultimately fade to tenth by the finish. After that, and with JHK more than two minutes up the trail, the only question left for Kabush and Bishop was who would grab second. "Kabush and I battled the whole race," Bishop said. "He set down a hammering pace with two to go. I stuck with him and then came around on the last lap and got maybe ten seconds."
Bishop said he felt somewhat safe with that ten second gap and "popped out of the last turn and jumped up to speed," without a true sense of urgency. "Then I look over my shoulder and I see Kabush grabbing those big wide bars doing his full on sprint and we lunged for the line."
Kabush nipped Bishop by less than a tire's width.
Vanlandingham puts in a tough day at the office
After every other competition had been run on the cross-country course, Shonny Vanlandingham knew that dust and trail damage would be a disadvantage to riders stuck in traffic. "The course was pretty torn up," Vanlandingham said on Sunday. "There were huge ruts and braking bumps and it was really dry. All the corners were blown out. Which made it a technical race - you had to get used to your wheels sliding around you."
Like JHK, Vanlandingham looked for an early advantage and by being aggressive up the first climb. "I went into the singletrack behind Alison Sydor," she says. "I was able to pass her on the next climb and I had the lead."Unlike JHK though, she wasn't so easily able to shake her competition. "Heather (Irmiger) caught back on and we ride together a little bit."
"On the next climb," Irmiger said, "I really felt like I could win because I was doing the whole bumping-into-Shonny's-tire thing."
Irmiger and Vanlandingham traded the lead. "We stayed together a lot that second lap," Irmiger said. "I was descending pretty well and she was climbing well." Vanlandingham escaped on the third and final lap. "I started to feel my effort form the first lap," Irmiger said. "Shonny had better legs at that point."
Vanlandingham maintained a fifteen second gap through the last lap and finished safely ahead. Subaru/Gary Fisher rider Willow Koerber rode a strong third lap to pressure Irmiger from behind and pull within 30 seconds of Vanlandingham and take third on the day.
Looking forward to Nationals
With US cross-country Nationals just one week away (July 14, Sonoma, CA), the Deer Valley podium may offer us a prediction of what the Championship race might look like. But a sea-level course is such a different challenge from a ski resort venue like Deer Valley and nothing is assured.
JHK is optimistic that the differences won't affect him though. "The last time I raced in Sonoma was a couple of years ago when it was a NORBA and I won so I think it's a course that I can win on again," he said.
The defending National Champion's wife and teammate picked up on up his confidence. "Jeremy was always pigeon-holed as an altitude racer," said Irmiger, who has also been considered primarily a altitude racer herself. "He won Sonoma by three minutes so I'm pretty excited for this week and even though I've not always been strong at sea level, I know that the power work I've done this year means I can do well there too."
Vanlandingham says that even though she has a home base in Durango, Colorado, she feels like a true sea-level racer and isn't worried too much about the advantage the thick air may offer some racers. Vanlandingham is looking for redemption after her performance in the 2005 Championships where, after soloing for the last fifteen minutes of the race, the 2004 and 2005 NORBA National Series champion flatted on the final lap and was passed in the finishing straight by World Cup racer Mary McConneloug.
Photography
For a thumbnail gallery of these images, click here
Images by Susan Candee
Kabush and Bishop battle for second place 2-1/2 minutes after JHK won the men's cross country race at Deer Valley. Kabush took it by a tire's width
Results

Pro Men
 
1 Jeremy Horgan-Kobelski (USA) Subaru-Gary Fisher            2.10.53
2 Geoff Kabush (Can) Team Maxxis                                2.35
3 Jeremiah Bishop (USA) Trek/VW                                 2.36
4 Adam Craig (USA) Giant                                        4.34
5 Ryan Trebon (USA) Kona/Les Gets                               4.45
6 Max Plaxton (Can) Rocky Mtn Business Objects                  5.45
7 Ricky Federau (Can) Teamrace.Com                              6.53
8 Jay Henry (USA) 3D/Hillenbrand Racing                         7.44
9 Clinton Avery (Nzl) New Zealand Natl Team                     8.16
10 Ross Schnell (USA) Trek/VW                                   8.33
11 Jeff Hall (USA) Salsa Cycles                                 9.06
12 Brent Miller (Aus) Santa Cruz/Fox Shox                       9.54
13 Sam Schultz (USA) U23 National Team                         10.00
14 Jeff Schalk (USA) Trek Vw- East                             10.12
15 Brian Smith (USA) Trek/VW                                   10.17
16 Eric Jones (USA) Raleigh Facotry                            10.42
17 Kouhei Yamamoto (Jpn) I-Nac                                 11.15
18 Nick Martin (USA) Trek/VW                                   11.28
19 Mathieu Toulouse (Can) Team Maxxis                          12.20
20 Alan Obye (USA) Sram                                        12.46
21 Barry Wicks (USA) Kona/Les Gets                             12.51
22 Kris Sneddon (Can) Kona/Lesgets                             14.15
23 Thomas Spannring (Aut) Cole Sport                           14.16
24 Sam Jurekovic (USA) U23 National Team                       14.39
25 Erik Tonkin (USA) Kona/Team S And M                         15.35
26 Andy Schultz (USA) Bear Naked/Cannondale                    16.02
27 Charles Pendry (USA) Inland - Btd                           16.05
28 Evan Plews (USA) Santiam Bicycles                           16.25
29 Cody Peterson (USA) 3D Racing/Sram/Lfp&Co                   17.09
30 Christian Favata (USA) Overlookmtb/Hutchinson/Spy           17.12
31 Keith Hickerson (USA) Tamarack                              17.56
32 Cale Redpath (USA) 3D Racing                                18.41
33 Chris Jung (USA) Waltworks/Fuentes Design                   18.55
34 Michael Janelle (USA) Tokyo Joes/Go Lite                    19.11
35 Dana Weber (USA) Jax Bicycle Center                         19.31
36 Leonardo Sandoval (USA) Bicycle John's/Kenda/Mgtec          19.33
37 Aren Timmel (USA) Soul Craft                                20.21
38 Patrick Bush (USA) Clif Bar                                 20.22
39 Kevin Day (USA) Bikers Edge                                 20.26
40 Colin Cares (USA) U23 National Team                         20.35
41 Shinobu Noguchi (Jpn) Trek Japan                            21.34
42 Mitchell Peterson (USA) Devo                                21.34
43 Brandon Draugelis (USA) Bear Naked/Cannondale               21.54
44 Jimi Mortenson (USA) 3D Racing                              22.09
45 Miles Venzara (USA) Team Health FX                          22.22
46 Spencer Paxson (USA) Devo                                   22.30
47 Lance Runyan (USA) Titus Cycles                             22.32
48 Travis Woodruff (USA) Litespeed/PCW                         22.59
49 Brent Winebarger (USA) Health FX/CWX                        22.59
50 Eric Ransom (USA) Tamarack Resort/Intense                   24.21
51 Ryan Lynch (USA) James Frames/Ciber                         24.42
52 Blake Zumbrunnen (USA) Revolution/Crank Bros                24.43
53 Nat Ross (USA) Subaru-Gary Fisher                           25.53
54 Luke Pennington (USA) S And M                               26.07
55 Shannon Boffeli (USA) Revolution Mtn Sports/Crank Bros      26.15
56 Lars-Erik Johnson (USA) Sun Valley Road And Dirt            26.49
57 Stephen Iles (USA) Comotion Sports                          27.17
58 Christian Ball (USA) Independent Fabrications               29.44
59 Kevin Bradford-Parish (USA) Bicycle Butler/Rocky            30.11
60 Kamden Reedy (USA) Titus Cycles                             33.04
61 Austin Carroll (USA) Team Devo                              35.28
62 Paul Hanson (USA)                                           35.50
63 Ryan Artale (USA) Maverick/Full Cycle                       36.24
64 Charles Jenkins (USA) Cytomax/KHS                           39.19
65 Lucas Livermon (USA) Cycling Spoken Here                    41.39
66 Nicholas Stevens (GBr) Fuentes Design/Waltworks             45.00
67 Matt Freeman (USA) Team Redlands/Trek                       46.31
Lapped Raita Suzuki (Jpn) Bridgestone Anchor                        
Lapped Keiitchi Tsujiura (Jpn) Bridgestone Anchor                   
DNF Todd Wells (USA) Gt Bikes                                       
DNF Brig Brandt (USA) Bend Elite                                    
DNF Jason Sager (USA) Hotel San Jose/Cannondale                     
DNF Bart Gillespie (USA) Raliegh Factory Team                       
DNF Mike West (USA) Maverick                                        
DNF Rick Wetherald (USA) Tamarack Resort                            
DNF Steve Kinney (USA) Steven K Sports                              
DNF Tim Olson (USA) Trek/VW                                         
DNF Matt Kelly (USA) Subaru-Gary Fisher                             
DNF Michael Mccalla (USA) Spinner/Walsworks                         
DNF Adam Snyder (USA) Balance Bar/Devo                              
DNF Walker Ferguson (USA) Scott/Spinner                             
DNF Daniel Corum (USA) Inland/Btd                                   
DNF Chanoch Redlich (Isr) Trek/Sram/Rudy                            
DNF Ethan Johnson (USA) Maverick                                    
DNF Greg Lewis (USA) Healthfx/Cwc                                   
DNS Waylon Smith (GBr) Khs                                          
DNS Ariel Lindsley (USA) Maverick                                   
DNS Gordon Yanota (USA) Ellsworth Bicycles                          
 
Pro Women
 
1 Shonny Vanlandingham (USA) Luna Womens Mtb Team            1.55.08
2 Heather Irmiger (USA) Subaru-Gary Fisher                      0.16
3 Willow Koerber (USA) Subaru-Gary Fisher                       0.45
4 Jennifer Smith (NZl) Trek/VW                                  2.38
5 Georgia Gould (USA) Luna Womens Mtb                           2.59
6 Jimena Florit (Arg) Luna Womens Mtb                           4.08
7 Rosara Joseph (USA) Jazz Apple Cycling Tm                     4.29
8 Katerina Nash (Cze) Luna Womens Mtb Team                      6.06
9 Kathy Sherwin (USA) Ford Cycling                              6.14
10 Dara Marks-Marino (USA) Titus/Kenda                          7.51
11 Kristen Danielson (USA) Velo Bella/Kona                      9.00
12 Wendy Simms (Can) Velo Bella/Kona                            9.48
13 Zephanie Blasi (USA) Kenda/Dtswiss/Gu                       10.28
14 Melissa Thomas (USA) Rockymounts                            10.52
15 Susan Haywood (USA) Trek/VW                                 11.16
16 Kelli Emmett (USA) Ford Cycling                             12.25
17 Carissa Wilkes (USA) Jazz Apple Cycling                     12.36
18 Jamie Whitmore (USA) Felt Racing                            13.24
19 Nina Baum (USA) Bear Naked/Cannondale                       14.14
20 Shannon Gibson (USA) Crazy Cat/Yetigrassroots               15.21
21 Jenna Zander (USA) Bear Naked/Cannondale                    15.22
22 Jennifer Wilson (USA) Titus Grassroots                      15.44
23 Sara Bresnick-Zocchi (USA) Ford Cycling                     17.23
24 Alice Pennington (USA) Desalvo                              17.56
25 Heather Svahn (USA) Content Works                           19.03
26 Melanie Meyers (USA) Ford Cycling                           19.37
27 Carolyn Popovic (USA) Mtbikechicks.Com/Cannondale           20.30
28 Stacey Scanlan (USA) Tamarack                               20.31
29 Sue Abbene (USA) Raleigh Facotry                            21.15
30 Nina Mento (USA) Ellsworth/Hammer                           21.34
31 Sarah Barber (USA) Tamarack                                 22.19
32 Laura Anderson (USA)                                        22.55
33 Theresa Richardson (USA) Bear Naked/Cannondale              23.09
34 Michelle Hyland (USA) Jazz Apple Cycling Tm                 23.48
35 Brenda Clapp (NZl)                                          25.48
36 Kristina Andrus (USA) Dean Bikes                            27.03
37 Kathleen Weber (USA)                                        28.00
38 Christine Misseghers (Can) Mountain Bike City               28.43
39 Noel Weddle (USA) Velo Bella/Kona                           28.53
40 Kristi Lewis (USA) Orbea                                    29.09
41 Susie Fiore (USA) Colavita                                  29.12
42 Jennifer Hanks (USA) Revolution Mtn Sports                  29.13
43 Chrissy Bono (USA) Bicycle Johns Serious Cycling            29.15
44 Heather Baumgartner (USA) Tm Adventure Cycling Aurora Co    29.53
45 Christina Smith (USA) Orthopedic Store.Com                  29.58
46 Becca Blay (USA) Bear Naked/Cannondale                      30.19
47 Shannon Holden (USA) Velo Bella/Kona                        30.28
48 Lauren Koedyk (USA) Jazz Apple Cycling Tm                   30.52
49 Christie Pleiss (USA) Tm K&N Performance                    30.56
50 D.J. Morisette (USA) Ellsworth/Copper Chase Condos          31.02
51 Caitlyn Tuel (USA) Trek/VW                                  31.22
52 Kim Passafiume (USA) Velo Bella/ Kona                       32.01
53 Paula Burks (USA) Vantaggio/ Specialized                    32.14
54 Krista Park (USA) Colavita/Addictive Cycles                 32.24
55 Jennifer Tilley (USA) Kona/Velo Bella                       32.46
56 Judy Freeman (USA) Bear Naked/Cannondale                    35.40
57 Meggan Flaherty (USA) Bicylce Johns/Serious Cycling         35.44
58 Kimberly Flynn (USA) Vantaggio/Specialized                  39.31
59 Rebecca Gross (USA) Armed Forces                            43.29
60 Sonya Looney (USA) Titus                                    46.48
DNF Alexandra Robinette (USA) Team Hotel San Jose                   
DNF Alison Sydor (Can) Rocky Mtn Business Objects                   
DNF Chloe Forsman (USA) Tokyo Joes/X-Fusion                         
DNF Sabra Davison (USA) Maxxis/Devo                                 
DNF Hilary Wright (USA) Devo                                        
DNF Qbigqil Hippley (USA) Maverick                                  
DNF Lynn Stott (USA) Tamarack