MTB index page for all MTB content
Austalian downhill championships - CN
Thredbo, NSW, Australia, January 20-22, 2006
Main Page Results Overall standings Previous Race Next Race
Race 3 - January 22: Men Downhill
Rennie lands Australian title at last
By Andrew Threlfall/www.freewheel.com.au
Nathan Rennie
Photo ©: Andrew Threlfall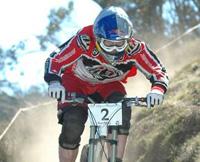 Nathan Rennie (Santa Cruz/Syndicate) and Tracey Hannah (Edge Cycles) have each secured the top spot in their respective categories to be your new Australian DH Champions. With picture-perfect weather conditions and a record 450 entrants the racing was always going to be exciting, especially as the 'jersey controversy' of '05 had been circumvented by MTBA - ensuring that the winners in Thredbo were the best on the day.
Previously, qualifying and racing had been held in the same afternoon, however with a change to the format of the racing - bringing the championships in line with UCI races - seeding was held on Saturday after a morning practice session.
Australia's longest DH course proved to be too much for many riders with all the tech crews in the pits being kept very busy. Flat tyres were common, but considering the amount of rocks on the course it was surprising there weren't more.
Elite Men
Jared Rando
Photo ©: Andrew Threlfall

Jared Rando (Giant/Fox) came out blazing on Saturday and set the pace for the day with an impressive time of 6:05.42. Bryn Atkinson (GT/Hyundai) and Joel Panozzo (WTB) filled the next two seeding positions while 2005 DH National Champion Michael Hannah (Cannondale) was taking it easy back in twelfth position.
As Sam Hill (Ironhorse) didn't make the trek across from Perth for the championship all eyes seemed to be following Jared Graves (Yeti) and Nathan Rennie who seemed to have been conserving their energy in their seeding run. Graves was looking to carry on his impressive form from last season after securing the Sea Otter DH omnium, NORBA DH championship and NORBA MTNX Championship. Unfortunately it wasn't to be.
With the track deteriorating as more and more riders went down the course, it was a considerably rougher course than when the seeding was held on Saturday.
Unfortunately for Rando he punctured his tyre on the first corner. "I was rolling down looking at everything and thinking how much faster I should have been going, but I've got the MTBA final at Mt Buller and then the Oceania's."
Tyrone from Kona/Mt Buller
Photo ©: Andrew Threlfall

With a finishing time of 6:08.88, Graves was over one second slower than Rennie's winning time of 6:07.24. The third tier was taking up by Chris Kovarik (MS/Intense) while current Junior World DH Champion Amiel Cavalier took the step up to Elite to finish fourth with Bryn Atkinson right behind.
"I've done a bit of training, but not as much as I should have." said Kovarik after the race. "Coming into it, I wasn't as strong as I needed to be and I was just relying on my past experience."
Even though he scored second Jared Graves was very pleased with the result after a demoralising start to the weekend with a fourth in the MTNX. "I would have really liked to have won the MTNX, but second in the DH, I'm definitely pretty happy with that. If Jared [Rando] hadn't have flatted he definitely would have been on the podium."
"I was happy going up the chairlift seeing how rough the track was getting. The rougher the track - the better this Yeti 303 handles it."
Acknowledging that he didn't think he had a winning time after finishing his run, Rennie was disappointed for Rando but was excited at the prospect of wearing the green and gold bands around his sleeve. "I'm glad they got the rules sorted out and kept everyone happy. I'm proud to be Australian and I'll be proud to wear the bands overseas."
2005 U19 Australian Champ Liam Panozzo.
Photo ©: Andrew Threlfall
"I had started training a little bit but I kind of got caught up with Christmas and New Years a little bit but I'm looking forward to knuckling down and getting my training going. It is a good stepping stone to win a race I really didn't expect to win."
With six months of travelling to look forward to, Rennie is planning on staying in Australia as long as possible before heading over to California for Sea Otter. "Sea Otter is the next race on my calendar but I might do some smaller races here in Australia first, then I'm planning to do some proper down-hilling before the World Cups start."
U19 Men
The proving ground for our next generation of world-dominating gravity pilots lived up to its usual high standards. With times that were only fourteen seconds slower than the winning Elite time, the young kids were trying hard to prove to Australian DH coach, Scott Sharples, that they were worthy to be selected to represent Australia at the 2006 World Championships in Rotura, New Zealand.
With the fastest seeding time of 6:18.45 going to newly signed Kona junior Alex Swann, he looked set to take out the win. However, like the Elite riders, the times suffered at the hands of a rapidly deteriorating track.
Ben Bell
Photo ©: Andrew Threlfall

In the end it was Ben Bell on the top step with fellow West Australian Joel Bain in second. The bronze position was filled by Queensland gun James Maltman.
Like Rando, Swann suffered technical difficulties which saw him finish back in twelfth position.
Photography
For a thumbnail gallery of these images, click here
Images by Andrew Threlfall/www.freewheel.com.au
Results
Elite Men
 
1 Nathan Rennie (Qld)                                           6.07.24
2 Jared Graves (Qld)                                            6.08.88
3 Chris Kovarik (Qld)                                           6.09.21
4 Amiel Cavlier (NSW)                                           6.09.67
5 Bryn Atkinson (NSW)                                           6.10.17
6 Ben Cory (NSW) Commencal                                      6.10.29
7 Fabien Pedamaund (Fra)                                        6.10.99
8 David Inabinet (NSW)                                          6.11.65
9 Joel Panozzo (Vic)                                            6.11.73
10 Adam Dossetor (ACT)                                          6.13.24
11 Dave West                                                    6.15.49
12 Christopher Panozzo (Vic) Kona/Mt. Buller                    6.16.42
13 Mick Hannah (Qld)                                            6.17.10
14 Brad Kelly (NSW)                                             6.17.74
15 Ryan Lennox (NSW)                                            6.18.45
16 Hugh Mansfield (NSW)                                         6.19.17
17 Tim Eaton (ACT)                                              6.19.34
18 Cole Banggert (Usa)                                          6.21.64
19 Michael Kearton (Vic)                                        6.22.47
20 Craig Yates (SA)                                             6.22.61
21 Ayden Eves (Qld)                                             6.23.41
22 Lindsay Klein (Qld)                                          6.24.16
23 Lincoln Verass (ACT)                                         6.25.35
24 Brock Newling (NSW)                                          6.25.95
25 Miles Mead (Qld)                                             6.25.97
26 Jarah Breese (Vic)                                           6.26.12
27 Luke Patching (NSW)                                          6.26.76
28 Jarl Jenson (Vic)                                            6.28.61
29 Shane Wode (Qld)                                             6.29.08
30 Rohan Gearing (NSW)                                          6.29.21
31 James French (SA)                                            6.29.93
32 Shayne Mirfin (NSW)                                          6.30.30
33 Scott Graham (NSW)                                           6.30.93
34 James Bashford (NSW)                                         6.33.60
35 Ken Ballhause (Vic)                                          6.34.90
36 Aaron Bashford (NSW)                                         6.34.96
37 Tylah Breese (Vic)                                           6.35.41
38 Alan Crisp (NSW)                                             6.37.81
39 Adam Smithson (NSW)                                          6.38.61
40 Steve Marsh (SA)                                             6.38.87
41 Miikael Kinnunen                                             6.40.33
42 Darren Pokoj (Qld)                                           6.41.35
43 Ben Morrison (NSW)                                           6.41.50
44 Kaine Cannan (Tas)                                           6.45.15
45 Glenn Adams                                                  6.46.64
46 Tim McCullough (Tas)                                         6.46.83
47 Jamie Green (ACT)                                            6.47.01
48 Nick Webb (NSW)                                              6.47.85
49 Matthew Bell (WA)                                            6.47.97
50 Michael Manning (Qld)                                        6.49.46
51 Matt Swann (Vic)                                             6.50.06
52 Dennis Beare (Qld)                                           6.50.71
53 Robbie McNaughton (NSW)                                      6.51.61
54 Mick Ross (NSW)                                              6.52.86
55 Regan Arthur (NSW)                                           6.55.11
56 Ross Wilkinson (Vic)                                         7.00.42
57 Damien Reeve (Vic)                                           7.02.20
58 Grant Cannan (SA)                                            7.02.27
59 Tom Cranston (NSW)                                           7.03.29
60 Joe Mullan (NSW)                                             7.03.98
61 Dean Robson (NSW)                                            7.04.96
62 Ben Tregoweth (SA)                                           7.07.53
63 Derek Ragless (SA)                                           7.08.73
64 Lee Watts (NSW)                                              7.09.88
65 Thomas Kerney (ACT)                                          7.21.16
66 Andrew MIlne (SA)                                            7.26.55
67 Andrew Eckett (NSW)                                          7.30.77
68 Brad Earl                                                    7.35.68
69 Timothy Hoover (NSW)                                         7.37.06
70 Lawrence Healy (SA)                                          7.38.06
71 Liam Panozzo (Vic)                                           8.04.20
72 Llewellyn Cameron (NSW)                                      8.12.73
73 Jared Rando (ACT)                                            8.23.14
DSQ Geoff Grennan (Qld)                                                
DNF Brad McDonnell (SA)                                                
DNF Damien Perry (NSW)                                                 
DNS Daniel Sprague (WA)                                                
DNS Grzegorz Zielinski (Poland)                                        
DNS Andy Epthorp (NSW)      
 
Under 19 Men
 
1 Ben Bell (WA)                                                 6.21.71
2 Joel Bain (WA)                                                6.22.89
3 James Maltman (Qld)                                           6.24.36
4 James Brodie (NSW)                                            6.26.91
5 Luke Gowen (NSW)                                              6.31.13
6 Chris Coombe (NSW)                                            6.31.16
7 Mitchell Delfs (WA)                                           6.31.83
8 Hamish Armstrong (ACT)                                        6.33.19
9 Ricky Lee (ACT) RawNRG                                        6.34.44
10 David Hetherington (Vic)                                     6.39.95
11 Ryan Andrews (WA)                                            6.41.93
12 Alex Swann (Vic) Kona/Mt. Buller                             6.44.51
13 Chris Whitelock (Vic)                                        6.44.80
14 Evan Winton (Vic)                                            6.45.48
15 Will Rischbieth (SA)                                         6.45.61
16 James McMillan (NSW)                                         6.46.43
17 Fergus Milne (SA)                                            6.47.23
18 Jordon Kopetko (NSW)                                         6.47.49
19 Tom Brodie (NSW)                                             6.48.62
20 Chris Perger (NSW)                                           6.50.28
21 Cameron Allonby (Qld)                                        6.51.59
22 Matt Holgate (ACT)                                           6.52.44
23 Dale Grixti (SA)                                             6.52.71
24 Oscar Buckle (Vic)                                           6.54.61
25 Kent Hamilton (NSW)                                          6.55.76
26 William Cookesley (Vic)                                      6.57.66
27 Phillip Howe (Qld)                                           6.58.97
28 Ashley Grundy (NSW)                                          7.02.63
29 Andrew Miers (SA)                                            7.02.84
30 David Rowley                                                 7.05.95
31 John Campbell (ACT)                                          7.07.82
32 Nic Gladstone (Vic)                                          7.08.86
33 Matt McDonald                                                7.08.97
34 Toby Breheny (Vic)                                           7.09.17
35 Jonathon Cook                                                7.09.61
36 Brad Williams (ACT)                                          7.10.00
37 Rory Lang (NSW)                                              7.11.38
38 Deon Baker (WA)                                              7.11.89
39 Callan Ridge (Vic)                                           7.14.32
40 Jamie Dunlop (WA)                                            7.21.04
41 Alex Wruck (Vic)                                             7.22.18
42 Mitchell McKinlay (ACT)                                      7.29.37
43 Nathan Faber (NSW)                                           7.29.50
44 Jared Blackmore (Qld) Mini Man                               7.33.52
45 Grant Jones (NSW)                                            7.34.63
46 Sam Tregoweth (SA)                                           7.35.22
47 Eliot Skinner (NSW)                                          7.41.27
48 Andrew Fedorovitch (NSW)                                     7.44.16
49 Jack Wilson (Qld)                                            7.48.38
50 Tim Dickens (ACT)                                            8.01.79
51 Tim Blacketer (NSW)                                          8.02.14
52 Andrew Clarke (SA)                                           8.28.42
53 Mitch Gardiner (Qld)                                         9.18.59
54 Jack Cavanagh (SA)                                           9.23.18
55 Nicholas Kennedy (NSW)                                      10.22.66
56 Tim Lelek (Vic)                                             10.28.22
57 Lachlan Gardiner (Qld)                                      11.21.79
58 Todd Robertson (Vic)                                        12.19.56
59 Rhys Atkinson (Vic)                                         12.27.18
DNF Cody Eichhorn (NSW)                                                
DNF Tom Mulligan (Vic)                                                 
DNS Jared Klein (NSW)                                                  
 
Under 17 Men
 
1 Tom Patton (NSW)                                              6.28.50
2 Sam Ward                                                      6.30.58
3 Dylan Prohm                                                   6.40.20
4 David Maud                                                    6.42.44
5 Ben Wilson (NSW)                                              6.43.80
6 Matt Vincent                                                  6.47.76
7 Jasper Ludewig (NSW)                                          6.52.86
8 Laurie Dinham (SA)                                            6.57.68
9 Murray Stephens (Vic)                                         6.59.85
10 Llewellyn Griffith (NSW)                                     6.59.90
11 Michael Saros (NSW)                                          7.01.35
12 Alexander Beccari (NSW)                                      7.02.74
13 Hugh Walker                                                  7.07.49
14 Brenton Gowen                                                7.07.90
15 Ben Nylen                                                    7.11.65
16 Seaton Humphreys                                             7.15.62
17 Clark Hawke                                                  7.16.65
18 Lucas Kuncewicz                                              7.20.13
19 Tim Windshuttle                                              7.22.06
20 Mitchell Boyd                                                7.26.41
21 Jarred Tatum                                                 7.27.64
22 Tom Rowe                                                     7.29.39
23 Oli Selden (NSW)                                             7.32.63
24 Tim Ridge                                                    7.34.03
25 Rhys Willemse (Qld)                                          7.38.40
26 Ben Leaper (NSW)                                             7.43.36
27 Scott Parsons (Vic)                                          8.00.69
28 Jake Winther (Vic)                                           8.01.57
29 Jayce Starr (NSW)                                            8.12.18
30 Edward Austen (NSW)                                          8.21.34
31 Jacob O'Neill (ACT)                                          8.24.04
32 Dale LeCluse (Vic)                                           8.25.40
33 Jake LeCluse (Vic)                                           8.41.70
34 Tom Barwick (NSW)                                            8.45.35
35 Lewis Millhouse (SA)                                         8.49.43
36 Nick Muggeridge (Qld)                                        9.47.28
37 Tristan Kennedy (NSW)                                       10.10.86
DNF Tom Fogarty                                                        
DNF Stefan Ludzay                                                      
DNS Anthony Vaughan (Vic)                                              
 
Under 15 Men
 
1 Wills Gower (SA)                                              6.52.29
2 Daniel Lavis (NSW)                                            6.59.81
3 Ben Glerke (Qld)                                              7.02.89
4 Tim Wruck                                                     7.23.90
5 Chris Leaper (NSW)                                            7.24.47
6 Lachlan Ward                                                  7.40.68
7 Troy Brosnan (SA)                                             7.44.35
8 Will Giles (SA)                                               7.49.28
9 Blake John Hanson (ACT)                                       7.52.32
10 Jake Gee (NSW)                                               7.54.28
11 Daniel Boyd                                                  7.57.39
12 Michael Dargan (NSW)                                         7.58.40
13 Oli LeLievre                                                 7.58.45
14 Riley Wilson (NSW)                                           7.58.98
15 Anthony Jones                                                8.03.97
16 Tom Marshall (NSW)                                           8.07.07
17 Steven Reidy (Vic)                                           8.16.04
18 Rowan Haydon (NSW)                                           8.38.95
19 James Moustafa                                               8.48.62
20 Brendan Jones (NSW)                                          9.14.53
21 David McMillan                                               9.19.90
22 James Green                                                  9.43.62
23 Anthony Fedorovitch (NSW)                                   10.37.40
24 Fraser Engelen (NSW)                                        16.07.00
DNS Tim Allsop                                                         
DNS William Morris                                                     
 
Sport Men
 
1 Jason Miller                                                  7.06.23
2 Daniel Allen (NSW)                                            7.07.15
3 Ben Cooper                                                    7.12.44
4 Darren Sherman                                                7.12.59
5 Chris Lombardo (Vic)                                          7.13.54
6 Anthony McLean                                                7.16.37
7 Damien Milhuisen (Vic)                                        7.20.23
8 Scott Weaver                                                  7.20.98
9 Juan Roncallo (Vic)                                           7.21.60
10 Dave Musgrove                                                7.22.00
11 Jacob Coles                                                  7.25.38
12 Ben Orrell (NSW)                                             7.26.79
13 Lachlan Skinner (NSW)                                        7.27.76
14 Bradley Goff (NSW)                                           7.33.09
15 Ben Thomos (NSW)                                             7.41.06
16 Greg Geldard                                                 7.46.38
17 Rodrigo Bravo (Vic)                                          7.48.23
18 James Spartesmun                                             7.52.96
19 Leigh Wood (Vic)                                             7.53.71
20 Liam McDonough (Vic)                                         7.56.79
21 Matt Fennell                                                 7.57.46
22 Joshua Bosschieter (NSW)                                     8.02.99
23 Linden Bleyie (Vic)                                          8.03.34
24 Nick Havik (ACT)                                             8.04.17
25 Marcus O'Leary (Vic)                                         8.06.32
26 Leonard Allen (NSW)                                          8.21.43
27 Christopher Hawking (Vic)                                    8.22.42
28 Richard Vanderwaal (Vic)                                     8.23.86
29 Paul Maxted (NSW)                                            8.24.41
30 David Lombardi (Vic)                                         8.27.84
31 Richard Duke                                                 8.31.72
32 Brent Owens                                                  8.33.86
33 Nathan Gumley (ACT)                                          8.35.29
34 Richard Veale (NSW)                                          8.36.18
35 Peter Harris (NSW)                                           8.39.46
36 David Casey                                                  8.43.56
37 Matt Le Cornu (NSW)                                          8.53.02
38 Michael McGann (NSW)                                         8.54.20
39 Shane Flint (NSW)                                            9.00.66
40 Kristen Mandeville (Vic)                                     9.26.73
41 Leigh Edwards (NSW)                                          9.28.69
42 Andrew Browne (NSW)                                          9.39.70
43 Bryce Harris (NSW)                                           9.58.06
44 Nathan Mobbs (ACT)                                          10.08.60
DNS Dave Heath (Vic)                                                   
DNS Aiden Stelling (NSW)                                               
 
Expert Men
 
1 Daniel Chermale (NSW)                                         6.35.35
2 Trevwah Burke (Vic)                                           6.45.00
3 Scott Redding (NSW)                                           6.45.85
4 Ben Goff (NSW)                                                6.46.52
5 Daniel Segeri                                                 6.49.33
6 Scott Millot                                                  6.50.65
7 Randal Huntington (Qld) ForTheRiders.Com                      6.51.31
8 James Blencowe (NSW)                                          6.51.44
9 Matt Rowley                                                   6.51.98
10 Jonathon Taylor (NSW)                                        6.52.45
11 Ashley Swann (Vic)                                           6.52.64
12 Scott Grundy                                                 6.53.27
13 Fraser Lindsay (NSW)                                         6.53.94
14 Corey Budd                                                   6.54.60
15 Oliver Kristevic (NSW)                                       6.56.06
16 James Collins (NSW)                                          6.56.59
17 Micheal Steele (NSW)                                         6.59.70
18 Jack Timms (Vic)                                             7.00.88
19 Brendan Wood (Vic)                                           7.01.44
20 Simon Ballard (NSW)                                          7.01.58
21 Chris Barlin (NSW)                                           7.05.98
22 Boris Fontanella (SA)                                        7.06.33
23 Mikhail Chai                                                 7.07.79
24 Chris Southwood (NSW)                                        7.08.70
25 Isaac Heppell                                                7.09.34
26 Andrew Byrnes (NSW)                                          7.09.74
27 Eden Humphreys                                               7.10.08
28 Nick Rudzki                                                  7.12.57
29 David Waid                                                   7.12.65
30 Andy Gould                                                   7.13.09
31 Aaron Bishop (NSW)                                           7.14.14
32 Nick Rastas (Vic)                                            7.14.82
33 Andrew Blair                                                 7.16.22
34 Dave Marshall (NSW)                                          7.17.11
35 Gareth Blower (Qld) Mini Man                                 7.17.30
36 Stewart McQuilken                                            7.18.95
37 Troy Bromley (NSW)                                           7.19.01
38 Christopher Hetherington (Vic)                               7.19.36
39 Luke Garnham (NSW)                                           7.19.86
40 Matthew Trigwell                                             7.22.51
41  Mitchell (Vic)                                              7.23.80
42 Ben Wooltocton (WA)                                          7.26.79
43 Johnathon Breekveldt                                         7.29.26
44 Angus Coombe                                                 7.29.59
45 Jake Pendleton (NSW)                                         7.29.71
46 James Knowler (SA)                                           7.35.59
47 Peter Caldwell (WA)                                          7.42.35
48 Nick Shields                                                 7.42.72
49 Timothy Donovan                                              7.44.91
50 Johnathon Kiesewether (NSW)                                  7.45.52
51 Chris Cousens Team Miniman                                   7.56.55
52 Kye Hore (Qld)                                               7.58.16
53 Johnny Dawe (Vic)                                            8.03.95
54 Stewart Bruce (Vic)                                          9.52.38
55 Joe Polden                                                   9.53.62
DNF Dave Andrews (NSW)                                                 
DNF Drew Bisset (NSW)                                                  
DNS Mark Harris (SA)                                                   
DNS Russell Good (SA)                                                  
DNS Isaac Fryar (Vic)                                                  
DNS Peter Craig (NSW)                                                  
DNS Luke Sturt (NSW)                                                   
DNS David Rowley                                                       
 
Veteran Men
 
1 Dean Davies                                                   6.33.18
2 Tony Carson (Qld)                                             6.37.57
3 Jason Patrick (Blackmore Mini Man, My Bike Shop, Santa Cruz)  6.39.69
4 Ben Reynolds (Vic) Streamline Cycles                          6.43.56
5 Dan Taliana                                                   6.48.95
6 Karl Peel                                                     6.49.13
7 Shane Dobson                                                  6.51.19
8 Jeremy Peterson                                               6.52.55
9 Marc Ellis (NSW)                                              6.53.05
10 Drew Hamilton (NSW)                                          6.53.12
11 Linden Storey                                                6.58.12
12 Jason Archer (WA)                                            7.00.43
13 Landon Jenaway (WA)                                          7.04.70
14 Adrian Walsh (WA)                                            7.07.23
15 Jason Davies (NSW)                                           7.08.89
16 Nigel Dobson                                                 7.11.16
17 Michael Chance (NSW)                                         7.11.53
18 Mark Keegan (NSW)                                            7.14.46
19 Jarrod Zorzalka (Vic)                                        7.19.08
20 Jason Rayner (SA)                                            7.19.60
21 Peter Horch (Vic)                                            7.20.11
22 Mark Haimes                                                  7.20.84
23 Shane Rayner (SA)                                            7.21.49
24 Saxon Cook (NSW)                                             7.21.53
25 Wayne Armistead (Qld)                                        7.25.29
26 Gavin Finley (Qld)                                           7.29.28
27 Glynn Hicks (SA)                                             7.33.06
28 Wayne Froggatt (NSW)                                         7.33.81
29 Jason Campbell (NSW)                                         7.33.94
30 Scott Bocking                                                7.37.59
31 Mark Sullivan (ACT)                                          7.38.29
32 James Harris (NSW)                                           7.38.98
33 Scott Tiller                                                 7.41.83
34 Phil Lewis (SA)                                              7.45.50
35 Stuart Janes                                                 7.46.93
36 Tony Minahan (NSW)                                           7.50.56
37 Craig Penglase (Vic)                                         7.51.79
38 Daniel Hehir (NSW)                                           7.55.73
39 Ty McLean (Vic) Kona/Mt. Buller                              7.55.86
40 Dave Grupe                                                   7.57.45
41 Adam Fernyhough (NSW)                                        7.58.61
42 Calvin McKinley                                              7.58.84
43 Chris Farnaham (NSW)                                         7.59.23
44 Mark Casey (Vic)                                             8.02.55
45 Craig Dudley (NSW)                                           8.04.27
46 Matt Behm (WA)                                               8.07.38
47 Ben Mason (NSW)                                              8.08.04
48 Timothy Colgan (WA)                                          8.11.22
49 Justin Armstrong (Vic)                                       8.13.54
50 Aaron Simmons (NSW)                                          8.14.05
51 Dickson Beattie                                              8.15.33
52 Joff Medder (SA)                                             8.18.94
53 Andrew Hamilton                                              8.23.35
54 Greg Applin (Qld)                                            8.23.39
55 Patrick Coe (Vic)                                            8.23.79
56 Damian Kerr (NSW)                                            8.26.35
57 Adrian Forrester (NSW)                                       8.26.74
58 Martin Wichman (NSW)                                         8.28.27
59 Craig Stephenson                                             8.28.81
60 Andrew Smith                                                 8.31.23
61 Don McIntosh                                                 8.44.54
62 Michael Kennedy (NSW)                                        9.12.11
63 Jarrod Walters (NSW)                                         9.16.09
64 Jason Stalker (Can)                                          9.34.55
65 Adam Phelps (Qld)                                           10.58.25
DNF Chris Mather                                                       
DNS Nathan Gee (NSW)                                                   
DNS Frank Hoer (NSW)                                                   
DNS Cameron Doble (Vic)                                                
 
Masters Men
 
1 Chris Moore (NSW)                                             7.00.72
2 Troy Rowell                                                   7.09.84
3 Scott Morelli (NSW)                                           7.13.71
4 John Myssonski (ACT)                                          7.25.39
5 Paul Selleck                                                  7.29.63
6 Sergio Laverhicocca (NSW)                                     7.41.95
7 Mark Cranston                                                 7.43.17
8 Daniel Pradal (Qld)                                           7.43.44
9 Stuart Norman (NSW)                                           7.43.91
10 Steven Kym Lewis (SA)                                        7.44.40
11 Simon Short                                                  7.48.72
12 John Scott-Hamilton                                          8.05.03
13 James Graham (Vic)                                           8.06.28
14 Matthew Read                                                 8.07.14
15 Neil Scruton (NSW)                                           8.18.07
16 Allan Clements (Vic)                                         8.24.82
17 David Miers                                                  8.33.30
18 Mark Brosing                                                 8.59.59
DNS Graham Mulcahy                                                     
DNS Dirk Klein (NSW)                                                   
 
Super Masters Men
 
1 Stephen Coles                                                 8.31.93
2 Tony Burchall                                                 8.34.51
3 Steven Humphreys                                              9.16.19
4 Geoffrey Davis                                               10.05.31
 
Hardtail Men
 
1 Duncan John Nicholson (NSW)                                   7.23.90
2 Darren Graham (Qld)                                           7.41.36
3 Nicholas Bailly (NSW)                                         7.54.51
4 Phillip Charlton (SA)                                         8.12.56
5 Timm Schiller                                                 8.18.52
6 Mark Hayward (NSW)                                            8.21.21
7 Nathan Weiss (Vic)                                            8.40.02
8 Terrence Scarr (NSW)                                          8.52.53
9 Bruce Morris                                                  9.01.14
10 Cameron Busch (NSW)                                          9.08.17
11 Wade Murphy (NSW)                                            9.33.09
12 Brendon Dowler (NSW)                                         9.51.65
13 Dan Whyte (NSW)                                             10.42.39