MTB index page for all MTB content
Australian XC series finals - NE
Mt Buller, Vic, Australia, February 18, 2006
Cooper and Starr take charge from the gun
By Mikkeli Godfree in Mt Buller
Dylan Cooper
Photo ©: Mikkeli Godfree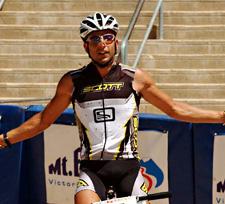 Under crystal clear skies and over a brutal XC course, Dylan Cooper (Scott-Conceptitis.com.au) and Dellys Starr (Cycle Edge) dominated their respective Elite Male and Elite Female classes. The two led their races from the outset and each went on to win by two and a half minutes.
Despite these strong performances, neither winner would dislodge the 2005-6 National Series Champions Chris Jongewaard (Avanti-Rock Shox) and Emma Colson (Giant-Top Bike) who had sealed their series victories before the final round - both having to miss the race due to injuries in any case.
While the winners on the day had a lot to smile about, the unforgiving course claimed notable victims with Jongewaard opening his knee up during Friday's practice and Sid Taberlay (Avanti-SRAM-Rock Shox) having his rear disk brake rotor bent irreparably on the first lap ruining his race and thwarting any chance of him climbing up in the National Series.
How it unfolded
After last year's Oceania Games where a few of the elite females got lost during the event, the course and its marking was always going to be a hot topic. After many hours spent making a new trail, much discussion about whether it was a worthy edition and a late decision to scrap it, the '06 course was basically unchanged from '05. The course is unique in that a lap is a about 20km, nearly twice the length of most XC race courses. As a result, the men would only do two full laps and the women would complete a half-lap and then a full lap.
Dellys Starr
Photo ©: Mikkeli Godfree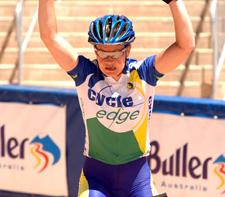 The course essentially started up the road before it turned downhill where it dropped, dropped and dropped down right to the base of Mt Feathertop. From there, the course was all up which wouldn't have been so bad but the 'climb' consisted of between one and three walking sections (depending on your level of fatigue), the longest of which could not have been less than 5 minutes.
While many riders complained, at the end of the day, no-one could say that the strongest riders had not won (although how Taberlay would have faired with two brakes is anyone's guess).
Elite Women
Despite only nine women starting the event, the competition at the front of the field was tight with Commonwealth Games qualifiers Dellys Starr and Claire Baxter (Le Tour) pitching themselves against the in-form Tory Thomas (who is back on board Scott bikes for '06) and Niki Fisher (Assos).
The recently-crowned national XC champion Starr was in no mood to muck around and by the end of the first 'half-lap' had put forty seconds into a determined-looking Thomas. Fisher was just off the pace a further thirty seconds in arrears while Lysterfield National Series Round winner Baxter was another twenty seconds back with little chance of getting back to the pointy end of the race.
Tory Thomas
Photo ©: Mikkeli Godfree

Starr, who has recently returned to XC after having had a few years trying different things (including X-terra racing), has come back an impressive rider and on the next lap she continued to put time into the rest of the field. Thomas did a fantastic job, limiting her losses to Starr and putting a huge five minutes into third-placed Fisher on the second and final lap.
There really was no challenging Starr who showed absolute class on a very difficult course, finishing in 1:33:32. Thomas rolled through 2min 31s back to secure second on the day and third in the National Series, further cementing herself as a player in elite women's XC after a car accident threatened to take her off the bike for life only a year ago, an ever-impressive comeback. In third, Fisher was another 5min 42s back, showing the strain of the tough course, while Baxter was nearly another 5min in arrears to secure second place in the National Series.
Elite Men
Sid Taberlay
Photo ©: Peter Knight

Dylan Cooper won this National Series Round last year and with it the '04-'05 National Series. While a win here today would never elevate Cooper to the heights of the previous Series, he was a hot favourite. However, with Taberlay fresh off a win at the National Championships and a lot of other riders keen to get some results on the board before season-end it was always going to be a hard fought affair.
The skirmish at the start saw Cooper come out clearly in front with a pack including Taberlay, Murray Spink (Giant), Shaun Lewis (Trek-SASI-Oakley) Perren Delacour (Yeti-SRAM-PI-Smith) and Al Farley (Giant) scrambling to stay in contact with the leading Canberran. The course for the men included two of the larger loops, each of which was expected to take an hour. As we waited with baited breath to see the men come back, it was a slight surprise to see a driven Farley half a minute up on Cooper with Spink a minute and a half further back, Delacour thirty seconds behind Spink with Lewis in tow. A notable absence was Taberlay who was delayed about five minutes after a rock took out his rear rotor so badly that he had to take it off…so he could keep racing with one brake on a course where at some points two brakes were barely enough.
Farley was on a mission as he went through the start-finish area signifying the mid-point of the race but a cool, calm and collected Cooper didn't look too flustered. The thirty second deficit was absolutely obliterated by Cooper on the long descent and before the low-point in the course the winner of this race a year ago was about a minute clear of the flagging Farley.
Al Farley
Photo ©: Mikkeli Godfree

Cooper later said, "It was my tactic to just let go of the brakes and just hang onto the bars bloody hard. Every descent I would get a big gap and they would flog themselves to get back on. On the second lap I knew it was make or break so I took some big risks and it paid off.
But Cooper is no one trick wonder and a super-strong climb back to the finish cemented him as race winner 2mins 44s up on second. The real race was going on behind though as Lewis had fought back from 5th to 2nd on the final lap. It was a well-deserved result and a fantastic performance from Lewis who really hadn't posted such a great result since his second place overall in the '05 National Championships.
Next over the line was a very happy Spink who took second place in the National Series with his third place here today. Spink was looking forward to a tough day ahead of him to secure second spot in the series and while Taberlay's misfortune took the pressure off, Spink's third place was a very good result. Delacour held his fourth spot through to the finish giving him third in the National Series, whilst Farley scraped through to take fifth on the day and the same in the National Series.
The unlucky Taberlay ended up finishing 12th overall, enough to claim 4th in the Series - not bad for doing well over half the race with one brake. "It was pretty hard with only one brake…funnily enough. I thought I could get back in contention but I just could go fast enough," said the Taswegian philosophically.
Frustratingly, Jongewaard had to watch all this action from the sidelines, but as his goal is the Commonwealth Games just over a month away, a full recovery from yesterday's bingle is the most important for him. "They said it was mainly a flesh wound. They're going to keep it open just in case some infections start up. I'll get it stitched up in the next few days. I'll be back on the bike and back into training and preparations for Commonwealth Games," Jongewaard said from the sidelines.
Speculation on the Commonwealth Games
Jongewaard said, "We'll be looking out for each other Sid's definitely a good guy to work for. I've worked with him many times before. We're just trying to get the best result for Australia."
The reserved Taberlay said, "Chris and I are pretty good chances. Chris has just had an injury. We'll see how that goes. There're probably a few stitches required. So hopefully it won't upset things too much."
"It's going to be a race where we definitely need both of us there working as a team to be able to win the race," confirmed Taberlay. "Hopefully if all goes great we should be in for a medal."
According to National Mountain Bike Cross Country coach, Damien Grundy, "The Australians still have strong competition from Britain and Canada Liam Killeen (England) and Geoff Kabush (Canada)." "The Australians all have the capacity and so do 3 or 4 other riders," he said.
The Commonwealth Games Mountain Bike race is on Thursday 23 March at Lysterfield.
Results
1 Dylan Cooper (conceptis.com.au)                                 1.57.56
2 Shaun Lewis (Trek, Shimano, Oarley, SASI, Revolution)              2.43
3 Murray Spink (Giant Bicycles)                                      3.21
4 Perren Delacour (Team Yeti, Sram, P.I., Smith, Bell, Hurho)        4.18
5 Alistair Farley# (Giant Bikes, Castlemaine Cycles, Oxy-Shot)       5.46
6 Matthew Fleming (Clearence St Cyclery, Trek Bicycles)              6.27
7 Shane Paton (Kona, Mt Buller Factory Team)                         7.21
8 James Maebus# (VIS, Raceline, Michelin, Rudy Project)              7.38
9 Lachlan Norris# (Cannondale, Maxxis, Sram, Castlemaine Cycles)     8.25
10 Joel Healy# (Kona, Mt Buller Factory Team)                        9.14
11 Aiden Lefmann (Cannondale, Maxxis, Sram)                         10.02
12 Sid Taberlay (Avanti, Sram)                                      11.40
13 Mark Van der Ploeg# (Rockey Valley Bike Shop)                    16.25
14 Chris Winn# (Yeti, Spoken, Sram)                                 16.48
15 Andrew Blair (RL)                                                17.08
16 Damon Griggs (Derrico Cycles)                                    20.18
17 Russell Collett (Spoken, Geax, Manitou)                          25.16
18 Ashley Wass (Cycle Gallery, Mt Barker Gymnasium)                 27.08
19 Adam Freeman                                                     40.49
DNF Daniel McConnell# (SouthAustralia-AIS.com, Bianchi, Adidas)          
DNF Garry Millburn# (Cannondale, Maxxis )                                
 
Elite Women
1 Dellys Starr (Sports Garage, Yeti)                              1.33.32
2 Tory Thomas (Scott, Flight Centre, Rock Shox, Sram, MBC)           2.29
3 Niki Fisher                                                        8.11
4 Claire Baxter (Le Tour Cycles)                                    12.44
5 Rosemary Barnes (Mal Adjusted)                                    12.56
6 Naomi Williams (Felt, Hutchinson, Spoke(n))                       13.32
7 Erica Gurner (Spoken)                                             19.40
8 Nicole James                                                      28.01
9 Claire Graydon (Mal-Adjusted Bicycle Emporium)                    36.55
 
U 19 Men
1 Daniel Braunsteins (Richmond Cyclery)                           1.22.18
2 Glenn Stewart (Camondale-Maxxis Team, Gordon St Cycles)            0.49
3 Daniel Johnston (Trek, NTIS, Shimano, Ultimate Ride, Mum & Dad)    7.10
4 Paul Van der Ploeg (Rockey Valley Bike Shop)                       8.15
5 Luke Knox (Bee Happy Orthodontics, Performax Fitness)              8.39
6 Jamie Paisley (Hendry Cycles, GMBC)                               10.05
7 Luke Graydon                                                      11.58
8 Cal Britten (Kona, Mt Buller Factory Team)                        18.33
DNF Nathan Haas                                                          
 
Expert Men
1 Wayne Bower (Drift)                                             2.17.00
2 Tim Bartholomew                                                    5.11
3 Tim Retchford                                                     10.08
4 Grant Lebbink                                                     12.53
5 Rowan Smith (Hendry Cycles)                                       15.17
DNF Scott Liston (Intergrated Fire Solutions, Pinnacle Cycles)           
 
Super Masters Men
1 Kevin Jones                                                     1.20.43
2 Kahn Franke (Walkers Wheels)                                       2.07
DNF Clive Strickland                                                     
 
Masters Men
 
1 Damian Grundy (Giant, Adidas Eyewear)                           1.11.00
2 Brian John (Brunswick Street Cycles)                               5.03
3 David Olle (Topbike Tours, Giant)                                 10.33
4 Chris Neenan                                                      11.54
5 Damian Bourke                                                     13.29
6 David O'Leary                                                     15.02
 
Veteran Men
 
1 Kristjan Snorrason (Kona, Mt Buller Factory Team)               1.30.39
2 Paul Traynor                                                       0.50
3 Damien Jones (Hampton Bicycles)                                    3.12
4 Mark Fenner (Nowra, Optus)                                         6.44
5 Peter McDonough (GMBC)                                             7.29
6 Wes Samson (West End Cycles)                                      12.31
7 Damian Auton (Cog Bicycles)                                       14.22
 
Veteran Women
 
1 Jane Ollerenshaw (Norco)                                        1.47.15
DNS Tanya Britton (P+O Ports, TC's Bike Barr)                            
 
U 17 Men
 
1 Peter Braunsteins (Richmond Cyclery)                            1.01.15
2 Robbie Hucker                                                      3.06
3 David Johnston (Specialized, Penny Farthing, Mum & Dad)            4.54
4 James Mowatt (Cycle Science)                                      15.55
5 Tom Patton (Bike Addiction, Citrus Speed Imports)                 27.38
 
U 15 Men
 
1 Brendan Jones (Raw NRG - Thredbo)                               1.04.01
 
U 15 Women
 
1 Siobhan Jones (Raw NRG - Thredbo)                               1.19.47
 
Sport Men
 
1 Peter Malcolm                                                   1.20.29
2 Scott Needham (Closer)                                             3.42
3 Cameron Dickinson                                                  6.21
4 Steven Lee                                                         8.04
5 Anthony Bateup                                                    10.23
6 Warwick Hall (Bike Now)                                           17.59
7 Iain Davidson                                                     22.15
8 Jarrod Acfield                                                    30.38
DNF Devon Greeetham                                                      
DNF Lee Stariha                                                          
 
Sport Women
 
1 Joanne Hall (Giant)                                             1.08.58
2 Karen Alcock                                                       6.52
3 Kelly Linaker                                                      8.20
4 Nicole Werner                                                      9.42