MTB index page for all MTB content
Australian DH series finals - NE
Mt Buller, Vic, Australia, February 19, 2006
Hill & Jonnier untouchable
By Mikkeli Godfree in Mt Buller
Sam Hill
Photo ©: Mikkeli Godfree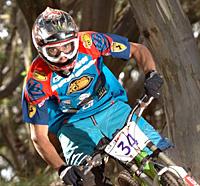 On a chewed out track in perfect racing conditions, DH super-couple Sam Hill and Sabrina Jonnier (Iron Horse) dominated the racing, winning their categories convincingly. However, despite these sterling performances, neither could dislodge the leaders of the National Series leaders Jared Rando (Giant) and Claire Whiteman (Kona) who both secured the series wins with solid second places.
The victories were sweet for the wining couple with Hill putting an incredible nine seconds into the rest of the Elite field and Jonnier being ultra consistent posting fast qualifying and final runs which only varied by two hundredths of a second.
Hill and Jonnier are indeed a hot couple at the moment, each coming off silver medals in the World Championships (by under a second) last year and each able to pull out some spectacular riding at the drop of a hat. Both will now travel to Rotorua, New Zealand for the Oceania Championships (as will many of the Elite fields) to check out the course that will host the 2006 World Championships.
How it unfolded
Elite Women
Sabrina Jonnier
Photo ©: Mikkeli Godfree

With only three women entered in Elite Women, it couldn't be said that there was depth in the field but with World Cup Champion Jonnier and soon to be National Series winner Whiteman lining up, the racing was still going to be hard. In any case, the course - one of the toughest in the National Series - was going to provide enough of a challenge for the women with some chunky rock gardens and a tricky little wall ride to keep them honest.
In the qualifier, Jonnier caught and passed Whiteman after the former had a few crashes and the final was a repeat of the qualifier. Despite not being pushed in the time department, Jonnier is keen to nail a downhill course and her 4min 12s run was testament to that.
"I love this place I've had lots of fun. It's a great track and lots of fun. The track was harder than last year. It is getting rougher and rougher. After this morning there were quite a few rocks on the track. I think it is one of the rougher tracks. But, racing here is so much fun," said Jonnier at the end of the day.
Second placed Whiteman said, "The final was good. The track was really chopped up. A tree jumped out in front of me, as they do, but other than that it was pretty cool. It was good to have an international superstar here because it takes you back to reality and makes you realise what your goals are." Of the National Series, Whiteman said, "The series win is alright but it's a bit unfair because I'm the only woman who's done the whole series…but I'll take it anyway!"
Junior Men
James Maltman
Photo ©: Mikkeli Godfree

In the Australian National Series the eyes are always on the youngsters as they often post times which rival the best in Elite (notably Liam Panozzo just one year ago). Today was no different with James Maltman and Alex Swann (Kona) going toe-to-toe with some fast times.
Swann has been gnashing at the heels of the crazy little Maltman all season coming within two seconds of him at Thredbo. At Mt Buller the two almost recreated their Thredbo battle with Swann 1.51sec down on the seemingly unbeatable Maltman by race-end. Keep your eyes on these lads.
Elite Men
In contrast to the women's field, the Elite Men's field was absolutely jam packed with talent. While there were notable absences in Nathan Rennie (Santa Cruz-Red Bull) and Jared Graves (Yeti), there was some super-fast talent waiting up the top of the mountain on Sunday morning to do battle.
The Elite Men had a clear shot at the track being the first out on track after practice. Despite the clear track, conditions were super-rocky and the old race-lines were now deep ruts.
Jared Rando
Photo ©: Mikkeli Godfree

With qualifying done, the die was cast with Hill laying down a 3:34:78, nearly seven seconds up on the closest qualifier Amiel Cavalier (Giant). Youngster Cavalier shared the time of 3min 41sec with Series leader Rando and Joel Panozzo (Fox) whilst four riders including Liam Panozzo (Fox-Intense) were all crammed in over the next second. It was going to be a ding-dong final with young Liam Panozzo looking to hold onto his second spot in the National Series.
With the Elite Men top and tailing the day, the track was absolutely punished by the time the finalists returned to the start gate.. Despite the state of the track, much was promised of the final with many riders pinpointing some areas to pick up more time.
Cairns lad Miles Mead (Kona) rode himself into the hot seat with a 3:38:73, showing his great knowledge of this track, but he wouldn't stay at the top of the leader board for long. First it was junior World Championship bronze medallist Liam Panozzo, then it was Junior World Champion Cavalier, then National Series leader Rando - each slid into the hot-seat but none of them were comfortable with the quiet assassin Sam Hill still in the start box…especially since Rando's final time was still slower than Hill's qualifying time.
In the final, Hill absolutely scorched the track, taking an outstanding eight seconds off his qualifying time to take the win by nine seconds. It was a dominating performance from Hill who gives it his all whether he is racing for rainbow stripes or a National Series round.
Hill was pleased with his ride saying, "I held back in qualifying and didn't hold back at all in the final. In fact in the final I went off the track on the long traverse after the mid-section but I got back on course so that was alright. It's always good to have moments like that - it keeps a smile on your face…especially since I managed to get back on."
Amiel Cavalier
Photo ©: Mikkeli Godfree
"I like doing the National Series races, It is more relaxed here with less pressure. At a World Cup you are upset if you make mistakes. Here it doesn't matter that much. But every race I go in I want to win so I'm always keen for it," said Hill explaining the motivation behind him winning each of the three National Series races he has entered.
Rando was a happy camper with second on the day giving him the National Series win for the fourth time. "My final run was pretty good, you can never be perfect on this course. I did everything I wanted to do and had a few 'moments' for sure. At this level of racing you need to be on the edge, especially against Sam [Hill], he is so fast on this track…it really suits his style. I really like this track though and after qualifying I thought I could get closer to him but as it happens I couldn't."
As far as winning the series goes, Rando was content, "It's really good calendar with races that are really fun. I don't race here to notch up Series wins I just love racing in Australia."
While Hill and Rando were impressive, Cavalier turned heads only 19 hundredths of a second behind Rando. The current junior World Champion was really keen to notch up a good result in his first season in the Elite Men category. The domestic season has been far from smooth for Cavalier after an ankle injury in the Tasmanian round. Third today confirmed his return to fitness however, "It's great to be so close to the fastest guys here. It's my best result in a National Series race, but generally I'm consistent and I want to keep gradually pushing my limits."
The comparisons between Cavalier and Hill are obvious as both have won the Junior World Title but Cavalier plays down the comparison, "I don't really think about being as good as Sam [Hill] at this stage but that doesn't mean I can't work at it!"
Liam Panozzo
Photo ©: Mikkeli Godfree

Cavalier's arch rival, Liam Panozzo came in fourth, two second back. It was a solid run from Panozzo who, like Cavalier is new to the Elite category. "It was alright…but I was too conservative and I didn't make any mistakes. I should have pushed it a bit more. When you are going as fast as you should be, you should expect a few mistakes. At least I didn't crash I suppose," said Panozzo ruefully. However, he was philosophical, "I was looking forward to this race because last year my time as a junior was 2nd or 3rd fastest overall. But this year I've moved up and I've picked up third place in the series so that's pretty good. Now it's back home to see if I can pick a team ride for this year…do you know anyone who might be interested?"
Photography
For a thumbnail gallery of these images, click here
Images by Mikkeli Godfree/Cyclingnews.com
Results

Elite Men
                                                             1st run  2nd run
1 Sam Hill (monster energy)                                  3.34.78  3.26.28
2 Jared Rando (Giant/Michelen/Fox Shox/Shimano)              3.41.46  3.35.20
3 Amiel Cavalier (Giant/Fox/Monza/Rockshox/Spearman          3.41.28  3.35.39
4 Liam Panozzo (Sram/Rockshox/Fox)                           3.42.63  3.37.68
5 Miles Mead (Kona/Mt Buller Factory Team)                   3.45.22  3.38.73
6 Ayden Eves (Ashgrove Cycles/Adidas Eyewear/Santa Cruz)     3.42.91  3.42.48
7 Michael Kearton (Mongoose/Sram/Ruddy Project)              3.47.68  3.43.02
8 Dave West                                                  3.42.88  3.43.23
9 Brad Kelly (Specialized/Northside Avanti)                  3.47.11  3.44.39
10 Hugh Mansfield (Ironhorse/Utopia Optics/SIC/AZZ)          3.48.72  3.44.96
11 Tim Eaton                                                 3.48.20  3.46.31
12 Adam Smithson (gt bicycles/fox clothing)                  3.54.11  3.47.19
13 Craig Yates (Fox/Rockshox/Sram)                           3.42.75  3.47.23
14 Christopher Panozzo (Kona/Mt Buller Factory Team)         3.44.97  3.52.60
15 James French (SCU Standish Cycles Unley)                  3.55.96  3.52.95
16 Joel Panozzo                                              3.41.61  3.53.34
17 Ken Ballhouse                                             3.57.30  3.59.00
18 Llewellyn Cameron                                         3.53.42  3.59.49
19 James Bashford (Bilt/Dhdirect/Turner/Imperial)            3.55.88  4.02.93
20 Matt Swann                                                3.56.59  4.04.65
21 Robert  Potter                                            3.59.09  4.05.57
22 Shane Wode (Sinister/Intense Tyres/The/Tuffneck)          3.51.18  4.20.39
23 Lincoln Verass (Downhill Direct/BILT)                     3.58.46  4.38.33
24 Michael Geale (riders/santa cruz)                         3.53.68  5.01.85
25 Ben Cory (Commercial/Dragon/Raw NRG)                      3.53.75  5.39.87
26 Dennis Beare (Specialized Bikes Unit/Utopia Optics)       3.59.62
27 Robbie McNaughton                                         4.00.72
28 Jarl Jansen (troylee)                                     4.00.83
29 Brett  Pergelly (steve grammar products)                  4.00.89
30 Adam Dossetor (Turner/Built/Imperial/Manitou)             4.02.75
31 Tylah Breese (Streemline Cycles)                          4.02.87
32 Joshua Lansdown (sixsixone steamline cycls)               4.03.79
33 Scott Graham                                              4.04.08
34 Joe Mullan                                                4.10.08
35 John Mairus (Cycle Worx)                                  4.10.17
36 Ben Wakins (rocky mountain race face)                     4.12.95
37 Ben Morrison (raw nrg thredbo)                            4.13.25
38 Derek Ragless (Crime Cycles)                              4.14.34
39 Ben Osborne                                               4.15.17
40 Darren Pokoj (MS - Intense Racing/Utopia)                 4.19.66
41 Thomas Werney (tlc cycles)                                4.20.31
42 Nick Rudzki                                               4.23.41
43 Aaron Bashford (DH Direct/Turner/Team Bashie)             4.24.08
44 Ross Wilkinson (Sinister Bikes)                           4.37.10
45 Jason Mosley (mj racing)                                  4.45.84
46 Kye Hore (Bike Shed/Team Bashy)                           4.52.04
47 Nick Cruickhank                                           4.55.79
 
U 19 Men
 
1 James Maltman (For the Riders/Race Elemants/Santa Cruz)    3.53.72  3.43.41
2 Alex Swann (Kona/Mt Buller Factory Team)                   4.02.22  3.44.92
3 Hamish Armstrong (Mal Adjusted)                            4.00.46  3.51.94
4 Evan Winton                                                4.05.03  3.58.16
5 David Hetherington                                         4.09.64  3.59.44
6 Luke Gowen (serve/raw nrg)                                 4.09.26  4.04.10
7 Ricky Lee (Iron Horse Bikes/RAW NRG/661/Walking Clinic)    3.51.76  4.07.67
8 Jack Cavanagh (Club 108 Louge)                             4.10.52  4.08.20
9 Chris Perger                                               4.15.58  4.08.60
10 James McMillan (Spearsmans Cycles)                        4.06.21  4.10.86
11 Rhys Atkinson                                             4.04.08  4.13.40
12 Oscar Buckle                                              4.07.84  4.16.02
13 Chris Whitelock (Adio Shoes/Monza Imports)                4.08.25  4.23.74
14 Lee Wallace                                               4.16.95  4.24.06
15 Mitchell Delfs (Hi Way Cycles)                            3.47.82  DNF
16 Harry Armstrong                                           4.17.28
17 Cody Eichhorn (Bicycle World)                             4.22.76
18 Jordan Kopertko (Adidas Eyewear)                          4.22.99
19 Chris O'Brien                                             4.23.63
20 Brendan Turner                                            4.31.96
21 Barney Langham                                            4.39.58
22 Ashley Gundy                                              4.40.44
23 Toby Breieny                                              4.40.65
24 Matt Holgate                                              4.46.01
DNF Dale Grixti (Cycle Gallery/Maxxis)
DNF Mitchell McKinlay
 
Elite Women
 
1 Sabrina Jonnier (monster energy)                           4.12.42  4.12.40
2 Claire Whiteman (Kona/ACTAS/Mt Buller Factory Team)        4.59.63  5.10.53
3 Kate Holzer (Endo Imports/Sinister)                        5.50.48  DNS
 
Sport women
 
1 Sarah Jack (pushi/ sinister/ endo imports)                 6.31.87
2 Amanda Paterson                                            7.56.65
3 Anna Lagutina (foes/troy lee designs)                      8.42.45
 
Hardtail
 
1 Damian Auton (Cog Bicycles)                                5.14.15
 
U 17 Men
 
1 Tom Patton (Bike Addiction/Citrus Speed Imports)           3.55.63
2 Ben Wilson (speakmans cycles)                              3.57.67
3 Sam Ward                                                   4.15.19
4 Llewellyn Griffith (switchmode test and tag)               4.16.11
5 Hugh Walker                                                4.16.69
6 Clark Hawke                                                4.24.69
7 Mitch Forbes (Raw NRG)                                     4.25.09
8 Jasper Ludewig                                             4.32.94
9 Laurie Dinham (Cycle Gallery/Trek)                         4.34.26
10 Tom France (the bicycles depot)                           4.42.34
11 Brenton Gowen (severe)                                    4.44.75
12 Jack Johnson (Cycle Wrox/Maxxis Tyres)                    4.45.60
13 Tom Rowe                                                  4.48.75
14 Tim Windshuttle (Raw NRG/Ironhorse Bikes)                 5.00.31
15 Elliot Triffett                                           5.02.34
16 Brodie Sims (fox yamaha)                                  5.20.92
17 Andrew Day                                                5.21.99
18 James  West                                               6.56.76
 
U15 Men
 
1 Wills Gower (bio-mechaninics)                              4.24.12
2 Daniel Lavis                                               4.26.85
3 Michael Dargan (Raw NRG)                                   4.46.12
4 Troy Brosnan (Cycle Gallery/Mongoose)                      5.11.89
5 Lewis Winton                                               5.14.74
6 Anthony Jones                                              5.15.41
7 Steven Reids                                               5.15.95
8 Riley Wilson (spearmans)                                   5.33.45
9 Lachlan Ward                                               5.36.16
10 Wills Giles                                               6.01.74
11 Dien Thomas (otway expeditions)                           7.36.77
12 Brendan Jones (Raw NRG/Thredbo)                           8.01.93
13 Ethan Gardnier (otway expeditions)                        8.19.32
14 Randall Sims                                              9.03.25
15 Siobhan Jones (Raw NRG/Thredbo)                           14.06.63
 
Sport men
 
1 Peter Krause                                               4.15.86
2 Darren Sherman                                             4.20.79
3 Juan Roncallo (jc personal training/raquels skin care)     4.34.09
4 Chris Lambardo (lygon cycles)                              4.34.64
5 Angus Coombe (bio-mechanics)                               4.40.22
6 Daniel Allen                                               4.52.99
7 Rodrigo Bravo                                              4.56.26
8 Peter Karas                                                4.58.09
9 James Christie                                             5.02.47
10 Rowan Smith (Hendry Cycles)                               5.10.49
11 Luke Von Braucke                                          5.15.43
12 Scott   McDonald                                          5.21.45
13 Daniel Sullivan                                           5.26.08
14 Leonard Allen                                             5.33.18
15 Kieran Newbold                                            5.33.77
16 Rick Franzolini                                           6.06.57
Dnf Terry   Elgood
 
Veteran Men
 
1 Karl Peel                                                  3.56.66
2 Jason Archer (hiway cycles)                                4.14.14
3 Tony Carson                                                4.20.39
4 Marc Ellis                                                 4.22.17
5 Ben Reynolds (streamline cycles)                           4.23.40
6 Daniel Taliana                                             4.26.04
7 Chris Mather                                               4.26.98
8 Scott Tiller                                               4.40.20
9 Cameron Ord (Ddhiregs/Bilt/Turner)                         4.40.87
10 Derek Martin                                              5.13.32
11 Trent Delardes                                            5.32.45
12 Justin Armstrong (josh)                                   5.42.09
13 Mathew Furniss                                            5.42.64
14 Daniel Segeri (The House of Nails & Beauty)               5.49.55
15 Brett Minion                                              6.48.52
Dnf Nathan Bradnock (pushi)
 
Masters Men
 
1 Steve Munyard                                              4.43.74
2 Paul Selleck                                               4.50.10
3 Bill Dengate (dhdirect/Turner/Bitt)                        5.13.45
4 Tony Warrilow                                              5.24.06
5 Pat Pavlich (Scum Downhill)                                5.26.30
 
Super Masters MeN
 
1 Steve  Coles                                               6.05.73
 
Expert Men
 
1 Stewart Bruce (sinister)                                   4.04.06
2 Trevor Burke                                               4.05.22
3 Randal Huntington (riders.com)                             4.08.88
4 Ben Goff (Orage/Royal Racing/Spy)                          4.09.44
5 Shane Gayton                                               4.12.00
6 Ashley Swann                                               4.12.31
7 Fraser Lindsay                                             4.21.50
8 Ashley Gray (Bicycle Innovations)                          4.21.64
9 Matthew Beattie                                            4.24.10
10 Jack Timms (Kona)                                         4.24.60
11 Paul Werner                                               4.26.57
12 Brendan Wood (Sanitarium/Yarra Valley Cycles)             4.27.09
13 Scott Grundy                                              4.28.21
14 Cameron Shilton                                           4.29.66
15 Scott Roberts                                             4.30.17
16 Jonathan Breekveldt                                       4.33.00
17 Andrew Threlfall (clict mag)                              4.35.84
18 Steve Mathews (bsc)                                       4.36.43
19 Sam  Steinlane (samara mountain bike promotions)          4.41.77
20 Leighton Smith                                            4.44.95
21 Leon Wood                                                 4.45.19
22 Chris Hetherington                                        4.45.81
23 Jake Pendleton                                            4.47.11
24 Matthew Pearce                                            4.49.77
25 Peter Fothergill (samara mountain bike promotions)        4.51.20
26 Damian Hodges                                             5.21.71
27 Mike  Doria (samara mountain bike promotions)            11.28.30
DNS Dan Hill (budget zeros)