MTB index page for all MTB content
Australian MTB Series Round 3 XC - NE
Thredbo, NSW, December 16, 2006
Results Photography Day two - Down Hill
Taberlay & Potter top the XC timesheets
Sid Taberlay
Photo ©: Mark Gunter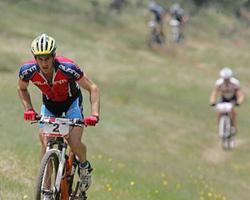 Athens Olympian Sid Taberlay stamped his claim on the first cross country race in Thredbo since 2001. The Tasmanian lead from start to finish after claiming the quickest lap of the day. After six laps and an overall time of 1:47.37, Taberlay took the win in his stride. "I just powered up the hill in the first lap and didn't see anyone after that," Taberlay said.
Adelaide based Chris Jongewaard had the unluckiest ride of the day after riding five laps in second position before striking trouble. Jongewaard missed a feed on the final lap before suffering a flat tyre that caused him to drop six and a half minutes and finish in ninth place. Jongewaard was passed by the trailing trio of Dylan Cooper, Aiden Lefmann and team mate Lachlan Norris who finished second, third and fourth respectively. A third place by current series leader, Lefmann maintains his series lead by a slim margin of two points.
Kate Potter
Photo ©: Mark Gunter

European-based rider Kate Potter caused an upset in the Elite Women's category at Thredbo. Potter made the winning move just before the final lap to pass early leader, Tory Thomas. A surge of energy from Potter was too much for the current series leader, Thomas.
In the early laps Thomas looked like she had the race sewn up until an old injury caused havoc on the climbing sections. The Victorian was told she would never ride again in 2005 when she was serious injured after being struck by a car. Thomas' second place by was enough to maintain the series lead.
Renee Fortunato placed third after riding consistently over the four laps of the new 5.75 km long course. Fortunato was the highest placed rider who is part of the Dirt Roads to London program, an Australian Sports Commission initiative to develop female cross country riders for the London Olympics in 2012.
Rebecca Henderson
Photo ©: Mark Gunter

The most impressive ride was by 15 year-old Rebecca Henderson, who rode herself into fourth spot in the Elite Women's field. Henderson blitzed the Under 23 field and is set to take out the championship at the next, and final, round.
Niki Fisher found the technical course to her liking, taking her best result to date in fifth place. Launceston's Rowena Fry crashed during the final stages of the race and required stitches in her knee but managed to finish a creditable sixth. Jill Burston and Joanna Wall finished in seventh and eighth respectively. A disappointing race saw series challenger Zoe King placed ninth but still maintain second in the championship standings.
Photography
For a thumbnail gallery of these images, click here
Images by Mark Gunter/www.pbase.com/gunterphotograph
Images by Evan Jeffery/www.evanjeffery.com.au
Results

Elite Men
 
1 Sidney Taberlay           1.47.37
2 Dylan Cooper                 3.06
3 Aiden Lefmann                3.18
4 Lachlan Norris               3.32
5 Perren Delacour              4.15
6 Murray Spink                 5.21
7 Daniel Braunsteins           6.48
8 Matthew Fleming              7.08
9 Chris Jongewaard             7.56
10 Peter Hatton                9.13
11 Shaun Lewis(real)           9.54
12 Chris Winn                 10.03
13 Ben Henderson              10.47
14 James Maebus               11.15
15 Phil Orr                   12.08
16 Shaun Lewis                12.12
17 Cal Britten                13.04
18 Scott Liston               13.35
19 Andrew Blair               14.04
20 Benjamin Grieve-Johnson    14.54
21 Adam Freeman               15.29
22 Warren Burgess             16.11
23 Dirk van der Walle         16.19
24 Glenn Stewart              17.39
25 Daniel Mackay              21.50
 
One lap behind
26 Joey Esterhurzen         2.13.15
27 Sebastian DeBruin        1.49.56
28 James Devonshire         1.50.19
29 Ben Mather               1.56.31
30 Luke Graydon             1.57.33
 
Two laps behind
31 Phillip Haughton         1.55.02
 
Three laps behind
32 Angus Harding            1.13.30
DNF Joshua Keep                    
DNF Adrian Jackson                 
DNS Daniel McConnell               
 
Elite Women
 
1 Kate Potter               1.30.38
2 Tory Thomas                  1.51
3 Renee Fortunato              3.16
4 Rebecca Henderson            4.13
5 Niki Fisher                  4.37
6 Rowena Fry                   5.36
7 Jill Burston                 5.56
8 Joanna Wall                  6.06
9 Zoe King                     7.05
10 Katherine O'Shea            7.22
11 Naomi Williams              8.18
12 Caroline Jackson            9.53
13 Therese Rhodes             10.57
14 Lindsay Gorrell            11.24
15 Jenni King                 12.49
16 Rosemary Barnes            14.40
17 Maria Papadopoulos         15.06
18 Claire Haugh               15.37
19 Jayne Grubits              18.26
20 Rebecca Armstrong          18.57
21 Erica O'Brien              24.16
22 Kathryn Bicknell           26.40
23 Alexis Barnes              27.04
24 Klara Vandervaart          27.12
 
One lap behind
25 Gracie Elvin             1.43.04
 
Two laps behind
26 Philippa Rostan          1.12.29
 
Expert Men
 
1 Nathan Rickerby           1.45.13
2 Dylan Wolsky                 0.35
3 Andrew Lumley                1.24
4 Dave Shepppard               1.59
5 Paul Traynor                 3.11
6 Tom Walter                   4.05
7 Tim Retchford                5.48
8 Angus Kirkpatrick-Jones     18.05
9 Gareth Barnes               20.22
DNF Camm Winn                      
DNF Krischan Spranz                
DNF Chris Murrell                  
DNF Troy Glennan                   
 
Under 19 Men
 
1 Paul Van der Ploeg        1.14.06
2 Nathan Haas                  3.47
3 Peter Braunsteins            4.34
4 Daniel Hallam                7.25
5 Robbie Hucker                8.16
6 Benjamin Dyball             11.12
7 Mark Flood                  12.16
8 Luke Knox                   12.40
9 Kris Robinson               13.13
10 Scott Chancellor           21.05
11 Kieran Poole               22.25
12 Roshin Sidhu               24.25
13 Daniel Norrie               8.07
14 James Mowatt               14.42
DNF Lewis Rattray                  
DNF Mark Tupalski                  
DNF Tim Smyth                      
DNS Scott Grant                    
 
Masters Women
 
1 Sandy Magennis              52.34
2 Sally Watts                  3.50
3 Adair Ferguson               4.54
 
Veteran Women
 
1 Louise Cook               1.18.30
 
Under 19 Women
 
1 Kelly Hughes                59.48
2 Cailin Carrier               1.09
3 Kate McMillan               11.01
 
Under 17 Women
 
1 Shelly Flood                59.02
 
Under 15 Women
 
1 Micaela Hogan               34.08
 
Sport Women
 
1 Anna Coventry             1.13.37
2 Sarah O'Callaghan            4.07
 
Super Masters Men
 
1 Mark Walters                44.52
2 Kevin Jones                  2.47
3 Jeff Dyball                  8.44
4 Keiran Hogan                10.06
5 Russell Baker               27.26
DSQ Nicholas Bird                  
 
Masters Men
 
1 Robert Eva                1.01.20
2 David Olle                   4.51
3 Mark Hardy                   8.02
4 John Henderson               9.02
5 Craig Peacock               10.16
6 Chris Neenan                12.46
7 Andrew Rowe                 16.06
8 Phillip Hopkins             20.30
 
One lap behind
9 Timothy Manton            1.05.30
 
Veteran Men
 
1 Mark Fenner               1.24.40
2 Dean Megahey                 0.31
3 Paul Clancy                 12.51
 
One Lap Behind
4 Christopher Criddle       1.02.09
 
Under 17 Men
 
1 Brendan Johnston          1.03.10
2 Michael Baker                0.36
3 Tom Halloran                 3.49
4 Stephen Pitt                 5.25
5 James Peacock                5.49
6 Merlin Spranz                6.47
7 Brendon Darby                8.24
8 Jesse Dillon                10.36
9 Simon Campbell              10.44
10 Lachlan McLeod             15.38
11 Samuel Judd                18.38
12 Nathan Cantlon             18.40
13 Daimon Ewart               19.15
14 Anthony Rodgers            19.31
 
One lap behind
15 Mitchell Codner          1.03.51
 
Two laps behind
16 Chris Scott                53.17
DNF Liam Melville                  
 
Under 15 Men
 
1 Timothy McMillan            52.30
2 Christopher Aitken           2.03
3 Brendan Pitt                 6.08
4 Dylan Cole                   8.02
 
Sport Men
 
1 Brendan Rowe                41.51
2 Darren Smith                 2.37
3 Jason Holm                   4.16
4 Hendrik Van Calcar          11.42
DNF Keith Toms                     
DNS Dylan Coulson                  
DNS Mick Cantwell