MTB index page for all MTB content
Australian MTB Series Round 3 DHI - NE
Thredbo, NSW, December 17, 2006
Results Photography Day one - Cross Country
Rennie & Fox on top in Thredbo
Nathan Rennie
Photo ©: Mark Gunter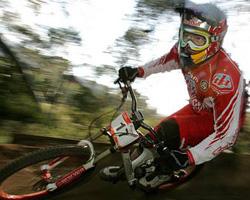 World bronze medallist Nathan Rennie proved he is one of the best mountain bike downhillers in Australia by winning the third round of the National Mountain Bike Series at Thredbo. The reigning national champion qualified third fastest after blistering runs from Canberra's Ben Cory and Wollongong's Amiel Cavalier claimed the top two positions. On his first event since returning to Australia, course record holder Jared Rando placed second. Current series leader, Amiel Cavalier, secured third place to maintain his comfortable series lead with 178 points.
Rennie has moved up the standings but is not in a position to defend his crown, having only competed in the first round in Lithgow. Racing there was unexpectedly cancelled due to delays on the course.
not everyone made it down unscaved.
Photo ©: Mark Gunter

Newcastle's Adam Smithson finished seventh in Thredbo but stays in overall contention for the championship in third position. Another fourth place finished has helped Dave West move into second place in the championship.
An upset in the women's downhill race saw veteran downhill rider Joanne Fox take the win over the race favourite, Emma McNaughton, by a clear four seconds. After being convinced by her husband at the last minute to ride up with Elite Women, Fox was elated but exhausted at the finish line. "I knew it wasn't going to be easy to win today," said the Sydneysider. "The first thing I'm going to do is have something to eat, I'm starving!"
Claire Whiteman
Photo ©: Mark Gunter

Third was last season's overall leader Claire Whiteman, who qualified for the event second fastest. Fellow Canberra rider Caroline Buchanan placed fourth and just barely maintains the series lead by one point over Whiteman.
Brisbane's James Maltman sorted out earlier mechanical problems to win the Under 19 division today.
The third round of the downhill at Thredbo saw record entries to date for a national series downhill with 340 riders.
Photography
For a thumbnail gallery of these images, click here
Images by Mark Gunter/www.pbase.com/gunterphotograph
Images by Evan Jeffery/www.evanjeffery.com.au
Results

Elite Men
 
1 Nathan Rennie             6.08.68
2 Jared Rando               6.08.95
3 Amiel Cavalier            6.10.91
4 Dave West                 6.14.61
5 Liam Panozzo              6.14.86
6 Ben Cory                         
7 Adam Smithson             6.18.37
8 Timothy Eaton             6.19.64
9 Adam Dossetor             6.19.85
10 Filip Polc               6.20.08
11 Michael Kearton          6.20.29
12 Ivan Oulego              6.21.00
13 Rick Boyer               6.21.33
14 Craig Yates              6.24.26
15 Ryan Lennox              6.25.06
16 Christopher Panozzo      6.26.13
17 Lindsay Klein            6.23.24
18 Luke Patching            6.27.56
19 Luke Gowen               6.26.83
20 Ayden Eves               6.27.62
21 Gareth Paton             6.29.71
22 Ricky Lee                6.33.36
23 Alex Swann               6.33.89
24 Ben Tregoweth            6.34.09
25 Tim Nelson               6.34.64
26 John Farrow              6.34.98
27 Cillian Kennedy          6.35.11
28 Dennis Beare             6.35.48
29 Regan Arthur             6.35.67
30 Christophe Poupon        6.35.80
31 Hamish Armstrong         6.38.80
32 Jarl Jensen              6.37.23
33 Cody Eichhorn            6.40.03
34 Oliver Kristevic         6.40.48
35 Dean Davies              6.42.33
36 Geoff Grennan            6.43.91
37 Mark Navin               6.36.91
38 Lincoln Verass           6.27.54
39 Alan Crisp               6.25.77
40 Dean Robson              6.40.70
41 James McMillan           6.44.66
42 Rhys Aitkenson           6.45.57
43 Brenden Wood             6.45.77
44 Trevwah Burke            6.45.87
45 Scott Graham             6.48.45
46 Harry Armstrong          6.49.47
47 Chris Whitecock          6.50.97
48 Josh Boyd                6.51.20
49 Tim Cox                  6.51.41
50 Damien Bogatek           6.52.31
51 Riley Donaldson          6.52.44
52 Andrew Dapre             6.54.39
53 Ben Morrison             6.54.96
54 Stewart Bruce            6.55.31
55 Joshua Lansdown          6.55.92
56 Wayne Mcgregor           6.56.48
57 James Blencowe           6.57.18
58 Aaron Bashford           6.57.85
59 Jack Cavanagh            6.58.15
60 Thomas Cranston          7.04.09
61 Troy Fraser              7.04.26
62 Thomas Kerney            7.04.93
63 Jente Clemont            7.04.95
64 William Cookesley        7.06.59
65 Kye Hore                 7.09.48
66 Nicholas Cruickshank     7.12.12
67 Dale Thomas              7.14.65
68 Jake Pendleton           7.25.73
69 Christopher Perger       8.26.14
70 Hugh Mansfield           9.40.99
71 James Bashford          36.02.61
DNF Mark Ellison                   
DNF Ben Goff                       
DNS Brad Kelly                     
DNS Clement Jente                  
DNS Douglas Cropper                
DNS Johann Esterhuyzen             
 
Elite Women
 
1 Joanne Fox                7.24.78
2 Emma McNaughton           7.32.80
3 Claire Whiteman           7.34.57
4 Caroline Buchanan         7.40.46
5 Cara Smith                7.45.11
6 Julia Boer                7.48.09
7 Sarsha Huntington         8.10.52
8 Carla McLeish             8.20.11
 
Under 19 Men
 
1 James Maltman             6.16.84
2 William Rischbieth        6.20.95
3 Mitchell Delfs            6.21.78
4 David Hetherington        6.22.52
5 Tom Patton                6.27.63
6 Samuel Ward               6.29.10
7 Dylan Prohm               6.34.20
8 Michael Langford          6.34.97
9 James Brodie              6.35.22
10 Joshua Button-Janco      6.35.51
11 Toby Breheny             6.37.72
12 Llewellyn Griffith       6.38.63
13 Clark Hawke              6.38.79
14 Kent Hamilton            6.38.92
15 Murray Stephens          6.38.96
16 Matthew Vincent          6.38.45
17 Tom Brodie               6.40.04
18 Chris Coombe             6.42.16
19 David Maud               6.44.88
20 Tim Windshuttle          6.49.44
21 Darcy Murrell            6.50.06
22 Ben Leaper               6.48.41
23 Tom Fogarty              6.53.16
24 Oscar Buckle             6.53.76
25 Sean Oliver U19          6.50.42
26 Callan Ridge             6.59.71
27 Timothy Harrington       7.00.52
28 Kyle McLeod              6.58.27
29 Mark Beeksma             7.03.61
30 Dale Grixti              6.55.33
31 Jack Bellotti            7.07.76
32 Brenton Gowen            7.08.14
33 Eric Hutchinson          7.10.99
34 Todd Robertson           7.11.45
35 Jarred Tatum             7.12.19
36 Ben Thomas               7.13.95
37 Jasper Ludewig           7.15.98
38 Jared Blay               7.21.85
39 Michael Jobson           7.22.45
40 Mitchell McKinlay        7.22.71
41 Austin Hicks             7.22.76
42 Jared Gill               7.24.41
43 Patrick Young            7.24.53
44 Tom Stevens              7.29.06
45 Michael Walsh            7.31.04
46 Martin Wright            7.31.17
47 Lachlan Paton            7.31.95
48 Barton Jonceski          7.33.09
49 Thomas Rolleston         7.41.24
50 William Arnott           8.10.63
51 Adam Delandro            8.21.78
52 Justin Hardiman          8.27.95
53 Jeremey Powell           8.38.88
54 David Gnany             11.00.11
DNS Rhys Collins                   
DNS Nathan Faber                   
DNS Brad Morris                    
 
Masters Women
 
1 Fran Connell             10.02.85
 
Sport Women
 
1 Alice Minahan             8.30.39
2 Rosemary Barnes           8.55.08
3 Shannon Chugg             9.15.11
4 Anna Lagutina             9.41.09
 
Super Masters Men
 
1 Tony Hunter               7.55.78
2 Stephen Coles             8.25.52
3 Steven Humphreys          8.39.69
4 Martin Griffith           9.01.97
 
Masters Men
 
1 Paul Grimstead            7.10.69
2 John Myssonski            7.14.34
3 Geoff Lovie               7.15.37
4 Troy Rowell               7.25.00
5 Mark Cranston             7.28.80
6 Sergio Lavermicocca       7.43.02
7 David Badman              7.44.86
8 Darryl Ashlin             7.48.99
9 Justin Barnes             7.54.98
10 John White               8.03.19
11 William Dengate          8.03.35
12 Neil Scruton             8.35.25
13 Erik Lapstun             8.35.37
14 Peter Jones             10.21.42
15 Scott Reidy             11.30.16
DNF Sean Oliver MM                 
 
Veteran Men
 
1 Karl Peel                 6.42.60
2 Ben Reynolds              6.45.58
3 Jason Archer              6.59.36
4 Marc Ellis                7.01.10
5 Daniel Segeri             7.01.60
6 Chris Mather              7.09.10
7 Joshua Lester             7.12.51
8 Mark Keegan               7.17.47
9 Paul Kennedy              7.17.49
10 Michael Chance           7.17.69
11 Greg Battle              7.20.12
12 Stuart Scott             7.22.54
13 Tony Minahan             7.25.81
14 Brett Minion             7.29.29
15 Joseph Campbell          7.31.64
16 Adam Fernyhough          7.32.44
17 Cameron Ord              7.34.41
18 Calvin McKinley          7.36.57
19 James Harris             7.55.52
20 Aaron Simmons            7.56.09
21 Doug Smith               8.00.30
22 Scott Bocking            8.04.51
23 Andrew Smith             8.05.81
24 Justin Armstrong         8.19.05
25 Damien Watson            8.20.43
26 Peter Horch              8.24.23
27 Peter Locke              8.32.60
28 Zaid Mohsen              9.06.18
29 Ben Brand                9.53.57
DNS Tyron McLean                   
DNS Juan Roncallo                  
 
Expert Men
 
1 Tom Lewis                 6.33.09
2 Dylan Wolsky              6.43.00
3 Randal Huntington         6.46.04
4 Daniel Chermak            6.46.87
5 Chris Barlin              6.49.99
6 Joel Healy                6.51.27
7 Daniel Lyons              6.52.02
8 Jack Timms                6.52.36
9 Joel Davis                6.52.89
10 Lincoln Hertogs          6.55.68
11 Dwayne Blackmore         7.05.02
12 Ryan Murphy              7.07.94
13 Brendan Cronk            7.08.90
14 Louis Pijpers            7.11.26
15 Nicholas Bailly          7.14.44
16 Chris Lloyd              7.17.60
17 Martin Clarke            7.18.01
18 Ben Cooper               7.21.17
19 Chris Steward            7.22.76
20 Isaac Fryar              7.26.04
21 Kenneth Cheung           7.27.60
22 David Sharp              7.28.67
23 Mikhail Chai             7.29.26
24 Matt Fennell             7.30.22
25 Alex Wruck               7.30.32
26 Brad Williams            7.30.45
27 Benjamin Ayling          7.30.94
28 Jason Miller             7.31.59
29 Garrett Sherman          7.32.56
30 Jacob Coles              7.34.94
31 Nathan Valbonesi         7.37.48
32 Scott Parsons            7.39.17
33 David Andrews            7.41.87
34 Bradley Scott            7.52.45
35 Matthew Baccin           7.53.42
36 Matthew Smith            8.06.16
37 Zoran Radulovic          8.08.95
38 Rick Franzolini          8.23.99
39 Nicolas Fogg             8.24.92
DNF Scott Millett                  
DNS Mislav Mironovic               
DNS Nathan Ball                    
 
Under 17 Men
 
1 Shaun O'Connor            6.27.02
2 Ben Nylen                 6.32.75
3 William Gower             6.32.91
4 Oscar Lapstun             6.35.42
5 Laurie Dinham             6.41.66
6 Rhys Willemse             6.42.29
7 Tamryn Murrelll           6.48.37
8 Mitch Forbes              6.50.21
9 Chris Leaper              6.58.40
10 Tom Rowe                 7.03.87
11 Simon Campbell           7.10.99
12 Daniel Lavis             7.13.82
13 Will Giles               7.13.90
14 Anthony Jones            7.17.46
15 Obi Nobel                7.19.55
16 Drew Jonceski            7.21.86
17 Tim Wruck                7.23.33
19 Lewis Winton             7.29.18
20 Oliver Le Lievre         7.30.14
21 Raffi Moss               7.30.56
22 Steven Reidy             7.32.42
23 Ryan Hunt                7.32.47
24 Nathan Kaw               7.33.08
25 Tom Marshall             7.33.46
26 Riaan Smith              7.34.68
27 Joseph Measures          7.35.31
28 Lachlan Sanders          7.36.68
29 Samuel Jones             7.44.98
30 Nick Wright              7.51.90
31 Brendon Dowler           7.53.99
32 Scott Ellice-Flint       7.59.33
33 Blake Nielsen            8.01.30
34 Andrew Crompton          8.37.21
35 Ben Treble               8.40.20
36 Anthony Fedorovitch      8.46.67
37 Dan Whyte                8.49.21
38 Ben Goring               9.54.68
39 Peter Savige            10.49.67
 
DNS Ben Barrett                    
 
Under 15 Men
 
1 Troy Brosnan              7.11.87
2 Rohan Haydon              7.24.26
3 Bradley Bellotti          7.24.94
4 Tim Bransgrove            7.26.77
5 Michael Dargan            7.30.02
6 David McMillan            7.32.48
7 Lachlan Ward              7.35.61
8 Phil Piazza               7.47.60
9 James Green               7.54.02
10 Conor Bullard            8.02.81
11 Riley Wilson             8.03.13
12 Wilson Hale              8.18.33
13 Max Hughes               8.20.01
14 Matthew Mullins          8.22.11
15 Jordan Murrey            8.47.22
16 Daniel Bodor             9.11.19
17 David Manton             9.41.59
18 Max Reid                 9.59.28
19 Blair Jonceski          11.10.27
20 Mitchell Kristiansen    11.47.05
21 Nicholas Jones          16.06.21
DNF Aaron Attard                   
 
Sport Men
 
1 Luke Garnham              6.53.29
2 Chris Lombardo            7.14.14
3 David Edwards             7.23.49
4 Brett Hill                7.29.60
5 Linden Bleijie            7.31.22
6 Jack Marshall             7.32.24
7 James Perkins             7.32.65
8 Peter Harris              7.33.96
9 Scott Weaver              7.33.98
10 Evan Hoar                7.36.39
11 Benoit de Guio           7.37.90
12 Angus Nancarrow          7.39.02
13 Jade McGregor            7.39.92
14 Tim Ridge                7.43.78
15 Jay Dougrey              7.49.14
16 Sean Mullins             7.56.73
17 Neil McVey               7.58.47
18 Arlen Vartazarian        7.59.73
19 Aaron Campbell           8.00.76
20 Matthew Le Cornu         8.04.02
21 Don McIntosh             8.11.61
22 Will Schofield           8.12.77
23 Scott Backman            8.15.64
24 Dylan Forster            8.16.82
25 Shane Flint              8.50.29
26 Daniel OÕHara            9.08.41
27 David Casey              9.21.05
28 Warren Lack              9.23.96
29 Alexander Hanbury       10.10.87
30 Thamba Pathmanathan     10.47.54
DNS Samuel Alison                  
DNS Paul Glowacki                  
DNS Brett Jones                    
DNS Mark Hill                      
 
Hardtail
 
1 Adam McInnes              7.46.80
2 Liam Howarth              8.30.53
3 Nick Simpson              8.39.10
4 Adrian Johnston          10.25.00
5 Daniel Lane              11.45.61
DNS Josh Dove                      
DNS Mitchell Hennessy              
DNS Steve Wojciechowski