MTB index page for all MTB content
Iceman Cometh - NE
Michigan, USA, November 5, 2005
The Iceman Cometh closes out the U.S. MTB season
By Brian Matter
Adam Craig
Photo ©: John L. Russell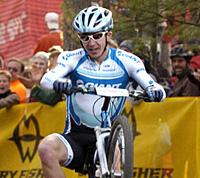 The final race of the mountain bike season took place last weekend in Michigan at the Iceman Cometh Challenge; a 27 mile point-to-point mountain bike race (which is famous for epic, cold conditions) held traditionally on the first Saturday in November between Kalkaska and Traverse City. With above average temperatures and great course conditions the pro men and women set some blistering fast times at the November 5th event. Adam Craig (Giant) took home top honors for the men and Kelli Emmett (Ford/Specialized) for the women.
The competition was like no other Iceman before; a world champion, Tour de France finishers, Olympic athletes, NORBA national champions, three past Iceman champions, two Chequamegon champions and an Ore To Shore champion raced the event. The pro racers started later in the day so the other 2,000 competitors could turn into super spectators and cheer like crazy as the pros approached the finish in Traverse City.
Kelli Emmet
Photo ©: John L. Russell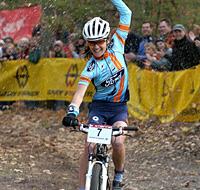 The Iceman is a 27 mile point to point race starting in Kalkaska, MI and finishing in Traverse City . The pro men took off at 2:30pm with last year's champion (Brian Matter, PCW Cycling) taking the lead into the first singletrack. Doug Swanson (Trek Midwest) soon took over the pacemaking as the racers approached the first singletrack. National pros Jeremeny Horgan-Kobelski (Subaru/Gary Fisher) and Adam Craig started taking turns at the front as the group of leaders got smaller and smaller.
With such high speeds for a mountain bike race one little mistake and you are gone; both Matter and Horgan-Kobelski found this out the hard way. Matter's skewer was pulled open after some riders took a wrong turn and the group bunched up and crashed into each other. Soon after that Horgan-Kobelski overshot a corner when his stem twisted loose.
The two were soon working together chasing the lead group of 5 riders containing Craig, Swanson, Tristan Schouten (Trek Midwest), Canadian Jesse Jakomait, and Travis Brown aboard his Gary Fisher 29er. As the leaders approached the final miles of the race, Adam Craig started to pull away in the singletrack and Swanson would close the gap on the climbs. In the end, Craig proved the strongest as he cross the line riding a wheelie with a 14 second advantage over Swanson. Schouten attacked Jakomait to grab the last spot on the podium and Brown rounded out the top 5.
The women's race was won by two-time Iceman champion and Michigan native Kelli Emmet. Sarah Kylander-Johnson (Trek Midwest) finished second after a great season (First, Ore to Shore and second at Chequamegon) and defending champion Kerry Barnholt (Subaru/Gary Fisher) was third.
Photography
For a thumbnail gallery of these images, click here
Images by John L. Russell/Great Lakes Images
Images by Iceman Cometh
Results

Pro/Semi-Pro Men
 
1 Adam Craig (Giant Bicycles)                       1.29.26
2 Doug Swanson (Trek/vw)                               0.14
3 Tristan Schouten (Trek/vw)                           0.25
4 Jesse Jakomait                                       0.38
5 Travis Brown                                         1.09
6 Jeremy Horgan-Kobelski (Subaru - Gary Fisher)        2.10
7 Russ Tiles (Slingshot Bicycle Company )              2.23
8 Brian Matter (Pwc Cycling)                           2.24
9 Michael Simonson (Bell's Beer/Trek)                  2.27
10 Carey Grumelot                                      2.34
11 Jeff Hall (Salsa Cycles)                            2.53
12 Jeff Koch (Advantage Benefits Group)                4.24
13 Derek Prechtl (Bell's Beer)                         4.33
14 Eric Jellum (Ford/giant)                            4.36
15 Nick Wierzba (Napa Valley Velo)                     6.17
16 Tom Archer (Ford/giant)                             6.26
17 Jesse Lalonde (Subaru - Gary Fisher)                6.30
18 Randy Flores (New Mexico Bike N Sport)              6.31
19 Dave Walker (Parkside Cyclery)                      6.39
20 Jonathan Looman (Cross Country Cycle)               6.43
21 Robert Herriman (Whole Food/wsc)                    6.57
22 Giles Bryer                                         8.25
23 Jared Gilyard (Abg/Endeavor)                        8.26
24 Peter Ehmann (Kona Midwest/cbs)                     8.44
25 Anthony Bruley (Whole Foods/wsc)                    9.21
26 Tim Swift (Riverbrook Bike & Ski)                  11.21
27 Frankie Andreu                                     11.23
28 Jason Ruccellato (Klm Bike & Fitness)              11.46
29 Anthony Slowinski (Jeff Schwinn)                   11.50
30 Justin Desilets (Kona Midwest Racing)              11.59
31 Gary Helzerman                                     12.42
32 Greg Kuhn                                          13.36
33 Craig Rice                                         14.16
34 Terry Ritter (City Bike Shop)                      15.30
35 Eric Forrester (Advantage Benefits)                16.10
36 Andre Sottile (Whole Foods/wsc)                    20.22
37 David Pipho                                        22.09
38 Christopher Filipiak                               24.10
39 James Scholefield                                       
40 Bryan Mitchell (Kona Midwest Racing)               24.11
41 Adam Raphael (Mess)                                25.33
42 Bernard Smith (Team By Grace/jesus)                38.35
 
Pro/Expert Women
 
1 Kelli Emmett (Ford Cycling)                       1.43.29
2 Sara Kylander-Johnson                                3.56
3 Kerry Barnholt (Subaru - Gary Fisher)                8.42
4 Jessica Woodard (Slingshot)                         11.00
5 Susan Schubel (Dark Horse Racing)                   14.03
6 Erin Disterheft                                     14.19
7 Paige Peterman                                      16.40
8 Christina Betz (Michael's Cycles)                   18.39
9 Ceal Potts                                          26.43
10 Lisa Matlock                                            
11 Kacey Manderfield (Whole Foods/wsc)                27.18
 
Expert Women 35-44
 
1 Laura Webb                                        1.54.31
2 Shelly Wilson (Pedal & Tour Cycling)                 3.53
3 Shari Versluis (Founders Ale/Alger)                 10.52
4 Victoria Klinger                                    11.02
5 Karey Collins                                       11.20
6 Lori Sable (Team Wisconsin)                         11.31
7 Lisa Markley (Wolverine Sports Club)                13.48
8 Susan Vigland (Crystal Mountain)                    14.17
9 Joanne Studebaker                                   14.42
10 Sarah Slade                                        15.23
11 Terri Hanson                                       16.59
12 Wendy Caldwell (Women's Ann Arbor Velo Cl )        18.32
13 Linda Moran (Flying Rhinos)                        18.51
14 Heidi Halbert                                      20.13
15 Anne Grofvert                                      23.52
16 Teresa Hallwood (Cycle Fit)                        25.39
17 Michelle Gianturco                                 31.01
18 Rebecca Bieberitz                                  31.46
19 Amelia Hasenohrl                                   35.17
20 Traci Lambert (Brick Wheels)                       40.51
21 Sherri Ten Houten                                  43.54
22 Julianne Piske                                     57.06
 
Expert Men 15-18
 
1 Cole House (Gmac)                                 1.42.36
2 Mike Anderson (Anderson Forestry Service)            2.51
3 Michael Rivamonte                                    5.01
4 Ryan Buerman (Michigan Youth Cycling Pr)             5.13
5 Ben Renkema (Whole Foods/wsc)                        6.30
6 Kyle Stange (Team Revolution)                        9.53
7 Lawrence Warbasse (City Bike Shop)                  10.11
8 Joseph Kedrowski (Bent Crank Cyclery)               13.03
9 Brendan Benson (Youth Cycling)                      14.32
10 Luke Cavender (Whole Foods/wsc)                    21.45
11 Jordan Hirtreiter (Bay Commerical Equipment)     1.14.55
12 David Letizio                                    1.43.56
13 Anthony Adair                                    2.15.31
 
Expert Men 19-24
 
1 Todd Elenz                                        1.45.48
2 Todd Freidinger (North Country Cycle Sport)          0.08
3 Joseph Slonecki                                      1.05
4 William Gallagher (Breakaway Racing)                 3.12
5 Nathan Guerra                                        4.54
6 Reid Arnott                                          4.57
7 Alan Antonuk (Michigan State Cycling)                6.33
8 David Best (City Bike Shop)                          7.12
9 Chris Westra                                         7.31
10 Tyler Jenema                                       10.53
11 Pete Hall (Youth Cycling.com)                      11.13
12 William Street (Youth Cycling Dot Com)             13.09
13 Nick Vaandering                                    16.10
14 John Sheets Ii                                     22.47
15 Justin Perry                                       26.03
 
Expert Men 25-29
 
1 Ronald Stawicki (Alphawings)                      1.45.43
2 Scott Sheehan                                        2.02
3 Jeff Jacobi (Myasurts Cycle)                         2.51
4 Matt Scott                                           3.59
5 Dan Sypniewski (Kona Midwest)                        4.17
6 Ryan Decook (Felt/first Endurance)                   9.23
7 Neil Swanson                                         9.37
8 Brooks Greenway                                     11.01
9 Eric Peters                                         11.18
10 Brent Young                                        12.48
11 Christopher Witmer (West Mi Coast Riders/ Mpi )    14.14
12 Marty Mack (Brick Wheels)                          17.51
13 Evan David                                         19.20
14 Brandt Coultas                                     27.25
15 Scott Mcguire                                      27.39
16 Timothy Sholl                                      36.31
17 Jay Rafeld (Sunrise Sports)                        39.31
18 Joel Ronschke                                      57.44
19 Christopher Gifford (None)                       1.41.42 



Expert Men 30-34
 
1 Don Galligher (Summit City Bicycle)                 1.46.10
2 Kevin Vichinsky (Breakaway Bicycles)                   0.06
3 Tom Torrance (Tony T @ Trek)                           1.25
4 Jeffrey Hamilton                                       2.24
5 Edward Brewer (Hellriders Mtbc)                        2.25
6 Matthew Gaffner (City Bike Shop)                       2.48
7 Jason Bowne (Cross Country Cycle)                      2.59
8 Matt Muyres (Flat City Cycling Club)                   5.27
9 Jay Moncel (Trek Bicycles)                             6.34
10 Brad Kosiba (Speedway Wheelmen)                       7.19
11 Eric Henricks                                         7.42
12 Marshall Colley (Team Revolution)                     8.13
13 Brian Rosewarne (Sunrise Sports)                      8.38
14 Matthew Hoffman                                       8.50
15 Ken Blakey-Shell (Bent Crank Cyclery)                 9.00
16 Matt Whalen                                           9.20
17 Chris Minello (Abikes.com)                            9.58
18 Lee Dart (Team Half-Fast)                            10.15
19 Greg Bouwman (West Mi Coast Riders)                  11.16
20 Brian Harris (Cross Country Cycle)                   12.19
21 Chad Baumann (Team Duke)                             12.57
22 Erik Luce                                            13.50
23 Joe Deighan                                          13.56
24 Jason Mead (Founder's Brewery)                       14.40
25 Erik Eiseman                                         16.10
26 John Kiessel (None)                                  16.20
27 Than Dykstra                                         17.22
28 James Von Steeg                                      17.53
29 Ryan Michels (Proctor Cycling)                       18.42
30 Mark Machiela                                        18.59
31 Yensen Schwab                                        19.54
32 William Mayer (Two Wheel Tango)                      20.45
33 Andrew Weir                                          21.31
34 Jeff Swanson                                         21.50
35 John Ryan                                            21.51
36 Kevin Larochelle                                     22.52
37 Roman Krzyzanowski (Cadence Cycle)                   23.01
38 Ted Kohlmann (Wheels In Motion)                      23.21
39 Tom Decker (Coffman Stone)                           24.44
40 Mayford Combs                                        24.45
41 Matt Myaard                                          27.56
42 Peter Greaves                                        29.07
43 Dave Van Laecke                                      32.18
44 Tim Baughman                                         49.15
45 David Vautier (Trailsedge.com)                     1.00.44
46 Brent Machiela                                     1.09.26
 
Expert Men 35-39
 
1 Steve Mlujeak (Whole Foods/wsc)                     1.44.13
2 Mark Jackson (Aberdeen Bike And Fitness)               1.07
3 Matt Thourot                                           1.53
4 Tony Hersberger                                        2.10
5 Ray Nelson (Skinny's Racing)                           2.36
6 David Wagoner (Cycle Masters)                          2.43
7 Blair Dudley (Ford Cycling)                            3.16
8 Kerry Robbert (Sse)                                    4.00
9 Tim Difalco                                            4.03
10 Wade Bagnall (Founder's Ale Racing)                   5.35
11 Matthew Henkel                                        5.45
12 Gary Deangelis                                        5.57
13 Todd Henrickson (Trailhead Bikeshop)                  6.09
14 Jeffrey Zeller                                        6.11
15 Tom Mcardle                                               
16 Thomas Glover (Structural Systems)                        
17 Charles Rennie                                        6.13
18 Tim Barrons (Byte Productions)                        6.14
19 Timothy Jenema                                        6.18
20 Todd Vigland (Crystal Mountain)                       7.29
21 Scott Templar (Sling-Shot Bicycles)                   8.19
22 Bradley Jerris                                        8.33
23 Benjamin Caldwell                                     8.42
24 Joe Huebner (Turin Bicycle, Evanston)                 9.04
25 Stani Bohac                                           9.11
26 Frank Tafelsky                                        9.13
27 Bryon Bierema (Kinetic Prescriptions)                 9.53
28 Mark Todd (Cannondale Midwest)                       10.01
29 Charles Snyder (Team Temo)                           10.33
30 Jonathan Bennett                                          
31 Eric Johnson                                         10.45
32 Dustin Cheney                                        10.56
33 Todd Riecke                                          11.08
34 Eric Kimber                                          12.20
35 Joe Fulsher (Whole Foods/wsc)                        12.51
36 James Leikert                                        13.00
37 John Bakehorn                                        13.06
38 Mike Hintz                                           13.09
39 Larry Brownell (Mclain Cycle & Fitness)              13.11
40 David Toutant (Wolverine Sports Club)                13.46
41 Van Nussbaum (Jarednateracing)                       13.48
42 Brian Smith                                          14.29
43 Sean Whalen                                          14.55
44 Gordy Fitch (Hagerty Insurance)                      15.02
45 Scott Howard                                         15.09
46 Darrin Soukup (Me Myself And I)                      15.19
47 Jamson Hendler                                       15.57
48 Mark Mueller (Mr. Mojo Risin')                       16.25
49 Rob Mitzel                                           16.30
50 Jon Heft (Trails-Edge Cyclery)                       16.41
51 John Hufstedler                                      16.43
52 Jeff Studebaker                                      16.59
53 Charles Barnes                                       17.15
54 Mike Peterson                                        17.57
55 Jason Labella                                        18.06
56 Robert Tholl Jr                                      18.32
57 Mark Farmer (Bike Source)                            18.44
58 Craig Junkin (Paint Creek Bicycles)                  20.00
59 Dave Riggs (City Bike)                               20.12
60 Peter Boyles                                         22.12
61 Mark Cole (On 2 Wheels)                              23.04
62 Brad Allen                                           25.08
63 Michael Fehrenbach (Team Half-Fast)                  25.51
64 Brian Walquist (Founders/alger)                      26.10
65 Ronald Carr (Latitude 45 Bike Shop)                  26.19
66 Steve Haakenson (Team Dirty Crank)                   27.13
67 Joe Horlings                                         28.25
68 Andy Hakken                                          29.06
69 Chris Curtis (Trailhead Bike - Ludingto)             29.13
70 Tim Maldag                                           29.22
71 Mike Erway (City Bike Shop)                          29.41
72 Jonathan Banas (Spoke Drunkies)                      29.54
73 Tim Stroebe (None)                                   30.46
74 Bill Gehringer (Fit For You Health Club)             32.11
75 Dave Smith                                                
76 Duane Petersen (Freewheeler)                         33.04
77 W. Frank Farmer (Dan's Bike Shop)                    33.06
78 Craig Johnston                                       34.17
79 Brian Czarnecki                                      34.37
80 Terrry Loveday                                       35.09
81 Bert Reynolds                                        35.15
82 William Reid (Mad Dog Beer)                          35.17
83 Matt Mcdonough                                       37.16
84 Kevin Taylor (Classic Chimney Llc)                   37.30
85 Matt Lambert                                         38.54
86 Christopher Bassarab                                 46.09
87 Scott Silvers (Spokedrunkies)                        46.14
88 Robert Hall (City Bike Shop)                         48.44
89 Michael Jones (Parkcitycycling.com)                  51.16
90 Chad Faber                                           54.01
91 Brian Foust                                        1.22.04
92 Mark Lambert                                       1.41.04
 
Expert Men 40-44
 
1 John Meyers (Bell's Beer Mountain Bike)             1.38.08
2 Jim James (Bell's Beer)                                2.30
3 Douglas Wipperman (Island View Vinyards)               5.49
4 Craig Gietzen (Mudbats)                                6.17
5 Arcadio Ramirez (Kona)                                10.00
6 Erik Petersen                                         11.50
7 Scott Cole (Point Pursuit)                            12.03
8 Dirk Wipperman (Naples Velo)                          12.20
9 Dale Carley (Zdr)                                     13.47
10 Chris Goaddard (American Cycle & Fitness)            14.00
11 Tom Markley (Wolverine Sports Club)                  15.44
12 Douglas Wise (Honeywell/Road Dogs)                   15.48
13 Tom Grasl                                            16.40
14 Dan Jelens (Groundscontrol)                          16.55
15 Ray Dybowski                                         17.06
16 Dan Cunagin                                          17.09
17 Jeff Burtt                                           17.17
18 Jerry Daanen (Hayes Disc Brakes)                     17.37
19 Steve Hansen                                         18.02
20 Mark Donakowski (Me)                                 18.25
21 Dave Beaverson (Honeywell)                           18.29
22 Andrew Suhy (Whole Foods/wsc)                        18.31
23 John Wojtala (Bicycles In Town)                      18.48
24 Tim Devost                                           18.51
25 Thomas Bosch                                         19.12
26 Dean Marsman                                         19.13
27 David Connor                                         19.58
28 Steven Geary (Elkhart Bicycle And Fitne)             20.01
29 Ken O'day (Two Wheel Tango)                          21.04
30 Kirk Harger                                          21.53
31 Herb Meingast (Ford Cycling)                         22.27
32 Joe Lekovish (Sunrise Sports Cycling Te)             23.04
33 Daniel Parshall                                      23.11
34 Eric Broekhuis                                            
35 Frank Roth                                           23.32
36 Bob Emery                                            23.39
37 Shawn Husband                                        25.11
38 Frederick Lake                                       25.36
39 Mark Caswell                                         27.21
40 James Zanke (Whole Foods/wsc)                        27.35
41 Vince Mack (Vin Dog Productions)                     27.49
42 Rob Macgregor                                        28.35
43 Mark Moran (Flying Rhinos)                           29.14
44 Dennis Bauer (Asset Protection)                      31.46
45 Timothy Collins                                      32.43
46 Duane Archambo                                       36.16
47 Thomas Lee                                           37.05
48 Brian Kehres                                         38.31
49 Scott Regelin (Preceision Metal Products)            38.50
50 Paul Callaghan                                       39.23
51 Ryan O'dell (Team Burning River)                     40.50
52 Brian Popa                                           41.16
53 Brian Gillies                                        41.17
54 Rob Gray (Macomb Bike And Fitness)                   43.34
55 Michael Apgar                                        45.00
56 Dan Raber                                            45.03
57 Daniel D'alimonte                                    46.58
58 Jody Miller (Team Tree Farm)                         55.17
59 Brian Land (L&h Design Werks)                        56.33
60 Tim Wade                                             57.01
61 Kevin Spiller                                      1.02.12
62 Craig Keith                                        1.16.56
 
Expert Men 45-54
 
1 Craig Webb (West Michigan Coast Rider)              1.43.31
2 Dan Hofstra                                            0.20
3 Donald Fedrigon Jr                                     0.36
4 Myles Weitzman                                         1.28
5 Craig Pickett (Team Revolution)                        1.56
6 Dave Crandall                                          2.56
7 Matt Daly (Team Hasbin)                                4.58
8 David Coar                                             5.33
9 Geoffrey Paine                                         6.20
10 Keith Bennett (Momper Insulation)                     6.59
11 Brian Buysse (Bent Crank Bike Shop)                   7.09
12 Paul Brown (Roll Models)                              7.28
13 Ron Anderson                                          7.52
14 James P Martin (American Cycle & Fitness)             8.11
15 Paul Rytlewski (Cannondale Midwest Racing)            8.13
16 James Cook (Roll Models Bike)                         8.35
17 Greg Hintz                                            9.31
18 Dave Hollis (Revolution Cycle)                        9.36
19 Dj Jurvelin (Team Revolution)                        10.02
20 Lewis Tripp (Jesse's College Fund)                   10.36
21 Fredric Wipperman                                    11.43
22 Steve Pancoast                                       12.25
23 Eric Dawson (Hellridersmtbc)                         12.27
24 James Gallagher (Team Active)                        13.13
25 Jeff Doerr                                           13.14
26 Paul Popielarz                                       13.35
27 Tim Curtis (Founders Ales/alger)                     13.43
28 Kip Miller (Honeywell Cycling Team)                  13.53
29 Don Camp (Grnst)                                     15.07
30 Lars Welton (Mclain Cycle)                           16.22
31 Bill Lindhout (Cross Country Cycles)                 17.38
32 John Stewart                                              
33 Mark Iuppenlatz (Bicycle Sport)                      17.58
34 Patrick Szubielak                                    17.59
35 Mark Difalco                                         18.10
36 Martin Hall                                          19.39
37 Walter Meeker (None)                                 19.45
38 Daniel Gary                                          19.59
39 Steven Gutschow (Village Bike)                       20.11
40 Dennis Gustafson (Paint Creek Bicycle)               20.18
41 Tim Boals (Genesis United Methodist)                 20.21
42 Craig Yoas (Pulmanary Hypertension)                  20.23
43 Rick Plite (Founders Ales/alger Racin)               21.19
44 Mark Kurz                                            21.45
45 Jim Rutledge                                         21.48
46 Randy Knapp                                          23.23
47 Dave Furey                                           23.38
48 Rick Zimmer                                          24.14
49 Don Edberg (Wors Racing)                             24.46
50 Brian Sedik (Cadieux Bicycle Club)                   24.50
51 John Fallon                                          25.05
52 Kent Buta                                            25.35
53 Randy Kessler                                        25.43
54 Jon Visser                                           25.46
55 Joseph Williams (Gazelle Sports)                     25.50
56 Keith Boechler                                       25.53
57 Dan Dugan                                            26.17
58 Richard Houston                                      26.46
59 Tony Newton                                          26.47
60 John Sotir                                           26.58
61 Vince Festa                                          27.06
62 Edward Broadbear                                     27.09
63 Robert Grove                                         27.41
64 Gregory Neagos                                       27.58
65 Edward Bottrell                                      28.59
66 Rick Mulders (Mudbats)                               29.01
67 Jeff Smith (Kentwood Sun & Fitness)                  29.27
68 Paul Ryznar                                          29.32
69 Thomas Upthegrove                                    29.55
70 Dale Piper                                           30.19
71 Daniel White (None)                                  30.49
72 Peter Sneed (None)                                        
73 Doug Lenaburg (Honeywell)                            31.32
74 Bob Eifler (Cherry Capital Cycling Cl)               31.43
75 Jim Pryor Jr                                         31.51
76 James A Martin                                       32.06
77 Ward Perry                                           32.11
78 Pat Hall                                             32.17
79 Robert Stoler                                        32.18
80 Kris Schulz                                          34.25
81 Fred Laughlin                                             
82 Dave Atkins                                          34.39
83 Mark Muirhead                                        35.46
84 Bill Szubielak                                       36.15
85 Chuck Grzanka                                        36.33
86 Mark Noss                                            36.38
87 Mike Moss (Trails-Edge.com)                          36.43
88 Robert Goodine                                       37.09
89 Sam Peck (Kibbles And Bits)                          37.52
90 Keith Cattanach                                      39.55
91 Mark Orr (Imperial Bike Of Saline)                   41.54
92 Jeff Armour (Armour Siding)                          43.04
93 Jim Levinsohn (Ann Arbor Velo Club)                  43.21
94 Richard Rogge (Macomb Cycle)                         43.30
95 Wally Dawg (Purina)                                  45.51
96 David Murphy                                         52.17
97 Patrick Mousseau                                   1.03.22
98 Don Gorden                                         1.32.54
 
Sport/Exp Tandems
 
1 Rippin Ronnie (Whole Foods/ Wsc)                    1.46.15
2 Patrick Aimone                                        16.15
3 Richard/joan Neumann/o (Breakaway Bicycles)           21.28
4 Steve/rick Ernst/teran (Bikes, Blades And Boards)     21.54
5 Winford Walker                                        25.25
6 Todd Antrim                                           27.32
7 Scott Peterson (Clif Bar)                             28.44
8 Paul/eric Nielson/mack                                33.24
9 Brian Mclean (Omegawk)                                43.26
10 Rj Mullenix                                          44.11
11 Cristin Cataldo (Jack Hammer Racing)                 53.24
12 Diane Deangelis                                      53.25
13 Ben Mccallister (Two Wheel Tango)                  1.04.09
14 Gerry Perrett                                      1.10.04
 
Sport/Exp Clydesdales
 
1 Jeff Adamcik (Bicycle Hq)                           1.50.58
2 David Hintz (Ace Window Cleaning)                      3.13
3 Peter Mason (Speed Merchants)                          3.50
4 Earl Adams (Kentwood Cycling)                          8.55
5 Mark Brown (Roll Models)                               9.19
6 Randy Zylstra                                          9.43
7 Bary Seldon (Whole Foods)                             11.26
8 Thomas Mcgovern                                       11.35
9 Joshua Neider                                         12.25
10 James Taylor (Taylor Gaming)                         14.01
11 Jeff Viaene                                          14.34
12 Tom Vandersloot (Advantage Benefits Group)           14.44
13 Rob Wonnacott (Sse)                                  15.03
14 Karly Boy                                            15.49
15 Chris Gee (Roll Models)                              15.55
16 Alan Kasper (Y-Not Cycling)                          16.20
17 Steve Tafelsky                                       16.54
18 John Sekendy                                         19.42
19 Tim Bottrell (Atomic Snowboards)                     19.44
20 Mike Mccreery (Lat 45)                               21.43
21 Marty Waller                                         23.35
22 Ernest Stafford                                      24.06
23 Steve Iuppenlatz (Arts Tavern)                       24.26
24 Jeffrey Zaleski                                      24.55
25 Mike Bartos                                          25.40
26 Nick Shue (Trails-Edge.com)                          25.56
27 Steve Duisterhof                                     27.11
28 William Smith                                        28.16
29 Ralph Wilkie                                         28.49
30 Larry Timm                                           29.50
31 Randy Bentley Ii                                     30.08
32 Shawn Hauser (Gmac Mortgage)                         31.13
33 Dan Holland                                          31.28
34 Timothy Devries                                      32.32
35 Lindsey Osgood (Arts Tavern Glen Lake)               33.44
36 Ray Schmidt                                          34.06
37 Tom Nugent                                           34.30
38 Rick Schoonover (Centennial Log Homes)               35.17
39 Michel Bekkers                                       36.05
40 Dave Roerig (Zippy Ditch (dr. Northous)              36.46
41 Miroslaw Stasiuk                                     37.01
42 Gary Lake (Amlings/white Industries/)                38.06
43 Jason Borchert                                       38.10
44 Kevin Cleary (Kalamazoo Trikats)                     38.43
45 Brian Browning                                       39.09
46 Bill Drake                                           39.15
47 Terry Gates                                          42.35
48 Keith Lukaszek (Klydesdale Racing)                   42.54
49 Larry Marlink                                        43.08
50 John Burt (Trails Edge Cyclery)                      44.20
51 Tony Nicolette                                       45.16
52 Jeffrey Looman                                       45.51
53 Paul Newby (Roll Models)                             45.54
54 Daniel Tompkins (Team Billys)                        47.17
55 Jeffrey Kelly                                        47.43
56 Aaron Goryl (None)                                   48.33
57 Eric Puetz (Smartbikeparts.com)                      50.29
58 John Swanberg                                        52.48
59 Jack Swartstrom                                      53.08
60 Michael Linke                                        56.31
61 Shawn Hall                                         1.00.14
62 Jody Figueroa (Ventana Mtb Usa)                    1.08.22
63 James D'amore                                      1.12.14
64 Andy Draheim                                       1.13.00
65 Scott Mitchell                                     1.14.11
66 Patrick Bymhold                                    1.15.30
67 Steve Bittner                                      1.21.20
68 Tim Brick (Labats)                                 1.43.48
69 Derek Rutt                                         1.55.42
70 Kevin Callahan                                     2.26.17
 
Lady Clydesdales
 
1 Jessica Thayer                                      2.34.09
2 Billie Mae Neher                                      10.20
3 Karen Noel (Sanford Animal Clinic)                         
4 Deborah Smith (Dark Horse Racing)                     24.39
5 Katie Campbell                                        25.43
6 Nancy Giffels                                         40.43
7 Claudia Bean (Team Tree Farm)                         47.02
8 Martha Shue (Trails-Edge.com)                         50.07
9 Kathy Serrat                                        1.15.36
10 Jodi Bowland (Na)                                  1.28.18

 
Single Speed Men
 
1 Niel Scharphorn (Slingshotbikes.com)                1.38.50
2 Nate Versluis (Founders Ale/Alger)                     3.22
3 Derek Strong (Haul N' Ass)                             4.12
4 Eric Tomkin (Planet Cycle)                             6.16
5 Jeremy Rodriguez (Team Wisconsin)                      8.00
6 Scott Chambers (Founders Ales)                         8.18
7 Dale Plant (Kona)                                     10.37
8 Al Blasutig                                           10.53
9 Scott Steurer (Breakaway Bike)                        12.25
10 Mark Oberman                                         12.55
11 Nathan Kearns (Hellriders Mtbc)                      13.56
12 Joe Kucharski (Team Active)                          14.32
13 Terry Avink (Mudbats)                                14.34
14 Joel Budacki (Wholefoods/wsc)                        15.04
15 John Hughson                                         15.37
16 Adam Stojak (West Michigan Coast Rider)              17.27
17 Patrick Russell                                      17.29
18 Chad Salla (Trail House)                             17.36
19 Todd Scott                                           18.43
20 Greg Johnson                                         19.42
21 Martin Alwood (Mudbats)                              21.10
22 Jason Bratton (Mud Bats-Geturin Diaz)                22.13
23 Ed Serrat                                            23.33
24 Jason Aric Jones (Bell's Beer)                       23.48
25 Joe Partridge (Founders Ales/alger Racin)            24.08
26 Andy Brown (Mtb Life.com/cycletherapy)               24.15
27 Chip Richards (Founders Ales/Alger Sch)              24.40
28 Bill Schneider (Gary Fisher)                         25.26
29 Kevin Laroe                                          25.59
30 Shawn Tyrrell                                        26.00
31 David Heim Jr (Team Singleminded)                    26.05
32 Jim Whaley                                           26.40
33 Chad Schut                                           27.06
34 Ricky Davis                                          27.26
35 Jochen Faber                                         27.27
36 Russ Gelow                                           28.09
37 Jeff Laprad (Trailhead Bike Shop)                    28.54
38 Tony Misovski (Peppy's Pizza - Troy)                 29.32
39 Kevin Paquette                                       29.50
40 Donald Whitacre (Team Riddler)                       30.46
41 Wayne Stroope (Team Ibuprofen)                       32.10
42 Mike Cramer (Team Merrrell Half-Fast)                     
43 Paul Johnston                                        32.32
44 Jay Atwater (Hellriders)                             32.39
45 Carl Mitcham                                         33.03
46 Tom Price (Bicycle & Fitness Barn)                   34.09
47 Adam Claar                                           34.56
48 Dwayne Merritt                                       36.22
49 Sean Kelly (Bici Bistro)                             38.04
50 Peter Stephens                                       39.53
51 Marty Swanson                                        40.52
52 Mark Terrian                                         41.11
53 Thomas Lueken Jr.                                    41.44
54 Jeff Cooper                                          43.11
55 David Pettigrove                                     43.15
56 Trevor Haney                                         43.26
57 Thomas Lining                                        46.03
58 Mike Green Shrift (Gary Fisher)                      47.58
59 Bradley Gates                                        49.39
60 Eric Schmidt                                         51.20
61 R Mckernon                                           53.15
62 Martin Gamble                                        54.21
63 Mike Boyd                                            58.43
64 Seth Fisher                                        1.03.14
65 James Wick                                         1.13.16
66 Steve Lidak                                        1.15.59
67 Mike Lacour                                        1.18.17
68 Dan Cole (Me.)                                     1.26.06
69 Robert Watson                                      1.26.08
70 Steven Sikkenga (Hizownbadself)                    1.55.02
71 Layne Peters                                       2.22.40
 
Single Speed Women
 
1 Danielle Musto (Slingshot)                          2.05.49
2 Jen Conine                                             3.56
3 Lorena Seldon (Whole Foods/yeti)                       6.23
4 Marne Smiley (Two Wheel Tango)                         7.12
5 Amy Pikalek (Team Wisconsin)                          14.44
6 Susie Mcginnity (Gary Fisher)                         24.10
7 Paula Figura                                          42.15
 
Sport Men 15-18
 
1 Ryan Baumann (Gmac Team 2)                          1.43.13
2 Cory Stange (Team Revolution)                          9.17
3 Brent Steinberg (Team Ford)                           12.28
4 Casey Kleymeer (Break-Away Bicycles)                  16.46
5 Whitney Jones                                         19.55
6 David Engstrom                                        22.20
7 Alex Linke                                            25.19
8 Raffi Appel (Mclains)                                 25.26
9 Connor Boals (Genesis Umc)                            28.22
10 Trevor Barton (Forest Hills Central)                 30.49
11 Eric O'hearn                                         39.21
12 Rafael Kronenberg (Cannondale Midwest)               40.13
13 Harrison Reynolds (Od Racing)                        48.15
14 Adam Dipietro                                        49.39
15 Mitchell Nol                                         52.36
16 Bradley Solak                                      1.13.17
17 Nathan Layle                                       1.21.15
18 Jeremy Ball                                        1.30.07
19 Kevin Kusina                                       1.55.30
 
Sport Men 19-24
 
1 Tim Pacholski (Team Hayes)                          1.49.36
2 Constantine Peters (La Perla Racing)                   8.31
3 Eric Graveling                                        10.34
4 Kyle Tabor (Team Sandbag/bicycle And)                 11.55
5 Bradley Trathen                                       17.39
6 Scott Przystas (Team Double Bubble)                   17.59
7 Jeff Zimmerman                                        19.28
8 John O'hearn                                          20.35
9 Andrew Maxey (City Bike Shop)                         23.12
10 Thomas Hayward (Velocipede Peddler)                  23.27
11 Julian Simioni (Msu Cycling)                         24.18
12 Matt Ippel                                           24.59
13 Andrew Patrick                                       30.01
14 John Reid (Arts Auto & Truck)                        31.52
15 Don Gorden 3 (Denny's Cycle)                         59.37
16 Nathan Rivest                                      1.03.50
17 Kelly Marcikic                                     1.35.53
 
Sport Men 25-29
 
1 Ryan Schultz                                        1.55.22
2 Brett Atchison (Riemer Eye Center)                     0.26
3 Brad Williams (Team Revolution)                        1.08
4 Wade Burch                                             3.26
5 Scott Stewart (Waterfront Bicycle)                     6.00
6 Robert Turpin (Kymba Jeff Scwhinn)                     6.26
7 Brian Hemmeke                                          7.09
8 Ryan Marcikic                                          7.27
9 Alex Pina (Cherry Republic)                            7.57
10 Derek Wrathell (Rbs - Gary Fisher Cycling)            8.24
11 Keith Van Goor                                        9.35
12 Jason Ramboer                                        10.09
13 Mike Decker                                          13.04
14 Tim Butcher (Active Mfg.)                            13.24
15 Leonard Parmenter (Trails-Edge.com)                  16.33
16 Timothy Callender                                    17.33
17 Dan Packer                                           18.44
18 Steve Schultz                                        20.13
19 Troy Clayton                                         21.08
20 Jason Floyd                                          21.09
21 Matthew Zuelch                                       21.42
22 Bradford Aquino                                      23.20
23 Ken Mitton (Two Wheel Tango)                         25.06
24 Jesse Buehler (Porter Brewing Co)                    26.58
25 Ben Penner                                           27.34
26 Brady Frederick                                      28.23
27 Greg Kohuth                                          31.41
28 Nicholas Mehl                                        32.23
29 Dion Covelli                                         32.37
30 Erik Arbut                                           33.37
31 Ian Kennedy                                          34.07
32 Dennis Brown                                         39.51
33 Jeremy Kloosterman                                   41.24
34 Greg Suzor                                           42.25
35 Matthew Kirkland                                     46.17
36 Jedidiah Reich-Challis                               47.43
37 Matthew Naebeck                                      50.47
38 Christopher Bolt (Team Sandbag)                      50.55
39 Chris Mensing                                        51.39
40 Cameron Kohn                                         52.46
41 Michael Onslow                                       55.32
42 Jason Frandle                                        57.51
43 Adam Bowden                                          57.55
44 Daniel Nelson                                      1.19.50
45 Chad Peters                                        1.21.36
46 Kevin Meikle                                       1.25.36
47 Brian Beeman                                       1.35.29
48 Russell Greene                                     1.41.55
49 Chad Erickson                                      1.57.00
50 Jason Kolp                                         1.59.07
51 Justin Mears                                       2.24.40
 
Sport Men 30-34
 
1 Alexander Yockey                                    1.49.29
2 Timothy Carson                                         4.18
3 Brad Emmett                                            6.12
4 David Welsh                                            6.38
5 Brian Kwekel                                           7.10
6 Chris Molnar                                           7.39
7 Bryan Rypkowski                                        8.03
8 Dale Schaafsma                                         8.16
9 Brad Bierema (Kinetic Prescriptions)                   8.43
10 Scott Floyd (Village Bike Shop)                       9.14
11 Mark Potgeter                                             
12 Chad Wright (The Bike Pros)                          10.33
13 Eric Bartels                                         10.46
14 Tod Horner                                           11.52
15 Scott Vermullen (Bike&fitness Barn)                  12.38
16 Andrew Grey                                          13.41
17 Jeffrey Bueche                                       13.45
18 John Henry (Flying Rhinos Cycling)                   13.56
19 Joel Feinberg (Clif Bar)                             14.10
20 James Huang (Two Wheel Tango)                        14.13
21 Jeremy Daum                                          15.15
22 Anthony Bastuk                                       15.29
23 Chris Pfeil (Mountain Road Cycles)                   15.38
24 Brad Fischer                                         16.13
25 Robert Keller (Team Billy's)                         17.15
26 Lee Messersmith (Wheel Fast Racing)                  17.32
27 David Mitchell                                       17.44
28 Anthony Derubeis                                     17.46
29 Scott Fohey                                          17.56
30 Ryan Kelly (Bici Bistro -Battle Creek)               17.58
31 Chad Black                                           18.31
32 Mike Coleman                                         18.47
33 Michael Verploegh Jr.                                     
34 Mike Campbell (My 2 Boys Racing)                     20.13
35 Mike Thomasma                                        20.41
36 Gerry Neher                                          21.19
37 Chris Muller                                         21.33
38 Kevin Edwards                                        21.42
39 Bill Ostrowski                                       21.45
40 Matthew Tuskan (Garfield Bike Shop)                  22.17
41 Mark Blaauw-Hara (North Country Cycle Sport)         22.21
42 Scott Zeeb                                           22.24
43 Dennis Blockland (Who's Your Daddy?)                 22.30
44 Michael Connolly                                     22.41
45 Jason Melecosky                                      22.51
46 Peter Johanson (South Oakland Anesthesia)            22.59
47 Russ Skinner                                         23.19
48 Charles Smitley Jr.                                  24.11
49 Brandon Inglehart                                    24.41
50 John Urbain (Banzai Racing)                          25.11
51 Keith Rypkowski                                      25.12
52 Christopher Howard                                   25.13
53 Tyler Erickson (Uniboob Bike Club - Great)           25.59
54 Robert Ellul (Port Of Old Mission)                        
55 Dale Dwojakowski                                     26.08
56 Jim Schramski                                        26.40
57 Mark Fielder (Team Sandbag)                          27.07
58 Steve Clement                                             
59 Todd Tjoelker                                        27.13
60 Trevor Coleman                                       27.15
61 Michael Sauer                                        27.27
62 Steve Gray (Team Hedgehog)                           27.38
63 Brett Fisher                                         28.37
64 David Woldring                                       29.13
65 Ken Septer                                           29.24
66 Douglas Strain                                       29.38
67 Christian Glupker                                    30.25
68 Dan De Looff (Greenbean)                             31.02
69 Justin Booth                                         31.24
70 Jimmy Mckenna                                        31.33
71 John Kibsgaard                                       32.03
72 Brian Miller (Northernvacation.com)                  33.15
73 Tony Hernandez                                       33.41
74 Matthew Vander Linde                                 34.12
75 Robb Knisley                                         34.15
76 Todd Powers (Team Sandbag)                           34.29
77 David Hubbard (Cycle Fit)                            34.41
78 Stephen Stancill                                     36.20
79 Christopher Weller                                   36.22
80 Todd Zrimec                                          36.40
81 Todd Bolton                                          37.21
82 Anthony Van Es (Trestlewood Pediatrics)              37.57
83 Phillip Maguire                                      38.02
84 Matthew Brostrom                                     39.57
85 Forrest Omland                                       40.12
86 Billy Janelle                                        40.17
87 Theodore Huizenga                                    40.25
88 Chris Zias                                           40.40
89 Gregory Giles                                        41.36
90 Harvey Santana                                       41.48
91 John Hug                                                  
92 Ryan Glanville                                       42.29
93 Jason Glanville                                      42.30
94 Jason Matousek                                       42.32
95 Pearce Vander Meeden                                 42.52
96 Troy Naperala                                        43.45
97 Andrew Laiho                                         43.58
98 Andrew Joseph                                        44.46
99 Doug Derdowski                                       45.05
100 Paul Edwards                                        45.06
101 Joel Scheffler                                      45.10
102 Greg Hughes (Hughes Woodworks, Llc)                 45.47
103 Bruce Slawson (House Of Wheels)                     45.57
104 Troy Levely                                         46.43
105 Erik Kamman                                         47.42
106 Mark Fraker                                         47.49
107 Noah Hall                                                
108 Tom Kirkby (Tully Blanchard Racing)                 48.08
109 Rick Vanderleek                                     50.23
110 Travis Moore                                        54.48
111 Jason Woodward (Team Tree Farm)                     56.54
112 Brad Underwood                                      59.33
113 Todd Newman                                       1.00.19
114 Eric Soneral                                      1.03.58
115 Keith Dombrowski (Family)                         1.07.09
116 Sean Clay                                         1.07.42
117 Scott Oosterbaan                                  1.09.25
118 Steve Zagacki                                     1.09.49
119 Scott Vanzanten                                   1.11.20
120 Aaron Joppe                                       1.13.42
121 Dave Dilno                                        1.14.20
122 Adam Abele                                        1.15.53
123 Chad Cooley                                       1.16.50
124 David Maltbie (Trailhead Bike Shop)               1.19.25
125 Jeffrey Meikle                                    1.20.07
126 Keith Kadwell                                     1.22.15
127 Daniel Atkins                                     1.22.41
128 Rodney Goble                                      1.35.55
129 Rex Menold (The Boys)                             1.46.11
130 Matthew Warner                                    1.46.44
131 Phil Ehardt                                       1.48.23
132 Ryan Cooper                                       1.56.15
 
Sport Men 35-39
 
1 Eric Fernando                                       1.51.17
2 John Lirette (Hayes)                                   0.02
3 Brent Rohrs (Ford Cycling)                             1.54
4 Devin Deboer                                           2.48
5 Terry Bochenek (Village Bike Shop-Team Bc)             5.20
6 Jeff Brooks (Freewheeler Bike Shop)                    6.55
7 Don Boersma (Double Twins Racing)                      7.09
8 Matthew Oppermann (Trailhead Bike Shop)                7.10
9 Kelly Jedynak                                          7.11
10 Trevor Townsend (Team Pacific)                        7.35
11 John Ressler (Inside Out Chiropractic)                8.04
12 Edward Schowalter (Antoons Cadieux B.c.)              9.24
13 Todd Atkinson                                         9.25
14 Greg Witt                                             9.35
15 Michael Stoliecki (Team Dirty Cranks)                 9.50
16 Todd Sieting                                          9.54
17 Brent Harris                                         10.01
18 Ben Smith (The Epic Ride)                            10.10
19 Neil Wagner                                          10.44
20 Donald Roth                                          10.53
21 Scott Mcbain                                         11.00
22 Dave Lenting (Ruby)                                  11.05
23 Scott Finley                                         11.33
24 Marshall Michmerhuizen (Macatawa Cycling)            11.55
25 Brad Malott                                          12.08
26 Keith Wilkinson (Kris)                               12.34
27 Ron Nol                                              12.49
28 David Krenk                                          13.04
29 Guy Spencer (Beef Curtain, Inc.)                     13.07
30 David Schultz                                        13.10
31 Joseph Shenfeld                                      13.25
32 Andy Amstutz                                         13.26
33 Rob Morlock                                          13.41
34 Scott Paluska                                        13.56
35 Ben Green (Giant)                                    14.26
36 Andy Hasse (Mclain Cycle)                            14.38
37 Ted Pryde                                            15.06
38 Michael Mcnally                                      15.18
39 Matt Enoch                                           15.21
40 Todd Kent (Markson Tool)                             15.23
41 Tyler Rosebrugh                                      15.27
42 Marc Heneveld                                        15.38
43 Scott Mcallister (Kbc Kalzoo Allez)                  15.46
44 Robert Gray                                          16.19
45 Dennis Jensen (Free Wheeler Ii)                      16.32
46 Jonathan Evans                                       17.01
47 Brian Scharp (Team Hedgehog)                         17.09
48 Cary Marsh (Macomb Bike & Fitness)                   17.31
49 Jeff Hammond (Team Amb)                              17.38
50 Michael Scott                                        18.35
51 John Segard                                          18.53
52 Matthew Hotts (Macomb Bike And Fitness)              18.54
53 Andrew Coats                                         18.58
54 Daniel Henshaw                                            
55 Ulf Maier                                            19.40
56 Steve Butler (Bicycles In Town)                      19.44
57 Tony Cook                                            19.49
58 Gary Williams (Bikesource)                                
59 David Bade (Team Revolution)                         19.52
60 Tom Scott                                            19.56
61 Ron Ressler (Ressler Design, Inc.)                   20.21
62 Michael Adams                                        20.32
63 Brian Giddis                                         20.39
64 Scott Caverly (Hair Shoppe)                          20.55
65 David Graf (Spouse & Kids)                           21.29
66 Tony Sharp (N/a)                                     21.33
67 Hans Voss                                            21.36
68 K Wolfe (Privateer)                                  21.40
69 Martin Ingman (Trails Edge)                               
70 Paul Emenheiser                                      21.47
71 William Baguley                                      21.52
72 James Depree                                         21.56
73 Matthew Rife                                         22.09
74 Christopher Quilliams (My Wife)                      22.19
75 Derek Sanderson (Team Panic Skid)                    22.27
76 Tom Crimp                                            22.51
77 Scot Mccoll (Hustler)                                23.01
78 Matthew Phillips (Team Bugbean)                      23.46
79 Joel Caverly                                         24.47
80 Michael Coffman                                      24.55
81 Scott Forthofer                                      25.06
82 John Beranek                                         25.10
83 Kevin Czarnik (Roll Models)                          25.55
84 Darren Wilson                                        26.22
85 Roque Corpuz                                         27.34
86 Michael Crain                                        28.00
87 Blaine Vortman                                       28.06
88 T Raymond                                            28.40
89 Russell Petts                                        28.45
90 Eric Janssen (Christin Lale Noah)                    28.51
91 Nathan Bryan (Us Coast Guard)                        29.00
92 Jamie Malin                                          29.03
93 Todd Rillema                                         29.20
94 Craig Fitzpatrick                                    29.32
95 Charles Cova                                         29.56
96 Chris Rau                                            30.46
97 Scott Hutchings                                      30.51
98 Mark Scharich                                             
99 Andy Pasternak                                       31.02
100 Darius Brown                                        31.03
101 Jon Lehner                                          31.32
102 Dave Wilkes                                         32.11
103 Daniel Hales                                        32.12
104 Brad Best                                           32.19
105 Michael Yurkanin                                    32.20
106 Christopher Remy                                    32.55
107 Wolfe James (Batacia)                               33.05
108 Michael Neeley                                      33.26
109 Tim Beach                                           33.37
110 David Kramer                                        33.54
111 Joseph Buteyn                                       34.08
112 Craig Mitchell (Dan's Bike Shop)                    35.25
113 David Weems (Island Girl)                           35.46
114 Bernard Wendel (Cannondale Midwest Racing)          35.58
115 David Cox                                           36.18
116 Andrew Wise                                         36.35
117 Brian Moon                                          37.12
118 Mike Spain                                          37.33
119 Mark Weston                                         38.25
120 Darren Haines (Haines Tours)                        38.37
121 Todd Cherry                                         38.47
122 Todd Schmitt                                        39.41
123 Jamie Salters (Jolly Pumpkin Artisan Ale)           41.05
124 M Conrad Wasmer (Fiancee)                           41.35
125 David Isham                                         41.57
126 William Ball                                        42.04
127 Michael Bell (Team By Grace)                        42.16
128 Jim Kalajian                                        42.18
129 Bryan Wissman                                       42.25
130 Tj Snyman                                           43.09
131 Darryl Bolitho                                      44.44
132 Paul Doyle                                          45.02
133 Thomas Dejager                                      46.28
134 John Raths (Me)                                     46.53
135 Steven Balogh                                       46.55
136 Brian Ernst                                         47.10
137 Jim Samlow                                               
138 David Kozlowski                                     47.49
139 Zoly Barbbas (Cross Country Cycle)                  48.58
140 Troy Devoogd                                        49.18
141 Carl Fried                                          49.58
142 Craig Lyons                                         50.54
143 Rick Sawdey                                         51.07
144 Sean Obrien                                         51.23
145 Darren Nemeth                                       52.36
146 Toby Tucker                                         52.39
147 Daniel Demlow                                       52.40
148 John Nickison                                       53.08
149 Kevin Philion                                       53.10
150 Bill Nowak                                          55.37
151 Kevin Smith                                         56.05
152 Scott Booth (4 Fat Guys And Howard)                 56.10
153 Todd Shorkey (Bay City Firefighters Loc)            56.12
154 Michael Krause (Trailhead Bike And Kayak)           57.33
155 Mike Seekman                                        59.02
156 Tom Skrobecki                                       59.46
157 Paul Krauseneck                                     59.59
158 David Hunter                                      1.00.01
159 Patrick Bidigare                                  1.02.37
160 Ron Kasperek                                      1.05.11
161 Jeff Wert                                         1.06.44
162 Patrick Wooley                                    1.06.51
163 Aaron Verstraete (Little Belgium Racing)          1.08.52
164 Joe Diehl                                         1.09.53
165 Jeff Warner                                       1.10.03
166 Erik Helms (None)                                 1.12.42
167 James O'brien                                     1.20.47
168 Kile Carlson                                      1.21.18
169 Mike Fitzsimmons                                  1.21.44
170 Clifford Burns                                    1.22.18
171 John Harberts                                     1.23.37
172 David Smith                                       1.27.01
173 David Zajac                                       1.28.49
174 Brian Stacey                                      1.34.29
175 Louis Rodriguez                                   1.39.30
176 Kevin Jawahir                                     1.45.32
177 Dana Gillin                                       1.51.18
 
Sport Men 40-44
 
1 Alan Dahl (Dmf)                                     1.54.52
2 Ross Lemke                                             0.01
3 Anthony Spicuzza                                       0.57
4 William Schultz                                        2.11
5 Dennis Scheler Jr (Team A.m.b.)                        2.47
6 Paul Johnson                                           3.47
7 Ted Howard                                             5.06
8 Bill Hougaboom (Kma)                                   5.45
9 Kevin Biek (Alfred E. Bike)                            5.56
10 David Strole (Team Chiropower)                        5.59
11 Stephen Lentner                                       6.15
12 Tom Hopson                                            6.28
13 James Ignash                                          7.17
14 Jon Martin (Self)                                     7.37
15 Andy Klevorn                                          8.22
16 Mike Chiado                                           8.38
17 William Larsen                                        9.19
18 Kevin Glaser                                          9.37
19 Michael Mccann (Bb Udell)                            10.09
20 Dan Vansweden (Great Lakes Medical)                  10.37
21 Carl Cunningham                                      11.54
22 Craig Hays (Cross Country Cycle)                     12.21
23 Kevin Kahl                                           12.30
24 James Turnbow                                        12.53
25 John Wallace                                         12.57
26 Steven Weckle                                        13.10
27 Kurt Childs                                          13.13
28 Lloyd Lind                                           13.26
29 John Spaulding (Foxwood Racing)                      13.39
30 Brian Howes                                          13.41
31 Kevin Madzia (Century Cycles)                        14.05
32 Scott Guenther                                       14.48
33 Ralf Ostmann                                         15.02
34 Keith Cowgar (Enterprise Micro Solution)             15.03
35 John Sohacki                                              
36 Keith Merritt (Bicycle Fitness Barn)                 15.08
37 Ron Kozicki                                          15.15
38 Kevin Skipworth                                      15.17
39 Allen Duncan                                         15.25
40 Dave Douglas                                         15.31
41 John Ehardt                                          15.32
42 James Siewertsen                                          
43 Walt Quandt                                          16.45
44 Jerry Juliot (Barbasol/rapid Transit)                18.03
45 Conrad Van Haitsma (Ada Bike Club)                   18.05
46 John Gregorski (Laper La Racing)                     18.12
47 John Ostezan (Big O Ranch)                           19.03
48 Andrew Jaworski                                      19.06
49 John Mahr (Wheel Fast Racing)                        19.14
50 Joseph Weissert (Village Bike Shop)                  19.47
51 Anthony Pupin                                        19.54
52 Jeff David                                           19.55
53 Robert Nagy                                          20.00
54 Darrell Greathouse (Gordon Water)                    20.10
55 Ron Lisch                                            20.38
56 Dean Kandt                                           21.19
57 Dennis Thome (Lil Debbie's)                          21.54
58 Jeff Derushia                                        21.57
59 David Tietz                                          21.58
60 Craig Rohrer                                         22.29
61 Greg Haag (K-Woj Racing)                             22.43
62 Thomas Woods                                         22.44
63 Buck Miller (Team Nature Boy)                        23.01
64 Zeke Arzooyan (My Lulu Bell)                         23.05
65 Kevin Livingsto Living                               23.09
66 Brian Vanrhee                                        23.46
67 David Phelps                                         23.54
68 Michael Labadie (Wife And Kids)                      23.55
69 Michael Belanger                                     23.56
70 Brian Saunders                                       24.29
71 Steve Hall                                           25.07
72 David Staublin                                       25.12
73 Kerry Tucker (Janna @the Fart Blossoms)              25.32
74 Scott Salter                                         25.46
75 D J Burns (Clif Bar)                                 25.50
76 Michael Johnson                                      25.52
77 Michael Stepka                                       26.19
78 Jeff Keith                                           27.12
79 John Beattie                                              
80 Keith Wiggins                                        27.43
81 Frank Bean (Team Treefarm)                                
82 Jeffrey Janowski (Quanta)                            27.44
83 Eric Lucas                                           27.50
84 Jim Kloostra                                              
85 Scott Pappas                                         28.10
86 Sean Mulcahy                                         28.15
87 Brian Germain                                        28.35
88 Mark Hatfield                                        28.40
89 Tom Bestrom                                          29.35
90 Kevin Lalone                                         30.28
91 Scott Volkert                                        31.10
92 Leland Richards                                      31.12
93 David Steinberg                                      31.27
94 Bolton Uckele                                        31.36
95 Dan Dewitt                                           32.45
96 Kurtis Kinney                                        33.10
97 Dave Beadle (The Ladybugs)                           34.02
98 Robert Hicks (Visa)                                  34.33
99 Rich Cappelletti                                     35.53
100 Mark Mcintyre (Wheelfast Racing)                    36.20
101 Pat Parker (Advanced Financial Group)               36.30
102 Mark Allen                                          37.42
103 Jim Linder                                          37.54
104 Gerard Welsh                                        38.41
105 Mark Rogers                                         38.54
106 Robert Lundquist                                    39.28
107 Tony Emmer                                          42.52
108 Bill Mccasey (None)                                 43.58
109 Rich Kogelschatz (Heartland Builders)               44.13
110 Mark Hicks                                          44.14
111 Daniel Staudacher                                   44.16
112 Aaron Burgess                                       45.07
113 Garry Johnson                                       45.26
114 Gary Cook                                           46.35
115 James Hills                                         49.27
116 Jeff White                                          49.46
117 Samuel Minor                                        50.02
118 Rod Solak                                           51.42
119 Jeff Kokmeyer                                       53.24
120 Todd Maguire                                        55.01
121 Scott Eisen                                         55.10
122 Joseph Yurkanin                                     55.41
123 Brett Balames                                       55.42
124 John O' Connor                                      56.10
125 Steven Chandler (Chanman.com)                       57.17
126 Michael Majeske (Shadowfax Racing)                  57.25
127 Bob Merry                                         1.00.26
128 William Sibilla (Eagle Technical Sales Llc)       1.01.23
129 Jim Potter                                        1.05.14
130 Paul Meyers                                       1.06.45
131 Bart Massey                                       1.11.39
132 Anthony Mills                                     1.11.55
133 Edward Tompa                                      1.13.42
134 Dale Jerome                                       1.19.31
135 Kevin Rose (Mcbain Building Products)             1.19.35
136 Doug Nemeth                                       1.20.34
137 David Goertzen                                    1.22.13
138 Rick Baatz                                        1.24.46
139 Bill Vermeersch                                   1.31.23
140 Tom Marshall                                      1.35.30
141 Ed Gabriels                                       1.44.11
142 John Denny                                        1.49.11
143 Frank Campanaro                                   1.52.06
144 David Buchanan                                    2.32.15
 
Sport Men 45-49
 
1 James Rivamonte                                     1.57.20
2 Brad Dejonge (Zippy Ditch Riders Bike S)               2.41
3 Kirt Kostich                                               
4 Kris Armstrong (Macomb Bike & Fitness)                 3.17
5 Jeffrey Buerman (Michighan Youth Cycling P)            3.27
6 Greg Southwell (Saturn Of Okemos)                      3.51
7 Michel Wedel                                           4.24
8 James Heun                                             7.50
9 Jay Walbridge                                          8.48
10 Doug Vandervoort                                      9.09
11 Dominick Zaccone (Sunrise Sports)                     9.18
12 Peter Colan (Cannondale Midwest Racing)               9.33
13 Duane Berkompas                                       9.43
14 Rusty Trapp                                           9.53
15 Craig Morris (Morr Solutions)                        10.03
16 Steven Hoe (Ford Cycling Mi)                         10.37
17 Brian Terlecki                                       10.41
18 Dave Torgler (Skinny's Racing)                       10.42
19 Bill Fix                                             11.17
20 Paul Zieske                                          11.35
21 Dan Engstrom (Penny's Bikes)                         11.46
22 Robert Kennedy                                       12.02
23 Eric Knapper                                         12.31
24 John Keane                                           13.54
25 William Zabreski                                     14.16
26 Eric Schroeder (Adams Cycling)                       14.22
27 Tim Grose (Flying Rhinos)                            14.26
28 Scott Eggleston                                      14.27
29 Steve Hoffman (Stubway Rider)                        14.59
30 J. R. Johnson                                        15.00
31 John Kowalczyk                                       15.35
32 Rick Walker Jr. (Beat Rob Morlock!)                  15.36
33 Glenn Betten                                         16.11
34 Bill Potapa                                          16.18
35 Mike Kauffman                                        17.46
36 Dell Knapp                                           19.00
37 Randal Vant Hul (Team Genesis)                       19.02
38 Pat Bruce                                            19.13
39 James Whinery                                        19.44
40 Thomas Murphy (Trails Edge)                          19.47
41 John Wrycza (Wheelfast Racing)                       20.08
42 Tom Young                                            20.19
43 Wade Arnold                                          20.28
44 Steve Baars                                          20.48
45 Larry Pelowski                                       20.49
46 Peter Coles                                          20.55
47 Kent Jenema (Peninsula Pharmacy)                          
48 Brad Bennett                                         20.59
49 John Pastunink                                       21.25
50 Bill Hart                                            22.14
51 Bruce Yelvington (Denny's Cycling & Fitness)         22.42
52 Mike Crandell (Dell Racing)                          22.57
53 Robert Walsh                                         23.08
54 William Hermann                                      23.37
55 Tom Sydloski                                         23.53
56 Bob Schultz (Team Genesis Methodist Ch)                   
57 Mark Reynolds                                        24.12
58 Tom Mertaugh                                         25.15
59 Howard Herron                                        25.19
60 Michael Youn                                         25.50
61 Dennis Jeffers                                       26.19
62 Paul Knight (N/a)                                    26.26
63 Daniel Adkison                                       26.37
64 George Bailey                                        26.49
65 James Walhout                                        26.55
66 Andrew Mcguinness                                    27.05
67 Luke Noss                                            27.29
68 Kevin Riley                                          27.33
69 Robert Terry (Roger Sullivan)                        27.59
70 Steve Clark                                          28.33
71 Thomas Smith                                         29.49
72 Donald Miller                                        30.13
73 Steven Robbins (Maner, Costerisan & Ellis)           31.04
74 Tim Griesbach                                        31.11
75 Mark Hoch                                            31.20
76 Mark Ford (Bike & Fitness Barn)                      32.00
77 Dan Mouthaan                                         32.46
78 Tony Demerle                                         32.50
79 Phil Hemenway (Ford Athletic And Swim Te)            32.54
80 John Bach                                            33.07
81 Chris Mailing                                        33.28
82 Larry Lynam                                          33.47
83 Robert Rensch                                        33.59
84 Loren Newton                                         36.44
85 James Hayner (Quanta)                                36.58
86 Steven Muenzenmeyer                                  37.14
87 Kurt Schabes                                         37.35
88 Michael Gallaway                                     37.47
89 Steve Fanelli                                        38.00
90 Mitchell Bolt (Bicycle & Fitness Barn)               38.45
91 Douglas Verellen                                     39.10
92 Rob Nicey                                            39.35
93 Terry Wright                                         40.57
94 Dennis Pontius                                       41.46
95 Mike Wright (Portage Travel)                         42.41
96 Frank Gambino                                        43.40
97 Shane Pung (Trailhead Bike Shop)                     44.53
98 Mark Best (City Bike Shop)                           45.47
99 Bob Bieri                                            52.39
100 Robert Spleet                                       55.19
101 Mark Ciana                                          56.57
102 Paul Rasmussen (General Motors)    57.34
103 Steven Talboys                                      57.51
104 Paul Cavanaugh                                    1.00.39
105 Matthew Waldner                                   1.01.35
106 Scott Steinberg (Nordik)                          1.02.26
107 Keith Peterson (Shandman,com)                     1.05.23
108 Keith Schreck                                     1.06.17
109 William Frank                                     1.13.27
110 Craig Fuelling                                    1.18.09
111 Mark Johnson                                      1.25.11
112 Mark Mcpherson                                    1.38.48
113 Greg Kulesza                                      1.45.11
114 Garrett Chiesa                                    1.46.11
115 Roger Frazee                                      1.59.28
116 Rick Adair                                        2.01.03
 
Sport Men 50-54
 
1 Larry Swanson (Kegels)                              1.58.38
2 Larry Reimer (Michael's Cycles)                        2.51
3 Hugh Melling                                           4.25
4 Brad Sprouse                                           7.33
5 Rob Hair (Flying Rhino Cc)                             7.53
6 Andrew Wesolowski (Frcc)                               8.56
7 Ed Anderson                                           10.36
8 Bob Porter (P Brothers)                                    
9 John Klepetka                                         10.43
10 Jeffrey Fletcher (Simtech)                           11.05
11 Don Stump (Team Koehlinger)                          11.13
12 Ray Yehl (Cycle Fit)                                 12.12
13 Joseph Elden (Ss Graphics Family Mtb Te)             12.26
14 Peter Kot                                            12.39
15 Brian Fisher                                         14.02
16 Warren Fowler (Gmac/team 2)                          14.11
17 Randy Fairbanks                                      14.36
18 Steve Ferguson                                       14.52
19 Larry Moats                                          14.54
20 Reinhold Cordella                                    15.53
21 Tom Paine (Trailhead Bike Shop)                      15.58
22 David Cole (Flying Rhinos Cycle Club)                18.41
23 Robert Baker                                         18.50
24 Ronald Miller                                        18.56
25 Greg Blake                                           20.19
26 Jeff Dayss                                           20.37
27 Bryan Griffin                                        20.58
28 James Coolich                                        22.44
29 Doug Turner                                          23.32
30 Jim Patton (Myself)                                  23.35
31 Dennis Murphy                                        24.35
32 Mike Samyn                                           24.40
33 David Mackey                                         24.41
34 Paul Conlen                                          25.01
35 John Haskin (Chelsea Bike & Sport)                   26.47
36 Robert Constable                                     27.10
37 Chris De Boer                                        27.25
38 Mike Troxell                                         27.37
39 Butch Stoner                                         29.14
40 Michael Gormley                                      29.32
41 Lloyd Crandall                                       29.36
42 Dirk Weirauch                                        29.53
43 Charles Bateman                                      30.20
44 Duane Amato                                          31.45
45 Riley Messer                                         31.50
46 Michael Lindamood                                    34.23
47 Thomas Mayhew                                        36.17
48 Henry Witkop                                         39.20
49 Chris Krellwitz                                      39.44
50 James Falls                                          39.48
51 Charlie Pryde                                        39.54
52 Gary Appel (Mclains)                                 41.29
53 Gary Trap                                            41.47
54 Brad Dowdy                                           42.08
55 Kelly O'brien                                        43.27
56 Mike Ryan                                            44.46
57 Spencer Ruffner                                      46.33
58 Brion Kelly (Breakaway Bicycles)                     47.02
59 Stephen Mentzer                                      47.50
60 James Williams                                       49.56
61 Roger Sullivan (Stiff Balls& Backbone)               51.56
62 Michael Jones                                        52.22
63 John Thomas                                          53.17
64 Charles Russo                                        53.50
65 Michael Cornell                                      55.18
66 Paul Gulewich                                        55.56
67 Jim Montague                                         55.59
68 Mickey Morris                                      1.04.01
69 John Schmitt                                       1.08.58
70 Gary Kimpel (F.u.n. Racing)                        1.10.10
71 Neal Rossow (Bicycle & Fitness Barn)               1.10.43
72 Steve Terranella                                   1.12.55
73 John Boxall (Mambo Kings)                          1.12.59
74 Craig Martin                                       1.21.24
75 Charles Cornett                                    1.24.28
76 John Bousfield                                     1.27.52
77 Warren Hills                                       1.30.49
78 Greg Riggs                                         1.41.08
 
All Men 55-64
 
1 Steven Tiles                                        1.56.38
2 David Linden (Flying Rhinos)                           0.13
3 Al Northouse (Zippy Ditch Riders, Inc.)                2.20
4 Chuck Buckalew (Team Revolution)                       2.51
5 Niel Scharphorn Sr (Kp Cycle)                          6.09
6 Terry Kihlstrand (Team Revolution)                     7.33
7 Jerry Mathias (Zippy Ditch Riders)                     8.31
8 Charles Robertson                                      9.40
9 Art Fleming (Old Joe Racing)                           9.43
10 Roger Raehl                                          10.48
11 Don Campbell (Second Wind)                           11.08
12 John Calcutt                                         13.16
13 Douglas Schneider                                    14.22
14 Ron Morris                                           15.34
15 James Beckstrom (Trailhead Bike Shop)                16.22
16 Clifton Patton                                       16.32
17 Wes Watt (Cycle & Fitness)                           16.44
18 Jim Donaldson (Elite Endevours)                      16.58
19 Bob Pierson                                          19.33
20 Neal Little                                          19.40
21 Ron Sexton (Nordicskiracer.com)                      19.44
22 James Hack                                                
23 Paul Wells (Breakaway Bicycles)                      19.59
24 Roger Haines (Haines Tours)                          21.32
25 Eddie The Woods Andres                               21.37
26 Tim Duff (Pat The Understanding Wif)                 21.59
27 Dennis Pitz                                          23.44
28 Charles Lannen                                       24.20
29 David Klinger (Courtand & Main Custom Pi)            24.38
30 William Aten (Aten Place)                            25.45
31 Terry Hutchins (Alfred E Bike)                       26.04
32 Larry Koehler                                        26.26
33 Tim Giles                                            26.27
34 Greg Walker (Denny's Central Park Bicy)              28.04
35 Ray Landfair                                         30.39
36 Vaughn Murray                                        31.03
37 Kenneth Smith (Bicycle Barn & Fitness)               31.14
38 David Gidcumb                                        31.24
39 Bruce Olthouse (Freewheeler Bike)                    31.55
40 Jeff Betz (Trailhead Bike Shop)                      32.56
41 Michael Goodreau                                     33.02
42 Ron Zeeb                                             33.36
43 Dan Yeager                                           35.35
44 Dale Rosser                                          35.37
45 Frank Mosier                                         35.38
46 Mark Kantola (Bergman Marine)                        35.59
47 Sherman Shultz                                       37.22
48 David Bishop                                         38.20
49 Scott Pyles                                          38.34
50 Rick Smith                                           39.38
51 Steve Biggs                                          40.09
52 Mike Salava                                          41.46
53 Andy Bowman                                          42.58
54 Steve Morgan                                         43.22
55 Mike Spaniolo                                        43.36
56 Fred Schaafsma                                       43.37
57 Gordon Jeltema (Freewheeler Bike Shop)               44.35
58 Paul Hakes                                           44.42
59 William Laycock                                      44.46
60 Russell Courtney (Judy)                              45.50
61 Mark Bedard                                          46.04
62 Terry Whalen                                         47.09
63 Doug Mcdonnell                                       47.14
64 Dirk Bus (Eric's Full Cycle Sports)                  47.22
65 Richard Naperala                                     47.31
66 Ronald Herrin                                        48.09
67 Timothy Mackey                                       49.03
68 Fritz Kucklick                                       50.25
69 Randall Winans                                       51.22
70 Nicholas White                                       52.01
71 Daniel Bauer                                         52.08
72 John Hutson                                          52.44
73 Gilson Miller (Finn Fire Property)                   53.02
74 Jim Murphy                                           55.42
75 Julio Andino (Gigio's Pizzeria)                      56.29
76 James Littrell                                       58.27
77 Chet Mrozinski                                       58.52
78 Phillip Vasilion (Tom $ Tony Torrance)               58.57
79 Michael Chojnowski                                   59.17
80 Roger Branton                                      1.05.49
81 Samuel Corner                                      1.06.48
82 David Emmett (Ford Cycling)                        1.07.55
83 Robert Jones                                       1.09.00
84 Ron Vance                                          1.09.56
85 Jim Ziemba                                         1.14.09
86 Carl Ray                                           1.15.26
87 Daniel Martin                                      1.17.49
88 Anthony Klein                                      1.19.44
89 Christopher Parris                                 1.21.26
90 Wayne Moretti                                      1.28.17
91 Robert Anthony                                     1.32.30
92 Don Torrance (Tom And Tony)                        1.36.41
93 David Macintosh (Self)                             1.39.07
94 Gregory Kushner                                    1.42.38
95 C B Dehlin                                         1.54.33
96 Ronald Foon                                        2.12.36
97 Dennis Artrip                                      2.13.45
98 Ted Kilmer                                         2.21.13
99 Erik Dropping                                      2.40.11
 
All Men 65+
 
1 Robert Hayes                                        2.09.13
2 Thomas Jones                                           6.53
3 Douglas Scofield                                       9.40
4 Andrzej Kurkowski (Eaton)                             19.09
5 Don Howell                                            23.19
6 Denny Vandecar (Denny's Racing)                       30.47
7 Doug Hervela                                          39.01
8 Jim Hintz                                           1.03.05
9 Richard Wenk                                        1.23.33
10 Philip Boucher                                     1.59.41
 
Sport Women 19-34
 
1 Amanda Pilling (Velo Bella)                         2.09.36
2 Danielle Black (Team Ford)                             2.52
3 Erin Vicary                                            6.43
4 Nicole Derrick                                         8.13
5 Sarah Flegel                                           8.46
6 Libby Tomlinson (Island View Vineyard)                 9.24
7 Melanie Rogers                                             
8 Danielle Rearick (Byte Productions)                    9.32
9 Karen Cavalaro (City Bike Shop)                       10.56
10 Melissa Fritz (Giant/darkhorse)                      11.15
11 Casey Webb (Dark Horse Brewing)                      15.18
12 Amy Jenema                                           16.05
13 Erin Martin (Martin's Hardware)                      16.36
14 Kiersta Tucker                                       16.52
15 Angela Bradley                                       17.02
16 Kerri Finlayson                                      18.45
17 Erin Giles                                           21.02
18 Sarah Adams                                          21.30
19 Sarah Seiler                                         21.58
20 Danielle Shay                                        23.22
21 Jennifer Peters                                      25.12
22 Sue Kling                                            26.18
23 Kelly Nagy                                           27.13
24 Karen Paradis                                        28.43
25 Katherine Fultz (University Of Michigan Cy)          28.52
26 Rachel Decker                                        29.08
27 Wendy Davis                                          29.15
28 Cassandra Hoye                                       29.22
29 Kelli Peters                                         29.35
30 Kerry Block (Macomb Bike & Fitness)                  30.07
31 Stacy Buehler (Penner Cycles)                        31.03
32 Bridget Cote                                         32.57
33 Alissa Stewart                                       34.00
34 Erica Baic                                           38.17
35 Stephanie Cervelli                                   40.10
36 Kaori O'neill                                        42.19
37 Jessica Bratus (Two Wheel Tango)                     42.28
38 Rebekah Williams (Two Wheel Tango)                   55.27
39 Sarah Smark (Team Terpening)                         55.31
40 Anne-Marie Kehres                                  1.05.11
41 Julie Terrell (Breakaway Bicycles)                 1.07.45
42 Jennifer Coleman (Zip-Tie Racing)                  1.16.26
43 Nicole Lucas                                       2.02.27
44 Kavita Desai                                       2.26.58
 
Sport Women 35-44
 
1 Monica Meyer                                        2.15.30
2 April Levack (Gary Fisher)                             0.08
3 Tammy De Boer (Porsche)                                3.01
4 Anna Buerman                                           3.36
5 Kim Sokol                                              4.55
6 Kim Whalen (Wak)                                       5.21
7 Becky Kalajian                                         5.26
8 Carolyn Calcutt                                        8.19
9 Dianne Knapper                                         9.29
10 January Cronkright                                    9.50
11 Susan Shaw                                           12.54
12 Yvonne Gramm                                         14.21
13 Chris Haddock                                        15.18
14 Debra Holdcraft (Denny's Racing)                     16.03
15 Patricia Howes                                       18.24
16 Shauna Bezilla                                       18.30
17 Vikki Rohrer                                         18.36
18 Michelle Howard                                      19.18
19 Lori Dunn                                                 
20 Lynda Racey                                          19.33
21 Andrea Balding                                       19.44
22 Diane Mcneil                                         20.20
23 Stephanie Kennedy                                    20.24
24 Jo Herald (Mtbchick.com/cannondale)                  23.30
25 Paula Sammons                                        23.34
26 Shani Lebaron (Mykittypurr)                          25.37
27 Sue Stroope (Team Ibuprofen)                         27.27
28 Grace Pang                                           29.08
29 Susan Mattice                                        29.10
30 Shari Scurr                                          31.48
31 Gayle Majeske (Shadowfax Racing)                     32.00
32 Kim Tucker                                           33.16
33 Diana Raddatz                                        40.33
34 Jamie Wilhite (Mmba)                                 49.31
35 Pamela O'connor                                      50.19
36 Lillian Ruiz (Treefort Bike And Board)               50.59
37 Kirsten Schmitt                                      58.56
38 Linda Fanelli                                      1.09.21
39 Eve Kutchman                                       1.22.13
40 Karen Baird                                        1.26.32
41 Maureen Laura                                      2.16.08
 
Sport/Exp Women 45-54
 
1 Susan Gardner (Hot Damn Schnapps)                   2.09.15
2 Linda Martin (American Cycle & Fitness)                6.43
3 Lori Toedebusch (Speed Merchant)                       7.26
4 Vickie Hart                                           14.51
5 Janet Fender                                          15.10
6 Kathy Riggs                                           16.06
7 Jandy Sprouse                                         16.07
8 Marcy Tucker (Janna @ The Fart Blossoms)              19.30
9 Mary Kolozsvary                                       21.19
10 Barb Aja                                             23.47
11 Wendy Burns (Clif/active Endeavours)                 24.50
12 Janet Upthegrove                                     26.58
13 Carolyn Gallaway                                     27.04
14 Karen Standley (Kentwood Sun & Fitness)              28.20
15 Carrie Sutton                                        30.16
16 Janet Grimm (Crosscountry Cycle)                     33.06
17 Roxan Hessenaur                                      34.21
18 Marilyn Bradford                                     41.47
19 Cathy Plite (Founders Ales/alger Racin)              43.48
20 Gisele Bourgault                                     54.38
21 Lynne Witte                                          58.17
22 Geri Mclean (Omegawk)                                59.51
23 Sue Moretto (Team Tree Farm)                       2.09.27
 
All Women 55-64
 
1 Kathie Bachman (Century 21 Bayshore)                3.25.59
 
All Women 65+
 
1 Bobbi Kohnen                                        3.20.15
 
All Men 12-14
 
1 Taylor Birmann (Teamactive)                         1.55.02
2 Aristotle Peters (La Perla/expo)                      17.01
3 Michael Bobian (Rick Bobian)                          23.09
4 Stephen Barnes (Breakaway Bicycles)                   32.12
5 Junior Hubbard (Team Trinity)                         32.14
6 Tony Wieczorek                                        33.40
7 Andrew Darrell (Mom)                                  37.43
8 Micah Appel (Mclains)                                 45.35
9 Greg Brown                                          1.12.26
10 Nathan Vance                                       1.33.13
 
Beginner Men 15-18
 
1 Marty Huizinga (Daddio Rocks)                       2.15.51
2 Ryan Mcclure (Odderpottery)                            1.23
3 Paul Cairns (4th)                                      2.35
4 Brandon Schabes                                        8.08
5 Jim Doherty (The Bikesmith)                            8.58
6 Garrett Jones (Alfred E Bike)                         12.38
7 Nate Myyra                                            13.17
8 Stephen Breznau                                       17.57
9 Dan Sibilla (Eagle Technical Sales)                   19.03
10 Alex Roth                                            21.53
11 Blake Walker (Kymba)                                 22.38
12 Alexander Taylor                                     24.17
13 Stephen Christy (Sunrise Sports)                     24.41
14 Matthew Hughey                                       25.42
15 Kyle Hughes                                          29.02
16 Nicholas White                                       29.50
17 Cal Meyers                                           41.27
18 Samuel Sullivan (Dad)                                52.15
19 Charles Sullivan (Dad)                             1.01.21
20 Kevin Phillips                                     1.02.36
 
Beginner Men 19-24
 
1 Kyle Guerra                                         2.06.22
2 Bill Larsen                                            8.36
3 Brandon Worden                                        11.40
4 Derek Bareman                                         12.57
5 Christopher Morehead                                  18.01
6 Brian Danhoff                                         23.26
7 Norman Fenton (Parents)                               23.37
8 Benjamin Wickman                                      28.05
9 Michael Breznau (M.d.s. Lawn And Landscape)           32.05
10 Grant Siggins (Inner Ray Cafe, Durango,)             40.22
11 Eric Bartels (Proper Mold)                           43.30
12 Troy Boroff                                          45.03
13 Jay Schaub                                           49.29
14 Anders Lindquist                                     52.16
15 Eric Ried                                            58.12
16 Alan Manes (Two Wheels Tango)                      1.07.43
17 Mark Anderson                                      1.46.00
18 Jason Bostater                                     1.53.39
 
Beginner Men 25-29
 
1 Jay Campbell                                        2.18.10
2 Joseph Ashley                                          7.56
3 Jasris Jasnie                                          8.12
4 Scott Evans (North Peak Brewing Co)                    9.04
5 Andrew Brown (Tri City Cyclists)                       9.28
6 James Tyler (Team Sandbag)                            10.31
7 Jack Feeney                                           10.55
8 Ian Nolan                                             12.04
9 Kurt Gould                                            13.46
10 Jeff Wilson                                          14.16
11 Jason Ziemba                                         16.27
12 James O'keefe                                        18.46
13 Jared Beasley                                        21.00
14 Sam Ball                                             28.34
15 Stephen Hall (Katie Andino)                          32.54
16 Irfan Alibhai (Kenya Tea Packers)                    43.58
17 Jamie Rytlewski (My Dad)                             44.25
18 Matthew Hurd (Hagerty Insurance)                     44.47
19 Benjamin Devoogd                                     48.41
20 Rick Booms                                           49.02
21 Robert Rosinski (Gigio's Pizzeria)                   50.38
22 Nick Shong                                           52.23
23 Corey Morgan                                         56.50
24 Mike Finch                                           57.48
25 Justin Ziemba                                      1.04.13
26 Bernie Stockwell (Macomb Bike And Fitness)         1.05.34
27 Scott Schafer                                      1.20.26
28 Jason Pruss                                        1.30.49
29 Matt Anderson                                      1.36.37
30 Michael Riley                                      1.41.20
31 Eric Mason                                         1.43.07
32 Brian Woodruff (Taco Bell/Sobe)                    1.46.32
33 Darryl Albert                                      1.48.51
 
Beginner Men 30-34
 
1 Peter Cherchian (Verizon)                           2.16.41
2 Michael Michaud                                        3.03
3 Jeff Robinson                                          3.34
4 Mason Klein                                            4.31
5 Scott Labonte                                          6.09
6 Cory Knight                                            6.55
7 Randall Weed                                           7.30
8 Alex Kondovski (Skippy Spaniel)                        8.22
9 Jason Rinker                                          13.01
10 Terry Eman                                           13.15
11 Terry Russell (Beaver Research)                      13.18
12 Michael Westphal (Bicycle & Fitness Barn)            13.31
13 Gregory Stroker                                      14.45
14 Doug Charnock                                        15.03
15 Mark Pruim (None)                                    18.15
16 Cory Stiff                                           18.24
17 Michael Liagre (Bike And Fitness Barn)               19.23
18 Jeremy Tucker (Kymba)                                19.53
19 Thad Boertje                                         19.54
20 William Van Kampen                                   20.21
21 Brian Southworth                                     20.26
22 Mark Hoinka (Cannondale Midwest Racing)              22.11
23 Marty Bebow (Iron City Beer)                         23.11
24 Ross Fischer                                         23.59
25 Thomas Kucklick                                      24.32
26 Philip York                                          26.13
27 Paul Barr (Me)                                       26.30
28 Curt Potocki                                         28.30
29 Lee Tackett                                          29.05
30 Jordan Semark                                        29.54
31 Gabriel Garcia                                       30.28
32 Garrett Reynolds (Jag/rey)                           32.43
33 Keith Berry                                          33.14
34 Dean Rabourn                                         33.29
35 Jay Lonsway                                          33.54
36 Andrew Mckillop                                      36.51
37 Lowell Zuckerman                                     37.32
38 Andy Beecham                                         38.40
39 Brian Heeringa (Me)                                  38.46
40 Mike Hetherington                                    39.08
41 Ismael Castaneda                                     41.09
42 Shandy Spencer                                       43.41
43 Mark Gaby                                            45.54
44 Andrew Head                                          51.35
45 Chris Blank                                          54.34
46 Paul Geyer                                           54.41
47 Mark Sievers                                         55.15
48 Kevin Sutter                                       1.00.08
49 Jeffery Wohlhuter                                  1.05.21
50 Richard Wiltgen (Direct Recruiting, Inc.)          1.08.55
51 Mostyn Lumbard                                     1.09.44
52 Scott Zugel                                        1.16.08
53 Brad Garmon                                        1.21.43
54 Christopher Kranz                                  1.33.00
55 Adam Oakwood                                       1.54.05
56 David Brown                                        2.12.07
 
Beginner Men 35-39
 
1 Shawn Meinke                                        2.04.36
2 Neil Long                                              5.14
3 John Holkeboer (Greenridge Realty)                     6.57
4 Dominick Wieczorek                                     8.50
5 John Billette                                         10.59
6 Michael Medema (Secret Hdq.)                          11.44
7 Jeff Stout                                            14.17
8 Doug Lockwood                                         16.05
9 Tim Bayer                                             19.21
10 Trent Klebe                                          20.16
11 Roland Cantu                                         27.06
12 Andrew Staub                                         27.09
13 Edward Barker                                        27.39
14 Jeff Shotwell (Trailhead Bike Shop)                  27.41
15 John Conlin                                          28.43
16 Scott Bosley                                         31.04
17 Lee Miller (Big Fat Couch Potato)                    33.39
18 Doug Deliefde                                        34.07
19 John Moule                                           34.28
20 John Harbottle                                       34.34
21 Todd Jones                                           36.23
22 David Clifford                                       36.48
23 Mark Badger                                          37.16
24 Scott Giles                                          38.03
25 Raymond Leach                                        41.08
26 John Failor                                          41.14
27 Randy Arellano (Elite Endeavors)                     43.40
28 Stan Peters                                          43.48
29 Brian Gerberding                                     47.33
30 Bart Shumaker                                        50.09
31 Paul Dugan                                           52.19
32 Jim Plichta                                          52.31
33 Daniel Huttenga                                      52.32
34 David Waid                                           52.43
35 Ed Moroschan                                         56.32
36 Marc Troeger                                         57.59
37 Alex Vandertol (Secret Headquarters)                 59.08
38 Kurt Martinson                                     1.05.42
39 Shannon Flynn (Team Tree Farm)                     1.06.40
40 Kevin Brandon                                      1.10.06
41 William Repole                                     1.11.23
42 Mike Kelly (Snickers Marathon)                     1.19.17
43 Adam Peterson                                      1.21.48
44 Scott Woodard                                      1.23.56
45 Todd Johnson                                       1.34.57
46 Peter Vance                                        1.43.40
47 Michael Benjamin                                   1.44.17
48 Russ Marlan                                        1.47.38
49 Jeff Mott                                          1.48.08
50 Stephanie Francisco                                1.55.54
51 Tim Francisco                                             
52 Daniel Armstrong                                   2.13.50
 
Beginner Men 40-44
 
1 Thomas Mitchell (None)                              2.07.59
2 Tom Keller                                             1.29
3 Mark Judd                                              2.45
4 Kevin Mccartney (Latitude 45)                          4.43
5 Richard Tooley                                         6.28
6 Daryl Bernard (Sagnasty Mountain Biking)               7.31
7 Pat Cerullo                                            9.10
8 Brad Vanderbrug                                       10.01
9 Billy Hubbard (Team Trinity)                          10.14
10 James Kubiak                                         10.27
11 Scott Clouthier (Ford)                               10.44
12 Todd Hanson (Team Panic Skid)                        11.27
13 David Williams                                            
14 Scott Mckeand                                        12.19
15 Myles Markey                                         13.18
16 Michael Scarpello                                         
17 David Jarrett                                        14.25
18 Peter Kresmery                                       17.35
19 Richard Clay                                         17.38
20 Mark Aley                                            18.20
21 Todd Flickinger (Chain Reaction)                     18.45
22 Glen Moore                                           19.29
23 Randy Bayne                                          21.30
24 Bill Stevens                                         26.01
25 Wayne Heuwagen                                       27.09
26 Ed Johnson                                           28.06
27 Jeffrey Hendricks                                    30.12
28 Dean Schink                                          30.15
29 Steve Johanson                                       31.13
30 Dave Boccia (Youth Cycling)                          31.46
31 Brian Zauel                                          32.07
32 John Alley                                           32.48
33 Tom Stevens                                          34.07
34 Jeffery Nol                                          37.09
35 Kevin Mcwilliams                                     37.25
36 Michael Fettig                                       39.08
37 William Moran                                        39.11
38 Kevin Klein                                          40.15
39 John Mcarthur                                        41.00
40 Mark Nowak                                           42.44
41 Jon Looman                                           43.02
42 Brian Weekley                                        43.13
43 Robert Michel                                        44.24
44 Matthew Brinker                                      44.41
45 Roger Wenk                                           47.53
46 Robert Sherman                                       47.58
47 David Tholen                                         51.08
48 Brian Brinegar (Flying Rhino's Cycling Cl)           54.49
49 Wayne Bell                                           55.14
50 Michael Dugan                                        56.58
51 Scott Willard                                        57.20
52 Mark Hughes                                          58.34
53 Mark De Kraker                                       58.49
54 Steve Meinel (Meinels Upholstery)                         
55 J. Barton (Barton Chiropractic Offic)              1.00.25
56 Michelle Recchia                                   1.03.10
57 Dino Recchia                                       1.03.11
58 Sean Lennon                                        1.05.49
59 Norman Johnson (Ivisual)                           1.07.01
60 Bruce Giddings                                     1.07.29
61 Joseph Koss                                        1.09.12
62 Terry Howard                                       1.16.12
63 James Lacroix (Team Sandbag)                       1.22.55
64 John Green                                         1.29.22
65 Tony Achacon (None)                                1.40.00
66 Tim Berger                                         1.54.04
 
Beginner Men 45-54
 
1 Timothy Mcclure (Odder Pottery)                     2.15.08
2 Dennis Gingiloski                                      1.49
3 Mike Zelent                                            2.04
4 Lee Boughner                                           3.12
5 Mark Jones                                             3.55
6 Gary Cale                                              4.47
7 Dan Kleymeer                                           5.21
8 Paul Visich                                            8.09
9 Bill Lafontaine                                        8.46
10 Michael Snable                                       10.19
11 Greg Glowicki                                        10.29
12 Dean Sontag                                          10.49
13 Randy Borst (Gmac Team 2)                            11.22
14 Barry Snellgrove                                     13.24
15 John Meconi                                          13.36
16 Dave Gordon                                          14.14
17 Rick Kent                                            14.55
18 Thomas Huizinga (Daddio Rocks)                       15.39
19 Dave Anderson                                        16.26
20 James Siegrist                                       16.30
21 Mitchell Warner                                      18.33
22 Craig Tubbs                                          20.11
23 James White                                          21.21
24 Fred Koehler                                         22.10
25 Mike Strozeski                                       22.31
26 Tim Morgan (Morgan's Garage)                         22.33
27 Robert Maddaford                                     22.55
28 Mark Cantrell                                        22.58
29 Paul Manns                                           23.31
30 David Myles                                          25.00
31 Steve Darrell (Western Michigan Universi)            25.24
32 Barclay Finch (Team Billy)                           25.29
33 Robert Johnston                                      25.49
34 Randall Ritsma                                       26.57
35 Jerry Lichko                                         28.36
36 Scott Taylor                                         28.58
37 Daniel Tift                                          30.02
38 Lawrence Warbasse                                    30.31
39 Roger Cook (Me)                                      31.50
40 Fred Heckerthorn                                     32.14
41 Fred Bauer                                           35.20
42 Samuel Henry                                         37.01
43 Bill Thompson                                        37.12
44 Joseph Zakrin                                        37.37
45 Marvin Martens                                       39.02
46 James Hanebutt                                       39.44
47 Bruce Ballentine                                     40.18
48 Scott Martis                                         41.46
49 David Derosia                                        41.47
50 Steve Mccalmon                                       41.48
51 Wayne Bergstrom                                      42.26
52 Lou Schimelpfenig                                    43.10
53 Gary Hicks                                           43.23
54 Bill Johnson (None)                                  43.37
55 Tim Chipman                                          45.09
56 Michael Glossop (Self)                               45.18
57 Paul Rieker                                          46.07
58 John Swantek (Team Half-Fast)                        46.30
59 Richard Baldwin                                      48.17
60 Mark Petersen                                        49.08
61 Brian Barker (None)                                  49.33
62 Chuck Wicht                                          50.09
63 Jim Owens (Flying Rhino's Cycling Cl)                50.11
64 Rick Nagle                                           50.48
65 Larry Greene                                         50.49
66 James Krieg                                          53.39
67 Michael Early                                        53.49
68 Steven Snow                                          58.16
69 Richard Irving                                       58.29
70 Barney Butler                                        58.35
71 Bill Allen                                           58.37
72 Joseph Doe                                         1.00.02
73 Jim Hirtreiter (Bay Commercial Equipment)          1.00.57
74 Matthew Lagrou                                     1.01.15
75 Scott Hughes                                       1.01.23
76 Peter Bennick                                      1.01.42
77 Mark Harris                                        1.02.21
78 Jack Wickman                                       1.04.24
79 Roberto Leven                                      1.06.56
80 Jeffrey Krupp (Self)                               1.07.26
81 Bob Mccary                                         1.11.01
82 Christopher Gilson                                 1.11.38
83 George Roller                                      1.13.24
84 John Thorp                                         1.20.01
85 Thomas Kaminski                                    1.20.45
86 Ron Forman (Garfield Bike Shop)                    1.25.39
87 Kevin Laverty                                      1.26.59
88 Daniel Merchant                                    1.29.53
89 Tom Desroches                                      1.35.03
90 Brian Wickman                                      1.36.39
91 Philip Franz                                       1.41.40
92 Dave Homan                                         1.48.31
 
All Women 12-18
 
1 Rachelle West (Rei)                                 2.34.10
2 Lily Wissman (Cannondale Midwest)                     20.07
3 Rebecca Wissman (Paint Creek Cycles)                  22.00
4 Sarah Wickman                                         58.52
 
Beginner Women 19-34
 
1 Mindy Houser                                        2.17.27
2 Cathy Swanson (Michael's Cycles)                       9.05
3 Mary Ghrist                                           16.00
4 Arianne Petersen                                      17.33
5 Kerry Labonte                                         18.17
6 Gabriela Baranova                                     19.57
7 Mary Putman                                           19.58
8 Catherine Kosiba                                      27.02
9 Laura Kelly (Snickers Marathon)                       29.30
10 Becky Hulst                                          29.37
11 Anna Michalak (Uniboob Bike Club - Great)            30.11
12 Stacie Kryszak                                       30.20
13 Jennifer Holtzclaw (Cannondale Midwest Racing)       32.36
14 Jessi Ault                                           33.20
15 Kirstin Jackson                                      34.38
16 Renee Bryer                                          35.54
17 Laura White                                          38.30
18 Kristi Juliot (Southern Indiana Wheelmen)            38.37
19 Christine Jowett                                     39.07
20 Elizabeth Andino (Giglos Pizzeria)                   41.38
21 Rebecca Stack (Cycle-Fit.net)                        43.09
22 Erin Rogers                                          43.58
23 Yuen Hom                                             46.13
24 Sarah Shair                                          46.25
25 Jennifer Fischer (Planet Cycle)                      52.05
26 Katie Andino (Gigio's Pizzeria)                      54.06
27 Angela Schmorrow                                     55.49
28 Andrea Tiller                                      1.03.49
29 Nicole Quandt                                      1.07.54
30 Sarah Forrester                                    1.18.42
 
Beginner Women 35-44
 
1 Lynne Browder (Waterfront Bicycles)                 2.34.29
2 Karen Park                                             2.54
3 Jc Bediker                                             5.58
4 Roberta Van Haitsma                                   15.54
5 Tammy Hamelink                                        19.15
6 Sandra Greig                                          23.31
7 Heather Langille                                      24.05
8 Bonnie Holben                                         31.40
9 Kellie Wood                                           31.59
10 Stacie Rohrs                                         32.59
11 Lisa Koss                                            33.07
12 Tiffany Chiado                                       38.53
13 Aline Cotel                                          43.47
14 Lisa Waller                                          45.55
15 Kay-Ann Schuck                                       48.20
16 Peggy Herron                                         48.41
17 Kari Saunders                                      1.27.54
 
Beginner Women 45-54
 
1 Nancy Koehler                                       2.31.59
2 Amy Dykema (Active Endeavers)                         22.49
3 Mary Jo Shear                                         27.28
4 Diane Visich                                          30.03
5 Alice Gale                                            31.46
6 Joan Darrell                                          36.02
7 Theresa Stinson-Lahrin (Fruitport Middle)             47.57
8 Kathleen Regnier                                      54.15
9 Susan Kizoff                                          58.38
10 Frances Tyrrell                                    1.02.44
11 Jean Peters (My Evil Twin, Skippy)                 1.38.42
 
Beginner Clydesdales
 
1 Mike Mccusker                                       2.02.51
2 Darrin Best (Me)                                       8.12
3 Randy Merren (Randy Merren Auto)                      20.39
4 Marty Specht (Slingshot/ Freewheeler 2)               20.56
5 Frumencio Torres (American Cycle & Fitness)           23.00
6 Shannon Javis (Aberdeen Bike & Fitness)               24.42
7 Stephen Keskes (Cycle Fit)                            25.04
8 Jeffrey Carek (My Wonderful Wife)                     32.17
9 Paul Krzyzaniak                                       33.05
10 David Kuzee (B&d Auto Sales)                         33.43
11 Steve Sahl                                           38.16
12 Jonathan Rose                                        41.03
13 Troy Spicer                                          50.22
14 Gregory Hunter                                       56.23
15 Kent Vankleek                                      1.00.10
16 David Johnston (Mud Turtles)                       1.02.41
17 Dave Desrochers (Corecomm)                         1.04.49
18 Nathan Dau                                         1.05.00
19 Stephen Maas (Anna Maas)                           1.05.45
20 John Molnar (Jeffersonville Schwinn)               1.07.22
21 Stuart Murphy                                      1.07.43
22 Curtis Pedersen                                    1.09.04
23 Mike Vanlaningham                                  1.09.40
24 Todd Rees                                          1.13.30
25 Barry Shear (Mary Jo Shear)                        1.15.27
26 Joseph Christy (Ann Arbor Velo Club)               1.32.37
27 Frank Polk                                         1.47.52
28 Ron Winfrey                                        1.55.17
 
Beginner Tandems
 
1 Brandon Sprouse (Pbracing)                          2.09.40
2 Todd & Carrie Fenton                                   9.05
3 Tom Gardiner                                          22.28
4 Steve/hunter Ruch/ruch                                38.20
5 Michael Badyk (Wizard Of Wheels)                    1.17.07
6 John & Sarah Chase                                  1.18.50
7 Joel Miller (Cannondale Midwest Racing)             1.22.19