MTB index page for all MTB content
Australian MTB Championships - CN
Eildon, Victoria, March 18-20, 2005
Main Page Results Previous Day Next Day
Day 2 - March 19: Cross-country
Colson and Jongewaard take green and gold
By Mikkeli Godfree in Eildon, Victoria
Five National mountain bike champions
Photo ©: Shane Goss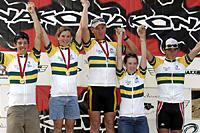 In absolutely thrilling fashion, both Emma Colson (Top Bike Tours - Giant) and Chris Jongewaard (Avanti-JT Cycles) have taken the Elite XC National Championship titles in Eildon today. On an unforgiving track, both Colson and Jongewaard led from the word go, stamping their authority all over their respective fields
After her race, Colson said, "I can't believe it...I'm on top of the world at the moment, it's a great feeling." Colson, who led from half-way around the first lap to the finish, held off a strong charge by Niki Gudex. "I always felt the pressure from Niki. I didn't feel like I was riding the singletrack well, I didn't feel smooth so that really put the pressure on me to climb well.
"I passed my coach [Liz Tadich] on the last lap and she told me I only had 15 seconds. I stressed out and pushed it really hard. I built a gap and got chain suck...but I was close enough to the finish to know I had it."
Chris Jongewaard's run was far less dramatic but no less heroic. Jongewaard literally led the race from start to finish, smoking the field off the start line and building up a lead of nearly two minutes by the end of the second lap. "I was a bit nervous with Paul Rowney behind me looking strong, so I just put the hammer down. I thought the guys behind might be saving something...you just never know so I just wanted to get as far ahead as I could so if something went wrong I would have a bit up my sleeve."
Numero Uno!
Photo ©: Shane Goss

Jongewaard, who was second in last year's Australian XC Championships went one better today, showing devastating form in the dry and dusty conditions. After crossing the line with a big no-footed coaster mono Jongewaard exclaimed, "finally....finally...a dream cone true!
"I got a sniff of the win last year behind Sid. That was a reality check that I could be up there. I went out as hard as I did last year and tried to hold on. It was a mental game out there but I was able to get there."
Jongewaard, who had planned to spend a year away from international racing in 2005 might re-assess his plans after pulling on the green and gold here in Eildon. However, he wouldn't be drawn into anything in the heat of the moment, "Many thoughts come into my mind today...I was going to have a year off coming into this year, but I'm not going to say anything about that now, we'll see."
Elite Women and Junior Women
Emma Colson
Photo ©: Mikkeli Godfree

With the reigning women's champion, Lisa Mathison, watching from the sidelines, the women's race was going to be an open affair. However it was a field which hardly lacked depth, the women's category really drawing some good numbers in '05. When the flag dropped it was Niki Gudex (SRM), 3rd in the '04 championships, who took the bull by the horns to lead the field into the singletrack. On a course which favours a rider out in front, Gudex looked good, but was followed keenly by Emma Colson.
With Gudex being a very technically skilled rider, Colson's only option to pass was on an uphill drag, which she did half-way through the first lap. "My plan was to be in front either from the start or by the top of Concentration Hill and I did that," said Colson after the race. Putting her plan into action, Colson went about setting the agenda while Gudex followed, never more than 20seconds behind.
The battle for fourth was hot with Niki Fisher (Assos Clothing) and Jenni King (Spoke(n)) going head to head before a broken chain took Fisher out of the race.
Up front, Colson and Gudex couldn't be separated, lapping like clockwork with neither looking to have the upper hand. Afterwards, Gudex told the real story, "I felt pretty strong but I didn't drink enough. I could keep the pace up but I couldn't attack." Colson wasn't having it all her way either however, feeling slow and awkward in the singletrack. It would come down to a final-lap charge.
The podium from the Elite women's race
Photo ©: Shane Goss

In the last lap, Colson hit the boosters. Concerned by a time-check of only 15 seconds to Gudex, she turned it up a notch to get a gap of just under 1 minute with only a few km to race. Despite chain suck, Colson made it over the line with arms raised aloft and sailed into the arms of her partner, Dave Ollie and coach Liz Tadich (the silver medallist in the '97 World Road Championships). "I couldn't have done it without Dave or Liz. I put complete faith in Liz and...look what's happened."
Behind, a slightly dejected Gudex was philosophical about her race, saying "It is my first big race back after world cup finals...I didn't really know what to expect, I have just been training by myself. It is a good result for where my training is at. I've got a new coach and I'm just building a base at the moment - mainly for Commonwealth games and Beijing."
Jenni King held on for third whilst 24hr Australian Champion Tori Thomas (Scott-Flight Centre) was fourth.
Erica Oldfield (QAS) was never headed in the junior field, finishing her race whilst positioned in 4th place in elite female. The QLD pocket-rocket was really happy with her ride, "My laps were fairly consistent. My lead-up to the season wasn't ideal and I am not to peak fitness. I like racing with the elites, it is much better than just comparing lap times."
Junior Men
Lachie Norris (Cannondale-Maxxis)
Photo ©: Mikkeli Godfree

The junior men's races have recently been the most exciting XC race on the schedule with team Cannondale-Maxxis (Gary Millburn and Lachlan Norris) going head-to-head with team Kona-Mt Buller (Joel Healy and Cal Britten). These four boys have been playing musical chairs on the podium at this season's national series and today was another day for which a script could be pre-written.
Healy made his intentions clear from the outset, going out of the blocks like a scolded cat whilst Millburn and Norris had more conservative starts. It wasn't long however until Norris had fought his way back to the front with his teammate and the Kona-Mt Buller - Cannondale-Maxxis slugging match began.
It was to be Cannondale's day though with Norris taking the win after some great pressure from Millburn. After a fast start, Healy latched onto the charging Millburn and the two reached the final 180degree corner side by side. Millburn took the sprint in a nail-biter though to make it a Cannondale 1-2 and a Kona-Mt Buller 3-4 with Cal Britten taking 4th.
Norris was overjoyed with the double of taking the National Championships as well as the National Series, "I was confident coming into to day, I really wanted it. It was good to win the national series but a national title is something special...it is one of the things you dream of. This win is a huge confidence boost for me going into this year."
"I worked myself up to the front while Joel got away. I missed my bottle on the first and third laps and I started to cramp. I gave it to Gary [Millburn] a bit on the last lap, he really surprised me today...it was his best race yet. It was great to have my teammate second."
Elite Men and U23 Men
Jongewaard puts the front wheel down
Photo ©: Mikkeli Godfree

When the dust had settled, all eyes were turned to the Elite men. With the reigning Elite and U23 Champions already racing in the U.S. the race, like the women's, was open. However, as with the women's race, this fact had little effect on the day's proceedings as the Elite men put on a display which confirmed the '05 National XC Champs as one of the tightest in years.
As if he was still racing BMX (as he did up until 1998), Chris Jongewaard rocketed off the start line. Gasping in his dust, the rest of the field scrambled for the South Australian's wheel. Paul Rowney (Yeti) was the only rider able to follow but half-way through the first lap, Rowney's week of bad luck would climax in a terrible sequence of events.
After getting a middle-ear infection during the week, Rowney struggled to fix his broken chain as Jongewaard streaked off ahead to a two-minute lead. After re-mounting and getting to within striking distance of the podium by the mind-point of the race, Rowney pushed a bit hard and he rolled a tyre, losing air. An over-inflation and a slow-leak later and it was all over. "I don't get paid to hurt anymore so I don't need to do this. I thought I could come back to second spot after breaking my chain but...I have just had a bad week."
Rowney
Photo ©: Mikkeli Godfree

Rowney's misfortune allowed Shaun Lewis to capitalise and on lap three the youngster left Perren Delacour (Yeti) and Craig Gordon (Cannondale-Maxxis). With Jongewaard a country-mile (quite literally) out in front, Lewis started to turn the screws and put 55seconds between him and third-placed Gordon.
As the laps ticked down, the South Australian training partners Jongewaard and Lewis cemented their positions at the head of the Elite and U23 fields, but behind, the battle for 3rd was far from over. It was a three-way battle between Gordon, Delacour and Spink (Goldcross Cycles) and would come down to the wire.
Up front, it was a jubilant Jongewaard who crossed the line with a huge gap over the rest of the field. Jongewaard, was a cut above the rest of the field today, although no-one will know where Rowney would have ended up if he hadn't been dealt such a cruel hand. In any case, Jongewaard showed such devastating consistency, that he thoroughly deserved the victory.
Having competed in Australia's biggest road tour in January, the Jacob's Creek Tour Down Under, Jongewaard noted that this preparation was "definitely the key to my success. My legs were stronger for longer, it was definitely a factor today." As mentioned above, it is uncertain where the Men's Australian Champion jersey will end up this year, but wherever it is it will be worn with pride by Jongewaard.
The podium from the Under 23 cross country
Photo ©: Shane Goss

While Jongewaard was bouncing from interview-to interview, Shaun Lewis confirmed his arrival in the senior ranks with a win in the U23 category and 2nd across the line overall. After crossing the finish line and hugging his training partner Jongewaard, Lewis said, "You have to rise to the occasion, Chris and myself have done a heap of work together and I think we deserve this."
In his first year in U23, Lewis showed great peaking form by starting conservatively and winding up the pace as the laps wore on, "Today, I didn't care where I ended up in Elite, I just wanted to win U23, but when I was up there I definitely didn't want Gordo to catch me when I was with Perren in the third lap. I put the pressure on and that's where I made my move... It is going to feel good taking the jersey overseas this year."
The battle for third place (actually second place given Lewis' U23 status) was an absolute nail-biter with Gordon just holding off Spink and Delacour. Gordon put together a great race, especially since it was his third time on the MTB for the year and he has only been riding to and from work.
Such a result wasn't without sacrifices though, Gordon commenting, "I cramped really badly and had to walk some sections in the last lap. My arm cramped and I couldn't open it. I have never cramped like that before."
The podium from the Elite men's race
Photo ©: Shane Goss

"I knew the guys were going to catch me, it was just a matter of when. But they caught me near the finish and I knew there was no way of getting past me and all I had to do was give it everything in the last few hundred metres...I'm a happy camper."
In an unfortunate double-blow for team-Yeti, Delacour dropped it in the last corner trying to hold off Spink for 3rd in Elite men and had to settle for fourth while lady luck was absent also for National Series winner, Dylan Cooper (Kona-Mt Buller), who limped over the line after three crashes to take 5th spot.
The XC was a huge success today and was the most successful championships in years in terms of spectator and rider numbers. With great commentary, a heap of SBS video cameras and assorted media, there was a huge amount of hype confirming XC racing's gradual come-back in the face of the DH-4X explosion.
That said, Sunday's DH promises to be a hum-dinger with some quality riders in all categories.
Photography
For a thumbnail gallery of these images, click here
Images by Mikkeli Godfree/freewheel.com.au
Images by Shane Goss/licoricegallery.com
Results

Elite Men, 37 Riders, 36 Km
 
1 Chris Jongewaard (Avanti-JT Cycles)     2.07.10
2 Shaun Lewis                                3.25
3 Craig Gordon (Cannondale-Maxxis)           4.42
4 Murray Spink (Goldcross Cycles)            4.44
5 Perren Delacour (Yeti)                     4.45
6 Dylan Cooper (Kona-Mt Buller)              6.07
7 Aiden Lefmann                              6.34
8 Alistair Farley                            7.00
9 Daniel McConnell                           9.24
10 Tim Bennett                               9.55
11 Nick Both                                10.08
12 Russell Collett                          10.52
13 Chris Winn                               11.33
14 Joel Read                                12.27
15 Shaun Lewis                              12.39
16 Shane Paton                              13.05
17 James Williamson                         13.59
18 Rohin Adams                              14.29
19 James Maebus                             14.49
20 Brian Sing                               16.09
21 Ashley Wass                              16.12
22 Jon Gregg                                20.39
23 Phillip Orr                              22.08
24 Graeme Allbon                            24.05
25 John Claxton                             25.24
26 James Dickey                             29.08
 
One lap behind                                   
 
27 Matt Hoffmann                                 
28 Grant Webster                                 
 
Two laps behind                                  
 
29 Scott Finlay                                  
 
Three laps behind                                
 
30 Jason Tepper                                  
DNF Paul Rowney                                  
DNF Matthew Fleming                              
DNF Mark Frendo                                  
DNF Peter Hatton                                 
DNF Jared Dwyer                                  
DNF Steven Van Dyke                              
DNF Joel Donney                                  
 
Expert Men, 17 Riders, 30 Km
 
1 Brian Price                             1.57.39
2 Ben Randall                                4.01
3 Adrian Jackson                             5.26
4 Mark Howard                                6.17
5 Dave Nairn                                 7.06
6 Peter Butt                                 9.35
7 Camm Winn                                 11.30
8 Tom Walter                                14.12
9 Grant Lebbink                             14.21
10 Steve Peddle                             15.28
11 Matt Ligtermoet                          17.52
12 Paul McEntee                             19.40
13 Andrew Crisp                             20.40
14 Ivan Kallaur                             22.07
 
One lap behind                                   
 
15 Alistair Douglas                              
DNF Hayden Lebbink                               
DNF Luc Plowman                                  
 
Elite Women, 22 Riders, 24 Km
 
1 Emma Colson (Top Bike Tours - Giant)    1.45.00
2 Niki Gudex (SRM)                           0.43
3 Jenni King (Spoke(n))                      2.21
4 Tory Thomas (Scott-Flight Centre)          5.14
5 Erica Gurner                              10.50
6 Kimberley Fleming                         11.14
7 Lee Schultz                               11.30
8 Rhonda Pearce                             11.44
9 Lynne Vaughan                             14.19
10 Justine Leahy                            14.38
11 Maria Papadopoulos                       16.05
12 Lindsay Gorrell                          16.53
13 Alexandra Kiendl                         17.06
14 Janna Corso                              18.02
15 Donna Hamlin                             19.09
16 Claire Garcia-Webb                       19.35
17 Juliette Begg                            23.19
18 Lauren Tanzen                            25.59
DNF Caroline Jackson                             
DNF Rebecca McConnell                            
DNF Niki Fisher                                  
DNF Honi Geysen                                  
 
Sport A Men, 46 Riders, 18 Km
 
1 Duncan Murray                           1.15.13
2 Eddie Oldfield                             0.48
3 Andrew Cowie                               1.22
4 James Walker                               2.02
5 Brian John                                 2.42
6 Matt Ladner                                2.45
7 John Groves                                4.08
8 Cameron Froomes                            4.37
9 Richard Hawkes                             6.23
10 Justin Case                               8.07
11 Aaron Chin                                8.14
12 Nathan Saber                              8.34
13 Dougal MacPherson                         8.57
14 David Marriott                            9.01
15 Christopher Hemphill                      9.28
16 Ross Richards                            10.29
17 Luke Garside                             11.47
18 Adam Mitchell                            11.55
19 Andrew Sleeman                           12.42
20 Nick Kelly                               13.12
21 James Deane                              13.20
22 Leigh Barratt                            13.48
23 Matthew Dall                             14.03
24 Peter Kennedy                            14.17
25 Aaron Davies                             14.27
26 John Harvey                              14.42
27 Dale Licari                              15.03
28 Bodin Pollard                            15.19
29 Rowan Smith                              15.35
30 Gerard Faulkner                          15.54
31 Gareth Heitmann                          16.52
32 Nick Colwell                             24.53
33 Matt Phillips                            26.17
34 Paul Golsworthy                          26.56
35 Craig Brinsdon                           26.57
36 Alasdair McMillan                        28.27
37 Tom Swann                                31.44
38 Jason Parker                             33.31
39 Ian Thomas                               44.45
DNF Lee Floyd                                    
DNF Nicholas Deane                               
DNF Chris Cantor                                 
DNF Russell Eckersly                             
DNF Damon Willmore                               
DNF Ryan Akers                                   
DNF Evan Hayes                                   
 
Sport B Men, 12 Riders, 12 Km
 
1 Simon Wilkinson                           55.30
2 Warwick Hall                               0.28
3 Grant Coulthard                            0.30
4 Andrew Wills (Ss)                          5.33
5 Christian Lloyd                            5.42
6 James Perkins                              5.44
7 Paul Consto                                6.09
8 Karl Neumeister                            8.48
9 Andrew Dick                                9.25
10 Sean Neumeister                          11.15
11 Mark Chaffe                              12.36
12 Rohan Klopfer                            16.48
 
Sport A Women, 10 Riders, 12 Km
 
1 Carmen deRooze                          1.00.46
2 Emily Viner                                0.13
3 Melissa Licari                             2.26
4 Shelley Millwood                           9.20
5 Kelly Bartlett                            10.12
6 Karen McPherson                           11.43
7 Kelly Linaker                             12.23
8 Annette Kusinski                          14.23
9 Rachel Vergunst                           18.26
DNF Jill Cameron                                 
 
Veteran Men, 22 Riders, 24 Km
 
1 Richard Vollebregt                      1.29.58
2 Simon Bowen                                6.32
3 Wayne Bower                                7.41
4 Matthew Jackson                            9.08
5 Craig McLean                              10.27
6 David Coward                              10.45
7 Tim McColl                                11.44
8 Damian Jones                              13.52
9 Mallachi Moxon                            14.43
10 Tim Northey                              19.18
11 Tim Ferres                               19.25
12 Damian Auton                             20.20
13 Dalen Court                              20.48
14 Wes Samson                               25.06
15 Sean Kierce                              25.41
16 Dale Weston                              32.34
 
One lap behind                                   
 
17 Pat Fitzpatrick                               
18 Lachlan Wainwright                            
19 Johnny Horrocks                               
20 Erik Voorzaat                                 
DNF Brett Bradley                                
DNF Sean Doyle                                   
 
Masters Men, 18 Riders, 18 Km
 
1 Rob Eva                                 1.08.18
2 Garron Buckland                            3.59
3 Warren Key                                 4.00
4 Gary Scheld                                5.11
5 Paul Burbidge-Smith                        6.03
6 Les Heap                                   8.43
7 Jeffrey Williams                           9.01
8 Rob Amos                                  11.52
9 Craig Peacock                             12.22
10 Gavin Burke                              13.14
11 Paul Verheijden                          13.17
12 Finlay Luff                              13.57
13 Ross Sanelli                             14.47
14 Chris Haydon                             16.26
15 Greg Chatfield                           17.02
16 Paul Cook                                24.54
17 Mark Newling                             24.56
DNF Con Toparis                                  
 
Supermasters Men, 17 Riders, 18 km
 
1 Nicholas Bird                           1.14.37
2 Alan Mumford                               1.31
3 Hans Dielacher                             2.13
4 Bruce Dickey                               5.39
5 Ron McCulloch                              6.48
6 Greg Carr                                  7.17
7 Brian Scarborough                          7.55
8 Robert Faull                               7.56
9 John Graydon                              12.27
10 Kahn Franke                              12.39
11 Kerry Ryan                               12.49
12 David Braddick                           12.51
13 Chris Bland                              15.43
14 Brian Case                               21.00
15 Murray Willet                            23.37
16 Ross Anderson                            26.54
DNF Ian De Kam                                   
 
U19 Men, 10 Riders, 24 km
 
1 Lachlan Norris (Cannondale-Maxxis)      1.28.02
2 Gary Milburn (Cannondale-Maxxis)           0.13
3 Joel Healy (Kona-Mt Buller)                0.15
4 Cal Britten (Kona-Mt Buller)               1.23
5 Daniel Johnston                            2.03
6 Andrew Arthur                              3.02
7 Scott Liston                               9.06
8 Glenn Stewart                             11.59
9 Luke Graydon                              23.27
DNF David Whitney                                
 
U17 Men, 23 Riders, 18 km
 
1 James Maltman                           1.09.31
2 Alexander Pung                             0.05
3 Benjamin Dyball                            3.45
4 Lewis Rattray                              3.56
5 Peter Braunsteins                          3.58
6 Daniel Hallam                              6.07
7 David Johnston                             6.12
8 Luke Knox                                  7.59
9 Robbie Hucker                              8.29
10 Paul Mahon                               10.24
11 Scott Chancellor                         16.00
12 Per Wilson                               18.09
13 James Mowatt                             19.29
14 Nick Jackson                             35.45
15 Michael Graham                           35.47
 
One lap behind
 
16 Daniel Barrett                                
17 Alan Van Der Baan                             
18 David Ransom                                  
19 Charlie Cranswick                             
20 Ashlie Harvey                                 
DNF Tim Dickins                                  
DNF Timothy Sanelli                              
DNF Ryan McAloney                                
 
U15 Men, 8 Riders, 6 km
 
1 Simon Campbell                            28.14
2 Vincent Braddick                           0.13
3 Luke Scudamore                             0.36
4 James Peacock                              1.38
5 Ryan MacAnally                             1.47
6 Alistair Thomson                          11.21
7 Thomas Hole                               14.00
8 Dave Beasley                              23.40
 
Masters Women, 4 Riders, 10 km
 
1 Sharon Heap                               57.32
2 Sandy Magennis                             1.15
3 Carolyn Jackson                            4.49
4 Carol Moore                               35.26
 
U15 Women, 1 Riders, 5 km
 
1 Rebecca Henderson                         33.42
 
U17 Women, 2 Riders, 10 km
 
1 Cailin Carrier                          1.11.05
2 Kelly Hughes                               2.16
 
U19XC Women, 2 Riders, 6 km
 
1 Erica Oldfield (QAS)                    1.21.32
2 Natalie MacFarlan                         40.28
 
Veteran Women, 5 Riders, 10 km
 
1 Tanya Britton                           1.00.05
2 Jackie Bower                               1.35
3 Melinda Symon                              3.45
4 Jane Ollerenshaw                           5.29
5 Renate Griese                              6.16