MTB index page for all MTB content
4th TransRockies Challenge - NE
Canada, August 7-13, 2005
Main Page Results Overall standings Previous Day
Day 7 - August 13: Rafter Six Resort - Canmore, 47km / 600m climbing
No GC changes as Rocky Mountain takes final stage
Andreas Hestler (r) and Marty Lazarski
Photo ©: Dan Hudson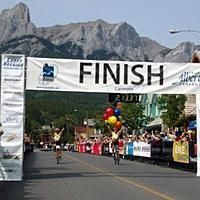 Like the last stage of the grand road tours, the final Stage of the TransRockies Challenge is as much a time for reflection and celebration as it is for racing. A later start, a shorter course and a beautiful sunny day mean that riders get one more taste of great Rocky Mountain riding before they make the emotional run down Main Street to the Finish Line in front of crowds of family, friends and well-wishers in Canmore, Alberta, home of the 1988 Olympic Nordic events.
Time gaps were big enough in most categories that only a complete collapse would change the top end of the standings. Instead, the 330 riders who began the last stage could focus on drinking in more memories of the hardest week many of them would ever spend on a bike.
On the day, Andreas Hestler and Marty Lazarski of Team Rocky Mountain Business Objects confirmed their GC dominance with their sixth stage win of the week in 2:12:39. They rolled down Main Street in the shadow of the spectacular Three Sisters Mountain with enough gap to drink in the cheers of the crowds. Their closest challengers, the Neil Grover ans Troy Misseghers of the Race Face Mountain Men came through the line less than a minute later to confirm their second straight runner-up GC position.
Looking back on the week, three-time finisher and two-time TransRockies Challenge Champion Hestler said, "I have ridden this race three time now and it is a different experience every time. This is honestly the best, most fun thing I have ever done on a bike. Endless singletrack, great people and the experience of working with a partner are so different from regular one day racing. Right now, I am not sure if I can commit to the suffering needed to come back and try for a third, but I'll be back whether I am riding a course motorbike or just supporting other riders. This race rocks."
Hestler and Lazarski (l)
Photo ©: Dan Hudson

During the 2005 TransRockies Challenge, Robin Seymour and Tarja Owens of Ireland had amazed everyone with their speed, stamina and grit. Though they had lots of World Cup mountain bike racing experience, neither of them had ever competed in a multi-day race of this kind-they even forgot to bring mats to sleep on and spent the first four nights sleeping on the hard ground. In the end, grit and talent showed through and they won the Open Mixed category, often finishing near the top of the overall standings as well.
"That was the hardest thing I have ever done on a bike," said Owens after the finish. "Last year I rode the Marathon Worlds in Austria, but this was so hard and technical, it was like riding the Marathon Worlds every day for a week. I am so relieved to be finished." In the end, the suffering was all worthwhile as they rolled into Canmore second on the day, but with their huge GC lead intact.
The men's podium
Photo ©: Dan Hudson

In the women's category, Trish Stevenson and Karen Masson of Team Cane Creek/Cannondale held onto the gap which they had established on Day 5 and Day 6, though Christine Misseghers and Kate Aardal of Team Elk Valley came up with a stellar ride on Stage 7 to grab their first stage victory of the event in 2:58:47. Nikki Kassell and Hillary Harrison of Team Momentum Training continued to battle, defending their second position on GC despite the serious bronchial infection which had plagued Hillary Harrison for days. "I am just looking orward to seeing a doctor and getting better," she said. "This was such an awesome race and experience-I am looking forward to coming back so that I can stay healthy and hold the leader's jersey to the end."
Her story is not unusual; in every category and from front to back, the 2005 TransRockies produced stories of extraordinary grit and determination, none more so than David Kvick and James Shellard, the winners of the Men's Masters category (combined ages 80 and up). Shellard crashed at roughly 50 km/h during Stage 5, fracturing his clavicle in the process, and though he could neither pull his front wheel off the ground nor lift his hand above his waist, he was able to ride through the pain to defend the jersey and win the GC. That's how much the honour of finishing means to the participants in the TransRockies.
Photography
For a thumbnail gallery of these images, click here
Images by Dan Hudson/Hudson Photography
Results
Open Men
 
1 Andreas Hestler (Can)/Marty Lazarski (Can) Rocky Mountain Business         2.12.40
2 Troy Misseghers (Can)/Neil Grover (Can) Race Face Mountain Men                0.31
3 Urs Senn (Swi)/Daniel Senn (Swi) Sennebuebe / Lungenliga                      7.21
4 Mike Cabigon (Can)/Ryan McGimpsey (Can) Pedalhead Bicycle Works              10.44
5 Jon Nutbrown (Can)/Kelly Servinski (Can) The Bike Shop                       10.50
6 Jason Sandquist (Can)/Normon Thibault (Can) Frontrunners                     11.34
7 John Gibson (Can)/Mike Seniuk (Can) Kona-NRG Enterprises                     16.36
8 Scott Holmes (Can)/Peter Glassford (Can) Mad River Designs                   18.18
9 Henry Horrocks (USA)/Keven Gillest (USA) Laser-Laser.com                     18.46
10 Craig Phillips (NZl)/Jason Hill (NZl) Dual Shocked Kiwis                    19.28
11 Erik Crowe (Can)/James Crowe (Can) Crowe Race Face                          21.06
12 David Sutherland (Can)/Leighton Poidevin (Can) Apex Stoneworks              23.26
13 Ewan Thorburn (GBr)/James Sanford (GBr) Fat Tread Bikes / CR.UK             24.43
14 Ross Phillips (Can)/Jonah Clark (Can) Midnight Sun                          27.46
15 Dominiek Sacrž (Bel)/Peter Paelinck (Bel) REEVAX.be                         29.47
16 Troy Lemens (Can)/Joel Simard (Can) Iron Horse/Sport Check                  29.50
17 Andre Schnellinger (USA)/Ryan Larocque (USA) Bike Alley                     32.52
18 Jay Shockey (Can)/Peter Stevenson (Can) Team Experience Cycling             34.14
19 Dallas Morris (Can)/Mike McKee (Can) Wildcat Well Ops - Dead                35.57
20 Michel Bujold (Can)/Jean-Franç Bruneau (Can) Rocky - Spech                  36.44
21 Jeff Neilson (Can)/Evan Weselake (Can) Enerplus                             44.24
22 Paul Cockshott (GBr)/Bart Hallmark (GBr) The Pom & Limey                    46.00
23 Paul Kelly (Can)/Piers Touzel (Aus) China Ensemble                          46.26
24 Andre Maceachern (Can)/Greg Connor (Can) Team Cystic Fibrosis               47.05
25 Trent Basarsky (Can)/Paul Thompson (Can) Nirvana                            47.59
26 Gary Bavis (Can)/Michael Krauss (Can) Lifesavers                            52.40
27 Fraser Ross (Can)/Gary Brown (Can) Informed                                 53.04
28 Jim Clapperton (Can)/Chris McQueen (Can) Solo-Constellation Energy          53.27
29 Marcus Dagenais (Can)/Mark Burger (Can) Team Diabetes                       55.42
30 Simon Despatie (Can)/Eric Gagné (Can) Francs Coureurs/Vélo Plei             57.18
31 Mark Banham (GBr)/Pete Sutton (GBr) Team 59 Commando                        58.06
32 David Preston (GBr)/Chris Herraghty (GBr) Team Cancer Research U            58.07
33 Chris McGregor (Can)/Pete O'Dwyer (Aus) Kangaroo Grizzly                    58.19
34 Dr. David Burwash (Can)/Tim Girvin (Can) Enter Your Name Here               59.54
35 Brad Hunter (Can)/Ben Smith (Can) Epic Ride                               1.02.28
36 Ro Van Den Heuvel (Ned)/Anthony Roelofs (Ned) The Dutch Lion              1.03.30
37 Klaus Dalichow (GER)/Peter Duesing (GER) LTU Bike Team                    1.05.05
38 Lester Pardoe (Can)/Alan Tennery (USA) Team TransFatty                    1.06.30
39 Ed Welwood (Can)/Graeme Tuck (Can) Aviawest / VEGA 2                      1.06.39
40 Paul Reyburn (RSA)/Clive Edward Kirsten (RSA) Eazy                        1.07.55
41 Chris Durand (Can)/William Fenton (Can) Essex Flatlanders                 1.15.33
42 Michael Jacoby (Can)/Karl Yeh (Can) Weapons of Mass Destruc               1.16.35
43 Steve Mathezer (Can)/Tanner Debruyne (Can) Numb                           1.18.36
44 Bruce Kelsch (Can)/Michael Colwill (Can) Blazing Saddles                  1.21.16
45 Paul Gibbons (GBr)/John Garrett (GBr) Chickpea                            1.21.53
46 Alex Meehan (GBr)/Keith Bailey (GBr) Slim Chance                          1.23.31
47 Christopher Seago (RSA)/Don Shewan (NZl) Need Oxygen                      1.25.49
48 Jarod Garrington (GBr)/Colin Spencer (GBr) Not too Sure                   1.29.23
49 Robin Larcombe (GBr)/Lindsay McCrae (GBr) Fat Hare                        1.30.48
50 David Foltz (Can)/Gilbert Leclerc (Can) 4 Wheels Good 2 Wheels            1.31.54
51 Michael Piker (USA)/Greg Bigler (USA) I Need a Beer                       1.32.05
52 Alexander Wyss (Swi)/Andreas Brack (Swi) Rockstars Feat                   1.32.15
53 John Oberlin (Can)/Charles-Philipp Miron (Can) Outdoor Approach           1.34.13
54 Geoff Lindsay (Can)/Brian Uhlmann (Can) The RVC Mound Pounder             1.38.42
55 Dan Higginson (GBr)/Nick Hartwell (GBr) Fat Chance                        1.41.39
56 Tom Porter (Can)/Lance Buffit (Can) Back in the Saddle Again              1.42.46
57 Rotem Ravon (Isr)/Niv Peles (Isr) Pegasos                                 1.44.47
58 Alistair Lovell (GBr)/Stefan Goodwin (GBr) Combat Dento's                 1.45.38
59 Bret Dickey (USA)/Fran Cote (USA) Micromedia Productions In               1.52.03
60 Ian Hamilton (Can)/Gary Tait (Can) 40 Below                               1.52.49
61 Bruce Ramsay (Can)/David Leach (Can) Dirt Peddlers                        1.55.54
62 Ron Andrews (Can)/Dustin Andrews (Can) F & S                              2.01.43
63 Patrick Beauchamp (Can)/Fleming Kaastrup (Can) Where we going?            2.02.57
64 Steve Gaffrey (Can)/Shane Beslor (Can) Opus / OGC                         2.40.36
 
Open Mixed
 
1 Blair Saunders (Can)/Marg Fedyna (Can) Team Adidas Roll-Up-The             2.23.55
2 Robin Seymour (Irl)/Tarja Owens (Irl) Podge and Rodge                        18.28
3 Louise Kobin (USA)/Eric Warkentin (USA) Team X-Fusion / Adidas               22.19
4 Margie Smith (Can)/Steve Johnson (Aus) Wilson Mountain Sports /              29.56
5 Jessica Demars (Can)/Robert Blanchard (Can) Ride On                          29.57
6 Alison Gannett (USA)/Jason Trimm (USA) Travel Alberta / Bicycle Sp           39.23
7 Jay Petervary (USA)/Tracey Petervary (USA) Fitzgerald's Bicycles             41.45
8 Todd McFadden (USA)/Diana Hill (USA) Team H2O                                41.47
9 Cyd Fraser (Can)/Craig Bartlett (Can) Troubled Beavers                       44.51
10 Barbekka Hurtt (USA)/Steven Riley (USA) Spin Rover                        1.00.38
11 Dale Bartrom (Can)/Jennette Allum (Can) The Third Eye (Helmet Ca          1.11.41
12 Janice Tower (USA)/JJ Tower (USA) Tower of Power                          1.13.45
13 Shawn Collison (Can)/Kristen Johnson (Can) The Skids                      1.27.32
14 Danielle Fisher (Can)/Steve Schippanoski (Can) Testrogen                  1.40.47
15 Ross Robertson (Can)/Jean Boyd (Can) Caribou Resource                     2.12.24
16 Wolfgang Hopf (GER)/Claudia Lesti (GER) The Teachers                      2.20.23
 
Open Women
 
1 Christin Misseghers (Can)/Aardal Kate (Nor) Blackstone Elk Valley          2.58.47
2 Trish Stevenson (USA)/Karen Masson (Aus) Cane Creek/Cannondale                0.01
3 Hillary Harrison (USA)/Nikki Cassel (Can) Momentum Training                  15.15
4 Donna Macintosh (Can)/Lori Coverdale (Can) Dirt Divas                      1.01.49
5 Caroli Van Den Bulk (Ned)/Monica Nelson (Can) Power2Be                     1.07.34
6 Syl Desmond-Hoare (Can)/Jacquelin Hutchison (Can) Team Crusaders KCCFA     1.59.44
 
 
100+ Open Gender
 
1 Craig Peacock (Aus)/Kerry Ryan (Aus) Aussie Ratz                           3.03.33
2 Roy Kregosky (Can)/Peter Avis (Can) Arrowsmith Centurions                     0.58
3 Barry Dalziel (Can)/Stuart Dalziel (Can) Where Dee El Are We                 21.32
4 Rick Sederberg (USA)/Andrew Combs (USA) Rockin' Pops                         55.35
5 Richard Woodbury (USA)/Laurie Woodbury (USA) Woodbury                      1.14.33
6 Donald Macgregor (Can)/John Schneider (RSA) Cowichan Wannabees             1.15.36
7 Jim Forbes (Can)/Al Mickelson (Can) Tragically Fit Racing Team             1.20.08
8 William Combs (USA)/Doug Radandt (USA) Suffering Old Dogs                  1.55.27
 
80+ Men
 
1 James Shellard (Can)/David Kvick (Swi) Haywood Securities                  2.31.29
2 Randy Richmond (Can)/Sandy Mitchell (Can) Cat Power                           1.21
3 Nathan Simms (USA)/William Simms (USA) SBMT                                   6.14
4 John Ramsden (Can)/Dean Irvine (Can) Dark Horse Racing                        7.07
5 Pat Doyle (Can)/Paul Newitt (Can) Pedal Magazine                             11.35
6 John Groeneveld (Can)/Jason Soto (Can) Bruno's Bar & Grill DE                14.55
7 Jim Hendry (Can)/Joey Cowan (Can) Still Married Racing                       16.36
8 Thomas Vial (USA)/Dave Craven (USA) Pedalphiles                              17.05
9 Jeff Bandura (Can)/Steve Caulker (Can) 4EverFit                              21.46
10 David Ford (Can)/Gerry McCuaig (Can) Dead Goat Racing - Retre               23.41
11 Alan Ludtke (USA)/Dan McCarthy (USA) Hooked                                 23.59
12 André Hendrickx (Bel)/Nico Vanaken (Bel) United Bikers Belgium              25.21
13 Bill Benson (Can)/Todd Martin (Can) Rhinofitness.ca                         29.00
14 Peter Brown (GBr)/Frank Newcombe (GBr) Innersanctum                         30.47
15 Brian Culbert (Can)/Trent Winstone (Can) Race For Miracles                  44.32
16 Pet Van Der Velden (Ned)/Menno Brouwer (Ned) Team Holland                   44.42
17 Marty Halprin (Can)/Dave Barclay (Can) Team Esquire Watch                   45.54
18 Chris Watt (Can)/George Andrew Paul (Can) Team Jegima                       46.47
19 Rich Dillen (USA)/James Thompson (Can) 28 Speeds                          1.00.36
20 Chris Klapatiuk (Can)/Monte McKelvie (Can) Whiskey Pedallers              1.16.28
21 Grant Los (Can)/Al Reid (Can) Outlaws                                     1.24.12
22 Roman Urbina (CRc)/Roy Wallack (USA) La Ruta Bike for Life                1.24.20
23 Rick Lewis (Can)/Mike Stiles (Can) Team P4                                1.28.15
24 James Larson (USA)/Damon Anagnos (USA) Carpe Pesce II                     1.34.04
25 Cam Thomas (Can)/Derek Fidler (Can) Fidas                                 2.10.26
26 Dieter Sartisson (Can)/Paul Wood (Can) Lunatic Fringe                     2.10.29
 
80+ Mixed
 
1 David Boyd (USA)/Patti Plagmann (USA) Bike Lane Houston                    3.02.18
2 Greg Thompson (Can)/Jeanie Godfrey (Can) Team Travel Alberta                  4.59
3 Gary Hill (GBr)/Carrie Carruthers (GBr) UK Double Dutch Pancake              31.58
4 Pete Verheyde (Can)/Kim Verheyde (Can) The Lab Ltd                           33.14
5 Jaclynn Derosier (USA)/Dean Derosier (USA) Mr. Eveready and the Ener         52.51
6 Gregg Mellon (Can)/Dale Mellon (Can) Comfortably Numb                        53.01
7 Bill Campbell (Can)/Jane Campbell (Can) Resort TV Couch Potatoe            1.10.47
8 Andy Carter (GBr)/Sioelan Tjoa (Ned) Lakesphysio                           1.11.20
9 Marshall Cant (Can)/Tricia Davis (USA) Syncros                             1.19.11
10 Mark Halwa (Can)/Lori Halwa (Can) Always Right - Always Wr                1.25.29
11 Andre Blais (Can)/Louise Blais (Can) Live Life Large                      1.27.24
12 Guy Dutil (Can)/Laura Silbernagel (Can) Synergy                           1.48.07
 
Unclassified
 
1 Mario Correa (USA)/Fraser Atkinson (Can) Fresh Air Experience              2.55.29
2 Steve Worland (GBr)/Keith Bontrager (USA) What Mountain Bike UK               1.53
3 Gary Walthers (Can)/Niall McGrath (Can) Walthers Warriors                    20.02
4 Lindsay Gauld (Can)/Don Sissons (Can) Olympia Prairie Boys                   24.28
5 Hazen Simson (Can)/Ryan Draper (Can) Rebound Cycle.com                       27.21
6 Grant Lamont (Can)/John Blok (Can) Epic Pique Brothers                       33.39
7 Samantha Phillips (Can)/Tom Zidek (USA) The Bike Shop / Bike Cafe            33.47
8 Phil Hoilett (Can)/David Woodfine (Can) Wild Rock                            39.06
9 Andrew Jordan (USA)/Jason Duckworth (GBr) Anglo-American Arrangem            39.49
10 Paul Done (Can)/Jeff Sears (Can) TransRockies / The Bike S                  54.17
11 Dan Wray (Can)/Ken Oertle (USA) Half Assed                                1.08.01
12 Carolyn Soules (Can)/Mandy Clark (Can) The Sprockettes                           
13 Alexandre Yatsina (Ukr)/David Milner (Can) Timberliners                   1.09.18
14 Ross Ethier (Can)/Matthew Trulio (USA) Hiccup Hell                               
15 Mark Schwartz (Can)/Scott Boyd (Can) Lynx Brand Fence                     1.16.36
16 Jim Seethram (Can)/Simon Parker (Aus) Paribus/Orissa                      1.16.42
17 Trent Marshall (Can)/Jody Ponto (Can) The Ron and Wayne Sho               1.17.55
18 Michael Hale (USA)/Rob Vissers (Can) Carpe Pesce 1                        1.22.25
19 John Rozell (Can)/Jeremy Wex (Can) Holy Gasp                              1.23.40
20 Jim Pearson (Can)/John Fokkema (Can) Aviawest / VEGA 1                    1.23.50
21 Charles Ryan (USA)/Norman Weinberg (USA) Cats                             1.56.45
22 Heinz Markmeyer (Can)/Jim Gibbs (Can) Jagemeister                         2.10.59
23 Harry Petersen DNK/Jeff Cote (Can) Northern Spheres                       2.27.09
DNS Marco Pohlond (CRc)/Paolo Cesa Scotiaba Montoya (CRc) LA RUTA C.R.              
 
Final general classification
 
Open Men
 
1 Andreas Hestler (Can)/Marty Lazarski (Can) Rocky Mountain Business        29.00.08
2 Troy Misseghers (Can)/Neil Grover (Can) Race Face Mountain Men               35.29
3 Urs Senn (Swi)/Daniel Senn (Swi) Sennebuebe / Lungenliga                   2.50.10
4 Jon Nutbrown (Can)/Kelly Servinski (Can) The Bike Shop                     3.07.06
5 Mike Cabigon (Can)/Ryan McGimpsey (Can) Pedalhead Bicycle Works            3.36.58
6 Erik Crowe (Can)/James Crowe (Can) Crowe Race Face                         3.49.11
7 Dominiek Sacrž (Bel)/Peter Paelinck (Bel) REEVAX.be                        4.07.23
8 John Gibson (Can)/Mike Seniuk (Can) Kona-NRG Enterprises                   4.40.54
9 Craig Phillips (NZl)/Jason Hill (NZl) Dual Shocked Kiwis                   5.26.54
10 Dallas Morris (Can)/Mike McKee (Can) Wildcat Well Ops - Dead              5.31.45
11 Jason Sandquist (Can)/Normon Thibault (Can) Frontrunners                  5.36.30
12 David Sutherland (Can)/Leighton Poidevin (Can) Apex Stoneworks            5.36.49
13 Ross Phillips (Can)/Jonah Clark (Can) Midnight Sun                        6.08.24
14 Scott Holmes (Can)/Peter Glassford (Can) Mad River Designs                6.38.43
15 Jeff Neilson (Can)/Evan Weselake (Can) Enerplus                           6.39.10
16 Jay Shockey (Can)/Peter Stevenson (Can) Team Experience Cycling           7.16.07
17 Andre Schnellinger (USA)/Ryan Larocque (USA) Bike Alley                   7.17.21
18 Henry Horrocks (USA)/Keven Gillest (USA) Laser-Laser.com                  7.46.36
19 Ewan Thorburn (GBr)/James Sanford (GBr) Fat Tread Bikes / CR.UK           8.20.03
20 Troy Lemens (Can)/Joel Simard (Can) Iron Horse/Sport Check                8.37.09
21 Michel Bujold (Can)/Jean-Franç Bruneau (Can) Rocky - Spech                8.41.23
22 Paul Kelly (Can)/Piers Touzel (Aus) China Ensemble                        9.46.11
23 Jim Clapperton (Can)/Chris McQueen (Can) Solo-Constellation Energy       10.26.30
24 Andre Maceachern (Can)/Greg Connor (Can) Team Cystic Fibrosis            11.01.46
25 Trent Basarsky (Can)/Paul Thompson (Can) Nirvana                         11.02.00
26 Fraser Ross (Can)/Gary Brown (Can) Informed                              12.40.22
27 Klaus Dalichow (GER)/Peter Duesing (GER) LTU Bike Team                   12.41.14
28 Simon Despatie (Can)/Eric Gagné (Can) Francs Coureurs/Vélo Plei          12.59.09
29 Dr. David Burwash (Can)/Tim Girvin (Can) Enter Your Name Here            13.31.19
30 Ed Welwood (Can)/Graeme Tuck (Can) Aviawest / VEGA 2                     13.54.16
31 David Preston (GBr)/Chris Herraghty (GBr) Team Cancer Research U         14.21.09
32 Ro Van Den Heuvel (Ned)/Anthony Roelofs (Ned) The Dutch Lion             14.49.24
33 Alexander Wyss (Swi)/Andreas Brack (Swi) Rockstars Feat                  14.51.50
34 Mark Banham (GBr)/Pete Sutton (GBr) Team 59 Commando                     14.57.28
35 Michael Piker (USA)/Greg Bigler (USA) I Need a Beer                      15.03.05
36 Paul Cockshott (GBr)/Bart Hallmark (GBr) The Pom & Limey                 15.13.44
37 Brad Hunter (Can)/Ben Smith (Can) Epic Ride                              15.16.57
38 Gary Bavis (Can)/Michael Krauss (Can) Lifesavers                         15.35.00
39 Paul Reyburn (RSA)/Clive Edward Kirsten (RSA) Eazy                       16.27.04
40 Alex Meehan (GBr)/Keith Bailey (GBr) Slim Chance                         16.38.56
41 Marcus Dagenais (Can)/Mark Burger (Can) Team Diabetes                    17.14.09
42 Steve Mathezer (Can)/Tanner Debruyne (Can) Numb                          17.14.20
43 Christopher Seago (RSA)/Don Shewan (NZl) Need Oxygen                     17.17.43
44 Michael Jacoby (Can)/Karl Yeh (Can) Weapons of Mass Destruc              17.53.45
45 Chris Durand (Can)/William Fenton (Can) Essex Flatlanders                17.55.41
46 Bruce Kelsch (Can)/Michael Colwill (Can) Blazing Saddles                 18.13.28
47 Steve Gaffrey (Can)/Shane Beslor (Can) Opus / OGC                        20.11.36
48 David Foltz (Can)/Gilbert Leclerc (Can) 4 Wheels Good 2 Wheels           20.45.29
49 Lester Pardoe (Can)/Alan Tennery (USA) Team TransFatty                   21.21.55
50 Geoff Lindsay (Can)/Brian Uhlmann (Can) The RVC Mound Pounder            21.29.29
51 Rotem Ravon (Isr)/Niv Peles (Isr) Pegasos                                21.53.21
52 Chris McGregor (Can)/Pete O'Dwyer (Aus) Kangaroo Grizzly                 23.11.48
53 John Oberlin (Can)/Charles-Philipp Miron (Can) Outdoor Approach          24.49.50
54 Dan Higginson (GBr)/Nick Hartwell (GBr) Fat Chance                       25.19.04
55 Ron Andrews (Can)/Dustin Andrews (Can) F & S                             25.45.55
56 Paul Gibbons (GBr)/John Garrett (GBr) Chickpea                           26.00.04
57 Tom Porter (Can)/Lance Buffit (Can) Back in the Saddle Again             26.04.22
58 Alistair Lovell (GBr)/Stefan Goodwin (GBr) Combat Dento's                27.23.27
59 Bret Dickey (USA)/Fran Cote (USA) Micromedia Productions In              27.55.58
60 Robin Larcombe (GBr)/Lindsay McCrae (GBr) Fat Hare                       28.18.31
61 Jarod Garrington (GBr)/Colin Spencer (GBr) Not too Sure                  29.47.15
62 Patrick Beauchamp (Can)/Fleming Kaastrup (Can) Where we going?           30.19.45
63 Bruce Ramsay (Can)/David Leach (Can) Dirt Peddlers                       34.10.19
64 Ian Hamilton (Can)/Gary Tait (Can) 40 Below                              35.44.25
 
Open Mixed
 
1 Robin Seymour (Irl)/Tarja Owens (Irl) Podge and Rodge                     32.45.07
2 Blair Saunders (Can)/Marg Fedyna (Can) Team Adidas Roll-Up-The             2.30.24
3 Louise Kobin (USA)/Eric Warkentin (USA) Team X-Fusion / Adidas             2.33.15
4 Margie Smith (Can)/Steve Johnson (Aus) Wilson Mountain Sports /            5.19.17
5 Jessica Demars (Can)/Robert Blanchard (Can) Ride On                        5.55.10
6 Jay Petervary (USA)/Tracey Petervary (USA) Fitzgerald's Bicycles           6.32.01
7 Alison Gannett (USA)/Jason Trimm (USA) Travel Alberta / Bicycle Sp         8.02.15
8 Todd McFadden (USA)/Diana Hill (USA) Team H2O                              8.55.39
9 Cyd Fraser (Can)/Craig Bartlett (Can) Troubled Beavers                     9.25.23
10 Janice Tower (USA)/JJ Tower (USA) Tower of Power                         14.58.54
11 Dale Bartrom (Can)/Jennette Allum (Can) The Third Eye (Helmet Ca         17.07.10
12 Shawn Collison (Can)/Kristen Johnson (Can) The Skids                     19.46.50
13 Danielle Fisher (Can)/Steve Schippanoski (Can) Testrogen                 20.07.19
14 Barbekka Hurtt (USA)/Steven Riley (USA) Spin Rover                       23.02.31
15 Wolfgang Hopf (GER)/Claudia Lesti (GER) The Teachers                     23.25.48
16 Ross Robertson (Can)/Jean Boyd (Can) Caribou Resource                    26.53.34
 
Open Women
 
1 Trish Stevenson (USA)/Karen Masson (Aus) Cane Creek/Cannondale            37.16.11
2 Hillary Harrison (USA)/Nikki Cassel (Can) Momentum Training                2.37.53
3 Christin Misseghers (Can)/Aardal Kate (Nor) Blackstone Elk Valley          5.49.10
4 Caroli Van Den Bulk (Ned)/Monica Nelson (Can) Power2Be                    16.30.06
5 Donna Macintosh (Can)/Lori Coverdale (Can) Dirt Divas                     23.33.25
6 Syl Desmond-Hoare (Can)/Jacquelin Hutchison (Can) Team Crusaders KCCFA    34.42.20
 
100+ Open Gender
 
1 Craig Peacock (Aus)/Kerry Ryan (Aus) Aussie Ratz                          41.08.42
2 Roy Kregosky (Can)/Peter Avis (Can) Arrowsmith Centurions                  1.43.06
3 Rick Sederberg (USA)/Andrew Combs (USA) Rockin' Pops                       4.55.21
4 Barry Dalziel (Can)/Stuart Dalziel (Can) Where Dee El Are We               6.56.20
5 Donald Macgregor (Can)/John Schneider (RSA) Cowichan Wannabees            13.58.15
6 William Combs (USA)/Doug Radandt (USA) Suffering Old Dogs                 19.02.44
7 Jim Forbes (Can)/Al Mickelson (Can) Tragically Fit Racing Team            22.52.51
8 Richard Woodbury (USA)/Laurie Woodbury (USA) Woodbury                     29.09.24
 
80+ Men
 
1 James Shellard (Can)/David Kvick (Swi) Haywood Securities                 33.06.34
2 Randy Richmond (Can)/Sandy Mitchell (Can) Cat Power                          36.49
3 John Groeneveld (Can)/Jason Soto (Can) Bruno's Bar & Grill DE              1.41.45
4 John Ramsden (Can)/Dean Irvine (Can) Dark Horse Racing                     3.09.54
5 Alan Ludtke (USA)/Dan McCarthy (USA) Hooked                                3.16.55
6 Nathan Simms (USA)/William Simms (USA) SBMT                                4.05.13
7 Bill Benson (Can)/Todd Martin (Can) Rhinofitness.ca                        4.32.24
8 André Hendrickx (Bel)/Nico Vanaken (Bel) United Bikers Belgium             4.47.19
9 Pat Doyle (Can)/Paul Newitt (Can) Pedal Magazine                           4.48.06
10 Thomas Vial (USA)/Dave Craven (USA) Pedalphiles                           6.29.46
11 Jim Hendry (Can)/Joey Cowan (Can) Still Married Racing                    6.44.02
12 Brian Culbert (Can)/Trent Winstone (Can) Race For Miracles                7.57.46
13 Rick Lewis (Can)/Mike Stiles (Can) Team P4                                8.03.34
14 Jeff Bandura (Can)/Steve Caulker (Can) 4EverFit                           9.17.25
15 David Ford (Can)/Gerry McCuaig (Can) Dead Goat Racing - Retre             9.44.51
16 Peter Brown (GBr)/Frank Newcombe (GBr) Innersanctum                       9.53.11
17 Marty Halprin (Can)/Dave Barclay (Can) Team Esquire Watch                10.35.58
18 Pet Van Der Velden (Ned)/Menno Brouwer (Ned) Team Holland                10.57.34
19 Rich Dillen (USA)/James Thompson (Can) 28 Speeds                         11.27.11
20 Chris Watt (Can)/George Andrew Paul (Can) Team Jegima                    13.59.45
21 Roman Urbina (CRc)/Roy Wallack (USA) La Ruta Bike for Life               15.17.33
22 Grant Los (Can)/Al Reid (Can) Outlaws                                    18.59.34
23 Chris Klapatiuk (Can)/Monte McKelvie (Can) Whiskey Pedallers             20.59.33
24 James Larson (USA)/Damon Anagnos (USA) Carpe Pesce II                    22.45.43
25 Cam Thomas (Can)/Derek Fidler (Can) Fidas                                26.44.41
26 Dieter Sartisson (Can)/Paul Wood (Can) Lunatic Fringe                    27.06.07
 
80+ Mixed
 
1 David Boyd (USA)/Patti Plagmann (USA) Bike Lane Houston                   40.13.58
2 Greg Thompson (Can)/Jeanie Godfrey (Can) Team Travel Alberta               3.45.38
3 Gary Hill (GBr)/Carrie Carruthers (GBr) UK Double Dutch Pancake            5.43.22
4 Gregg Mellon (Can)/Dale Mellon (Can) Comfortably Numb                      7.26.18
5 Pete Verheyde (Can)/Kim Verheyde (Can) The Lab Ltd                         8.52.06
6 Jaclynn Derosier (USA)/Dean Derosier (USA) Mr. Eveready and the Ener      10.13.29
7 Andy Carter (GBr)/Sioelan Tjoa (Ned) Lakesphysio                          15.49.21
8 Bill Campbell (Can)/Jane Campbell (Can) Resort TV Couch Potatoe           19.29.42
9 Mark Halwa (Can)/Lori Halwa (Can) Always Right - Always Wr                20.43.29
10 Andre Blais (Can)/Louise Blais (Can) Live Life Large                     22.41.09
11 Marshall Cant (Can)/Tricia Davis (USA) Syncros                           24.00.49
12 Guy Dutil (Can)/Laura Silbernagel (Can) Synergy                          27.18.33
 
Unclassified
 
1 Hazen Simson (Can)/Ryan Draper (Can) Rebound Cycle.com                    40.13.18
2 Mario Correa (USA)/Fraser Atkinson (Can) Fresh Air Experience              1.35.19
3 Jim Pearson (Can)/John Fokkema (Can) Aviawest / VEGA 1                     3.08.09
4 Lindsay Gauld (Can)/Don Sissons (Can) Olympia Prairie Boys                 4.09.37
5 Steve Worland (GBr)/Keith Bontrager (USA) What Mountain Bike UK            7.46.24
6 Grant Lamont (Can)/John Blok (Can) Epic Pique Brothers                     9.26.36
7 Trent Marshall (Can)/Jody Ponto (Can) The Ron and Wayne Sho                9.34.24
8 John Rozell (Can)/Jeremy Wex (Can) Holy Gasp                               9.39.04
9 Phil Hoilett (Can)/David Woodfine (Can) Wild Rock                         11.05.16
10 Gary Walthers (Can)/Niall McGrath (Can) Walthers Warriors                11.47.18
11 Michael Hale (USA)/Rob Vissers (Can) Carpe Pesce 1                       15.41.11
12 Paul Done (Can)/Jeff Sears (Can) TransRockies / The Bike S               15.45.23
13 Alexandre Yatsina (Ukr)/David Milner (Can) Timberliners                  16.02.21
14 Ross Ethier (Can)/Matthew Trulio (USA) Hiccup Hell                       17.22.14
15 Carolyn Soules (Can)/Mandy Clark (Can) The Sprockettes                   18.29.23
16 Andrew Jordan (USA)/Jason Duckworth (GBr) Anglo-American Arrangem        18.47.23
17 Jim Seethram (Can)/Simon Parker (Aus) Paribus/Orissa                     18.58.23
18 Samantha Phillips (Can)/Tom Zidek (USA) The Bike Shop / Bike Cafe        20.29.19
19 Dan Wray (Can)/Ken Oertle (USA) Half Assed                               23.01.25
20 Charles Ryan (USA)/Norman Weinberg (USA) Cats                            23.28.25
21 Harry Petersen DNK/Jeff Cote (Can) Northern Spheres                      31.41.28
22 Mark Schwartz (Can)/Scott Boyd (Can) Lynx Brand Fence                            
23 Marco Pohlond (CRc)/Paolo Cesa Scotiaba Montoya (CRc) LA RUTA C.R.               
24 Heinz Markmeyer (Can)/Jim Gibbs (Can) Jagemeister