MTB index page for all MTB content
The Cape Epic - NE
South Africa, February 28-March 6, 2004
Main Page Results Previous Stage Next Stage
Stage 2 - February 29: Calitzdorp (the Spa)
Team GT Africa (Rossouw/ Wilson) wins sprint finish in Calitzdorp Spa
Report by Cape Epic staff
Riders head through desolate territory
Photo ©: The Cape Epic Media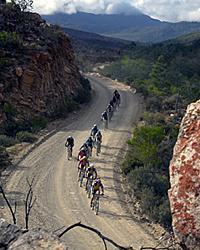 Today, the inaugural Magical and Untamed African Mountain Bike race led the riders from around the world across the famous Montague pass and through the very arid and extremely hot Klein Karoo desert.
Whilst the top teams needed 4 hours and 13 minutes to complete the 123 kilometre long stage, some amateurs took 8 hours and more to ride from Saaslveld/ George to Calitzdorp Spa. Their efforts were awarded with breathtaking views of wide open space and the distant Swartberg Mountains. Instead of people lining the streets cheering along, hundreds of ostriches, sheep and springbok formed a captive audience in the secluded area.
Team GT Africa with Jacques Rossouw and Shan Wilson (RSA) won in a tight sprint finish, followed by Mannie Heymans (NAM) and Karl Platt (GER), team Focus/ Rocky Mountain, and the men in the yellow leader jerseys, Andi Strobel (GER) and Silvio Wieltschnig (AUT), Team adidas Fiat Rotwild. It was U23 World Cup Champion Liam Killeen (GBR), who shifted onto the big chain ring on Montague pass and forced the five leading teams to increase their pace in order to stay beside him. Liam's partner, Downhill World Champion Greg Minnaar (RSA), fell behind for which team 23 Degrees caught a time penalty.
The field could not keep up with the average pace of 30 km/h, so the leading group took it easy. They chatted during their ride, stopped together at all watering points to drink and lubricate their chains, and then took off again in a group. When a marshal informed them that the field got closer and closer, however, they put the hammer down and increased their pace to over 40 km/h for the last 45 minutes of the race. On the last 100 metres in front of the finish line Jacques Rossouw and Shan Wilson opened the sprint finish which they won leading by 5 hundreds of a second. Dressed up in their colourful school uniforms, a bus full of children from Calitzdorp welcomed the winners, cheering and waiving enthusiastically with white ostrich feathers.
Photography
Images by The Cape Epic Media
Results

Men
 
1 Jeep/GT (Richard Beswick/Ben Melt Swanepoel)                              4.13.41
2 GT Africa (Jacques Rossouw/Shan Wilson)                                          
3 Team RED (Gerrie Beukes/Brandon Steward)                                         
4 Tom Tailor/Santos/Walkabout 1 (Jaap Viergever/Dennis Teeuwen)                    
5 Breitling/Vineyard Hotel (Geddan Ruddock/Kevin Evans)                            
6 Adidas/Fiat Rotwild (Andreas Strobel/Silvio Wieltschnig)                         
7 Focus/Rocky Mountain (Mannie Heymans/Karl Platt)                                 
8 Mazda Drifter One (Fritz Pienaar/John-Paul Pearton)                          6.20
9 Tom Tailor/Fujitsu-Siemens/Walkabout (Marcel Honing/Tommy Velthuijzen)       8.32
10 Remey-Enduren-Hugenote (Fred Coleske/Barry Pauw)                           12.53
11 Blazing Saddles (David Genders/Andreass Duenn)                                  
12 Mbr 2radchaoten.Com (Laurenz Hofstadler/Axel Strauß)                            
13 Mazda Drifter Two (Theo Grobler/Grant Usher)                                    
14 Scarabee (Claes Filip/Rossignol Dirk)                                      18.18
15 Hypoplus Ystermanne (Nick Bester/Jan Van Rooyen)                           21.21
16 Www.Reevax.Be (Peter Paelinck/Dominiek Sacré)                              21.43
17 Cycle Scene (Francois Roux/Wilfried Schwabe)                               24.02
18 Tcm (Mark Linington/Delaney Impey)                                         24.04
19 Benji & Garth (Garth Prosser/Benji Klimas)                                 24.06
20 Continental Tyre SA (Craig Baartman/Wayne Brown)                           27.29
21 Hp (Gordon Rabey/Greg Want)                                                27.32
22 STROPS (Xavier Scheepers/Roan Exelby)                                      29.13
23 Imperial Logistics Kenya (David Njau/Davidson Kamau)                       29.53
24 Tonto (Robert Mc Gloughlin/Greg Kamstra)                                   30.13
25 Coimbra Cycle House (Frans Van Zyl/John-Lee Augustyn)                      30.37
26 China Ensemble (Paul Kelly/Piers Touzel)                                   31.59
27 Hyenas (Andreas Liebenberg/Cornell Van Der Westhuizen)                     32.00
28 Knysna Action Cycling (Rob Dormehl/Andrew Marshall)                        38.11
29 Synergy (Jonathan Slater/Marais Dekker)                                    39.12
30 Virgin Active (Trevor Quigley/Callan Sexton)                                    
31 23 Degrees (Greg Minnaar/Liam Killeen)                                          
32 The Fabulous Sizzling Sushi'S (Neil Frazer/Warwick Langebrink)                  
33 Prowealth Namibia (Heiko Hennes/Marc Bassingthwaighte)                          
34 Austen Powers International Mbr Allstars (Anthony White/Craig Dolwin)           
35 Coopers Carriers (Gary Cooper/Brent Carpenter)                                  
36 Jeep1 (Rob Blatch/Gerard Dirks)                                                 
37 Die Bulle (Reginald Labuschagne/Peter De Wit)                                   
38 G Squared (Grant Salter/Greg Wittstock)                                         
39 Bowmans (Craig Woods/Jamie Smith)                                          47.22
40 @Speed (Mark Page/Ben Van Niekerk)                                         48.02
41 Ride Mag (Attie Koekemoer/Wayne Hayward)                                   49.49
42 Two Wise Men (Robbie Mcintosh/Niel Fourie)                                 52.08
43 BOE Backmot (Paul Backes/Michael Wilmot)                                   52.15
44 The Donovans (Patrick Donovan/John James Donovan)                          54.30
45 Team Knysna (Willy Alcock/Tony Cook)                                       54.37
46 Finish Line (Albert Olivier/Clint Curtis)                                  58.19
47 Rock Solid (Andrew Hunt/Stephen Jurgenson)                                 59.00
48 Karoo (Henco Rademeyer/Conrad De Wet)                                      59.01
49 Team Phoenix (Gavin Wood/Brett Parish)                                   1.00.31
50 Lactic Acid Heads (Russell Nugent/Mark Kapnoudhis)                       1.00.36
51 BSB (Craig Ridgard/Wayne Van De Werken)                                  1.00.38
52 Ethekweni Stabeni (Grant Macpherson/Glen Goddard)                        1.07.07
53 Kraichgau Cruisers (Richard Reingruber/Georg Oertel)                     1.08.20
54 Alcolin/Bostik (Nicholas Coyne/Kevin Jacobs)                             1.08.22
55 EVA (Jason Duffin/Mark Cadle)                                            1.08.25
56 Dutchcrocobikers 2 (Ronald Van Den Boogaard/Thomas Mulholland)           1.11.33
57 NEB (Olaf Wyberneit/Andre Britz)                                         1.11.36
58 Team Stellenbosch (Paul Roos/Van Heerden De Wet)                         1.12.00
59 Staaldraad (Lionel Waker/Travers Waker)                                         
60 Craft Box (Greg Goodwin/Mark Haarhoff)                                          
61 Lynn & Main (Crispin St Leger/Mark Lynn)                                        
62 Energy (Trevor Ball/Mike Clarke)                                                
63 Eazy (Paul Reyburn/Clive Kirsten)                                               
64 Discover (Paolo Longo/Robin Twaddle)                                            
65 Blue Chilli/I Care (Shaun Steyn/Kirk Buske)                                     
66 Team-Adidas.De (Karl Schandl/Mario Mannes)                                      
67 Ariba Ariba! (Banie Erasmus/Arrie De Swardt)                                    
68 Cape Epic Ben (Patrick Majeke/Nicholas Qotoyi)                                  
69 Mazda Drifter Three (Koos Groenewald/Bunnie Loubser)                            
70 Entelect Solutions (Charles Pritchard/Keldoahn O' Keefe)                 1.24.44
71 RoxShox (Heinrich Richter/Hennie Scheepers)                              1.26.35
72 Bruce Reyneke Cycles (Bruce Reyneke/Tjaart Van Nieuwenhuizen)            1.26.47
73 Wet Pups (William Simpson/Michael Nixon)                                 1.31.27
74 Men's Health - Adidas (Markus Stenglein/Alexander Gomoll)                1.35.10
75 Rollerbrake (Arno Daehnke/Robert Eichhorn)                               1.36.04
76 Africaribe Accros (Pierre Schweyer/Hylton Adie)                          1.36.10
77 Hermanus (Adrian Wiehahn/Etienne Jordaan)                                1.36.45
78 Durban (Grant Cowen/David Chappelow)                                     1.40.28
79 Pathfinders (Farouk Abrahams/Craig Turnbull)                             1.40.56
80 Vitalstatistix (Jeremy Stewart/Conrad Hicks)                             1.42.15
81 Quick Step X2 (Darren Wilson/Wayne Wilson)                               1.43.42
82 B2M2 (Mike Brunke/Bradley Mcdermott)                                     1.44.51
83 Lazy Legs (Russell Wegner/Mark Courtney)                                 1.46.42
84 MatCol (Matthew Grossett/Colin Meyer)                                    1.46.48
85 Fiets-Wielerrevue (Richard Plugge/Bart De Schampheleire)                 1.47.38
86 Spudnix (Phillip Stevens/Werner Rostoll)                                 1.49.42
87 Earthbound (Brett Olsen/Russell Olsen)                                   1.50.40
88 ODF (Organ Donar Foundation) (Allister Arenson/Stuart Weaver)            1.51.18
89 Cannondale (Francois Ebersohn/Jaco Malan)                                1.51.49
90 Boesmans (Charles Steyn/Marais Steyn)                                    1.52.25
91 3 Inch Difference (Don Nelson/Chad Oleson)                               1.53.02
92 Dirt Bandits (Philip Anderson/Kris Vandenbroucke)                        1.54.30
93 Blits (Raf Vanderlinden/Abel Court)                                      1.54.44
94 G Q (Helge Scherner/Blair Ludbrook)                                      1.56.32
95 Champagne Sports (Steve Macquet/Guy Macquet)                             1.59.47
96 Supersport (Russell Macmillan/Pierre Cloete)                             2.02.19
97 Great Cape Storm Adventure (Cedric Jakobsen/John Gale)                   2.07.17
98 Jema (Troy Pople/Gavin Markgraaff)                                       2.11.33
99 Rockwood Forest Lodge (Thomas Hancock/Rory Munton)                       2.11.35
100 MPD Plodders (Robbie McCrae/Alan Snelling)                              2.11.55
101 Chain Gang (Kevin Stevens/Ryan Mitchell)                                2.12.45
102 Spokes (Derek Redfern/William Blackie)                                  2.12.56
103 Riders For Choc (Anton Millar/Craig Petersen)                           2.14.35
104 Bikeboard (Milosz Kedracki/Adam Michalik)                               2.16.40
105 Fortitude (Robert Ambler-Smith/Michael Dixon)                           2.20.14
106 TOTALSPORTS (Michael Meyer/Stuart Baird)                                2.24.05
107 SRK/ANGLO (Duncan Stevens/David Cormack)                                2.24.06
108 Slow But Sure (Bradley Hemphill/Anthony Makin)                          2.24.10
109 No Tits (Matthew Mottram/Stuart Slater)                                 2.25.32
110 Snowrider (Roland Fuchs/Michel Haenggi)                                 2.25.49
111 Giant-Lee Cougan (Tappies Smith/Sirko Papperitz)                        2.25.52
112 arthur (Jim Arthur/Mike Arthur)                                         2.25.54
113 Branell 2 (Grant Walliser/Kevin Craig)                                  2.26.20
114 Novice (Linda Mthembu/Frans Ngako)                                      2.27.17
115 Imperial Logistics (Jeff Van Driel/Duane Porter)                        2.27.37
116 Team Neverest (George Thom/Eckhard Scholtz)                             2.28.27
117 Swazi Irish (Andrew Broom/Brett Foss)                                   2.28.48
118 PROTEA FINANCIAL SERVICES GROUP (Warran Jacobs/Mark Preen)              2.32.09
119 Costex (Michael Partridge/Karl Schubert)                                2.33.34
120 Radl-Rasti (Radl Rasti/Dominik Scherer)                                 2.33.46
121 Adidas Granny Gear (Doug Wylie/Cobus Pienaar)                           2.34.08
122 Apc (Andreas Pfaffenbichler/Markus Quatember)                           2.45.49
123 River Rats (Alister Buhler/Donovan Tredrea)                             2.46.55
124 Sterling Boys (Gregory Slade/Darryn Vermaak)                            2.47.24
125 The Mountain Goats (Ian Buchholtz/Gavin Van Aswegen)                    2.47.35
126 Union Cycles (Jens Niere/Wynand De Goede)                               3.00.52
127 C Q (Quintus Carstens/Craig Bothma)                                     3.04.01
128 Abk (Andre Le Roux/Garyth Harris)                                       3.07.29
129 The Flagship (Eugene Boniface/Martin Glaum)                             3.10.50
130 Selfe And Sherman (Gavin Selfe/Mike Sherman)                            3.10.59
131 Have Beens (Mike Mcdonald/Kevin Goddard)                                3.12.29
132 VisionK 2 (Deane Hill/Songo Fipaza)                                     3.13.07
133 CYMAX (Richard Clarke/Michael Whitehouse)                               3.16.31
134 Branell 1 (Allan Garrick Laudin/Adrian Kenneth Keus)                    3.18.03
135 Qed/Eb Sphere (Pieter Du Plessis/Colin Hendriks)                        3.18.52
136 Swampmonster (Phil Edmunds/Dennis Everett)                              3.36.29
137 Hot Shots (Werner Theron/Jannie Kruger)                                 3.37.50
138 Maverick Cycles Kwagga'S (Paul Roux/Leon Heyns)                         3.41.15
139 Maverick Warthog (Greg Ascough/Mike Bradley)                            3.43.32
140 Can'T Ride Won'T Ride (Colin Wessels/John Cave)                         4.01.35
141 StonieMuke (Michael Hughes/Stuart Mac Gregor)                           4.07.09
142 Instavet Inspiration (Harry Mahieu/Sven Mahieu)                         4.15.44
143 Granny Gear (Lee O'Brien/Niel Oberholzer)                               4.49.47
 
Women
 
1 Yellow Jacket (Hanlie Booyens/Sharon Laws)                                4.52.53
2 Cateye - Kenda Enduro Team (Louise Kobin/Hillary Harrison)                  15.41
3 Smith/Speedy (Yolande Speedy/Christi Smith)                                 29.09
4 Team Fair Lady (Adrienne Cobb/Christelle Van Niekerk)                       32.48
5 Team Rotwild/Hr (Monika Birk/Christine Hoelzl)                              51.39
6 Magura/Bodyglide (Cristina Begy/Simone Otto)                              1.06.50
7 Pezula (Di Fechter/Avril Godwin)                                          1.07.24
8 Estrogenies (Michelle Grainger/Sandra Musgrave)                           1.31.03
9 Jeep2 (Lisa Boring/Judith Du Toit)                                        1.38.54
10 Canucks2 (Martie Du Plessis/Marlene Van Heerden)                         1.46.43
11 Linden Squeezers (Jeannette Mcgill/Nicky Wolff)                          2.00.03
12 Cymax Ladies (Margaret Clarke/Laurin Whitehouse)                         2.37.19
13 Duracell Bunnies (Antoinette Barnardo/Julie Verran)                      3.36.41
 
Mixed
 
1 Fiat/Bianchi (Johan Greeff/Hannele Steyn-Kotze)                           4.35.32
2 Cateye Enduro Team (Eric Warkentin/Melissa Thomas)                           2.20
3 HAI-Bike/Scott (Kirsten Rösel/Robert Eder)                                   5.13
4 Falke (Philip Swanepoel/Michelle Lombardi)                                  17.21
5 Diadora (Kirsty Burrows/Des Searle)                                         30.24
6 Internet Solutions (Chester Foster/Amy-Jane Mundy)                               
7 The Lady And The Tramp (Tim Ziehl/Jeannie Bomford)                          32.33
8 Maverick Cycles (Tania Raats/Tim Keep)                                      36.41
9 Silvera/Madden (Carol Silvera/Michael Madden)                               46.24
10 Cycle HQ (Brad Boonzaier/Candy Boonzaier)                                  50.09
11 Posties (Pieter Van Wyk/Ellane Van Wyk)                                  1.08.40
12 Kinetic Transcor (Stephan Muller/Heidi Muller)                           1.13.02
13 Mcleod (Joanne McLeod/Justin McLeod)                                     1.18.55
14 Blown Away (Anita Stoll/Ivan Keeley)                                     1.29.38
15 Rockhoppers (Ann Pearton/Rodney Wittstock)                               1.30.58
16 Mac (Gavin Mackintosh/Rose Mackintosh)                                   1.32.51
17 Scatterlings (Joanna Goeller/Rowan Goeller)                              1.32.57
18 Primi Piatti (Lauwrens Cornelissen/Yoka Venter)                          1.34.50
19 Mazara (David Joyce/Fiona Coward)                                        1.48.32
20 Honeymoon (Paul Keet/Janet Keet)                                         2.02.26
21 Merry Farmers (Karin Stoll/Quintin Cross)                                2.12.15
22 Adidas-Spinman.Co.Za (Terry Kobus/Bonny Swanepoel)                       2.12.20
23 Marathosapiens (Csaba Balogh/Natali Kovacs)                              2.13.52
24 Thole (Errol Thole/Elmarie Thole)                                        2.38.16
25 Fradley Fauns (Peter Fradley/Kunnie Fradley)                             2.41.14
26 Dingo Cycles (Greg Gouws/Nienie Steenekamp)                              2.41.45
27 Ixias (Carol Austin/Anthony Fitzhenry)                                   2.44.22
28 Rivonia Textiles (Richard Corser/Bev Corser)                             2.48.28
29 Jia You! (Maria Suokko/Peter Walker)                                     3.12.56
30 Pons Postal Services (Lesley Fitton/Dave Pons)                           3.14.45
31 Supa Spar (Leon Steenkamp/Karen Gibbons)                                 3.26.29
32 Entelect Mixed (Evelyn Pritchard/Chris Thorpe)                           3.30.27
33 Amanevagunnafinish (Dominique Le Roux/Guy Wood)                          3.53.56
34 Scrumper (Stuart Carliell/Marilyn Carliell)                              4.03.54
35 Woodbury & Woodbury (Richard Woodbury/Laurie Woodbury)                   4.40.26
 
Masters
 
1 Willie Engelbrecht (Mc Franken/Brian Strauss)                             4.26.34
2 Bowmans - Giant (Frank Soll/Duncan English)                                  0.03
3 Dutchcrocobikers (Michael Wynsberghe/Richard Van Den Berg)                  17.05
4 Litespeed (Dennis Du Toit/Cecil Baker)                                      18.58
5 Eminem (Jacques Malan/Corrie Muller)                                        20.53
7 Swiss-School-Team.ch (Sandro Angelastri/Alex Brenn)                         26.19
6 XLR8 (William N Stopforth/Paul Van Zyl)                                          
8 Mad Docs (Graham Monteith/Michael Cheesman)                                 34.31
9 Supermix (Achim Ernst/Coenraad Smit)                                        35.05
10 Marsilio Masters (Tony Conlon/Marius Loots)                                35.13
11 Giant SA (Chris Nixon/Kevin Howlett)                                       38.13
12 CVT (Pea Blaauw/Henning Blaauw)                                            39.22
13 Abscond (Thys Neser/Brett Sachs)                                           41.33
14 Boomslang (Hendrik Van Huyssteen/Andre Nepgen)                             42.17
15 Miles For Marrow (Andre Du Plessis/Hendrik Lemmer)                         43.54
16 Maverick Cycles Kzn (Johann Wykerd/Nigel Bates)                            45.41
17 Imana Wild Ride (Steve Stamp/Glen Haw)                                     52.47
18 aspen/mediclinic (Rudi De Wet/Chris Fick)                                  53.27
19 Vontoux (Ennis Venter/Herman Kriel)                                        55.19
20 In Gira (Jan Minnie/Tom Comfort)                                           55.20
21 Viking Medical & Scientific (Reginald Jager/Robert Campbell)               55.25
22 Bicycling (Tim Brink/Nicolaas Vergunst)                                         
23 108 (Cobus Slabbert/Ben Cronje)                                            55.27
24 99 Not Out (Gary Lyttle/Etienne Van Cuyck)                                 55.51
25 Quickspar (Grant Gibbons/Mike Imray)                                       56.52
26 Comida Kids (Steve Bertie-Roberts/Carlos DeNobrega)                        59.04
30 Capestorm (Tony Wright/Nick Watson)                                        59.07
28 Durban Poison (Stuart Rose/Calvin Christy)                                      
27 USN (Corrie Moolman/Eugene Groenewald)                                          
29 Strawberry Steel (John Faul/Paddy Murphy)                                       
31 LamWil (Jan Lamberts/Hillegert Wilcocks)                                 1.11.03
32 Delta Dirt Trekkers (Collin Yammin/Lynn Jackson)                         1.13.48
33 Beauty & The Beast (Kobus Burger/Miles Crisp)                            1.17.25
34 Dutch Mountain Bike Plus (Ronald Jacobs/Wil Heinen)                      1.18.18
35 Sunflower (Dirk Joubert/Tim Ferreira)                                    1.18.20
36 Deutsche Post (Frank Plattenhardt/Leo Zirkelbach)                        1.19.46
37 Squirt - Lube On The Move (De Wet Marais/Jacques Theron)                 1.21.25
38 Ufudo (Adrian Booysen/Noel Ernstzen)                                     1.24.49
39 Bushwackers (John Lawlor/Ian Nell)                                       1.26.39
40 Hoof Hearted Spurs (Mark Bell/Craig Tingle)                              1.27.51
41 Knysna Cycle Works (Stephen Drew/Gary Stanley)                           1.30.36
42 Mountain Goat (Rob Love/Gareth Webster)                                  1.31.03
43 Single Track Minds (David Collett/Elton Prytz)                           1.38.34
44 Abb South Africa (Patrick Leary/Stephen Scheepers)                       1.40.35
45 Vaaltuin (Meyer De Waal/Gerrie Steyn)                                    1.41.54
46 M.U.D. (David Jacobs/Sakkie Van Wyk)                                     1.41.56
47 Kzn vets (Brian Magor/Justin McCarthy)                                   1.41.58
48 Old Bones (David Japp/Manfred Küster)                                    1.41.59
49 Adidas Lowveld Mambas (Johan Bester/Dennis Lawrie)                       1.46.00
50 Grandmasters (Colin Mathiesen/Curt Von Keyserlingk)                      1.49.31
51 Desert Donkeys (Peter Brinkhaus/Anton Kramer)                            1.50.56
52 Grit Gravel & Grind (Mike Cave/Aiden De Lange)                           1.53.40
53 Outeniqua Knobblies (Michale Ray Sunshine/Harold Lombard Basson)         1.54.23
54 Clan-Kerr (Grant Kerr/Gregory Kerr)                                      1.56.51
55 The Fat Boys (Greg Chamberlin/Malcolm Dods)                              1.59.53
56 Luxexpress (Guy Weber/Marc Weber)                                        2.00.00
57 Skote (Gerrit Pretorius/Arno Botha)                                      2.06.39
58 Flatdogs (Joe Holmes/Andy Austin)                                        2.09.05
59 WSP (Konrad Ferreira/Dick Morkel)                                        2.10.33
60 Dragon Tongue (Stephen Thompson/Shaun Weber)                             2.11.08
61 Daisy (George Schutte/Jan Schutte)                                       2.12.31
62 Old Tigers (Tony Cole/John Heynike)                                      2.12.39
63 Bryco Metals (Andre Hawarden/Craig Vorster)                              2.12.55
64 Fungis (Rod Cairns/Ron Hoskin)                                           2.18.38
65 San Diego (Cal Burgart/Dennis McCann)                                    2.19.02
66 Wilko (Koos Basson/William Turnbull)                                     2.21.20
67 The Smitherons (Kyle Smit/Martin Theron)                                 2.35.51
68 Hempel Challenger (Christian Vang/Jakov Radjenovic)                      2.42.00
69 Zoro (Rod Lichtman/Zoe Mitchell)                                         2.52.14
70 Matelec (Gavin Yeats/Kevin Paxton)                                       2.59.41
71 Gecko (Wilfried Maes/Klaus Raeymaekers)                                  3.03.13
72 Team 747 (Sean Latouf/Richard Kingwell)                                  3.04.20
73 Mike Squared (Michael Van Den Berg/Michael Treloar)                      3.27.22
74 Citi car hire (Denis Leppan/Jane Leppan)                                 5.05.55
75 Getaway (Stirling Kotze/David Bristow)                                   5.09.03
 
General classification after stage 2
 
Men
 
1 Adidas/Fiat Rotwild (Andreas Strobel/Silvio Wieltschnig)                  9.21.40
2 GT Africa (Jacques Rossouw/Shan Wilson)                                      8.28
3 Jeep/GT (Richard Beswick/Ben Melt Swanepoel)                                11.05
4 Focus/Rocky Mountain (Mannie Heymans/Karl Platt)                            12.53
5 Tom Tailor/Santos/Walkabout 1 (Jaap Viergever/Dennis Teeuwen)               25.36
6 Breitling/Vineyard Hotel (Geddan Ruddock/Kevin Evans)                       29.30
7 Team RED (Gerrie Beukes/Brandon Steward)                                    31.00
8 Mazda Drifter One (Fritz Pienaar/John-Paul Pearton)                         50.09
9 Tom Tailor/Fujitsu-Siemens/Walkabout (Marcel Honing/Tommy Velthuijzen)      51.23
10 Blazing Saddles (David Genders/Andreass Duenn)                             58.18
11 Mbr 2radchaoten.Com (Laurenz Hofstadler/Axel Strauß)                     1.02.53
12 Www.Reevax.Be (Peter Paelinck/Dominiek Sacré)                            1.07.34
13 Mazda Drifter Two (Theo Grobler/Grant Usher)                             1.12.30
14 Imperial Logistics Kenya (David Njau/Davidson Kamau)                     1.14.15
15 Remey-Enduren-Hugenote (Fred Coleske/Barry Pauw)                         1.15.47
16 Hypoplus Ystermanne (Nick Bester/Jan Van Rooyen)                         1.20.32
17 Hyenas (Andreas Liebenberg/Cornell Van Der Westhuizen)                   1.32.40
18 Cycle Scene (Francois Roux/Wilfried Schwabe)                             1.32.50
19 STROPS (Xavier Scheepers/Roan Exelby)                                    1.38.49
20 Prowealth Namibia (Heiko Hennes/Marc Bassingthwaighte)                   1.39.23
21 Continental Tyre SA (Craig Baartman/Wayne Brown)                         1.41.19
22 Tcm (Mark Linington/Delaney Impey)                                       1.45.51
23 Coimbra Cycle House (Frans Van Zyl/John-Lee Augustyn)                    1.47.31
24 Scarabee (Claes Filip/Rossignol Dirk)                                    1.48.55
25 Hp (Gordon Rabey/Greg Want)                                              1.50.45
26 G Squared (Grant Salter/Greg Wittstock)                                  1.56.31
27 Austen Powers International Mbr Allstars (Anthony White/Craig Dolwin)    1.59.49
28 Jeep1 (Rob Blatch/Gerard Dirks)                                          2.02.07
29 China Ensemble (Paul Kelly/Piers Touzel)                                 2.09.41
30 Benji & Garth (Garth Prosser/Benji Klimas)                               2.12.54
31 Tonto (Robert Mc Gloughlin/Greg Kamstra)                                 2.16.04
32 EVA (Jason Duffin/Mark Cadle)                                            2.18.39
33 Ride Mag (Attie Koekemoer/Wayne Hayward)                                 2.23.12
34 23 Degrees (Greg Minnaar/Liam Killeen)                                   2.31.02
35 Alcolin/Bostik (Nicholas Coyne/Kevin Jacobs)                             2.34.46
36 Finish Line (Albert Olivier/Clint Curtis)                                2.41.00
37 Knysna Action Cycling (Rob Dormehl/Andrew Marshall)                      2.40.33
38 @Speed (Mark Page/Ben Van Niekerk)                                       2.41.10
39 Mazda Drifter Three (Koos Groenewald/Bunnie Loubser)                     2.47.07
40 Synergy (Jonathan Slater/Marais Dekker)                                  2.48.06
41 Two Wise Men (Robbie Mcintosh/Niel Fourie)                               2.49.36
42 Bowmans (Craig Woods/Jamie Smith)                                        2.49.24
43 Virgin Active (Trevor Quigley/Callan Sexton)                             2.56.21
44 Die Bulle (Reginald Labuschagne/Peter De Wit)                            2.58.45
45 Rock Solid (Andrew Hunt/Stephen Jurgenson)                               3.04.19
46 Team-Adidas.De (Karl Schandl/Mario Mannes)                               3.04.17
47 BSB (Craig Ridgard/Wayne Van De Werken)                                  3.05.05
48 The Fabulous Sizzling Sushi'S (Neil Frazer/Warwick Langebrink)           3.10.36
49 BOE Backmot (Paul Backes/Michael Wilmot)                                 3.13.30
50 Coopers Carriers (Gary Cooper/Brent Carpenter)                           3.19.24
51 Team Phoenix (Gavin Wood/Brett Parish)                                   3.21.25
52 The Donovans (Patrick Donovan/John James Donovan)                        3.22.22
53 Lactic Acid Heads (Russell Nugent/Mark Kapnoudhis)                       3.25.30
54 Bruce Reyneke Cycles (Bruce Reyneke/Tjaart Van Nieuwenhuizen)            3.29.02
55 Karoo (Henco Rademeyer/Conrad De Wet)                                    3.29.50
56 Blue Chilli/I Care (Shaun Steyn/Kirk Buske)                              3.32.22
57 Cape Epic Ben (Patrick Majeke/Nicholas Qotoyi)                           3.38.21
58 Team Knysna (Willy Alcock/Tony Cook)                                     3.39.16
59 Discover (Paolo Longo/Robin Twaddle)                                     3.43.00
60 Craft Box (Greg Goodwin/Mark Haarhoff)                                   3.44.37
61 Team Stellenbosch (Paul Roos/Van Heerden De Wet)                         3.45.49
62 RoxShox (Heinrich Richter/Hennie Scheepers)                              3.48.55
63 NEB (Olaf Wyberneit/Andre Britz)                                         3.53.42
64 Staaldraad (Lionel Waker/Travers Waker)                                  3.55.17
65 Dutchcrocobikers 2 (Ronald Van Den Boogaard/Thomas Mulholland)           3.55.36
66 Ethekweni Stabeni (Grant Macpherson/Glen Goddard)                        3.56.52
67 Kraichgau Cruisers (Richard Reingruber/Georg Oertel)                     4.06.56
68 Lynn & Main (Crispin St Leger/Mark Lynn)                                 4.09.54
69 Africaribe Accros (Pierre Schweyer/Hylton Adie)                          4.17.10
70 Eazy (Paul Reyburn/Clive Kirsten)                                        4.17.49
71 Men's Health - Adidas (Markus Stenglein/Alexander Gomoll)                4.18.38
72 ODF (Organ Donar Foundation) (Allister Arenson/Stuart Weaver)            4.24.59
73 Energy (Trevor Ball/Mike Clarke)                                         4.26.09
74 Fiets-Wielerrevue (Richard Plugge/Bart De Schampheleire)                 4.26.35
75 Ariba Ariba! (Banie Erasmus/Arrie De Swardt)                             4.33.32
76 Hermanus (Adrian Wiehahn/Etienne Jordaan)                                4.34.23
77 Durban (Grant Cowen/David Chappelow)                                     4.35.23
78 Dirt Bandits (Philip Anderson/Kris Vandenbroucke)                        4.41.22
79 B2M2 (Mike Brunke/Bradley Mcdermott)                                     4.44.18
80 Wet Pups (William Simpson/Michael Nixon)                                 4.46.02
81 Entelect Solutions (Charles Pritchard/Keldoahn O' Keefe)                 4.49.11
82 Vitalstatistix (Jeremy Stewart/Conrad Hicks)                             4.49.34
83 Quick Step X2 (Darren Wilson/Wayne Wilson)                               4.52.25
84 Rollerbrake (Arno Daehnke/Robert Eichhorn)                               4.54.08
85 3 Inch Difference (Don Nelson/Chad Oleson)                               5.04.38
86 Spudnix (Phillip Stevens/Werner Rostoll)                                 5.04.42
87 MatCol (Matthew Grossett/Colin Meyer)                                    5.05.33
88 Pathfinders (Farouk Abrahams/Craig Turnbull)                             5.18.59
89 Boesmans (Charles Steyn/Marais Steyn)                                    5.20.59
90 G Q (Helge Scherner/Blair Ludbrook)                                      5.24.42
91 Cannondale (Francois Ebersohn/Jaco Malan)                                5.25.39
92 Supersport (Russell Macmillan/Pierre Cloete)                             5.30.34
93 Jema (Troy Pople/Gavin Markgraaff)                                       5.38.06
94 Blits (Raf Vanderlinden/Abel Court)                                      5.37.42
95 Spokes (Derek Redfern/William Blackie)                                   5.41.45
96 Bikeboard (Milosz Kedracki/Adam Michalik)                                5.44.11
97 Chain Gang (Kevin Stevens/Ryan Mitchell)                                 5.45.00
98 Champagne Sports (Steve Macquet/Guy Macquet)                             5.50.08
99 Snowrider (Roland Fuchs/Michel Haenggi)                                  5.56.02
100 PROTEA FINANCIAL SERVICES GROUP (Warran Jacobs/Mark Preen)              5.58.59
101 Riders For Choc (Anton Millar/Craig Petersen)                           6.00.22
102 MPD Plodders (Robbie McCrae/Alan Snelling)                              6.02.24
103 Lazy Legs (Russell Wegner/Mark Courtney)                                6.04.10
104 Fortitude (Robert Ambler-Smith/Michael Dixon)                           6.07.02
105 No Tits (Matthew Mottram/Stuart Slater)                                 6.07.51
106 Earthbound (Brett Olsen/Russell Olsen)                                  6.11.33
107 arthur (Jim Arthur/Mike Arthur)                                         6.12.05
108 Apc (Andreas Pfaffenbichler/Markus Quatember)                           6.12.07
109 Great Cape Storm Adventure (Cedric Jakobsen/John Gale)                  6.13.47
110 Giant-Lee Cougan (Tappies Smith/Sirko Papperitz)                        6.22.45
111 SRK/ANGLO (Duncan Stevens/David Cormack)                                6.24.42
112 Rockwood Forest Lodge (Thomas Hancock/Rory Munton)                      6.25.28
113 Branell 2 (Grant Walliser/Kevin Craig)                                  6.32.38
114 Sterling Boys (Gregory Slade/Darryn Vermaak)                            6.37.06
115 The Mountain Goats (Ian Buchholtz/Gavin Van Aswegen)                    6.37.58
116 Abk (Andre Le Roux/Garyth Harris)                                       6.40.47
117 Team Neverest (George Thom/Eckhard Scholtz)                             6.42.07
118 Slow But Sure (Bradley Hemphill/Anthony Makin)                          6.44.29
119 TOTALSPORTS (Michael Meyer/Stuart Baird)                                6.47.29
120 Novice (Linda Mthembu/Frans Ngako)                                      6.54.14
121 Adidas Granny Gear (Doug Wylie/Cobus Pienaar)                           7.00.29
122 River Rats (Alister Buhler/Donovan Tredrea)                             7.05.29
123 Costex (Michael Partridge/Karl Schubert)                                7.06.20
124 Radl-Rasti (Radl Rasti/Dominik Scherer)                                 7.06.22
125 C Q (Quintus Carstens/Craig Bothma)                                     7.06.52
126 Swazi Irish (Andrew Broom/Brett Foss)                                   7.09.53
127 Imperial Logistics (Jeff Van Driel/Duane Porter)                        7.15.03
128 Have Beens (Mike Mcdonald/Kevin Goddard)                                7.32.03
129 CYMAX (Richard Clarke/Michael Whitehouse)                               7.42.53
130 VisionK 2 (Deane Hill/Songo Fipaza)                                     7.51.47
131 Selfe And Sherman (Gavin Selfe/Mike Sherman)                            8.05.15
132 The Flagship (Eugene Boniface/Martin Glaum)                             8.06.08
133 Union Cycles (Jens Niere/Wynand De Goede)                               8.16.25
134 Maverick Warthog (Greg Ascough/Mike Bradley)                            8.19.48
135 Branell 1 (Allan Garrick Laudin/Adrian Kenneth Keus)                    8.32.27
136 Hot Shots (Werner Theron/Jannie Kruger)                                 8.34.38
137 Swampmonster (Phil Edmunds/Dennis Everett)                              8.52.37
138 Can'T Ride Won'T Ride (Colin Wessels/John Cave)                         8.54.11
139 Maverick Cycles Kwagga'S (Paul Roux/Leon Heyns)                         9.14.32
140 Instavet Inspiration (Harry Mahieu/Sven Mahieu)                         9.48.40
141 Qed/Eb Sphere (Pieter Du Plessis/Colin Hendriks)                        9.49.01
142 StonieMuke (Michael Hughes/Stuart Mac Gregor)                           9.55.50
143 Granny Gear (Lee O'Brien/Niel Oberholzer)                              10.22.17
 
Women
 
1 Yellow Jacket (Hanlie Booyens/Sharon Laws)                               11.23.40
2 Cateye - Kenda Enduro Team (Louise Kobin/Hillary Harrison)                  28.09
3 Smith/Speedy (Yolande Speedy/Christi Smith)                                 47.26
4 Team Fair Lady (Adrienne Cobb/Christelle Van Niekerk)                     1.36.17
5 Team Rotwild/Hr (Monika Birk/Christine Hoelzl)                            1.56.09
6 Magura/Bodyglide (Cristina Begy/Simone Otto)                              1.59.46
7 Pezula (Di Fechter/Avril Godwin)                                          3.02.28
8 Estrogenies (Michelle Grainger/Sandra Musgrave)                           3.13.11
9 Jeep2 (Lisa Boring/Judith Du Toit)                                        4.13.04
10 Canucks2 (Martie Du Plessis/Marlene Van Heerden)                         4.25.49
11 Linden Squeezers (Jeannette Mcgill/Nicky Wolff)                          4.44.25
12 Cymax Ladies (Margaret Clarke/Laurin Whitehouse)                         5.40.37
13 Duracell Bunnies (Antoinette Barnardo/Julie Verran)                      7.58.06
 
Mixed
 
1 HAI-Bike/Scott (Kirsten Rösel/Robert Eder)                               10.38.35
2 Cateye Enduro Team (Eric Warkentin/Melissa Thomas)                           9.09
3 Fiat/Bianchi (Johan Greeff/Hannele Steyn-Kotze)                              8.54
4 Falke (Philip Swanepoel/Michelle Lombardi)                                  40.41
5 The Lady And The Tramp (Tim Ziehl/Jeannie Bomford)                        1.10.05
6 Internet Solutions (Chester Foster/Amy-Jane Mundy)                        1.28.44
7 Diadora (Kirsty Burrows/Des Searle)                                       1.32.58
8 Maverick Cycles (Tania Raats/Tim Keep)                                    1.36.37
9 Silvera/Madden (Carol Silvera/Michael Madden)                             1.47.21
10 Cycle HQ (Brad Boonzaier/Candy Boonzaier)                                2.12.26
11 Posties (Pieter Van Wyk/Ellane Van Wyk)                                  2.53.56
12 Rockhoppers (Ann Pearton/Rodney Wittstock)                               3.13.17
13 Kinetic Transcor (Stephan Muller/Heidi Muller)                           3.14.35
14 Mcleod (Joanne McLeod/Justin McLeod)                                     3.15.43
15 Blown Away (Anita Stoll/Ivan Keeley)                                     3.36.12
16 Mac (Gavin Mackintosh/Rose Mackintosh)                                   3.47.49
17 Primi Piatti (Lauwrens Cornelissen/Yoka Venter)                          3.49.47
18 Honeymoon (Paul Keet/Janet Keet)                                         4.02.41
19 Scatterlings (Joanna Goeller/Rowan Goeller)                              4.02.53
20 Mazara (David Joyce/Fiona Coward)                                        4.23.16
21 Marathosapiens (Csaba Balogh/Natali Kovacs)                              5.00.02
22 Thole (Errol Thole/Elmarie Thole)                                        5.12.13
23 Merry Farmers (Karin Stoll/Quintin Cross)                                5.14.48
24 Dingo Cycles (Greg Gouws/Nienie Steenekamp)                              5.18.31
25 Adidas-Spinman.Co.Za (Terry Kobus/Bonny Swanepoel)                       5.31.28
26 Fradley Fauns (Peter Fradley/Kunnie Fradley)                             5.38.09
27 Rivonia Textiles (Richard Corser/Bev Corser)                             6.14.31
28 Ixias (Carol Austin/Anthony Fitzhenry)                                   6.34.23
29 Pons Postal Services (Lesley Fitton/Dave Pons)                           7.25.47
30 Amanevagunnafinish (Dominique Le Roux/Guy Wood)                          7.34.50
31 Supa Spar (Leon Steenkamp/Karen Gibbons)                                 7.48.45
32 Jia You! (Maria Suokko/Peter Walker)                                     8.02.27
33 Scrumper (Stuart Carliell/Marilyn Carliell)                              8.17.45
34 Entelect Mixed (Evelyn Pritchard/Chris Thorpe)                           8.23.18
35 Woodbury & Woodbury (Richard Woodbury/Laurie Woodbury)                  10.36.52
 
Masters
 
1 Bowmans - Giant (Frank Soll/Duncan English)                              10.22.43
2 Willie Engelbrecht (Mc Franken/Brian Strauss)                               19.11
3 Eminem (Jacques Malan/Corrie Muller)                                        42.12
4 Swiss-School-Team.ch (Sandro Angelastri/Alex Brenn)                         47.23
5 Litespeed (Dennis Du Toit/Cecil Baker)                                      52.20
6 Marsilio Masters (Tony Conlon/Marius Loots)                               1.11.34
7 Dutchcrocobikers (Michael Wynsberghe/Richard Van Den Berg)                1.14.48
8 Miles For Marrow (Andre Du Plessis/Hendrik Lemmer)                        1.23.54
9 XLR8 (William N Stopforth/Paul Van Zyl)                                   1.29.38
10 Boomslang (Hendrik Van Huyssteen/Andre Nepgen)                           1.46.51
11 aspen/mediclinic (Rudi De Wet/Chris Fick)                                1.47.16
12 Maverick Cycles Kzn (Johann Wykerd/Nigel Bates)                          1.52.22
13 Abscond (Thys Neser/Brett Sachs)                                         1.52.46
14 CVT (Pea Blaauw/Henning Blaauw)                                          1.55.05
15 Mad Docs (Graham Monteith/Michael Cheesman)                              1.57.20
16 99 Not Out (Gary Lyttle/Etienne Van Cuyck)                               2.09.45
17 Bicycling (Tim Brink/Nicolaas Vergunst)                                  2.10.38
18 Imana Wild Ride (Steve Stamp/Glen Haw)                                   2.13.57
19 Giant SA (Chris Nixon/Kevin Howlett)                                     2.16.18
20 Supermix (Achim Ernst/Coenraad Smit)                                     2.24.58
21 USN (Corrie Moolman/Eugene Groenewald)                                   2.25.14
22 Comida Kids (Steve Bertie-Roberts/Carlos DeNobrega)                      2.28.41
23 In Gira (Jan Minnie/Tom Comfort)                                         2.37.27
24 108 (Cobus Slabbert/Ben Cronje)                                          2.47.13
25 Squirt - Lube On The Move (De Wet Marais/Jacques Theron)                 2.48.42
26 Vontoux (Ennis Venter/Herman Kriel)                                      2.49.27
27 LamWil (Jan Lamberts/Hillegert Wilcocks)                                 2.52.44
28 Capestorm (Tony Wright/Nick Watson)                                      3.03.51
29 Strawberry Steel (John Faul/Paddy Murphy)                                3.06.38
30 Beauty & The Beast (Kobus Burger/Miles Crisp)                            3.08.41
31 Viking Medical & Scientific (Reginald Jager/Robert Campbell)             3.13.04
32 Deutsche Post (Frank Plattenhardt/Leo Zirkelbach)                        3.14.03
33 Durban Poison (Stuart Rose/Calvin Christy)                               3.16.34
34 Dutch Mountain Bike Plus (Ronald Jacobs/Wil Heinen)                      3.16.43
35 Quickspar (Grant Gibbons/Mike Imray)                                     3.22.02
36 Mountain Goat (Rob Love/Gareth Webster)                                  3.23.06
37 Sunflower (Dirk Joubert/Tim Ferreira)                                    3.26.02
38 Delta Dirt Trekkers (Collin Yammin/Lynn Jackson)                         3.38.47
39 Ufudo (Adrian Booysen/Noel Ernstzen)                                     3.43.10
40 Bushwackers (John Lawlor/Ian Nell)                                       3.48.44
41 Hoof Hearted Spurs (Mark Bell/Craig Tingle)                              3.50.46
42 Knysna Cycle Works (Stephen Drew/Gary Stanley)                           3.53.28
43 Grandmasters (Colin Mathiesen/Curt Von Keyserlingk)                      4.02.34
44 Old Bones (David Japp/Manfred Küster)                                    4.18.52
45 Kzn vets (Brian Magor/Justin McCarthy)                                   4.21.38
46 Adidas Lowveld Mambas (Johan Bester/Dennis Lawrie)                       4.22.54
47 Vaaltuin (Meyer De Waal/Gerrie Steyn)                                    4.28.23
48 Desert Donkeys (Peter Brinkhaus/Anton Kramer)                            4.29.37
49 Single Track Minds (David Collett/Elton Prytz)                           4.35.59
50 Outeniqua Knobblies (Michale Ray Sunshine/Harold Lombard Basson)         4.38.36
51 Abb South Africa (Patrick Leary/Stephen Scheepers)                       4.43.40
52 M.U.D. (David Jacobs/Sakkie Van Wyk)                                     4.47.36
53 Grit Gravel & Grind (Mike Cave/Aiden De Lange)                           4.48.51
54 Daisy (George Schutte/Jan Schutte)                                       4.56.54
55 Bryco Metals (Andre Hawarden/Craig Vorster)                              5.05.57
56 Luxexpress (Guy Weber/Marc Weber)                                        5.06.24
57 Skote (Gerrit Pretorius/Arno Botha)                                      5.07.55
58 Flatdogs (Joe Holmes/Andy Austin)                                        5.12.25
59 Clan-Kerr (Grant Kerr/Gregory Kerr)                                      5.15.07
60 WSP (Konrad Ferreira/Dick Morkel)                                        5.21.38
61 Wilko (Koos Basson/William Turnbull)                                     5.22.14
62 Fungis (Rod Cairns/Ron Hoskin)                                           5.23.42
63 The Smitherons (Kyle Smit/Martin Theron)                                 5.31.20
64 Old Tigers (Tony Cole/John Heynike)                                      5.35.13
65 The Fat Boys (Greg Chamberlin/Malcolm Dods)                              5.37.37
66 Dragon Tongue (Stephen Thompson/Shaun Weber)                             5.58.05
67 San Diego (Cal Burgart/Dennis McCann)                                    6.01.32
68 Hempel Challenger (Christian Vang/Jakov Radjenovic)                      6.02.02
69 Matelec (Gavin Yeats/Kevin Paxton)                                       6.23.11
70 Zoro (Rod Lichtman/Zoe Mitchell)                                         6.26.30
71 Team 747 (Sean Latouf/Richard Kingwell)                                  6.54.15
72 Gecko (Wilfried Maes/Klaus Raeymaekers)                                  7.31.06
73 Mike Squared (Michael Van Den Berg/Michael Treloar)                      8.03.29
74 Citi car hire (Denis Leppan/Jane Leppan)                                10.54.59
75 Getaway (Stirling Kotze/David Bristow)                                  12.06.50