MTB index page for all MTB content
Crocodile Trophy - NE
Australia, October 21-November 2, 2003
Main Page Results Previous Stage Next Stage
Stage 10 - October 30: Mt. Mulgrave - Laura 148 km
Stauder and King take stage as Elli turns air blue
Mauro Bettin (Red Bull) leads eventual winner Stauder
Photo ©: Mark Watson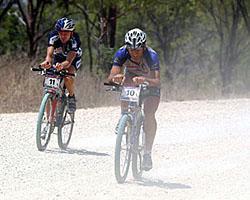 Let the corrugations begin! Roland Stauder riding for Red Bull has taken the stage and the race lead from team mate Mauro Bettin. Bettin and Stauder were always separated by less than two minutes, so when the feather weight Italian crossed the line 3 minutes in front of a chasing group of four including Anderson, Viergever, Vincent and Bettin, the race kudos all went to Stauder!
Today's stage began on Mt Mulgrave Station along side the Mitchell River. The race entourage enjoyed the relief of a swim in the shallow waters of the Mitchel River last evening, but many spent restless night camping in the heat.
As a result of time running out for stage wins, Jaap Viergever launched his team of himself and two Tom Taylor mates from the very first kilometre, causing the pace to be the ruin of many early on. This set some tempers into action and when Adam Hasen attacked in the feed the Dream Team's Alberto Elli launched a verbal response of such color that the Kiwi, TimVincent said to Phil Anderson, "I don't think I have ever seen that sort of fury before. He scares me."
Alberto Elli (Dream Team) added some colour to the race
Photo ©: Mark Watson

The Jacob's Creek - Shimano Dream Team could smell success today as Phil Anderson has finally recovered from his wounds and is feeling aggressive. He finished second in a sprint with Viergever and Vincent. The roadie in Anderson came to the fore as he made quick work of the others. Bettin rolled in 4 seconds after.
It was a hard day for Bettin as he has been in the leaders jersey from stage one and truly exhibits alpha male traits in the Red Bull Team. It will be interesting to see who will take tomorrow's stage in the searing heat. This morning there was a bit of cloud cover and the temperatures did not hit the scary levels until 80 km into the stage. It was a small blessing.
Rosi King is getting stronger everyday, to date she has won 9 of the ten stages thus far. This is King's first stage race and it really seems to suit her.
Photos
Images by Mark Watson
Results

1 Roland Stauder (Ita) Red Bull              5.04.53
2 Phil Anderson (Aus) Dream Team                4.00
3 Jaap Viergever (Ned) TTTSW                        
4 Tim Vincent (NZl)                             4.03
5 Mauro Bettin (Ita) Red Bull                   4.28
6 Bart Bosmans (Bel) Tom Taylor Team            9.44
7 Robert Hotter (Aut) Team Sport Nora          11.35
8 Alberto Elli (Ita) Dream Team                17.30
9 Dennis Teeuwen (Ned) TTTSW                   32.14
10 Michael Bösiger (Swi)                       33.51
11 Oyvind Aas (Nor) Dream Team                 41.39
12 Adrian Laing (Aus) TTTSW                         
13 Reinhard Desmedt (Bel)                      51.02
14 Dominiek Sacre (Bel) www.reevax.be               
15 Peter Paelinck (Bel) www.reevax.be               
16 Adam Hansen (Aus)                         1.00.36
17 Frans Verbeeck (Bel)                      1.06.15
18 Manfred Liszt (Aut)                       1.31.11
19 Rosi King (Aus)                           1.54.25
20 Perry Moermann (Bez) Dream Team           1.54.26
21 Rainer Rosenberger (Aut)                  2.11.29
22 Lisi Hager (Aut) MBR 2radChaoten SWAT     2.17.49
23 André Vögele (Aus)                        2.27.51
24 Mark Fraeyman (Aut)                       2.35.14
25 Charles Blanc (Fra)                       2.39.16
26 Toru Watanabe (Jpn)                       3.27.53
27 Ulrich Strasser (Aut)                     3.57.53
 
Women
 
1 Rosi King (Aus)                            6.59.18
2 Lisi Hager (Aut) MBR 2radChaoten SWAT        23.24
 
Light classification
 
1 Karl Arnold (Swi) Arnold                   5.38.44
2 Gerard Looijstyn (Ned) TTTSW                 32.46
3 Kel Boers (Aus)                              38.36
 
General classification after stage 10
 
1 Roland Stauder (Ita) Red Bull             44.52.16
2 Mauro Bettin (Ita) Red Bull                   2.59
3 Jaap Viergever (Ned) TTTSW                   36.13
4 Tim Vincent (NZl)                            53.56
5 Alberto Elli (Ita) Dream Team              1.17.19
6 Robert Hotter (Aut) Team Sport Nora        1.44.59
7 Bart Bosmans (Bel) Tom Taylor Team         2.03.27
8 Adam Hansen (Aus)                          2.06.00
9 Phil Anderson (Aus) Dream Team             2.33.58
10 Oyvind Aas (Nor) Dream Team               3.38.10
11 Adrian Laing (Aus) TTTSW                  4.23.10
12 Peter Paelinck (Bel) www.reevax.be        5.45.16
13 Reinhard Desmedt (Bel)                    6.36.13
14 Dennis Teeuwen (Ned) TTTSW                6.54.12
15 Dominiek Sacre (Bel) www.reevax.be        7.02.07
16 Michael Bösiger (Swi)                     7.19.34
17 Frans Verbeeck (Bel)                      9.04.12
18 Rainer Rosenberger (Aut)                 11.35.14
19 Perry Moermann (Bez) Dream Team          12.15.13
20 Rosi King (Aus)                          14.12.51
21 Manfred Liszt (Aut)                      14.56.54
22 Mark Fraeyman (Aut)                      16.03.45
23 André Vögele (Aus)                       17.20.43
24 Charles Blanc (Fra)                      19.10.40
25 Lisi Hager (Aut) MBR 2radChaoten SWAT    19.26.13
26 Ulrich Strasser (Aut)                    23.37.00
27 Toru Watanabe (Jpn)                      27.12.30
 
Women classification
 
1 Rosi King (Aus)                           59.05.07
2 Lisi Hager (Aut) MBR 2radChaoten SWAT      5.13.22
 
Light Classification
 
1 Karl Arnold (Swi) Arnold                  11.25.33
2 Kel Boers (Aus)                            1.03.09
3 Gerard Looijstyn (Ned) TTTSW               1.26.22
 
Points classification
 
1 Mauro Bettin (Ita) Red Bull                    116 pts
2 Roland Stauder (Ita) Red Bull                   85
3 Jaap Viergever (Ned) TTTSW                      75
4 Alberto Elli (Ita) Dream Team                   74
4 Adam Hansen (Aus)                               66
6 Tim Vincent (NZl)                               50
7 Robert Hotter (Aut) Team Sport Nora             30
8 Phil Anderson (Aus) Dream Team                  19
9 Bart Bosmans (Bel) Tom Taylor Team               5