MTB index page for all MTB content
Results and Reports from New Zealand
Promoters wishing to submit results should send them to cyclingnews
Mount Victoria MTB Time Trial
Wellington, November 1, 2003
Mike Heydon
Joshua Barley on his way to victory in the Junior U19 race
Photo ©: Mike Heydon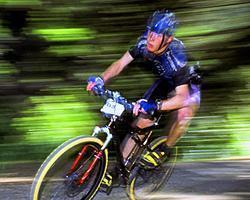 Mountain bikers competed on the knotty, gnarly slopes of Wellington's Mt Victoria this week for the first time in seven years. Riders set off at one-minute intervals in a time trial format with local knowledge a clear asset, as Wellington riders took out both the top men's and women's places.
Craig Starnes edged out Carl Patton and Simon Kennett to take the Open Men's classification while Wendy Osborne of Team Raceline claimed the Open Women's class. Joshua Barley led the under-19 men home and recorded the fifth fastest time of the day overall.
Tim Wilding took the Elite Men's section ahead of Jason Clement and Jason McCarthy while the Elite Women's class was blitzed by Wellington legend Robyn Wong. Honorable mentions must go to Rob Kilvington who achieved the fastest single speed and Ken Looi who brought character to the course as he tackled the course on a unicycle. Hopefully events on Mt Vic are back on the race calendar. Where else is there a course within minutes of the capital's streets?
Photography
Images by Mike Heydon
Results

Junior U19 Men
 
1 Joshua Barley         12:31
2 Kerry Morgan          12:36
3 Ben Saunders          14:42
 
Open Women
 
1 Wendy Osborne         16:39
2 Helen Findlay         21:12
 
Open Men
 
1 Craig Starnes         12:42
2 Carl Patton           12:45
3 Simon Kennett         12:48
 
Elite Women
 
1 Robyn Wong            13:03
2 Genevieve Whitson     15:01
 
Elite Men
 
1 Tim Wilding           11:44
2 Jason Clement         11:51
3 Jason McCarthy        12:07