Recently on Cyclingnews.com
MTB index page for all MTB content
Tales from the peloton, March 17, 2004
Calm before the Storm
Mid-Atlantic pros Charles Storm and Jeremiah Bishop dominate in Waco
Charlie Storm en route to victory in the marathon
Photo ©: Mike Gladu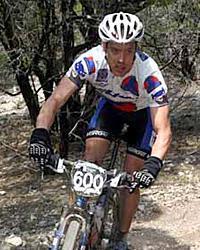 Charles Storm, winner of the first NORBA men's marathon last weekend, remembers what life was like when he and fellow East Coast rider Jeremiah Bishop began racing 10 years ago, and ponders his initial experiences, racing with an 18 year-old prodigy by the name of Floyd Landis.
10 long seasons and 1000 races ago, Charlie Storm and Jeremiah Bishop were beginning their mountain bike racing careers just like any other rider in the Mid-Atlantic mountain bike scene. They had heard about the 75-100 plus rider fields in every category, at the weekend mountain bike races. Storm and Bishop went to their first few races to give this mountain bike racing thing a try. Just like most of the rest of the 500 or so riders who raced those days in the mid 90s, these guys bobbled around for about two hours on the slippery rocks and mud of the central Appalachian Mountains. Then, they stood by the finish line like everyone else, to watch seasoned veteran, Gunnar Shogren and 18 year-old Floyd Landis, float effortlessly across the final rock section and power to the finish line with Clint Eastwood-like stares.
Fast forward 25,000 hours of training and 10 years later to Waco, Texas. After 10 years of hard work and determination, Charlie Storm and Jeremiah Bishop have used the strength of the Mid-Atlantic mountain bike culture to secure not one, but two NORBA National Mountain Bike Series wins in Waco this past weekend.
On Thursday, Back To Dirt Racing pro Charlie Storm, of Cary, North Carolina, survived a double flat tire and a misguided men's lead group, which included pre-race favorites Tinker Juarez and Chris Eatough, to exorcise 15 years of NORBA demons. Storm became the first East Coast man ever to win a national mountain bike XC race by winning the first ever NORBA Series Marathon. The Marathon is a 60 mile cross country race that is becoming very popular among the racing crowds as a real test of endurance. BTD Racing's Storm rode solo most of the day to finish in three hours 58 minutes, 10 minutes ahead of second-placed Jason Sager and third place Eatough.
With the demons lifted, Sunday produced another East Coast victory, as Trek/VW Pro Jeremiah Bishop, of Harrisonburg, Virginia drew deep upon 10 years of gut wrenching toil in the forests of the Appalachians. Jeremiah, with his familiar nose to the stem style and unrelenting focus, dug long and deep to earn a hard fought win in the men's XC event over a field that included last year's world Championship silver medalist, Ryder Hesjedal and two-time world champion, Roland Green.
Marathon results; Cross country results
More Cylingnews features