Letters to Cyclingnews — August 17, 2001
Here's your chance to get more involved with Cyclingnews. Comments and criticism on current stories, races, coverage and anything cycling related are welcomed, even pictures if you wish. Letters should be brief (less than 300 words), with the sender clearly identified. They may be edited for space and clarity. We will normally include your name and place of residence, but not your email address unless you specify in the message.
Please email your correspondence to letters@cyclingnews.com.
Recent letters
Doping coverage vs cycling coverage
Armstrong & the Vuelta
LeMond
The Devil
Chapeau Laurent? Give me a break
Chemotherapy
Commentary
Four stages
Jan Ullrich again
Hamburger
Mapei rider down at TdF
National rankings
Team placings
Lisbon Road Worlds
Americans in Paris
Lance's a spinner
Let's not do Giro vs Tour
'Rooting'
Armstrong vs Merckx

Doping coverage vs cycling coverage #1
Jay Kidd expressed my sentiments exactly. The decision to devote a mere four pages to a major race such as the Giro was not just a slap in the face to the organizers of the event, but, to race fans as a whole. The drug raid aside though, I still wouldn't have been too surprised to receive my issue and be disappointed about the amount of coverage. The culprit, along with the preoccupation with drugs, is the obsession with the Tour de France.

A Tour preview issue, profiles of selected riders such as David Millar, who have no chance of success in the event. However, this doesn't prevent the allotment of numerous pages espousing their aspirations and goals for the Tour. Even in January, with the team and season preview issue, everything is written with regards to the Tour.

You can't have it both ways. Bemoan the days of the legends, Merckx, Hinault, etc., when strong riders rode an entire calendar of events, then out of the other side of your mouth, or pen, heap all of the press and attention upon the Tour and the two or three riders that have a chance at winning it.

Simoni rode just as dominating a race as Armstrong. It's a shame that with the current emphasis on drugs and the Tour as touted by today's cycling journalists, you'd never notice.

Andy Stokes
Loveland, USA
Wed, 15 Aug
Doping coverage vs cycling coverage #2
Unfortunately, the news seems to be about sensationalism and selling a story rather than about reporting the facts. I tuned in one day during the Giro to see the results of that days stage and all they showed in the 4 second "cycling bit" was the drugs bust. Thanks guys, just what I wanted to see. Money makes the world go around.

Richard Taube
Australia
Tue, 14 Aug
Doping coverage vs cycling coverage #3
Jay - Good call on doping and drug busts. Refer to SI last week. The preoccupation with doping over the thrill of the race is amazing.

Baseball looks absolutely refreshing after reading the latest cycling news. Cycling fans and journalists / editors wake up: we care little about doping and much about racing. Maybe that's part of the problem.

Keep it fair and clean and we can get back to reading about racing.

Eric Erickson
Boulder
Tue, 14 Aug
Armstrong & the Vuelta #1
It does seem a little selfish of Lance not to help Heras in Spain. He has the entire off-season to recover and get ready for next years tour. I have a hard time understanding why a rider of Heras' calibre would even want to play second fiddle to anyone, even Lance. Is it no wonder that many of the best riders on postal are slowly finding other teams? Why should a top rider spend the best years of their career in Lance's shadow? George Hincapie should ask himself the same question and maybe then he can be a overall world cup contender.

Gregg Ford
Baltimore, MD, USA
Tuesday, August 14
Armstrong & the Vuelta #2
I too, am extremely disappointed to hear that Lance will not ride in support of his team-mates in the Vuelta. Initially, I felt rather angry. Upon closer examination, though, the race in Lance's schedule which precludes his riding in the Vuelta is the GP San Francisco -- a race put on by none other than Thom Weisel Partners, the money behind the US Postal Team and an organization to whom Lance owes at least as much as he does Heras and Rubiera.

I hope that Lance does ride for his Spanish mates next year, and for Hincapie in the spring, but it just may be that he owes his presence to his employer first this time around. And I must say that for purely selfish reasons, including a planned pilgrimage to San Francisco this September, I hope for a great ride for Lance in San Francisco.

Gerry Hunter
McMinnville, Oregon USA
Tue, 14 Aug
Armstrong & the Vuelta #3
I am also disappointed in Lance's decision not to participate in the Vuelta. The only diminishing factor to this disappointment is that I do not think that Heras could beat Lance in the race. No matter how much Lance sacrifices himself in the mountains to support Roberto, I don't think Lance would lose enough time to offset his superiority in the time trials (113 km including the finale in Madrid). I would love to see Lance support Roberto the way he did Tyler in 2000's Dauphine Libre. If Lance and Postal are thinking the same as I have mentioned then I understand the decision. It is up to Bruyneel to have the right team in Spain to give Roberto the best chance of winning the Vuelta. I hope the team has dedicated as much time to the key Vuelta stages as they did the Tour stages.

John Mc Cann
Schuylerville NY
Wed, 15 Aug
Armstrong & the Vuelta #4
I have to agree with all of the other correspondence on this subject. Lance should be riding the Vuelta, and he should be riding it to support Heras in his efforts to win the Vuelta this year. Heras slaved for Lance in the mountains this year in the Tour de France, and to not repay him with some effort in the Vuelta, that would make me disgruntled, and be looking for a new team next year, as Heras may or may not be. It's a kind of a "spit in the face" of Heras that Armstrong is not riding in the Vuelta. It would have been great to see.

Tom Arsenault
Greensboro North Carolina USA
Tue, 14 Aug
Armstrong & the Vuelta #5
I, too, am disappointed that Lance will not ride in Spain. There definitely seemed to be an impression that he and Heras would mutually assist each other in "their" respective tours. Lance is now scheduled to race in San Francisco on Sept 9, and this is being heavily promoted in the US. Could it be that Lance's US sponsors (US Postal, Nike, Oakley etc.) are pressuring him for the US exposure, which would be immense? (In the US.) Perhaps "fatigue" is shorthand for "politics."

Susan Hughes
USA
Tue, 14 Aug
LeMond#1
Mr. Richards letter suggests that LeMond only won the 1989 Tour because he used tri-bars that weren't available to others at the time. I agree that without tri-bars, LeMond probably would not have made up the 50 second deficit. However, if my memory is correct, Fignon chose not to use his aero bars, even though they were available to him. He also chose not to use an aero helmet. He felt that he was just too strong and that the time trial was too short for LeMond to take back that much time. Shame on Fignon for being so confident and not using what was available to him. You can't blame LeMond for that.

Also, to suggest that aero equipment was not readily available at the time is incorrect. LeMond did not invent the equipment, nor was it invented just for him. Triathletes had been using the equipment for some time (hence the name "Tri-Bars"). Anyone, and not just pro cyclists, who wanted to go out and buy aero bars could find them in many bike shops, especially those which carried equipment geared towards triathletes.

Instead of calling it "Cheating", I think a better term would be "Innovative".

Brian Morrill
United States
Tue, 14 Aug
LeMond #2
If tri-bars were available to LeMond, they were available to Fignon as well. Andy Hampsten used them in the time trials of that year's Tour as well.
It's not as though the Tour officials proclaimed that only Americans could use them. I've read several accounts of Fignon's team having had a set of tri-bars for him to use, but his extreme arrogance led him to believe, as everyone else did, that LeMond had no chance at reclaiming 50+ seconds no matter what kind of equipment the American used. Fignon didn't lose the Tour because he didn't have a pair of aero-bars. He lost because he was arrogant enough to think that he didn't need them.

Jay Schrotzberger USA
Tue, 14 Aug
LeMond #3
I have to disagree with Mr. Richards: LeMond did not win the '89 Tour solely because of the aero bars. In '89, he was a rider on the ADR team, a team whose other major talent was Eddy Planckaert. Reduced to 5 men halfway through the Tour, LeMond had no support in the mountains. Fignon was on the talented Systeme U team, guided by Guimard. The very fact that only 50 seconds separated them on the eve of the TT tells me that LeMond's Tour victory had more to do with his tenacity rather than his tri-bars. In addition, LeMond had used tri-bars in the Giro and Fignon was aware of them and could have used them, too, in the Tour. Races are not only won with the legs, they are won with the head, too. Finally, it's doubtful the tri-bars provided the margin that gave LeMond the victory. In that year, LeMond won all the head-to-head time trials against Fignon. In the end, I believe it was the difference in attitude that determined the winner: LeMond was tenacious, Fignon was almost nonchalant.

Leonard Ke
San Francisco, USA
Tue, 14 Aug
LeMond #4
"LeMond only won the '89 tour because he used tri bars and no one else did. He should never have been allowed to use them - it should have been clear to the authorities that he knew he would gain an advantage and the equipment wasn't to my knowledge, generally available at the time; so any advantage was unfair."

Fair enough. If I remember correctly, LeMond had the Scott bars with him earlier in that Tour, but elected not to employ them until that final fateful TT. However, it was reported at the time that Fignon also toyed with the idea of using clip-ons on that final day, but decided against doing so because he had no prior experience with them. Ironically, though it is the aerobars that are remembered, it was Fignon's failure to use a even more basic "innovation" that ended up costing him Tour victory. Inexplicably, he chose to race the final TT with his ponytail luffing in his wake like a miniature parasail.
Even the least aero of helmets would surely have saved him the handful of seconds he ended up needing on the line.

Richard Burkholder
USA
Tue, 14 Aug
LeMond #5
Keith Richards from the UK claims that "LeMond only won the '89 tour because he used tri bars and no one else did." I remember reading in a copy of Cycle Sport some year or two ago that wind tunnel testing showed that LeMond had received a slight advantage by using the aero-bars, but that the same tests showed that the supposed "aero-helmet" he used was actually inefficient. The tests indicated that the helmet cost him more time than the bars gave him.

Cyclists have always experimented not only with equipment, but also with diet, training techniques, riding techniques and strategy and tactics. Would LeMond's victory be tainted if he had tried something different in these areas? Keith says LeMond "knew he would gain an advantage and the equipment wasn't to my knowledge, generally available at the time; so any advantage was unfair." To say that a rider's victory is diminished because he tried something legal but different from his other competitors is to say that the sport may never evolve. Was the first guy to use gearing a cheat? What about the use of lighter frame materials, clipless pedals or index shifting? What of interval training or carbo loading or wind tunnel testing?

These are all pieces of equipment and techniques that began with one rider that "knew he would gain an advantage," and "wasn't generally available at the time." Did that make them "unfair?" The reality is that innovation and creativity have always been a part of cycling, and LeMond's use of aero bars was just another example of that.

I do think Fignon was a tremendous talent whose career suffered as a result of some poor luck and bad advice regarding his tendonitis. He definitely was LeMond's equal talentwise and may have been superior had he been able to stay healthy during the 85-88 years. But that is a whole lot of "ifs", and in the long run, the only thing certain is results. For instance, I doubt anyone would argue that VDB is the greatest modern classic rider, for despite his enormous talent and skills, to this point his problems have prevented accumulating the results that would justify this label.

By the way, aero bars were generally available, they had been used by triathletes for years at that point. Perhaps the European camp would have done well to look outside the sport for ideas as LeMond had done.

Douglas Reynolds
Denver CO
Tue, 14 Aug
The Devil #1
Kelly Koch from Montana in an August 9th letter wondered if there was some story behind "the people dressed as devils, particularly on the mountain stages". I must admit that I've only ever noticed one devil, but that's probably just because I'm a bit slow. Anyway, the original Devil, grey-bearded German Dietrich "Didi" Senft with the pitchfork and the wild eyes, once told Danish television (or maybe it was German television) why he felt there should be a devil in cycling.

See, the red kites which marks the entrance to the final kilometer of most races is called "rote Teufel-lappen" in German, that is "red devil-patches" (I'm trying to come up with a better translation of "lappen", but this is the best I can do at the moment!). And so, Herr Senft, a bicycle repairman by trade and an avid fan, decided that where there were "Teufel-lappen" there should also be a "Teufel".

That's the best I can offer in way of an explanation. Some people thought that he was originally a fan of the Devil from Lombardy, Claudio "il Diablo" Chiappucci, but in fact Chiappucci had nothing to do with Herr Senft's decision to become a devil, or at least nothing more than all the other pro bike riders who rode in the peloton eight or ten years ago.

Anders P. Jensen
Korsoer, Denmark
Tue, 14 Aug
The Devil #2
If I remember correctly, the man that we see most of the time is named Didi Senft. He holds the world record for building the largest bicycle and has a museum of his bicycles in Germany.

Clark Smeltzer
The Ride Magazine
Cambridge, MA
Tue, 14 Aug
The Devil #3
There's really only one devil, a German guy named Didi Senft who follows both the Giro and Tour. He actually has a sponsor who pays him to do this! I recall reading that the last mile of a race was referred to (in Germany, I guess) as the "red devil's mile," and that is how Mr. Devil got the inspiration. You can see a photo of him and his giant bike on my website:

http://www.biciveneto.it/bibione.htm

April Pedersen Santinon
Castelcucco, Italy
Thu, 16 Aug
Chapeau Laurent? Give me a break
The 7-11 team were using the tri-bars and having moderate success, it took someone like LeMond, with superior ability, to understand the potential and use them with dramatic results. Later that season, the UCI rethought not tri-bars but the kind of tri-bars that could be used. The bolted on variety were, to split hairs, thought of as contrary to existing rules regarding aerodynamic aids. Allowable were one piece handlebars such as the Scott DH bar which 7-11's Sean Yates used to win a late season time trial (GP de Nations?) The reasoning behind the ruling showed how the UCI was in a quandary over these innovations that had changed the face of cycling. Any sort of aero fairing that would move the air over a rider was obviously illegal. Changing the riders body positioning by using an item that, in itself, was not aerodynamic was revolutionary and was a paradigm shift in the sport that the governing body was ill equipped to deal with (and still is!) Now the rules restrictions have become analogous to restrictor plates in NASCAR or the yearly change from Turbo vs normal aspiration in open wheel race cars.

Fignon was a stubborn, arrogant, wilful and proud cyclist who was unwilling to take advantage of available technology because of hubris, and he lost because of this hubris, not because he was cheated out of a victory. An aerodynamic helmet might have saved the Tour for him. Mr. Richards, you must be French, to want "elan" "panache" and "moral victories" rather than intelligence and efficient preparation with a unswerving drive to be the best.

Scot Montague
Dallas, TX
Chemotherapy
What people fail to take into account with Lance and his cancer treatment is that it gives him a totally different perspective on the rigors of bicycle racing. The mental toughness and suffering required to endure chemotherapy have increased his tenacity while on the bike.

As a result of the chemo Lance truly understands "suffering" and it has nothing to do with racing his bike. When the racing hits the mountains and the other riders begin to "suffer" as the climbs go on, Lance has been to a level of suffering that makes bike racing pale in comparison. When he attacks and makes other riders feel like "they are going to die" Lance knows and understands that the pain will soon subside and he can get on with his life. He has endured suffering that none of his competitors can understand, the pain endured during a bike race is nothing compared to the pain endured during chemo. I believe this is what makes him great.

Don Burger
Washington, DC
Tue, 14 Aug
Commentary #1
With regard to Bob Roll's pronunciation of Tour de France as 'Tour day Frants', I would hazard a guess that it is the US Cyclist's equivalent of 'the King's English'. As previously noted, Bob's pronunciation of the rider's names is too good for him just to flub Tour de France.

Anyone who was a cyclist in the US when LeMond was winning his Tours was painfully aware that he pronounced it 'Tour day Frants'. LeMond can be credited with bringing the Tour to the US and he was definitely an inspiration and a guiding light to the riders of Bob's generation. As good as Armstrong is and as good as he gets, LeMond will always be the US King as far as the Tour day Frants is concerned.

Trevor C. Thorpe
Tue, 14 Aug
Commentary #2
Finally, Adam Nugent has brought a level of sanity to the discussion of OLN's coverage of the Tour. And, what he had to say was given in lucid prose that makes his point without the hysteria of some others. That is, Roll was good. Liggett still has yet to learn how to pronounce the word "Giro" but brings a long history to the Tour with his commentary. Paul Sherwin engages in some extraordinary imagery that mangles the language at times and occasionally corrects his partner in a diplomatic and unoffending way. And Bob Varsha does not know the nuances of a difficult sport to explain to an American audience but did an admirable job nonetheless.

OLN is to be commended for its coverage of the Tour, and the Giro before it, and I assume the same quality will be extant for the Vuelta. Sit back and enjoy, folks, and end the carping.

Andy Farrand
Tue, 14 Aug
Commentary #3
As a fan of bike racing since the '70's, I wholeheartedly agree that OLN's coverage was beyond excellent! Back in the '70's, my sources for Euro racing were Mirroir du Cyclisme and La Gazzetta della Sport, which were always a couple of months late. Sometimes the Canadian Broadcasting Corporation announced results on their news program.

Compare that to the OLN coverage! As far as Bob Varsha is concerned (or Karsten, and even Pierre Salinger!), here's what I think: The network wants a lot of eyeballs. The coverage, and commentary by Phil, Paul, and Bob, will draw tifosi like you and me. But the network wants new viewers (what if you or I die?) to boost the eyeball count. So a guy like Varsha, Karsten, or (shudder!) Salinger, is hired along with a scriptwriter, who writes scripts based upon marketing surveys. Varsha reads the script and the targeted audience is drawn to, and hopefully becomes a fan of, bicycle racing. They know you and I will watch the show, EVEN if Salinger did the race coverage reporting!

Leonard Ke
San Francisco, USA
Tue, 14 Aug
Commentary #4
Overall OLN's coverage of the TdF was excellent, and a far cry from coverage of tours past. Only one suggestion, if you feel that the American audience needs to hear an American voice during the intro and outro of coverage, make it someone like Frankie Andreu.
James King
Seattle, WA
Tue, 14 Aug
Commentary #5
My point on Bob Varsha (and Adrien Karsten before that, and what's his name before that, and ...): Do baseball, football, basketball or hockey have a similar person that sets the transition to and from commercials? Of course not. Then why do we have to suffer this in cycling?
John Spevacek
Minnesota, USA
Wed, 15 Aug
Four stages #1
In 1979 Hinault won 7 stages. In 1981 Hinault won 5 (including 1 prologue). Impressive, but not compared to Merckx.
Merckx's record is even more impressive: 6 stages in 1969, 8 in 1970 (including 1 prologue), 6 in 1972 (including 1 prologue), 8 in 1974 (including 1 prologue).
There are riders before Merckx (Anquetil, Coppi, Bartali, Frantz, Thys, Leducq, Petit-Breton) who won at least 4 stages including the overall. There aren't too many people who have done that.
A fun thing to do is to look at the Cyclingnews Tour TdF historical archive for past winners, and then search the names in the official Le Tour database (www.letour.fr), to see who won what.
Jack
Mountain View, CA.
Tue, 14 Aug
Four Stages #2
Let's give Hinault his full credit. In 1979 Hinault won 7 stages, not 4. Additionally, it would be nice to see the stars of this generation (Armstrong, Ullrich, etc.) make the attempt to dominate the Tour in the manner of Hinault and Merckx. They already choose to miss the bulk of the race season to perform well in July, so why is the winning the Tour along with 1, 3, or 4 stages enough? Hinault and Merckx racked up the stage wins after scoring wins in classics in the spring and still had reserves for the autumn classics. If the whole season boils down to 3 weeks of racing, I'd like to see them pushing their limits all the way to the last circuit on the Champs Elysees. In 1979 Hinault and Zoetemelk sure did (no tacit concession of victory at the end of the mountain stages), even though the criterium circuit, world championships, and fall classics were still to come. Maybe riders on other teams would resent their "greed," but since they only ride a few weeks and a few races together, the resentment could be ignored and forgotten.
I know times are different now and that season-long domination is unlikely to occur ever again, but I have to express my disappointment in not getting to see the riders with the most ability using that ability for more than just a few months per year (thank goodness for Ullrich's performance in the Olympics as well as his intention to ride the worlds this year). As much as I greatly admire Armstrong, Ullrich, Indurain, and any other Grand Tour winner, riders like Dekker, Zabel, Tafi, and Tchmil do as much as the Tour winners to satisfy my desire for inspiring performances throughout the year.
One last tangential thought: I wish the UCI would put the World Road Championships back at the end of August. It would certainly help encourage a great number of stage race specialists to participate (yet if they don't, it's their loss -- even in October).
Please don't regard these comments as dissatisfaction with this year's Tour or Giro (or Tour de Suisse) because I enjoyed them immensely and I anxiously await the Vuelta. I guess I'd just like to see some current riders show a corresponding hunger and drive for multiple victories to match their talents and obvious abilities.
Maybe Cadel Evans or someone still in his career's infancy will be dominant all season long someday. At least a high standard has been set for riders of the future.
Dave Hunt
Ivins, Ut USA
Tue, 14 Aug
Jan Ullrich again
I wrote quite a few letters prior to the Tour this year trying to make the point that Jan Ullrich wouldn't arrive at the Tour at his best and thus would lose to Lance by more than a little bit. I thought then (and still do) that this was such an obvious prediction to make that I haven't bothered trumpeting about how great Lance was relative to Jan, etc. and how clever I was for predicting it. (Although I do have a chuckle when I think about all those guys, one in particular, who predicted that Jan would beat Lance by "5 to 10 minutes")
Jan rode well and it was widely touted by his handlers and the media that this was the best Jan yet, with Jan being in optimal form for the race. However, I am not so sure. I don't have access to Jan's physiological data such as weight, body fat %, power output, etc. so I can't be too sure of my theories about this matter. However, I also do not have the burden of personal biases, positive thinking mind games, or journalistic hyperbole to cloud my judgement.
I have watched Jan at the Tour since 1996 (on TV in 96 and live in 97 and 98). I think that Jan was better in 96 and 97 than he was this year. Thus, I think that the cycling fans of the world can see an even stronger Jan Ullrich to possibly challenge Lance Armstrong in the future and make for an even more spectacular Tour de France. Obviously, this depends on Jan's work during the off season, so that he not only finds his optimal weight before the Tour but finds it weeks, as opposed to days before the start.
I have found two photos of Jan in at the kill on the third and last climb of a tough day in the Tour de France.One pic is on Alpe d'Huez this year, the other is on Courchevel in 1997. I think that Jan is clearly carrying more weight in the 2001 photo. A close look at Jan's left thigh in the 1997 photo reveals that the guy is showing a "cut" of his thigh muscle THROUGH the spandex of his shorts. There is only one guy that springs to mind who can show muscle definition through a spandex outfit, and he comes from planet Krypton.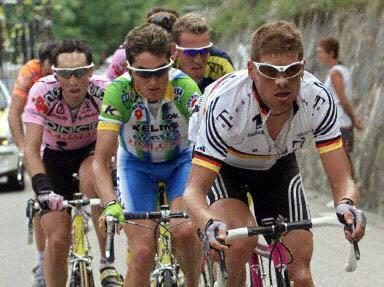 Jan Ullrich, Stage 10, 2001
Photo ©: AFP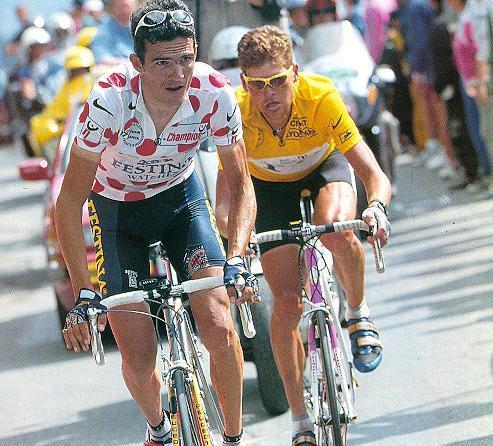 Ricky and Jan, 1997
Photo ©: Scott Goldstein
Jan WAS Superman in 1996 and 1997 (although he did crack late in 97... chalk it up to youth). I think Jan needs to quit listening to the media and his handlers and look at some old photos and video himself. If he listens to his handlers, what more can he do? Supposedly he was at his very best for the 2001 Tour and Lance spanked him good. I think the best Jan Ullrich (and the best Tour de France) is yet to come.
Scott Goldstein
USA
Wed, 15 Aug
Hamburger
In response to the guy who quotes Willy Voet to discount Bjarne Riis' position on Bo Hamburger - why should anybody take Willy's word for it?
I'm not saying one way or the other that Voet is or is not telling the truth about Riis, but in automatically believing one guy's printed words with or without proof, you give a whole lot of power to that one man. That's the whole problem with these kind of accusations/confessionals. I could make up anything I wanted to about another cyclist and get it printed and if I had the contacts and position to make it all seem believable, then I can get away with it.
Doping is serious. But if you want it to be treated as serious and not as a soap opera exploited for entertainment, then stick to the facts and not hearsay, no matter how "reliable" the source of the hearsay may seem.
Bridgette Fleming
Florida, USA
Tue, 14 Aug
Mapei rider down at TdF
I was on the Champs Elysees for the final stage of the Tour de France a couple of weeks back while on vacation in Europe. During the 'parade lap' for all of the riders completing the race, one of the Mapei team cars ran down one of their own riders. This event occurred on the opposite (downhill) side of the CE from my vantage point.
Leaving Paris for another destination that evening and not having internet access or being able to read any of the local press I was never able to learn exactly what had happened or who was involved. I had asked a friend here in the US but he said he never saw any news about this event.
Any ideas what occurred?
Jeff Bauer
Boulder, CO USA
Tue, 14 Aug
National rankings
"Forza Italia" and "Former USSR"
Thanks for posting the UCI's updated national rankings in your August 14 News. Predictably, Italy tops the table with 13,086.6 points -- well clear of second place Spain (9,060) and third place Germany (7,508).
It's interesting (though admittedly idle!) to contemplate what these same rankings would have looked like absent the political changes of the past dozen years.
Russia currently has 4,018.5 points, placing it in ninth position and entitling it to send 12 men to the World's. But the various nations which formerly comprised the U.S.S.R. collectively account for a whopping 17,242.1 points -- nearly a third more than Italy's total, and more than Spain and (a now-united) Germany combined.
Nearly four dozen riders from independent nations which were formerly Soviet republics have qualified to race in the men's race in Lisbon -- 35 more than the allotment the USSR would have received. Here are the numbers:

UCI rank                    points     # riders qualified
 
9 Russia                    4,018.50   12 
10 Kazakhstan               3,465.60   12
13 Lithuania                2,754.00    8
14 Latvia                   2,697.50    8
21 Ukraine                  1,652.50    2
23 Estonia                  1,435.00    2
26 Moldavia                   761.00    2
42 Kirghyzstan                196.50    1
46 Belarus                    150.00
48 Uzbekistan                 112.00
                           17,242.10   47
Richard Burkholder
USA
Tue, 14 Aug
Team placings
I found this in the 1997 archived Le Tour official Web site, under the "Regulations" section. It is the complete "rulebook" for 1997's Tour. I assume it hasn't changed much at all. Oddly enough, I couldn't find the official regulations on this year's Tour Web site.
Maybe it is too boring to look through, but I think it's pretty interesting.
e) General team classification
The general team classification is determined by adding each team's best three individual times for the prologue and every stage.
In the event of a tie in the general classification, the order of teams is determined based on the number of stage wins by team, then their number of second places, and so on until a number of places obtained by one of them enables them to be finally placed.
A team reduced to fewer than 3 riders is eliminated from the general team classification.
Jack
Mountain View, CA
Tue, 14 Aug
Lisbon Road Worlds #1
Re the query about the road worlds courses in the current letters: it appears, after you fight your way through the Flash animation to the rather badly organised info on the official website, that all the courses for the Worlds are on the western outskirts of Lisbon, south of Benfica, with the start/finish area (same for all events) on the northern side of the circuit.
Roger Hughes
Thu, 16 Aug
Lisbon Road Worlds #2
Some information is available on the UCI site http://www.uci.ch/english/road/worlds_mondiale/worlds_2001/ but the details you need are available on the official site http://www.fpc2001.com/ , available in English, Portuguese and French. It has course maps, profiles and the route details, as well as the full schedules. Warning: It is a Flash presentation that will take over your desktop, so make sure your boss doesn't creep up behind you!
Lucy Power
Wed, 15 Aug
Americans in Paris
How about 260 million Americans? Some can ride. Some can swim, play basketball, baseball, ping pong or whatever. We have a great system that allows people of many different backgrounds to be successful and the widest range of activities and professions. My only question is why are we not more dominant in both road and mountain biking?
Eric Erickson
Boulder CO USA
Tue, 14 Aug
Lance's a spinner #1
In the 1995 Tour, Pantani's mechanic said he had a 21 on for Alpe D'Huez and did not use it at all. I was on the last part of the climb, which is not the steepest, and Pantani came past me in the big ring.
This year when I was there, I heard Armstrong had a 23 in the Pyrenees (where I saw the race) and wished he had a 25 on for at least one the mountain top finishes.
Paul Whitworth
Roseburg OR
Tue, 14 Aug
Lance's a spinner #2
By spinning at a high cadence, Armstrong is taxing his cardiovascular system (lungs and heart) while saving (relatively speaking) his legs from the build-up of lactic acid. the theory here being that the heart and lungs recover nicely but once the lactic acid builds in the muscles, there is no escaping real fatigue.
The work though is in being able to train the cardio system for the enormous strain that such a cadence requires.
Joseph Marinaro
USA
Wed, 15 Aug
Let's not do Giro vs Tour
Let's not start discussing the merits of the Giro vs. TdF again. The Giro and the Vuelta have worked hard to improve the quality of racing, but until either become the focus of all the top riders, then they will pale in comparison to the Tour. The tour is sometimes predictable because the great champions who can win, do, while the Giro has too many opportunist victories by lesser men. (Having said that, Andy Hampsten's win in the Giro, by way of the Gavia, in 1988 is one of my favorite sports moments, even though I have never seen more than a moment of race footage from 1988. I have read every account of that singularly heroic stage I can find. Even 13 years later, Bravo Andy!)
One issue I would like to see discussed is the small number of riders who started the Grand Tours in the past. Some of the past Tour de France start lists (60's and 70's) were less than 150 riders. Were cyclists resigned to lose to King Eddy, or were the numbers of available professional talent smaller due to fewer top teams? Or has the 'mondialisation' of cycling produced more top notch talent? It seems to me that the talent level worldwide has increased so much that even Eddy Merckx would have many fewer victories if he competed today (I'm sure he would still have numerous quality victories though).
Scot Montague,
Dallas, TX,
Tue, 14 Aug
'Rooting'
Americans also like to "have a pull on the front" in races, I think that's best done in private.
Scott Johnson
Australia
Armstrong vs Merckx #1
Merckx started approximately 1500 pro road races in his career, at least this is what I read. Out of those 1500 starts, 500 victories. 1 win out of every 3 times he toed the start line... Nobody is ever going to compare with that. And to have those comparisons made, just doesn't do Merckx justice.
Tom Arsenault
Greensboro North Carolina USA
Tue, 14 Aug
Armstrong vs Merckx #2
While Merckx was certainly the dominant rider of the sport, there's one facet of that dominance that seems to be overlooked fairly often: he tested positive in drug tests, did he not?
Now the point of those references is not really to slander 'heroes' so much as it is to suggest that the 'old' way of racing that people keep suggesting as being the way that riders like Armstrong and whoever else comes along should follow is as corrupting as being a professional rock musician. Of course people (read: race promoters) want stars to do every race (unless, like Merckx, they win all of them and make it boring). The result is a cynical attitude of 'do what it takes to show up prepared to perform'. Thus, the predictable conclusions that folks draw from comparing Merckx and Armstrong fail to consider that there might actually be something more humane in the 'American' approach that Armstrong, LeMond, and Indurain have taken. (And if it's so American, what do we do with Bruyneel, who cooked it up for Armstrong)?
Armstrong's carefully chosen calendar does provide some support for the notion that he's 'clean'. Now he just needs to win Paris-Roubaix...
Richard McLamore
Abilene, TX
Tue, 14 Aug
Armstrong vs Merckx #3
I would like to make a comment on Armstrong's riding and the way he prepares for the TdF.
First of all the competition back in Merckx days was not even close to being as hard as it is now! Have you ever asked yourself what Merckx had for breakfast? If you think drugs is a problem now, can you imagine what it was back then?
If you say that Armstrong isn't performing well during more than the TdF you probably missed the last couple of Amstel Gold races. And what about last year's Zurich race?
To those of you that blame him for only focusing on the TdF should by now realize that what he is doing is the right thing! All the other top riders are doing something similar, but they don't succeed and the reason for that is simply because they are not up to his standard and never will be.
Ullrich will never win the TdF as long as Armstrong is racing! I think everybody knows that if LA can win any race he desires, but the TdF is the hardest, biggest and most prestigious race there is to win! Saying that the Giro is harder is nonsense! I think even the Vuelta over the past 5 years has passed the giro in class and is regarded a harder race than the Giro!
In the Giro there are Italian riders who do well, but do you here their names mentioned before or after the Giro? Hardly! Comparing riders is difficult but if you look at average speeds Armstrong is at least as good as Indurain or any other previous winners.
The only thing that disappoints me about Armstrong is his absence from the Vuelta!
Torbjoern Flaten
Wed, 15 Aug
Armstrong vs Merckx #4
Respectfully, I disagree with your assessment of Lance. The man has demonstrated that he can suffer through, and win, classics and stage races. I admire Jan Ullrich greatly for his physical capabilities, but he hasn't done much in any season over the last 3-4 years prior to the TdF. Using the Giro as training may be appropriate as a tune-up to the Tour, but does that really satisfy his sponsors? He may come on strongly at the end of the season (Vuelta, etc.) but were it not for the Olympics last year his year could be considered a failure. The difference is that Lance has focus and drive that few other riders will ever achieve. He races just as hard in one-day races as the Tour, but the dynamics of racing are different these days.
I would argue that today's athletes are (and leave doping out of the equation for the moment) better physical specimens and have better resources and training methods at their disposal than riders of yesteryear. To be sure, Merckx was dominant and so was Hinault, each in their day. But would they be as dominant today? We'll never know, and that's the beauty of changing generations of athletes. We can argue it for all of time.
However, I'd argue that Lance's drive, focus and determination easily rival that of Merckx, Hinault, and perhaps a few others. That is why Lance garners the respect of a great champion like Eddy Merckx. Lance paid his dues as a "working rider" in the early years. But over time he has fine-tuned his knowledge of his strengths and weaknesses into the program necessary to become a great stage-race champion.
You mention Cipo. Do I still admire Cipollini even though the man has never finished a Tour? Absolutely, because the guy has realized that he is a pure speedster and therefore focuses solely on his strengths. It's probably better for his sponsors that he win stages and withdraw rather than be eliminated on time. Cipo has shown he can win the one day races but he, like Lance, is extremely focused. It's just a different focus. I think that Lance's refusal to put himself on the same exalted plane as Merckx, Hinault or Indurain speaks volumes about the man's awareness of history and his place in it. In the end, the respect these great champions accord Lance tells the story. They make no mention of his "only training for one race". The man can flat out ride a bike and for that we should be grateful.
Ned Siegel
Wed, 15 Aug
Armstrong vs Merckx #5
Let's not forget a close 2nd place at the Amstel Gold Race, a 2nd at Classique des Alpes and a Tour de Suisse victory. I would say that's a bit more than "4 or 5 days". And the TdS + TdF double hasn't been accomplished since '74, which was by none other than Merckx - I think it is agreed that there will never be another Merckx.
James Selman
pdx, USA
Wed, 15 Aug
The last month's letters