---
Bill: In the January Wielerrevue you said that "Mijn Seizoen is al lang goed, ... Ik kan toch niet alles winnen? (My season is good so far but I cannot win everything?) How are you coping with the pressure and expectations that are on you now to win on Sunday?

Sven: I really don't feel any pressure because the season was very satisfying. It's up to the other racers to beat me on Sunday. I'm just 22 and have the future ahead of me.

Bill: You mentioned in the same article that your thought that "De Clercq, Pontoni, en Van der Poel zijn wat mij betreft de grootste kandidaten voor het wereldgoud." (These three are the main threats on Sunday!)

Do you still think that? What about the great form that the Swiss Thomas Frischknecht has shown in recent weeks?

Sven: I still think that De Clercq, Pontoni and Van der Poel are top-favorites for this weekend's challenge, and I certainly count on Frischknecht being in very good form. I think we are all very competitive at the moment.

Bill: The parcours at Soumagne was very heavy and muddy - not really suited to you. My friends in Poprad tell me that parcours there is mostly fields with good drainage - there is very little chance of it being heavy and muddy. There are two sealed-road sections, one of which is downhill (mid-course), and several jump-obstacles. It sounds like the parcours will suit you Sven? Do you know much about it?

Sven: I heard that the last few days it has been snowing in Poprad, and thus it will certainly be a fast race. This is an advantage for me, but nevertheless I'll have to wait until I see the parcours to make a statement.

Bill: What set up on your bikes will you be running. pedalen? velgen? banden? zadel? front chainrings? back freewheel?

Sven: I will be racing with Time pedals, Antarra Carbon velgen (rims), Clement tubes, Samarca saddle, front chainrings 39-46 and I will have one bike with a single front 42-tooth chainring. The back freewheel is equipped with a 12-25 cluster.

Bill: You also told Wielerrevue that "De SP is voor mij een verloren zaak, maar de wereldbeker moet ik kunnen winnen en het Belgisch kampienschap is een ander doel." (In other words the World Cup and the Belgian Championships were very important)

You started the SP season like a train, and have performed well there. But in the World Cup your performance, while good, have not matched the SP results. You also seemed to have a flat spot in mid-season. Was there any problem or was this planned so that you will be good on Sunday?

Sven: I think that I've had only one off-day and that was at Zeddam. The rain and cold affected me after half an hour racing. I personally think it was in that race that I lost the World Cup.

Bill: You also mentioned you were happy with the bronze and would be very fresh for the Worlds on Sunday. What training have you done this week to ensure you are ready?

Sven: I only trained on the road this week. Tuesday has been the most important day with 135 kms. Wednesday I trained 90 kms. Thursday I will travel to Poprad. On Friday and Saturday I will be riding for recuperation purposes only and will be focusing on suppleness.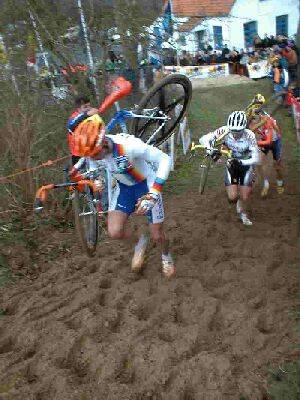 Bill: While Mario De Clercq says it is his Mother Mary cross which gives him luck you have said that food is very important part of your preparation. What things are you eating this week? The normal pre-race meal - spaghetti, coffee and rice pudding?
Sven: In the beginning of the week lots of vegtables and at the end of the week plenty of spaghetti.
Bill: How do you explain the abundance of talent coming out of Flanders in cyclocross now. Yourself, Bart, and down in the nieuwelingen division Geert Wellens?
Sven: A great part of the successes by Flemish riders at present is due to the work and programs of our national coach Erik De Vlaeminck. But one can't win without a lot of training and there has to be a certain amount of talent of course.
Bill: You get a lot of support from your townsfolk? How important is that?
Sven: My fans are very important to me. In every race I get a lot of support from them, and this makes me do just a little more. Every cross there are approximately 100 to 150 fans that go by bus to see me. In the Superprestige at Diegem there were more than 300 fans.
Bill: How many supporters (and buses) are going to Slovakia?
Sven: In Slovakia we'll have a bus with 50 fans and also some fans will travel by car. In total about 60-70 fans from my official fanclub. But there will be also fan's from all over the country which will be there on their own initiative.
Bill: Who are your role-models in bike racing?
Sven: Adrie Van der Poel is certainly my role-model in bike racing. He's is now almost 40 and still he is at the top of international racing. He's also still very driven in what he's do´ng and focuses on his profession.
Bill: Being a 22-year old, what other things do you do in your spare time?
Sven: I never drink alcohol, but when the season is past, I like to be with friends to have a good time. One of my favourite hobbies is Snooker.
Bill: Favourite music?
Sven: I like the modern music, like Touch of Joy, but I don't know if this Belgian group is well known in Australia.
Bill: Not sure. I don't think so.
Bill: Bart Wellens is working part-time in a bike shop. Do you do anything like that outside of training?
Sven: At the moment cyclo-cross is a full-time job for me. I don't have much time for other things. Maybe I will have a house built for me and Sally at the end of the season, and that will take all the time I have spare.
Bill: What is a typical training week? Derny? Road? Skills?
Sven: 1 day a week derny work behind a car, almost every day on the road, which is for me the most important training, and 1 day a week running and skills.
Bill: The future? Do you have any aspirations on the road?
Sven: I might have aspirations on the road but I will first try it this year with the Elites before I can really know what I can do. I will certainly try it.
Bill: Marc Janssens, the Belgian champion, won't be there on Sunday. Any comments on that issue? He was in strong form!
Sven: Actually I have no comment on this issue. Marc was indeed in good shape. I think he is going through a very difficult time now. I am focusing on my own preparation though at the moment.
Bill: Well, Sven, thanks for the talk. And of-course, for Sunday - Veel Success! (even if I have a soft spot for Mario!)
Sven: Thanks and personal regards.
Bill: Thanks also to Patrick Nijs for his help and the excellent Home Page.
Sven's Major Results for 1999:
2nd Esechenbach, Switzerland, World Cup Round 1
1st Tabor, Czech Republic, World Cup Round 2
4th Leudelange, Luxembourg, World Cup Round 3
5th Koksijde, Belgium, World Cup Round 4
9th Zeddam, Netherlands, World Cup Round 5
5th Nommay, France, World Cup Round 6
1st Ruddervoorde, Belgium, SuperPrestige Trophy Round 1
2nd Asper, Belgium, SuperPrestige Trophy Round 2
1st St. Michielsgestel, Netherlands, SuperPrestige Trophy Round 3
1st Gieten, Netherlands, SuperPrestige Trophy Round 4
1st Silvelle, Italy, SuperPrestige Trophy Round 5
6th Overijse, Belgium, SuperPrestige Trophy Round 6
4th Hoogstraten, Belgium, SuperPrestige Trophy Round 7
1st Diegem, Belgium, SuperPrestige Trophy Round 8
2nd Surhuisterveen, Netherlands, SuperPrestige Trophy Round 9
1st Wetzikon, Switzerland, SuperPrestige Trophy Round 10
Third in 1998-99 World Cup with 177 points behind Mario De Clercq 206 points
Current leader and certain winner of 1998-99 SuperPrestige Trophy
Sven's Previous Cross World Championships:
1997 at Munich, silver to Bart Wellens
1998 at Denmark, silver to Bart Wellens