Heiko's plans for Britain's track team
As reported on Cyclingnews last week, the renowned cycling coach Heiko Salzwedel has been appointed National Track Team Manager for Great Britain's track squad. His appointment is part of British Cycling's World Class Performance Programme (WCPP) and part of the country's push to become one of the powers of track cycling, with the goals being the World Championships, the Commonwealth Games in 2002 and finally the Olympics in Athens in 2004.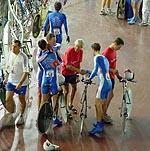 Britain's Team Pursuit squad won Bronze in Sydney 2000.
Photo: Cycylingnews

German by birth, Heiko is perhaps best known as man behind the Australian Institute of Sport's successful Men's and Women's Road and Mountain Bike programmes during the nineties, which produced riders like Patrick Jonker, Anna Millward and Cadel Evans. In 1999 Salzwedel guided the German cycling team to four golds at the Track and Road World Championships, including Jan Ullrich's memorable win in the Men's Time Trial.

Cyclingnews caught up with Heiko just after he returned from sprint training sessions.

CN: Why did you take up this position?
HS: HS: After nearly two years gaining experience in different areas of sports and management I always kept close contact to the cycling world, eg, through my involvement, with the Saturn cycling teams on the elite level as well on the grass root level as Vice President of the Hessen Cycling Federation.

After my departure from the German Cycling Federation I became an adviser for UK Sports. My first task was a Monitoring & Evaluation Assessment of the World Class Performance Programme of the British Cycling Federation. Although I have known Peter Keen already for many years I was impressed about his approach and his vision. There was this 'gold digger feeling' and excitement amongst staff and athletes which reminded me of our start in Australia when we (Andrew Logan, Brian Stephens and myself) begun to establish the AIS Road Cycling unit in Canberra. This team spirit and atmosphere was nearly forgotten.

Since then Peter and myself stayed in close contact, we exchanged ideas and I become involved in some BCF projects. Consequently, Peter approached me about the possibility of a permanent employment with the BCF. At the same time I was already in contact with the USCF who have been looking for an National Endurance Director. Peter and Dave Brailsford persuaded me in such a way I had no 'excuses' and no 'argument' against my return into full-time cycling. The burning desire to move something and the realistic chance to establish GB amongst the leading (track-) cycling nations in the world left no other choice than to sign the contract until Athens 2004.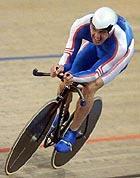 Jason Queally won Gold in the kilo in Sydney 2000. Photo: AFP

CN: What will be your first task or official duty? When do you start?
HS: Today, I returned from a training camp with the GB sprint group in Cottbus. (So) We could find a suitable environment and a very committed sprint coach to work with the group until the World Championships. As the Track Team Manager of British Cycling I will lead the national team at the World Championships in Antwerp.

CN: Where do you think the most potential lies within the British squad? Who do you see as the favourites for the upcoming World Track championships?

HS: What I gathered so far, is a bit mixed. Generally speaking, this is a consolidation year for British Cycling. New athletes and coaches came in, riders lived up their Olympic success and a new management structure with a focus towards Manchester 2002 and Athens 2004 is now in place.

The pursuit team and Bradley Wiggins had a fantastic season and most importantly, they have six excellent riders to choose from. Paul Manning had brilliant form until he was hit by a car a week ago, but he may recover for the Worlds. Jason Queally tried a couple of new things, which took some time off from his focus. But I am sure, he will be as strong and motivated as usual to lead the Olympic Sprint team towards new success. Chris Hoy won the first WC in the kilo, Craig McLean had a great placing in Keirin and in the Sprint races.

Germany and France will aim for the majority of medals, but GB is not any more the underdog. The new team has to grow together which is not a matter of weeks but months and years. The major goal is Athens. Therefore, at this stage we are not interested to make any predictions for this years worlds.

CN: And if we could go back to the Sydney Olympics, on a personal note, what was the stand-out performance from your perspective?
HS: Cycling in general was a huge success in Sydney. There have been so many exciting moments, both on the road and on the track. I am not able and not willing to provide a "ranking". The big TT fight of the 'Giants' Lance and Jan, which was topped by the former Pursuit World Champion Ekimov, Leontien Ziljard's three gold medals and the Telekom victory with the upcoming star Andreas Kloeden from Cottbus was already thrilling enough.

But the dramatic competition on the velodrome was for me not less exciting. Scotty's and Brett's first Gold in the Madison, Jason's sensational win in the Kilo and, of course, the super class competition in the Team Pursuit was a true showcase of this beautiful sport. On a personal note, Jens' "grand finale" in the individual Pursuit brought back some good memories back to '89 when he placed second behind Ekimov.

Related stories:
In discussions with Saturn - Oct 10, 1997
Heiko Salzwedel's departure from the ACF - Nov 21, 1997
AIS pledges support for Salzwedel - Dec 2, 1997
Transcript of ABC radio interview - July 5, 1998

Other Talking Cycling Interviews
---