Cyclingnews talks with Marty Nothstein
By Mike Kallal
King of the hill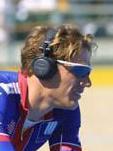 Relaxed
Photo ©:Tim Francis
Bio: Martin Wayne Nothstein
Born: February 10, 1971
Raised & resides: Trexlertown, Pennsylvania, USA
Wife: Christi
Children: Son, Tyler; Daughter, Devon
Nickname: "The Blade," for ability to come-around at the last second, winning by 'razor-thin' margins.
Family background: Marty is the fourth of five Nothstein children, and grew-up in the Allentown, Pennsylvania area. His semi-retired father Wayne's automotive business, Nothstein Motors, is within 10km of the Leigh Valley Velodrome. Marty's paternal great grandfather was an accomplished turn of the century bicycle racer, and bare-knuckle prizefighter.
Career
United States
1988: US Jnr match sprint champion, 16-17 yr old class
1989: US Jnr match sprint champion, 17-18 yr old class
1989-92: U.S. tandem match sprint champion
1993, 1996-2001: US match sprint champion
1993, 1996-2001: US keirin champion
1996-2001: US Olympic sprint champion
2001: US 1000m individual pursuit champion
International
1994: World match sprint champion; World keirin, champion
1995: Pan Am Games, Match Sprint, 1st
1996: World keirin champion
1996: Cali, Columbia WC, match sprint, 1st; keirin, 1st
1996: Havana, Cuba WC, match sprint, 1st; keirin, 1st
1997: Cali, Columbia WC, match sprint, 1st; keirin, 1st
1997: Adelaide, Australia WC, keirin, 1st; Fiorenzuola, Italy WC, match sprint, 1st; Quatro Sant'Elana, Italy WC, keirin, 1st; World Cup match sprint champion; World Cup keirin champion
1999: Pan Am Games, match sprint, 1st; keirin, 1st; Olympic sprint, 1st
2000: Cali, Columbia WC, match sprint, 1st; Olympic match sprint champion

Marty Nothstein has won everything there is to win in track sprinting. Now he's looking for new challenges at longer track distances and on the road. Could he take Lance in a sprint? Or Cipo? Can he lower the kilo record? Cyclingnews talked with the athlete and his family at their home, outside Trexlertown, Pennsylvania.
The new Nothstein family 'digs' sit on a high hilltop, commanding an impressive view of the surrounding wooded countryside. The estate is one of three on the crest. The Nothstein home sits in the middle of the other two equally large houses, somewhat higher in elevation than either the one on the right, or the left. The analogy to a podium was unplanned, but remains appropriate. The uppermost spot is a position Marty Nothstein has thorough experience with, but the climb there has not always been an easy one. His 1994 match sprint and keirin world championship double was won on a broken heel bone. In 1995, Nothstein contributed to U.S. bronze in the World Championship Olympic Sprint, despite riding with a fractured kneecap. The 2000 Olympic Games match sprint gold medal has been Nothstein's greatest accomplishment, and it's achievement his most difficult quest. Through every challenge, failure, and success, bicycle racing has remained Marty's Nothstein's defining passion.
Off the bike, Nothstein is an avid hunter and outdoorsman. The house contains nearly as many record book big game trophies as cycling palmares, including the mounted head and neck of a huge bull elk Nothstein bagged with traditional recurve bow & arrow.
At home he is every bit the family man. Our introduction was delayed by father and son taking a little extra time to clean Dad's road bike after one of Marty's long days 'at work.' His wife, Christi assured me her husband is just a big kid.
The past: losing in Atlanta, winning in Sydney
CN: Did you win silver in Atlanta, or did you lose gold?
MN: I lost a gold medal. In my sport, I lost. It was a one-on-one. A match sprint is like a boxing match. You get beat, it's plain and simple.
CN: Talk a little about the transition from 1996 to 2000
MN: There's maybe about six guys that are the best of the best in international sprinting - just a class by itself. I was always there. I went to several world championships, and I'll be the first to admit it - I wasn't very motivated. I'd been the world champion before. Along the way I won medals in the world championships. But, once again, I was just so focused on the Olympics that it didn't matter to me. It was time for me to step up to the next level, and that was win in the Olympics.
CN: You came in about five kilos lighter for Sydney.
MN: Yes.
CN: What in the training did you alter?

Training at Sydney
Photo: © AFP
MN: I thought I could use a little more quickness. Looking back at pictures from '96, I weighed 218 pounds for the Olympic Games - like a Hulk on a bike. If we could just lose about ten, fifteen of those pounds, plus increase your strength, you're going to be incredibly quick. That's what we worked on for the last two years going into the Games - strength and quickness.
That's what I started training towards, more like the Olympic weightlifters. These guys have incredible explosive power. I trained very similar, and it worked. Nobody could 'snap' the big gear like I could. I even went to the extent of training with the local college football team, doing speed running drills, and power drills. Stuff like that helped, incredibly. It's just training the brain to be quick - to Fire when you had to Fire. It was perfect. I beat Rousseau with a 50 [50/14 gearing]. I've been recorded at over 2200 watts.
CN: You're kidding me!?
MN: No. There's some power in these legs.
CN: What does that wind-out to?
MN: About 160rpm. I've hit 50[mph].
CN: Do you normally sprint in a 50T?
MN: 49, or 50.
CN: You don't even use a 48 anymore, do you?
MN: No, 48 - that's like… a warm-up gear. The athletes, in general, are getting faster, and stronger.
CN: 50 is the gear of choice in a match sprint, now?
MN: I'd probably sprint on a 50. The problem is, you've got to be able to 'snap' that 50 - you've got to move it. If you get stuck flat-footed, you're a dead duck.
Nothstein qualified first in the match sprint for the Sydney Games - something he'd never done, before. He didn't lose a single heat. If you didn't see coverage of the ride for the gold medal, Nothstein worked three time world match sprint champion Florian Rousseau over badly. The French sprinter 'sat up' both rides, dejected.
CN: In 1996, you did not seem to have that kind of quickness. You were obviously very large, very strong, but not quick.
MN: In 1996, I was the strongest, fastest guy there. There's one thing I lacked, and it was quickness. When I sat-down with Gil (Hatton), and Anj (Bek) a couple months after the Games, and said "Well, why'd we lose this? Maybe it's quickness. If we were a little quicker, we wouldn't have let Feidler get in front of us." It's tough when you say "You've got to get quicker," and there's only like two other guys quicker in the world than you. One percent quicker is all we have to get to be the best in the world - in order to be the Olympic champion.
CN: On the bike, who do you train against? Do you train against Gil on a motor?
MN: (laughs) That's about it.
CN: Do you give someone a three hundred meters lead-out?
MN: I trained with Darryn Hill, leading into the Games. Hill and the Australians were over here in '99 and 2000. We teamed up, and they were great training partners, because these guys are fast, too. And, they're strong. I trained a lot on my own, also. If I had to do anything which required some incredible speed work, it'd just be with the motorcycle.
The majority of the training was probably on my own - a lot of five hundred meter efforts, a lot of flying laps. Again, they were more 'sprint specific.' In the past, I'd go and ride 80-90 percent. It'll make you strong, it'll make you strong as hell. But, it wasn't 'sprint specific.' Instead we'd do a flying lap on my race gear: All out, max speed, just like a race. Then, I'd take a break, and do it again.
After the Games, Nothstein was invited to the White House for an audience with the President of the United States. The newly minted gold medallist declined, opting instead to attend school with son Tyler for display and discussion of the Olympic hardware.
CN: I don't know if anyone has told you this, and don't 'kill the messenger,' but - dude, you 'dissed' the President!
MN: Yeah, I know. No big deal. I'm sure he'd accept it - I did it for a good reason. Would I have liked to have gone? Without a doubt. But, again, there are priorities. I was the priority leading-up to 2000. Afterwards, it was time for Tyler and Devon.
2001: Shifting gears

At the Goodwill Games
Photo: © Tim Francis
Nothstein did well in the 2001 world track cup keirin, winning two bronze medals. At the Pordenone, Italy, event Nothstein took silver in the 1000m individual pursuit. It was his first International kilo effort.
CN: Your history would suggest you have the temperament to go sixty seconds in the kilo. [This was before Arnaud Tournand recently cracked sixty - Ed]
MN: Yeah, without a doubt.
CN: Flirt with the idea?
MN: People have already predicted that. If anyone could do it, it could be me. That's tough, though. It's easy to say. Do I think if I train correctly and commit myself to kilo could I do it? Yeah.
CN: Do you kilo on 170's?
MN: Yes.
CN: Keirin on the 170's?
MN: No, '67-half. Sprint on 167.5, 172.5's on the road bike.
CN: Is that the next level - to go from competing against an individual to competition against yourself?
MN: No, I don't think so. I think I'm a competitor. I'd much rather have somebody to go against than a clock. It'd be difficult for me to change that mentality. I'd much rather go against one other guy, or a hundred and fifty other guys.
CN: Are you at all drawn to the technology of the kilo?
MN: I'm still a big believer of 'It's the man, not the machine.' A bike's going to make you go faster, there's no doubt about it. But, it's only going to make you go a little bit faster. It's the proper training, proper nutrition, everything else that's going to put you over the edge. As far as getting real technical on the bike, I've never been into that, too much.
CN: How do you respond to the critics who say "The level is too high. Can he make the switch to something that, though it's close, the kilo is very, very different? Can he switch at the highest level? No."
MN: I'd love to prove them wrong. I know I can do it. That's all that matters. I can make the switch to the road, too.
CN: For years, it was primarily you and Gil. Then, there was the introduction of Carmichael Training Systems. What was the value you saw in introducing them?
MN: It's not so much that I'm a part of Carmichael Training Systems, as I am just friends with Chris Carmichael. I worked with Chris when he was National Coaching Director - again, more as an advisor. Gil's been there, and Gil's still there. Gil will always be there. That's my right hand man. Whenever I go into battle, I know he's going to be there with me. Chris is encouraging me to consider a career on the road. He thinks I have what it takes to maybe be the next Great American Field Sprinter.
CN: Where does your VO2 test out?
MN: I have no idea. I'm sure if it's not good enough, Chris will tell me how to make it better. That's where he comes on-board, more help on the road side. It's a tough transition. I started kind-of late. I've been working hard with the big goal being next year. I don't expect any grand results, this year. It's a slow process, and I'm really trying to do a complete 180 - go from being Michael Johnson to being a marathon runner. It's difficult.
CN: You believe it can be done.
MN: I think it can be done. At first, I thought it'd be done overnight. I found out, it's going to be a lot slower than I thought. I should've listened to several people who were telling me "Marty, slow down. It's not going to happen like that. This is something that's going to take time. Look at the big picture."

Am I strong on the road? Oh, yeah. Am I fast? Every sprint I've done, I've won by lengths. Is there still a lot to be learned? There's an incredible amount to be learned. The races are hard, and I don't have the endurance, yet. I need a lot more time in the saddle - a lot more six and seven hour rides.

Be afraid
Photo: © AFP

CN: Six hundred meters out, Marty Nothstein, or Lance Armstrong?

MN: In a sprint?

CN: Yeah.

MN: After how long?

CN: A Classic.

MN: He's done.

CN: Six hundred meters out, Marty Nothstein or Mario Cipollini?

MN: Cipo's done. No problem. I know, if I'm conditioned the way I want to be conditioned, Yeah. And, I wouldn't be accepting the challenge if deep down inside I didn't think I could do it, and I didn't think I could dominate at it. So, in my typical mentality, Yeah - I think I can do it, and do it convincingly.

CN: It could be George Hincapie leading you out to the line.

MN: That'd be nice. I could use that. But, I'm also smart enough to know that I have to start here. I have to start in the States, and I have to win some races, first. I can't even fathom going to Europe, and stepping into that pool, yet. I might be confident, and cocky, but I'm also realistic. That's a year, or two, down the road. It's a tough transition. That's the major leagues. This is the minor leagues. I've got to get through the minor leagues.

CN: As much talk as we hear about doping in cycling, there's never been any association of doping with Marty Nothstein.

MN: Every sport's got drug users, and people who choose not to use them. I train hard. I think track cycling has become the front runner, as far as athletes not using drugs. The testing is too severe. The penalties are too severe.

CN: Have you been subjected to out of season, or off site testing?

MN: They could come knock on the door right now while we're talking, and they have. I've been tested nine times in 2001, (including) four times during the national championship, and then a week later.
Around the next corner

American Velodrome Challenge
Photo: © Cheryl J. Willson

CN: You played other sports, growing up. Do you ever wish you would've stuck with one of the others, presuming you could've gone to the same level?

MN: It's tough. Would I like to live that lifestyle, signing a forty million dollar contract? That's a no-brainer. I have incredible passion for cycling. I love the sport. I'm a fan of it. But, I don't think I'd trade in that Olympic moment for anything, I really don't.

CN: Do you want another one?

MN: Yeah. After the Games, I thought, "What do I need to accomplish in the sport? I've done it all. My resume is full. I just had to sit back, and reflect on my Olympic experience - on the thrill, the big build-up training into it. Knowing, telling myself "It's all going to be worth it, it's all going to be worth it." And, yeah - I want another one, without a doubt.

CN: Do you want to defend your sprint title?

MN: I don't think I want to sprint. Right now, I'm telling people I'm not going to sprint. I'd like to go for the kilo - win the kilo, or keirin. And, again, this is tough. It's four years, four more long years to go. Who knows, maybe I'll shine on the road, and take that career path. It's worth a shot. I've got plenty of time to recover, and try to get back into sprint shape, kilo shape.

Only time will tell, right now. It really depends on the sponsorship. I'm not going to - I can't afford to do it for nothing. If I can't get the support that I feel that I need, it's too difficult for me, at this stage, to commit myself. And, commit myself the way you need to commit to win the Games. You've got to make a living at it.

CN: That's a level of commitment you're familiar with.

MN: Very familiar with. And, something I'm not going to shy away from. I've done it in the past, and I'll do it, again. I know what the results are. It's just incredible. It's what an athlete trains for. It's what I train for every single day of my life, is to be the best in the world.

I am committed. But, the commitment's not going to be there without a paycheck. I can't say "Dear, I'm not going to work for two years, I'm just going to train." How are we going to pay the bills?

We'll see. I am committed to going to Athens, and who better than a defending Olympic gold medallist in America? If I was a gambling man, I'd look at Marty Nothstein's track record and say "Boy, he's been to two Olympics, and the worst he's gotten is silver. He's a pretty safe bet." I'm willing to back it up, as I have in the past. When I say I'm going to do something, it usually happens.

There are a lot of things on my plate, right now. I also want to ride the winter six-days, over in Europe. I love that lifestyle. I've been there, and sprinted at the six-days. I want to ride the Madison at the six-days. That goes hand in hand with the road riding. So, it really depends on who offers me what. If I can get some six-day contracts, I'll train for that, specifically. If I decide to train for the kilo, I'll probably stay stateside and do domestic criterium racing.

CN: Have you got another four years in you?

MN: Yes.

CN: Got another eight?

MN: Eight's pretty long. I don't know if I'd want to go eight; four, without a doubt. I feel good, I really do. My body's holding-up great. I think I've been blessed with some good joints, and some good genes. I've been injury free for quite a while.

CN: Surprising, given what you do.

MN: I attribute that to being able to handle my bike, and try to stay out of bad situations - situations that might end up hurting you. There are times when I'll put myself in a situation, and I'll just shake my head and think, "Why'd I do that?" or, "I was lucky."

CN: Where does that come from, in you?

MN: I have no idea, I really don't. I think I've been that way my whole life. I've always been aggressive, sometimes overly aggressive. Again, it's on the bike. It's just my desire to win - my desire to compete. I'll reflect, "Look at all the training I've done - years. This is my time to shine." When you're on that stage, you want to perform. For me, really, any time I'm on my bike - on that stage, I want to perform. I want to win.

CN: You don't give the impression of someone who wants to win. You seem like someone who needs to win.

MN: Yeah, I need to win. I have the addiction. I told people in 2000, "I need to win that Olympic gold medal. I committed my life to it." Even to this day, I need to win.

CN: Why?

Winning: "I like it!"
Photo: © AFP

MN: I just plain out like it! There's nothing better. The last ten years of my life have only been about one thing - winning. I see it in my two kids, which hopefully won't turn into a bad thing. They're at the point where they think Number One is the only spot. Now, I'm trying to tell them, "It's okay if you get second or third. It's not a big deal."

CN: What does that feel like?

MN: It's alright, for what they're competing at. It they ever get into a situation where they're trying for one specific thing, and that's their livelihood, you know what? Second or third isn't always good. If I'd have gotten second or third in the Olympic Games, it would've been the same old story: "Well, we didn't cut the mustard. The Americans didn't do what they were supposed to." So, it might get to the point where I have to sit them down, and tell them "You have to win, now."

CN: There's a program with your name on it at the Lehigh Valley Velodrome. So, you're already actively involved in recruiting kids into the sport. How does that work?

MN: I just try to provide a platform, a stage for the kids to compete on. Cycling isn't always a fun sport. It's difficult out there. It's an expensive sport. But, the fun part's the Race. If we can just start providing more platforms for the kids to race on, they're going to enjoy it more. [We] reward them better. I'm trying to get the kids a good experience, [to] enjoy coming back and wanting to race. I just like to be around them, talk to them about the sport, show them what cycling can do for them. I think it's a great experience for the kids to come and sit in the infield next to an Olympic champion, watch him race, and then get up there and race, themselves. I just look back, and try to do it the way it was done for me.

CN: If it were in your hands - the development of juniors, the draw of young riders into the sport, what would you do different?

Family guy
Photo: © AFP

MN: First of all, I'd try to increase (racing) license sales. I have a lot of plans that I'd like to implement. That's one thing I'd like to do in the future - get involved in the Federation, become a national coaching director, become one of the operating officers of the Federation. Because, I think I could change it, I really do. I have a passion for the sport. There are some people in there who don't.

CN: How did your (charity event) golf tournament go?

MN: (laughs) Pretty good. I took a stacked team, and won. All proceeds were for junior cycling here. I also held a silent auction, all proceeds going into junior cycling. I've combined with Tom Kellogg, who builds Spectrum bicycles, to build a commemorative bicycle to be auctioned off. If I can do it, I'd much rather see the juniors get the money than anybody else. They need help. There are kids out there with an incredible amount of talent, not just the kids we have here, all throughout the country.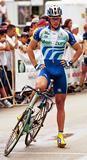 Looking solid
Photo ©:J Devich

MN: America, right now in terms of cycling, is at a very special time: You not only have the Tour de France champion, you have the Olympic Match Sprint Champion.

CN: That's never happened.

MN: No. If you go to Europe, the Europeans, they want to win the Tour de France, and the Olympic Match Sprint. That's it. The Americans own the two titles, right now.

CN: Are you made out in Europe to be 'The Bully?'

MN: I think I'm made 'The Bully' because I'm the American, because I don't spend a lot of time in Europe. I've gotten many invites to come race there. I think I'm just your typical American attitude. There are times when it is that. There are times though that they don't see [my other commitments to)]the family, my Dad - who had a stroke - time spent with my Dad, and my Mom. They also don't need to know that.

CN: Is there anything you want people to know about yourself, and your perspective on cycling?

MN: I just want people to know there's no doubt I'm a fierce competitor. That's been Marty Nothstein from a one year old boy, probably before that. But, I also want people to know I have a genuine passion for the sport. I want the sport to evolve, and become bigger and better than when I left it.
Tied to a wheel

Helping hand
Photo: © Cheryl J. Willson

We might see Marty Nothstein accelerating past the final opponent out of the last corner in a criterium next season. He may soon enough explode out of the pack down a velodrome homestretch for Olympic keirin gold in Athens. It's not impossible to imagine Nothstein with both hands in the air after winning the mass sprint finish of a European classic. No matter where the wheels take him, Marty Nothstein is determined to put himself in a position to win, and help others win bicycle races for years to come.
Other Talking Cycling Interviews
---