Cyclingnews talks with Nathan O'Neill
By Gabriella Ekström
Gabriella Ekström
After a difficult few years, Nathan O'Neill seems to be finally on track to fulfil his potential both as a time trial specialist and more broadly. He talks about the good times, the bad times, his comeback and that credit card incident.
Bio
Full name: Nathan Brian O'Neill
Born: November 23 1974
Lives: Pistoia, Italy / Toowoomba, Australia
Family: Here's an unusual situation these days. Both Mum and Dad still live together under the same roof. I also have a younger sister who is married and just had a baby boy in early January. Call me Uncle Nathan!
Education: I had some I suppose, I did 12 years of school (I finished high school) and then decided to concentrate on cycling.
Eats: Usually whatever is put in front of me
Drinks: Occasionally
Thinks: Sometimes
Reads: Whenever I am stuck in a hotel room between races.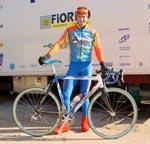 Ready for an early-season training ride
CN: How did you start riding in the first place?
NO'N: I began cycling in 1989 when I was 14 years old, when I was going to school. I started racing at my local club in Toowoomba. I soon found that my strength was racing against the clock, I guess that came from all the kilometres I had to do alone in the strong winds at home!
Within 2 years I was competing at National Championships, and in my 4th year (second year as a junior) I went to the Junior World Championships, and won a bronze medal in the team pursuit. I thought that the track was my future, and I went to the AIS at the end of 1992. Within 12 months I was severely depleted (physically) and also mentally. I was just too young to be doing 35,000 km a year, I was 18 years old.
Through this time of recovery my family were my strength, and it's only because of them that I am still racing today. I want to also mention especially Peter Day (my coach and mentor) as well as the QAS (Queensland Academy of Sport) for their undying support, I couldn't have made it without them.
CN: Your early amateur years were more or less filled with trouble and health problems. You lost a whole year in '93 due to sickness, and then you broke your pelvis in '95. More than enough to break some less strong riders. What have you learnt from this, and what can you teach others?
NO'N: All I can say about that is that I had a dream and a strong set of values. I did think of giving up. Yes that's true, but I knew that I owed myself the opportunity to find out if I could be what I always dreamed of being. I'm not there yet either, by any means. It's just so important to commit 100 per cent to a goal and never, ever, ever give up achieving that goal. Sooner or later you will outlast everyone else, maybe they'll quit eventually, and you'll be the last one standing.
CN: Then you rode so well in the 1999 Tour of Tasmania that you were invited by Cadel Evans to ride the Redlands Classic with his Volvo/Cannondale team. Tell us about that.
NO'N: Cadel asked me in Tasmania in Jan '99 to come to the USA and race with him as a guest with Volvo/Cannondale. I grabbed the chance, because at that stage I had arranged to race with the national team in Italy, but only beginning in May. I had a three month void to fill, and I believed that I could perform well enough to perhaps attract a professional team contract.
CN: While riding the Redlands Classics you caught the interest of the Mercury team, but you did not sign with them. Instead you choose to sign two year contract with Panaria-Gaerne. Was it an obvious choice to you? Have you ever regretted it? How important has the "Reverberi school" been to Italian and international cycling?
NO'N: I had spoken to Mercury, and was ready to sign with them, but once I returned home to Australia at the end of March the deal fell through. I took it as a sign of "destiny" and realised that I was meant to come to Europe and be a pro here in Italy. The deal with Panaria came about in August after I won a stage of the amateur Giro d' Italia, and with the help of Shayne Bannan, and Stefano Fiori, I signed the contract in August 1999. I have never regretted the decision I made to come to Europe The "Reverberi school" as you put it, teaches you invaluable lessons as a neo pro, and grooms you, hopefully for a long and successful career. This is my second year, and already I am beginning to see the huge jumps I have made in relation to last year. I have learnt a lot, and I won't ever stop learning.
CN: So where do you go from here? Your best performance last year was when you won the Time Trial stage of Tour of Sweden, defeating '99 World Championship TT silver medallist Michael Andersson. This year you have won the time trial stage of the Tour de Langkawi. Which was the most fulfilling moment?
NO'N: That's true, the PostGiro in Sweden was a great week for me, also because It confirmed my ability in the time trial for the Olympics. A week before Sweden I finished second at the Coppa del Nazioni in Italy, which was Australia's selection race for the Olympic Time trial. I had qualified for the Olympic Games, but then I confirmed it when I won a week later in Sweden.
This year I started off well, by winning in Malaysia. It's good for morale and confidence to have a win early in the year. It establishes the team's faith in me, and helps me to relax a bit more. I tend to perform better when I am emotionally relaxed. Then at the Tirreno - Adriatico I showed that I am more than just a time triallist. It helped my confidence a lot, and makes me a lot more settled for the Giro this year.
CN: The rest of the 2000 season saw some misfortunes though. You fell ill the week before the Giro d'Italia, and then you crashed at the Olympics, a race that must have been a long time goal. How did you react to this?
NO'N: I had some downtimes last year too, like you said. They were hard to swallow at the time, but time does heal, and knowing that I have plenty of opportunities in the future makes it easier to cope with. The crash at the Olympics was hard to comprehend immediately. I was really frustrated for a while, but now I can see that next time in Athens, things will be different.
CN: You have told me that your biggest goals this season are the two time trials at the Giro, and then the Worlds. Are these plans still on?
NO'N: Yes for sure. I have set my sights on the prologue and then the time trial at the end of the second week. My contract expires this year, so it's up to me to show everyone again, that I am a valuable rider. In August/September I will be teaming up with Matveyev to race a lot of the pairs time trials (crono coppia). He is a beast when he is in form, so we should do well.
CN:To this season. Ceramiche Panaria has lost Nicklas Axelsson, Gerrit Glomser and Luca Cei, but great talent has also arrived. Will it be a stronger team with riders like Michele Coppolillo, Sergei Metveyev and Guiliano Figueras?
NO'N:We surely have a stronger team this year, on paper. In practice things are going very well, already we have won three races. We may be without someone really capable of finishing in the top five in the Giro, but having Coppolillo with us, gives everyone the experience that you need. Having Figueras, raises the morale, because he is someone who you can work hard for, knowing that at the finish he will be up there fighting it out. It makes a difference to everyone, when there is someone in the team who is capable of winning the race.
CN: Finally, what's the story about the credit card?
NO'N: In Malaysia last year, I used my credit card to pay for some phone bills at the hotels that we stayed in on the tour of Langkawi. When I arrived in Italy afterwards, I discovered that someone had been using my Visa card in brothels in Taiwan! I hadn't been anywhere near Taiwan, so someone had stolen the number in Malaysia, and was using it for their own pleasure. They managed to spend $2,000 approx, before the card was over the limit. I cancelled the card immediately, and the bank issued a new card. The bank had to cover the costs themselves (at least I didn't have to pay it back). It makes you think twice about using a credit card in the future.
Other Talking Cycling Interviews
---