Cyclingnews talks with Cassie Lowe
Cassie Lowe is virtually unstoppable on her bike. It seems every event she enters, she wins! She is, without doubt, the best women's ultra-distance cyclist on the planet.
Her prowess has many of the male competitors looking over their shoulders, which is possibly a waste as Lowe is, quiet likely, way in-front.
This year she completed the RAAM double, winning the women's event and placing 4th overall in this the most testing of all cycling events.
Below Cassie talks about some of the trials, tribulations and impromptu showers that make up the life of a long-distance cyclist.
By Michael Hicks
Just where will she stop?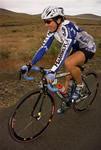 Cassie early on in the 2001 RAAM
Photo ©: Chris Kostman
Bio: Cassie Lowe
Age: 37
Country: Australia

Results

2001 Race Results

June 27: Won women's solo RAAM and 4th overall in the event.

May 12: Central Coast Double, 207 miles CA 13,200 ft climbing in 11 hours, 16 minutes, 1st place outright.

March 31: Solvang Double, Tied 1st place overall in 9 hours, 49 minutes
April 21: Devil Mountain Double, 1st woman, 5th overall in 13 hours, 6 minutes.

2000 Race Results

June 28: Race Across America, 101,000 ft of climbing and 2,975 miles in 10 days, 3 hours, 9 minutes - 1st woman, 7th overall.
May 13: Central Coast Double, CA 13,200 ft climbing in 12 hours, 27 minutes - 1st woman, new women's course record.
Apr 15: Devil Mountain Double, CA 18,000 ft climbing in 13 hours, 58 mins - 1st woman, new women's course record - 6th overall.
Mar 25: Solvang Double, CA 6,500 ft climbing in 10 hours, 44 mins - 1st woman.
Feb 26: Death Valley Double, CA 8,400 ft climbing in 11 hours, 58 mins - 1st. woman.

1999 Race Results

Oct 9: Furnace Creek 508 (California, USA) 508 miles, 35,000 feet of climbing, 1st woman, 5th overall out of 45 solo cyclists in 35 hours, 2mins.
Sept 26: "Granfondo Chesini" (Verona, Italy) 180kms with 4300m climbing; 1st woman.
Sept 12: "La Grenobloise" (Grenoble, France) 178 kms with 4000 m climbing; 1st.
Sept 11: "L Alpigap" (Gap, France) 167 kms with 3455 m climbing; 1st.
Aug 24: Paris-Brest-Paris. 1255 kms in 60 hours, first unsupported Australian (2nd o/a Australian) and 122nd overall out of 3,700 riders.

CN: Cassie, last year you were the only female competitor in the Insight Race Across America and you managed to finish 7th overall, beating plenty of the guys and scaring a few others. Will you have any competition in the female category this year?
CL: Yes. Two other women RAAM veterans are entered this year. Emmy Klassen from California has competed in the solo division of RAAM twice and Katie Lindquist from Colorado, who'll be doing her first solo RAAM this year, rode with George Thomas in the tandem division last year.
CN: For those unfamiliar with RAAM, could you describe the course and duration a little for us?
CL: RAAM starts in Portland, Oregon on the 17th June and ends in Pensacola, Florida. Riders will take anywhere from 9-12 days to complete this race; I'm aiming for a sub 10-day crossing. The route will travel 4760kms with approximately 30,000m of climbing, most of which is in the first half of the race. The route takes us through the states of Oregon, Idaho, Utah, Wyoming, Colorado, Oklahoma, Arkansas, Mississippi, Alabama and Florida.
CN: How do you train for this sort of event? Have you changed anything in your preparation from last year?
CL: I try to incorporate as much variety as possible in my training including long back-to-back rides, night riding, speed work and hill intervals. I also compete in many shorter distance races. The volume and quality of my training has increased this year and, due to where I'm based, I'm riding a heck of a lot more into the wind (which will come in handy when the race reaches the Midwest!).
Having previous RAAM experience I know what to expect in terms of the difficulty of the route and the race in general. This experience will prove to be so valuable because as a result of it, my body already knows what it feels like to spend so much time in the saddle and under a variety of conditions including the altitude through Colorado.
CN: Last year, you averaged 12.24 mph (approx 19.6 kh/h)for the 10 or so days you were on the road. On average, how much sleep do you get and what else makes up the day?
CL: Everyone has their own sleep patterns but my crew chief, Steve Born and I decided that I would maximize my performance with a sleep break of between 90 minutes and three hours, which started once my eyes were shut. Sleep deprivation is a real factor in RAAM and it got to be more uncomfortable towards the end of the race when my sleep was cut back to 1 hour or short catnaps of 15 minutes.
Minimising wasted time during sleep break periods is probably the major area in the whole time management factor that's involved in RAAM. My crew and I are guided and motivated by the idea that any minute wasted off the bike is a minute I could have been further up the road, a minute closer to the finish line. The way I see it, 4 minutes off the bike that I'm not doing anything productive is 2 k's or so that I'll never get back. So I try to make each time I stop as productive as possible. Because staying well hydrated is so important during the race it also means having to get off the bike regularly to pee. Since most of the guys can do it from the bike while I have to stop, I know I have to be as efficient as possible and not waste a whole lot of time. For example, while I'm stopped, the other crew members will do a quick clean of my bike, replace old water/food bottles with fresh ones, put fresh sunscreen on me, whatever. We try to accomplish a lot of things in one stop so that they're as infrequent as possible.
CN: What drives you during a race this hard? Do you key off other competitors or are they 'out of sight, out of mind?'
CL: I'm fascinated at what my mind can convince my body to do, to keep going when the pain and discomfort of it all is surreal at certain times of the race. Embracing any pain has worked best for me rather than ignoring it. Other times I focus on my friends and home, think about going surfing again, that sort of thing! Despite the length of RAAM, the tactics that go on are just like any shorter race. We get spied on by other crews that are "hidden" but ultimately I have no control over what the other riders and their crews are doing, so I just ride my own race, and concentrate on the job I have to do.
A classic example of tactics from last year came after I had crossed the Mississippi River and entered the state of Mississippi. Another guy and I had been passing each other back and forth, dueling each other for days. It had been a particularly tough evening with lots of heat, humidity and zillions of bugs swarming everywhere and sticking to me. The road surface was bad, my feet and wrists were killing me and my body ached. Still, I had but several kilometres between myself and this other rider which slightly eased the suffering. When I crossed the river it was time for my scheduled sleep break. To minimize wasted time and since we were out in the middle of nowhere in the black of night, the crew decided to have me take a shower right in the middle of the road. I stripped out of my filthy cycling clothing and Steve poured jugs of water over me as I cleaned off. It was quick, painless and the next thing I knew I was in the motor home sound asleep.
Meanwhile, about a half hour later, the rider I had been dueling withdecided he too would stop for a short sleep break. But instead of even considering what we did, he got in his support van and drove 20km off the route to a motel room. That meant he had to drive 20km back to the route after his sleep break. This probably cost him 30 or more minutes where he was making no forward progress! These are the kinds of mistakes that can really add up and lose the race for you. Needless to say, he was definitely "out of sight, out of mind"; we never saw him again until after I had finished!
CN: Nutrition is a key factor in a race of this duration. Do you have any specific things that you would do differently this year, in your second race?
CL: I've learned so much about how important a proper nutrition and supplement program is, especially during a race this extreme. I think many riders don't pay as much attention to this area of performance as they do to their equipment for example. In the long run this affects the quality of their performance. While we are using the same basic nutritional and supplement program and products as we did a year ago, it's been fine tuned a bit. Nothing drastic but just incorporating the things we've learned from last year to fine tune my specific needs such as the amount of calories, water, electrolytes and other nutritional supplements I will require.
One thing I'm going to concentrate on is eating less of what we call "reward foods", things like junk foods or sweets that my crew gives me as a bribe, or that I have a craving for. I'd usually regret eating it shortly afterwards because my stomach would be saying, "what the hell was that?" Sure, I'll enjoy an occasional treat but my crew and I are going to concentrate a lot more on limiting that so my body gets exactly the fuel it needs.
CN: H ow long does it take for you to recover from a RAAM campaign?
CL: Several months at least. Last year I had no desire to ride my bike for about two months afterwards. My mind and my body needed a complete break as it's not just the ten days of RAAM, but all the training/racing, fine tuning my nutrition, the logistical details including my equipment, crew people, the vehicles etc that makes quite a challenge to put it all together.
CN: How many people are involved in the race with you, and what sort of gear do you need?
CL: I have six fantastic human beings that make up my support crew. Seeing RAAM as a long bike ride with my friends kind of eases the pressure! The crew consist of two massage therapists, two mechanics, my crew chief, and a provisioner, (the fellow who mixes my drinks). We have two vehicles, a pace van that travels directly behind me and a motor home that usually leap frogs us, or drives up ahead so that the alternate crew can get their sleep before they change shifts at dusk and take me through to my sleep break.
My bikes are pretty standard; a Colnago C-40 that I like to have set up as my climbing bike, and a Colnago titanium that has aero bars on it for more rolling terrain. The pace van will carry all my spare wheels, bike parts, clothing, and food.
CN: It can't be cheap then. What sort of sponsorship do you have lined up?
CL: It's difficult that's for sure. I'm still writing letters and thus far have a fraction of the US$10,000 that I need to race. The money pays for vehicle rental, fuel (that threatens to reach US$3/gallon this summer!), food, water, airfares for my crew, hotel rooms and not forgetting spare parts for my bikes.
CN: Do you see yourself doing this long-term? Or is two going to be enough?
CL: There is no prize money for winning RAAM! Like most athletes I have toreturn to work after the race. But after all is said and done, taking the risk to leave the comfort of my job and security has been more than worth it, and I feel fortunate to have been in a position to do this race. I've got emails from complete strangers telling me how much I inspired them, and that is a true gift to me.
CN: And finally Do you have a favourite training ride?
CL: I do. It's down through Mooney Mooney, Yarramalong Valley and up Bumble Hill north of Sydney, Australia, just to smell the eucalypts and hear the Bell Birds!
CN: Your favourite off the bike food?
CL: Mum's roast dinner
CN: Your favourite off the bike pastime/hobby?
CL: Body surfing at Narrabeen Beach
CN: What book are you reading now?
CL: "The Climb" by Anatoli Boukreev
More information on Cassie can be found at www.cassonbike.com

RAAM 2001 Information and Results

Other Talking Cycling Interviews
---