Sean Kelly: King of the road
By Gerry McManus
As the Tour De France wound its way over 3,500 kilometres to the finish in Paris on July 29, Sean Kelly took time from his busy schedule to tell Gerry McManus of his new view of the tour as a commentator for Eurosport television.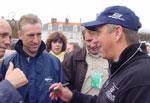 Kelly, left, discussing old times with another former racer

Sean Kelly was consistently one of the top achievers in professional cycling for over 18 years. With his 22 Classic wins he is statistically the fourth most successful professional cyclist of all time behind Eddy Merckx (50), Bernard Hinault (29) and Jacques Anquetil (29).

His experience in the professional peloton qualifies him perfectly for co-commentating on the British Eurosport channel with David Duffield. "They had been asking me to do some events for a while really, since I retired," said Sean, "but I needed a rest for a while when I finished competition." Sean found it a problem adapting to "normal life" after the lifestyle of racing and travelling, which accompanies the stage races across Europe. "It took me over two years to get ready for working with Eurosport but I enjoy it. I know a lot about the tactics of the race and when you have been a professional for many years you have the insight to forecast what's going to happen but you can never be always right."

His partner David Duffield is well liked by the UK and Ireland cycling viewers but has been famous for getting it wrong on occasions. The teamwork is important and Sean is very supportive of Duffield. "David is talking around 80 per cent of the time and it's easy to miss something. We can help to correct each others mistakes quickly." Their jobs are not helped by mobile cameras sending poor signals or by peering into the small, usually black and white monitors that are their main view of the action.

There are always quiet times in races for them to chat to each other and the subjects vary. Among the tales of his prior exploits, Sean has explained that he enjoyed racing as a junior in Ireland as it let him avoid work on the farm at the weekends.

When Kelly finally retired from the top level in 1993, he had won every one-day Classic with the exception of the Tour of Flanders, where he came second three times. The world road race championship title had also eluded him. "I should have won the world championships as it was my style of event," he commented. He won two World's bronze medals and was placed fifth for three years including 1987 when Stephen Roche won in Austria. "Stephen and I were with a leading group of fifteen to twenty riders, then he got into a group that stayed away." With Roche in the lead group Kelly couldn't chase and risk bringing other riders up. He is philosophical though: "It could have easily been my group and that's just the way that cycling works."

When he is at home in Carrick-on-Suir, he takes the bike for a spin with "the boys" from the now famous town in Tipperary and helps the Mayo Wheelers with coaching weekends. He is a keen supporter of the National Council for the Blind with the group "Blazing Saddles" and has participated in charity cycle rides in Ireland, South Africa and Canada. Last year the group spectacularly cycled across America.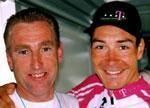 Kelly, left, with another guy who goes quite fast in the sprints

Now that he's back at the Tour, does he miss racing? "Certainly not! I've had quite a long career and there's a time where you have to get out and that time arrived for me. I didn't miss the competition or the travelling."

He still competes once a year in the Christmas Hamper handicap race in Carrick. Hundreds of riders and spectators turn out to watch Sean and the elite riders furiously chase down the groups with a head start, in the hope of seeing a mass sprint finish in the town centre. Sean isn't too hopeful of winning this year's event declaring: "The last couple of years my performances are quite poor as I don't have the fitness to compete with the guys that take part."

He is very disappointed that there are no Irish riders in the Tour De France this year. So where is the next Sean Kelly going to come from? "In Ireland at the moment the numbers are down. That's the big problem because if you don't have the volume of competitors coming up then you've got difficulties getting a number of potential professionals."

"Ten years ago it looked like we would have a minimum of five or six professionals competing in the year 2000. A couple were unlucky and didn't get the breaks and the others didn't make it and here we are without anybody in the Tour. Ciarán Power is a professional this year and Mark Scanlon has been promising so hopefully he will continue and make it into the professional ranks in the not too distant future. Cycling in Ireland needs professionals in the Tour."

Mark Scanlon is the former world junior road race champion and although he is still only 21, he has had success in the senior ranks this year with a stage win in the FDB Milk Rás and the silver medal in the national road race championships. Ireland's only other professional David McCann (CCC-Mat) won the latter.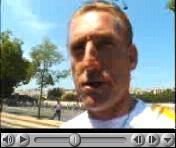 Kelly speaks - click for video from last year's Tour.

The French Tour's reputation has been damaged in the past due to drug scandals and this year's Tour of Italy didn't escape lightly either with midnight hotel bedroom raids. Does Sean think this type of tactic is justified? "It's a bit severe but it's for the good of the sport. Cycling has been going through a hard time over the last few years and the sport needs to be cleaned up. It's affecting cycling a lot and the sport needs sponsors. At the end of the day it's good to go through it now. I don't think that cycling is the only one where the problem is but it's getting the exposure at the moment."

Other Talking Cycling Interviews
---