Cyclingnews talks with George Hincapie
An American for the Classics
June 28, 2000
USPRO Championships
Photo © Douglas Sheppard
By cyclingnews.com with assistance from Chris Brewer
George Hincapie, unmistakeable in the peloton will be one of the US Postal Service team's key riders during the Tour. He's also one of the best non-European one day riders of recent times, and could become the first US rider to make the podium of Paris-Roubaix. However, that race has come and gone this year, and Hincapie finished it with a flat tire...
CN: Obviously the Tour is the big one this year and I imagine the main goal will be to help Lance win another tour. Do you see any chance for the green jersey for yourself? The field is looking potentially stronger though, with Pantani in half-decent shape, and Ullrich aiming to get there. Do you rate it as a tougher race this year?
GH: I think the competition - on paper - looks a bit better then last, but at the same time I am pretty sure Lance is even stronger then last year too.
While I would love to wear the Green Jersey, the priority of the team is to win the Yellow. So if I am called to work from the first stage, that is what I will do. Whatever it takes.
Always happy to talk
Photo: © Tony Szurly
CN: Post Tour, win or lose, is a break in the offing after July, and then another build up for the late season classics? There's plenty of racing left...
GH: I will probably take a small break, say 10 days or so, then do some of the world cups, and then prepare for the Olympic games in Sydney.
CN: Several riders have been asked their opinion on the recent urine based EPO test that was to be used for the Tour. Your thoughts on this - making allowances for the fact that it hasn't been completely validated yet?
GH: Anything that helps clean up the sport is good who knows, maybe some day we will not have to give blood all the time. Sometimes it seems as if we are lab rats.
The season so far ...
CN: You've had a bit of bad luck in some of the big races this year (punctures in MSR and P-R towards the end, many crashes), but how do you rate your season so far compared with previous years?
GH: I was in really good form during the Spring but yeah, I was held up by some bad luck. As of right now I am not overly happy about the season, but I know how hard I have worked, and I hope that it will eventually pay off at the Tour, the Olympics, and the late season.
CN: Congratulations to you and the USPS team for a fine Paris-Roubaix. In that race, after Museeuw attacked there was little organisation in the chasing group despite it containing most of the favourites, and the Belgian's time gain just kept growing. What was going on there? I noticed that Zabel clearly called off the Telekom boys from chasing (Weseman was very strong) - what's your opinion on that? Was it because Erik was struggling to hold on in the cobble sections?
GH: I was not sure why Zabel called off his boys, but we still had Frankie up the road, with Frank Höj too, so we couldnt chase. But I admit I was a little confused as to why nobody else would try and reel them in.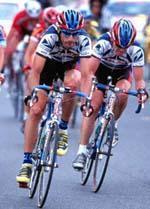 Go hard
Photo: © Jonathan McElvery

CN: With such a potentially strong team for the Olympics, and 2 out of the 5 spots essentially gone already, is that going to be one of your major goals for this year? Or would you prefer to let others fill the remaining spots and concentrate on the World's for example?

GH: The Olympics are definitely a big goal of mine, they are the reason I took a 6 week break after Amstel Gold - and to heal up as well. I really want to be fresh and 100 percent during the Games. I paid for that time off, I know, during the US Championships and the races just after, but I think now Ill start to see the benefits of it and hope to do well in the remainder of the season.

CN: What is your opinion of this year's World's course?

GH: I hear its difficult, but not for a true climber. And I would certainly like to race in the event this year, especially since it is only 2 weeks after the Olympics. Wining the worlds would not be a bad way to close out the season - ciao!

Vital details:

Nationality: American
Height: 6'3''/188 cm Weight: 185 lbs/84 kg
Born: June 29, 1973 in Queens, N.Y.
Hometown: Charlotte, N.C.
Residence: Greenville, S.C.
Team: United States Postal Service
Professional since: 1995
Teams: Motorola (1994-1996), US Postal Service (1997-2000)
UCI road ranking (June 25, 2000): 68th

Palmares:

2000

Trofeo Luis Puig (Spain): 4th
Paris-Roubaix (France): 6th
Tour of Flanders (World Cup - Belgium): 17th
Ghent-Wevelgem (Belgium): 26th
Paris-Nice (France): 28th
Tour of Valencia (Spain): 48th

1999

UCI World Road ranking: 50th
First Union Classic (Trenton, N.J.): 1st
First Union Invitational (Lancaster, Pa.): 3rd
Paris-Roubaix (World Cup III, France): 4th
Gent-Wevelgem (Belgium): 4th
HEW Cyclassics (World Cup - Germany): 5th
Tour of Denmark: 7th
Milan-San Remo (World Cup I, Italy): 9th, top U.S. rider
First Union USPRO Championship (Philadelphia): 9th
Tour of Holland: 16th
Trofeo Luis Puig (Spain): 17th
World Cup II (Belgium): 21st
Scheldeprijs Schoten/GP de L'Escaut (Belgium): 24th
Ruta Cicilista del Sol (Spain): 26th
Three Days of Panne (Belgium): 33rd
Paris-Nice (France): 35th
Tour de France: 78th; 7th; 7th, sprinter jersey
8 of Chaam (Holland): 3rd
Tour of Britain: one stage win
Saturn USPRO Tour standings: 12th

1998

UCI World Ranking: 95th
World Road Cycling Championship (Valkenburg, The Netherlands): team member
Tour de France: 53rd
Killington (Vt.) Stage Race: 1st, one stage win
First Union USPRO Championship: 1st
First Union Classic: 2nd
Tour of United Kingdom: 2nd, prologue
Christiana Cup: 3rd
Tour of Denmark: 4th
Outdoor Life Network Grand Prix (Atlanta): 5th
First Union Invitational: 5th
Milan-San Remo: 8th
World Cup (Belgium): 13th
Three Days of the Panne (Belgium): 17th
Tour of Flanders (Belgium): 17th
Ruta del Sol (Spain): 32nd
USCF National Racing Calendar rankings: 2nd

1997

Tour de France: 104th
Burlington (N.C.) Downtown Criterium: 5th
CoreStates Classic: 5th
First Union Grand Prix: 13th
Thrift Drug Classic: 16th
Gent-Wevelgem (Belgium): 16th
Rochester Classic (Great Britain): 20th
Trofeo Luis Puig (Spain): 22nd, 16th
Tour of Flanders (Belgium): 25th, 16th
Setmana Catalana (Spain): 29th, one stage win
Ruta del Sol (Spain): 36th
Milan-San Remo (Italy): 46th
Paris-Roubaix (France): 59th

1996

Olympic Games (Atlanta, Ga.): 76th, road race
U.S. Olympic Trials: 6th
2nd, Charlotte Road Race
5th, Pittsburgh Road Race (Thrift Drug Classic)
8th, Martinsburg Time Trial;
10th, Seattle Road Race (Microsoft Grand Prix)
11th, Concord Time Trial (National Championships)
Tour de France participant
Tour of Mallorca: 9th
Tour du Haut-Var (France): 11th
Paris-Roubaix (France): 29th

1995

8 of Chaam (Holland): 1st
Thrift Drug Classic: 3rd
CoreStates NJNB Classic: 3rd
First Union Grand Prix: 8th
CoreStates USPRO Championships (Philadelphia, Pa.): 10th
Kuurne-Brussels-Kuurne (Belgium): 11th
Paris-Roubaix (France): 21st
Het Volk (Belgium): 27th
Pacific Power Commonwealth Bank Classic (Australia): one stage win
Paris-Nice: two top-10 finishes
Tour of America: 6th

1994

Tour of Luxembourg: 2nd, two stage wins, points winner
West Virginia Classic: 3rd, one stage win
K-Mart Classic: 3rd, one stage win

George Hincapie's official website

Other Talking Cycling Interviews
---