Rob Hayles: Confessions of a Classics newbie
By Chris Sidwells with Richard Allchin
In his first season on the road in mainland Europe Rob Hayles has discovered the power and passion of the Classics.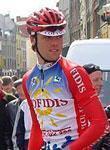 Before theGrote Scheldeprijs-Schoten
Bio: Robert Hayles
Born: January 21, 1973, Cowplain UK

Career
1995: Turned pro, several victories in UK including British Madison and Omnium champion
1996: Thwaites G.P. Stage Race, British Points Race Champion
1998: Eastway March Hare, stage wins in Girvan Three Day and Tour of Lancashire, British Time Trial Champion at 10 miles and 25 miles
2000: UK Olympic team member
2001: Joined Cofidis, rode first Classics
You always remember the first time, your first day at school, first car, first job; your first kiss, ah go on now you do. Your first classic then? Rob Hayles will. The Tour of Flanders and Paris-Roubaix are fresh and vivid in his mind today, and will be in years to come when he's telling his grandchildren about them.

He will tell them how he did his job, how the team were happy with him and how much he enjoyed it. "I worked myself into the ground and loved it to death," he says with an enthusiasm that speaks volumes for his character. These were races where Rob Hayles could really contribute and he knew it.

Riders in a pro team facing a classic do so as a collective, each one has a job to do, expectations to fulfil. Hopefully one of the team will be a contender, an established winner, or someone whose time has come to do big things. For the rest their job is to do what they can for their leaders, and if the race suits them there is a lot they can do. That was the job Rob Hayles did this year for Cofidis, he did it well and he learnt a lot. The races also left him with things to think about for the future.

"I rode the best in Flanders, feeling strong until the last 20 km, in fact between 165 km and 190 km me and Jean-Michel Tessier rode on the front constantly to bring a break back to a sensible distance, but Paris- Roubaix was my favourite," says Hayles, then he goes on to explain why this year's dirty day in Hell made such an impression: "I think it was because of the weather and the fact that it made the race what it was. Plus there were so many Brits out there, including my own family." Hayles obviously understands what this race is all about, why it means so much to the fans; a real Paris-Roubaix, they will call this year's race in days to come.

Hayles was inspired by the whole experience: "Paris-Roubaix is the one I'd love to win. It is the race I always watched on T.V. and it's the race that gets a lot of coverage so most non-cyclists know about it, or at least have heard of it." So the Queen of Classics will figure large in Hayles' future, but winning it? Well yes, why not? Do you remember, not so long ago, another big strong Brit, a team man with a track and time trial background? Sean Yates probably realised too late in his career that he and Paris-Roubaix were made for each other. It sounds like Rob Hayles does not intend to make that mistake.

To win it he'll need to learn the race, know every cobble, keep a level head and let the victory come to him. That is how Servais Knaven did it this year, and Tchmil, Museeuw, Tafi and Ballerini did it before him; they learnt Paris Roubaix from an early age, working for others at first, then challenging. Sometimes the challenge failed, like when Ballerini was pipped by Duclos-Lassalle after being as strong as two men through the Hell of the North, but he waited and eventually the race came to him and he won it, twice.

Hayles has already started learning, displaying the patience and level head he will need to win. "I wasn't too nervous for the classics, but I was very excited. For the whole two weeks leading up to them, ever since the team told me I would be riding, all I could think about was the racing I was finally about to do. In the team Chris Peers and Nico Mattan both really impressed me with their riding. Plus all the experienced riders gave me tips," he says. But the best bit was the shouts and encouragement he got from the side of the road in English: "The Brits were fantastic."

Hayles' enthusiasm is complete; to twist the words of Elton John, he has come to realise that his future lies, not beyond the Yellow Brick Road, but along a grey cobbled one. For now though those ambitions must be shelved because there is more work to do, for others. "I've had 13 days racing now and the Four Days of Dunkirk is my next race, Dave Millar is riding that too. After that I go to Biarritz with him for training, I think I will be spending a lot of time with him now, leading up to the Tour.

The Tour de France and Dave Millar, is this another combination of man and bike race that could be made for one another? Maybe, certainly some parts of it are. Millar has already tasted success in the Tour and has been tipped as a prospect for overall victory in it, but to do that he'll have to exorcise some ghosts, and maybe even fall in love with it, just as Hayles has done with Paris-Roubaix, the Tour is a fickle mistress who demands that; at least. And for some she demands too much.
Other Talking Cycling Interviews
---