Cyclingnews talks with Matthew Gilmore

True Blue Belgian
December 31, 1999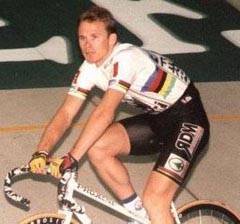 Warming down in the 1999 Fiorenzuola Six
Photo: Nick Rosenthal
By Jeffrey Jones
Former Australian track hopeful, now Belgian six-day racing star, Matthew Gilmore is enjoying a successful comeback after a terrible crash in the 1998 Herning Six Day race. He spoke to cyclingnews just a couple of days after his success in the Latrobe wheelrace, part of Tasmania's Christmas track racing carnivals.
Matthew Gilmore is no stranger to fans of Australian track cycling. In the early 1990's, he rode with the Australian Institute of Sport track team and was certainly a promising young star back then. However, a falling out with "the management" over selection and other issues (sound familiar?) saw him leave the squad somewhat disillusioned with the whole outfit.
Fortunately, he did not go the way of several other Australian cyclists and quit the sport. Instead, he moved to his birthplace of Belgium, seeking a career on the track riding the six-day circuit. His first professional contract was in 1995, with Belgian chemical manufacturer, Vosschemie and manager Remi de Moor as his personal sponsor. He then moved to RDM in 1996-97 and Spar in 1998-99, again with de Moor at the head of affairs. He has signed a contract for 2000 with new first division team, Memory Card - Jack & Jones.
So far, the 27 year old has had a slow but steady rise on the professional track circuit, culminating with wins in the Gent Six in 1997 and the World Madison Championship (with partner Etienne de Wilde) in 1998. His fortunes took a turn for the worse shortly after the 1998 World's, where he was involved in a high speed crash during the Herning Six Day event in Denmark - a result of a mechanic standing too close to the track. Matt broke his shoulder and jaw, punctured his lung and suffered a lot of internal bleeding and it took months before he was able to ride again.
However, he persisted and started training early in 1999, with the goal of regaining some of the fitness he had previously. Most of his road racing was on the Belgian kermesse circuit and he managed to win the GP Berlare along the way. He started this season's "reduced" six-day series and has seen some of his form come back, with a second placing at Zürich [with Scott McGrory] and a third in Gent [with Etienne de Wilde]. He then headed back to Australia for Christmas to ride the Tasmanian Track Carnivals, succeeding in winning the $12,000 Latrobe Wheelrace amongst other things.
Cyclingnews: Matt, what brings you to Australia at this time of year?
Matthew Gilmore: Well, there's a break in the six-day season at the moment, so I thought it would be nice to come home for Christmas to ride the Tassie track carnivals. It's a good way for me to keep my form up in between the six-day gap. Of course, it's great to see the family again as well.
CN: What has that involved so far?
MG: The past week it's been the Latrobe, Launceston and Devonport carnivals back to back. Then there's the New Year carnival in Burnie tomorrow before I fly back to Belgium the next day. I'm starting in the Berlin Six on January 12th as one of the remaining three Six Day races of the season.
CN: How do you rate the current Six Day season?
MG: It's been pretty terrible so far, with so many races being cancelled, and sponsors pulling out. There will only be seven races for the whole season, which is one of the reasons why I came back. But, I reckon they'll sort things out next year and we'll get back to a full circuit.
It hasn't affected me much financially - after I won the World Championships, I was looked after pretty well. It would be nice though to do some more track racing.
CN: And your form?
MG: Really patchy at the moment and it's been a real struggle to get back into it. I've been having, say, one good night followed by one bad, or two good with three off, but I can feel it coming back.
My best result was definitely in Zürich [2nd, with Scott McGrory] following from third in Munich. That was the first race where I rode into some form, which was a good feeling.
CN: With there being just three six-day races left in the season, what are your intentions after that?
MG: Two days after the last one finishes [Stuttgart on Jan. 26], I'm going to have a back operation . It's nothing too serious, but I will be unable to ride for 10 days afterwards. Then I'll start my road season preparation and racing. I'm riding with Memory Card-Jack & Jones this season and I'm really looking forward to that, but I haven't really spoken to them about my program yet.
CN: It will be a bit different to the kermesses that you've been used to.
MG: Yes, although kermesse racing was the ideal preparation for me for the six day season. There wasn't really a fixed program, so I could be fairly flexible. Now, I'll be doing a lot more road racing in countries other than Belgium: France, Spain, and Germany for example. The track will still remain my main thing, because that's what I love doing.
My big goals will be the Olympics, where I'll probably ride the madison with Etienne de Wilde and the World Championships, which are shortly after that. De Wilde [who is 41] is a good partner because he has so much experience, even if he's not the fastest guy out there.
CN: Doing both the track and the road makes for a very long season. How do you manage?
MG: With my past teams it's been pretty good, and I can generally plan a few 2-3 week breaks during the road season. I will probably be allowed to do the same with Jack & Jones as well.
CN: Coming back to the Olympics, and your nationality. Would you have any problem winning the madison in Australia with your Belgian nationality?
MG: Definitely not! Something like that would be great to win, and really your nationality doesn't come into it a lot. I would say most athletes are competing for themselves a lot more than their countries. It doesn't worry me at all.
Vital details:
Nationality: Belgian
Birthdate: September 11, 1972
Professional since: 1995
Teams: Vosschemie (1995), RDM (1996-97), Spar (1998-99), Memory Card-Jack & Jones (2000)
UCI road ranking (Oct. 31 1999): 1396
Palmares:
1994 1 Stage Bay Cycling Classic
1995 Gent track omnium
1996 G.P. Houtem-Vilvoorde, Gent track omnium
1997 Six Days of Gent (with Etienne De Wilde)
1998 GP Buggenhout, World Championship Madison (with Etienne De Wilde)
1999 GP Berlare

Other Talking Cycling Interviews
---