Cyclingnews talks with Mirko Celestino and Paolo Savoldelli
By Gabriella Ekström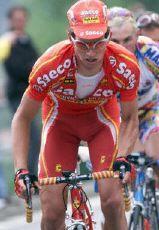 Savoldelli in the Tour de Romandie
Photo: © AFP
Mirko Celestino and Paolo Savoldelli are two of Saeco's star young riders. Celestino (26) came to the team in 2000 after two World Cup wins with Polti in 1999, while Savoldelli (27) joined the team in 1998 after two seasons with Roslotto. While 2000 was not a exceptional year for either of them, both are looking forward to this season with renewed enthusiasm.
Paolo Savoldelli: All thought last year was a very unlucky season for Saeco, we succeeded in obtaining some good victories. I won the Tour of Romandie, Cipollini and Conte gained two stages at the Giro d'Italia, Commesso got the success at the Fribourg-En-Brisgau stage of the Tour de France, while Dufaux dominated the Worldcup race in Zurich.
CN: So what about your own results last year?
Mirko Celestino: I'm not very satisfied with my 2000 results. Bad luck affected my performances during the last season. I had to face a four month long stop and start again, and it has been very difficult.
PS: At the beginning of the last season I programmed my preparation to ride the Giro d'Italia as a real protagonist and in this sense the success in Romandie seemed to be a good "omen" for me. After that, and especially after having lost the prologue of the "pink race" by only a few seconds, I fell quite badly during the first stage of the Giro. This caused me a lot of physical problems that compromised the whole season.
CN: So in the future, when you look back at last year, is there something special you would like to remember?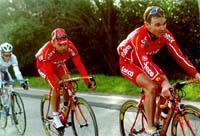 Celestino in the GP degli Etruschi 2001
Photo: © Fotoreporter Sirotti
MC: More than one single performance, I prefer to remember the sensations that I felt during the Giro del Lazio. On that occasion I understood that Celestino was and is a very important rider and I obtained a very good third place.
PS: The success in the prologue time trial of the Giro di Romandia.
CN: What would you prefer not to remember?
MC: I think the Road World Championships in Plouay and the Giro di Lombardia. After having been recovered from the physical problems, I was too "mentally tired" to face these important appointments in the right way.
PS: The Giro d'Italia
CN: Mirko, do you feel at ease in your new team? What is your opinion about Saeco so far?
MC: In the first part of the season, I had the chance to get to know all the members of the team and to experience the extraordinary atmosphere that everyone can "breath" inside the group. The thing that has impressed me much is the professional behaviour of Mario Cipollini. I saw him very concentrated and very motivated during training. For young people this is a great example. It is not by chance that he succeeds in winning so much for such a long time.
CN: Any interesting new arrivals?
MC: I think that with me and my friend Sacchi, the Team Saeco-Macchine per Caffè is even more complete and therefore stronger.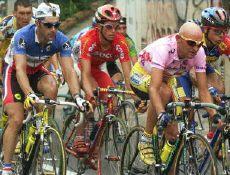 Folling Pantani during the Giro 1999
Photo: © AFP
PS: The arrival of Mirko Celestino will make the whole team stronger.
CN: You seem to agree on that one. Is there anyone special in the team you are keen to work together with?
MC: I must say that I have a very good relationship with everybody; I knew most of them before coming here to Saeco. Of course I have a particular feeling with regard to Fabio Sacchi, who has been a friend of mine since we were both with Team Polti, and who has followed me in this "adventure" with the Saeco Macchine per Caffè jersey.
PS: I feel at ease with Oscar Cavagnis. He is from Bergamo as I am and he is a very pleasant person.
CN: Will you be playing a different role in the team this year compared to last year?
MC: I think that I've been engaged to become the "World Cup man" of the team. Maybe in the future I could renounce the one-day classic races and try to compete for the final standing of a big tour.
PS: My role inside the team doesn't change. I hope to be a protagonist in the big stage-races.
CN: What do your programs look like?
MC: I'll start with the Tour Mediteranée and then Trofeo Laigueglia, Sicily races (Pantalica and Etna), Tirreno-Adriatico, hoping to arrive at the Milano-Sanremo and the Belgian World Cup races at the top of my form.
PS: Before the Giro d'Italia, which is naturally my first aim, I'll take part to the Trofeo Laigueglia, Puig, Vuelta Valenciana, Tirreno-Adriatico and Milano-Sanremo.
CN: Your early season goals?
MC: Since I became a rider I have hoped to win the Milano-Sanremo. It would be fantastic!
PS: Besides the Giro, I would like to do well in the Tirreno-Adriatico and in Liege-Bastogne-Liege
MC: Any bigger goals or hopes for this season?
MC: I hope to repay the confidence that this team, and in particular Claudio Corti, has placed in me at the end of a negative season as 2000 has been. I want to give a lot of satisfaction to this team. And I hope that fortune will help me!
PS: The only thing I hope for 2001 is not to have accidents.
Palmares
Mirko Celestino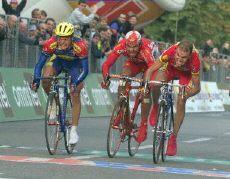 Celestino (R) in the 1999 Giro di Lombardia
Photo: © AFP
Born: March 19, 1974 Albenga (Italy)
Nationality : Italian
Pro Since: 1996
Teams : Polti (1996-1999), Saeco Macchine per Caffe (2000-2001)
1996
4th, Regio Tour
4th, Continentale Classic
1997
2nd, Coppa Placci
4th, Tour Mèditerranèen
6th, G.P. de Chiasso
7th, Trofeo Laigueglia
1998
1st, Regio Tour + stage
1st, Giro dell'Emilia
2nd, Giro della Provincia di Reggio di Calabria
2nd, G.P. de Chiasso
2nd, Coppa Agostoni
2nd, Coppa Placci
2nd, Paris-Bruxelles
2nd, Giro del Lazio
3rd, E3-Prijs Harelbeke
3rd, Prueba Villafranca de Ordizia
3rd, G.P. Industria, Artigianato e Commercio
1999
1st, HEW Cyclassics
1st, Coppa Placci
1st, Giro di Lombardia
2nd, Japan Cup
4th, Italian Road Championship
2000
2nd, Trofeo Pantalica
3rd, Giro del Lazio
3rd, Giro dell'Emilia
Paolo Savoldelli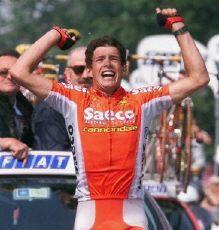 Savoldelli wins a Giro stage (1999)
Photo: © AFP
Born: June 7, 1973 Clusone (Italy)
Nationality : Italian
Pro Since: 1996
Teams : Roslotto (1996-1997), Saeco Macchine per Caffe (1998-2001)
1996
10th, Volta a Catalunya
33rd, Tour de France
1997
1st, stage Hofbräu Cup
5th, LUK Cup Bühl
13th, Giro d'Italia
1998
1st, Giro del Trentino + stage
3rd, Trofeo Matteotti
9th, Giro d'Italia
1999
1st, Trofeo Laigueglia
1st, Giro del Trentino + stage
1st, stage Giro d'Italia (2nd overall GC)
4th, Tour de Romandie
10th, Fléche Wallonne
2000
1st, stage Giro del Trentino
1st, Tour de Romandie + stage
3rd, Giro del Trentino
5th, Josef Vögeli Memorial (with Armin Meier)
24th Giro d'Italia
41st, Tour de France
Other Talking Cycling Interviews
---