Dylan Casey - All knitted for the future
Earlier this year, young American rider Dylan Casey got up close and personal with a TV crew member who wandered into his path as he crossed the finish line, with the resulting injuries forcing him into extensive rehab. He's now back on his bike and racing. Chris Baldwin caught up with Dylan at the USPRO National Criterium championships.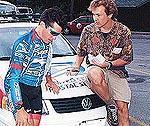 Now racing again, Dylan Casey does the hoodtop interview.
Photo: Chris Cox

Dylan Casey's 2001 season was calm and predictable right up until the time he smacked into a soundman for French Television. Training goals had been met, races were ridden, fitness was achieved. For an American rider on an American team, it was the natural achievement of the American dream.

Then his season changed. To avoid a headphoned soundman, standing with his back to the course, Casey swerved left. To step out of the way of the coming peloton, the soundman also moved left. It became a matter of lesser evils for the speeding rider: further left into the unforgiving steel barrier or onward into the relatively soft soundman.

Casey chose onward, a body in motion encountering a body at rest. The soundman went down, stunned and winded. Casey went down with fractured bones. He cracked his clavicle and shattered his pelvis, or at least part of his pelvis, the iliac crest on the upper left hip. Chaos replaced calm. Pain replaced predictability.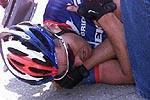 Casey after his collision earlier this year. Photo: AFP
He was hospitalized immediately in France and flown to America within days. Doctors there said surgery would lend his recovery no substantial benefit, so the scalpel was spared. But some also said he would never ride again, which could have done nothing to brighten his mood.
His season halted, his career on hold, Dylan Casey began a systematic recovery with the help of coaches, trainers and Dr. Eric Heiden. As one's hipbone is connected to both the legbone and the backbone, an immobilizing cast for Casey's pelvis was impossible. Some of his doctors blithely suggested to him that perhaps the best way to immobilize his pelvis was simply to not move around a whole bunch.
For anyone this would be a daunting task, a question of motivation, and a will to power. For a professional athlete with a body accustomed to a calories in/calories out lifestyle, it is an invitation to sloth. Yet Casey swam, weightlifted, and eventually rode his way to recovery, racing again in less than two months and flying back to Spain to rejoin his teammates. He agreed to a short interview befitting his short trip to America for a relatively short race.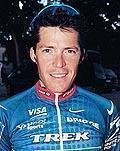 Dylan Casey - ready to race again. Photo: Chris Cox

Dylan Casey came from Spain to Chicago to compete at the US Postal USPRO Criterium Championship in Downers Grove, IL. When cyclingnews caught up to him it was 4 pm and he had just finished signing autographs at a US Postal VIP event.

CN: How is your jet lag?
DC: Oh man, don't ask. For me right now it's 10 PM. I should just be getting ready for bed.

CN: Then let's get right to it. How has the crash at Four Days of Dunkerque affected your season's training?
DC: Well, first of all it gave me an offseason in midyear. I had June and most of July to recover. As for racing this year, I have had the same success as I would have normally had, had I not crashed. Just later in the year. Right now my training and racing just have a different priority and focus. I'm using these late season races to get my fitness back.

CN: Have your goals changed?
DC: The goals I had for June and July I just shifted over to August and September.

CN: Right now you are on the US Postal reserve list for the Vuelta. Will you ride in Spain?
DC: Yes I will. I'm going to ride in the Vuelta and I'm hoping for a good prologue time trial. So I am really concentrating on getting in the right training for that. As for the remaining three weeks of the race, I'll do my best to support the team and get in there to help Roberto win.

CN: What are US Postal's goals for Downers Grove?
DC: Well, 3 of us are carrying some pretty serious jet lag baggage here, but there's 2 guys from our team who can win today, so I'll be riding in support of them. I'll just spend the first half of the race trying to get my legs back, then do whatever I can to help.

CN: Who are the two guys?
DC: Stephane Barthe, and Julian Dean.

CN: Will you be at the World's in October?
DC: I think so. It all depends on the rest of my season. If all goes well in September and I have a good Vuelta, then I'll set my sights on the individual time trial in Portugal. I'll ride the road race, too, as a support rider, but my focus will be on the TT.

Casey abandoned the criterium halfway through, toweled off, packed up his bicycle and flew back to Spain for another day or two of jet lag. His pelvis and collarbone have knitted back together and his premature offseason is officially over. Dylan Casey's July begins in Madrid on September 9th.

Other Talking Cycling Interviews
---