Cyclingnews talks with Santiago Botero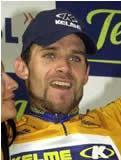 Winning in the Vuelta
Photo: © AFP
Local boy makes good
The 28 year old Colombian has taken on a lot more responsibility with Kelme, particularly with the departures of Fernando Escartin to Team Coast and Roberto Heras to US Postal. The extra responsibility appears to have suited Botero who began the season the 90th ranked UCI rider and finished ranked 36th. A pretty fair improvement in anyone's terms.
After an absence of ten months, Colombian cycling's best known figure returned home to Bogota and spoke with Cyclingnews.com
By Luis Barbosa
CN: What does it feel like to return home after so long away?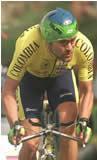 World TT ride
Photo: © Sirotti
SB: I am very pleased to have achieved the goals I set when I left. It is great that the media, and the people have been so interested in my progress and preparations. And the country seems to value my triumphs.
CN: On balance, how was your year?
SB: For me it is a very positive year. I won two stages of the Vuelta in Spain, the bronze medal of the World Championship and finished in the top ten in the Tour.
CN: Your plans for next season?
SB: I didn't race in the Olympics and I had hoped to be on the podium in Sydney, representing Colombia, so that is a goal for the future. I want to finish the Vuelta and follow up with successful World championships in Belgium. I have a real objective to succeed in the World Championship time trial.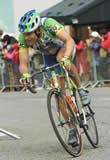 In the Tour
Photo: © Sirotti
CN: But the main objective for the next season is the Tour?
SB: Well, I want to be within the top 10 again, and think that I can improve upon my sixth place from the 2000 Tour.
CN: Are are you enjoying Kelme?
SB: Very much so, I enjoy being one of the leaders, and I hope I perform well for them in the years that I have left in the team.
One final part of the interview was some word association;
Armstrong: Strength in all Terrains.
Ullrich: Coldness and Consistency.
Sevilla: Great Capacity.
Colombian Cycling: Renaissance.
2001 Race Hightlights
1st: Clasica a los Puertos de Guadarrama
1st: Stage 7, 56th Vuelta A España
1st: Stage 21, 56th Vuelta A España
3rd: World Championship TT

Other Talking Cycling Interviews
---
---