Cyclingnews talks with Baden Cooke
By Gabriella Ekstrom
Baden Cooke has been making a name for himself as a dedicated racer and fine sprinter, with a recent stage win in the Sea Otter Classic for Mercury-Viatel. This week Cyclingnews.com takes a closer look at a rider you may soon be hearing much more from.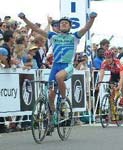 Cooke wins at Sea Otter
Photo ©: Rob Karman,
Bio
Complete name: Baden Hamilton Cooke
Born: 12/10/1978 Benalla, Victoria, Australia
Lives: Los Angeles, California.
Family: Ian (father), Brenda (mother), Marcus (brother), Becca (girlfriend).
Education: Galen College Wangaratta Victoria, Australia
Eats: Anything Italian.
Drinks: Yes. (Well, he is Australian.)
Thinks: Getting paid to race bikes is as good as it gets.
Reads: "Perfect 10"

CN: What is it like to have such a cool name? Do you have a nickname?
BC: Err, well, I guess I got used to my name about 21 years ago. My nickname around the team at the moment is Cooke van Baden. That came about because this guy in Europe last year kept calling me Cooke Baden, and the van part came from the fact that so many of the Dutch and Belgi's in the team have van in their names. So now everyone has adopted it.
CN: When did you decide that you were going to be a bike racer?
BC: Ever since I started racing bikes at the age of 11. I told my friends and family that I would race bikes for a living one day.
CN: How did your parents react to your choice?
BC: My parents have always supported me 100 percent with whatever I wanted to do. When I was young and told them I wanted to race bikes for a living, they wanted me to direct my schooling towards a "normal" career, as they didn't really believe that it was possible to race bikes as a career. As I became more serious, they realised it was my dream, and went out of their way to do everything possible to help me.
CN: Were you ever doubtful about making it as a pro racer? Is racing for a living all you thought it would be?
BC: I was never doubtful about chasing a pro contract as a career. I never really considered anything else. Although there were many times as an amateur based in Italy that I thought I may not make it. Racing against the best riders on earth in Italy was sometimes daunting.
Being away from home is always hard, but since I have joined an American team it seems to be a lot easier. Especially being able to speak English to everyone! Having such a good bunch of guys as teammates, I have never felt so strongly about being a pro cyclist as I do now.
The life-style is everything and more than I had ever hoped for, and I wouldn't change it for anything!
CN: How is Europe different from America and Australia when it comes to living and racing? How do you adapt?
BC:Europe is definitely the hardest place in the world to race bikes, no-body doubts that. However American racing is certainly very competitive, and has some very hard races. In America it is very handy to be able to sprint, as so many races come to a sprint of some sort.
In my opinion, Australians seem to adapt to all sort of cultures and situations very easily. I think the American style of racing suits me very well, so I have found it very easy to adapt.
CN: :Tell us about winning a stage in the Sea Otter Classic, a race sponsored by Mercury.
BC: In all, Sea Otter was a disappointment for the team. We thought we had a really good chance of winning the overall in Chris Horner, but different circumstances put this out of reach.
By the final day, the GC was decided and we were yet to win a stage. We decided to ride the final day with our standard one day race tactics, which was to keep in together as much as possible, take charge of the race near the finish, and set up the lead out for the sprint. With Gord Fraser off his best condition, the sprint was left up to me. The boys delivered me perfectly to 200m to go at 55kmh, so then it was a matter of finishing it off.
It was a big relief for me not to let the team down, and actually a bit of a relief for the team to not let the sponsor down.
CN: You said earlier that your goals for this season were to go well in the US Pro title, as well as in the Tour de l'Avenir. Is that plan still on or has it changed in any way?
BC: The US Pro title is a huge race for the team, and I will be coming off a 6 week stint in Europe right before it, so I am hoping I will be in peak form. Tour de L'Avenir will probably be a big goal for the end of the season, I may also concentrate on the World Championships on the road or track.
CN: If you were to show someone the essence of road cycling, which recorded race would go in the video?
BC: I would probably have to say Milan Sanremo, because you have the huge crowds, the early breaks, the chase, the attacks, the teamwork and then the sprint.
CN: Who are the nicest guys in the peloton?
BC: The guys who come last.
CN:Who will win Ronde Van Vlaanderen?
BC: Peter Van Petegem.
Results
2001
1st stage Sea Otter Classic
2nd stage Redlands Bicycle Classic
2nd stage 2nd Solano Classic
1st stage 2nd Solano Classic
2000
1st 3 stages Herald Sun Tour
1st stage Prix des Bles d'Or - 1.5
1st stage Casade Cycling Classic
Other Talking Cycling Interviews
---