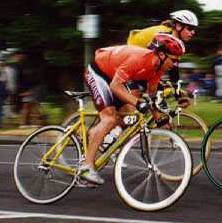 At the Bay Series Criteriums in 1999
Photo: Jenny Kisler
By Jeffrey Jones
Brett Aitken talks to us about his recent World Championships crash, his frustrating year, and his plans for the future.
A key rider of the Australian team pursuit squad for many years, Brett Aitken is one of the country's best track cyclists. He has ridden in most of the major international track cycling competitions and won World Championship, Commonwealth Games and Olympic medals. He has been at the elite level throughout this decade, although he is still just 28.
This year he made his road debut with the Belgian division II team, Palmans-Ideal with an aim to build his condition for a crack at the lucrative six day circuit. However, things didn't go totally according to plan for Brett this year after a good start at the Tour Down Under. A knee injury put him out for three months and then it was a matter of playing catch up for the rest of the year.
It was starting to come together for him at the World's, where he and Scott McGrory were in a potentially winning position in the madison, but then Aitken was taken out with 40 laps to go. Cyclingnews.com spoke with Brett less than a week after he returned from Europe, still sore from his crash, shortly after he'd been for his first ride since the World's, over a month ago:
Cyclingnews: So you're not doing the crits in Perth [Western Australia] starting on the weekend?
Brett Aitken: Ahh no - I don't think the condition would allow it, though I'll go out for a look.
CN: If we could go back to the World's Madison race, what actually happened?
BA: I'm not totally sure myself actually! From what I remember, McGrory and I were coming second with about 40 laps [of 160] to go. I think we were only 6 points down on the Danes and we just had to win the next sprint, or take out the last one which was double points to win the gold.
But, I was sprinting for one of them when one of the German pair flicked out and caused a chain reaction, and my front wheel was taken out. I fell the wrong way to the left, but also damaged my right hand side in the crash. I hit my head hard and was unconscious for five minutes. I had five stitches as well as dislocating my shoulder, which is still fairly sore.
CN: Ouch, although it wasn't just the pain that hurt...
BA: That's right - I'd lined up to ride the Dortmund and Munich Sixes with Scott, which are good money in the winter. Also, if we'd won the gold (or any) medal at the World's, I might have had a contract for next year.
The World's basically summed up my whole year: after a good start in the Tour Down Under, things just didn't go right. I had three months off due to a knee injury, and it took two months to get back into condition. I was then just too far behind to be competitive in Belgian races that my team mainly does. Funnily enough, I'd just started to come into good form at the World's when it [another setback] happened again.
CN: It definitely has not been your year! What are your plans for the short term?
BA: Well, this weekend [December 4 and 5] I'm down to ride a couple of track invitations in Adelaide, which should be fun with a weeks training... Then I'm going to ride the Oceania's the following week, though only as part of the support event [the International Grand Prix].
I was going to ride with the Australian team, but it's an important series of events with Olympic spots up for grabs. I don't want to put myself on the line when I know I don't have the condition.
CN: Good luck with it then! How about next year?
BA: Well, as I said, I don't have a contract so I'll probably be based at home in Adelaide, hopefully with an AIS scholarship. I'm aiming to be selected for the Olympic Madison, riding with Scott McGrory. Also, my family [wife and daughter] are there so I have to think about them.
CN: The issue of riders being allowed to spend more time with loved ones, including training "outside" the program, has cropped up a lot lately. What are your thoughts on the AIS' policy?
BA: Well, I think that things are changing in this area. The AIS management are showing signs of coming round to a more reasonable policy and I hope the riders can can work with them in this regard. There are quite a few of us in my situation [with family/loved ones] who want to see more flexibility.
CN: How much did you think this affected team morale at the World's this year?
BA: I think it did - the World's were a bit of a disappointment from an Australian point of view. There seemed to be a lack of leadership, even though the talent was there. I think we can get the magic that we had back though. In the semi's in the team pursuit, we were up against the Russians at the 3km mark, but fell in a hole in the last kilometer. Just a matter of getting things happening smoothly again.
CN: Hopefully the team can rekindle the magic that it had in years gone by in time for next year.
BA: Well, I hope to be part of it!
Vital details: