Recently on Cyclingnews.com
Cyclingnews' Winter Training Series: Part 3
Maintaining fitness, increasing strength and relieving boredom over the winter.
Come wintertime, for the average working-class hero - a.ka. the weekend warrior - motivation is often the biggest hurdle to maintaining one's fitness on the bike. In Part 3 of Cyclingnews' Winter Training Series, Eddie Monnier of Velofit, a Joe Friel Ultrafit Associate, lends some of his tips on how to get you through the chilly season.
Winter Training Part 1 by René Wenzel, Bike Racing 101
Winter Training Part 2 by Robert Kühnen and Beppo Hilfiker, 2PEAK
Winter Training Part 4 by Ric Stern, cyclecoach.com
Now's time for reflection and planning
Photo: © Francis Cerny/Nikon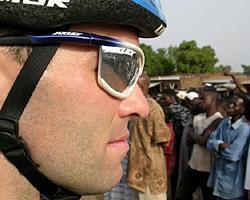 Tip 1: Where did the season go? Taking stock while it's still fresh
Now is the time to reflect back on your season. Consider the following questions as you do so:
Where do you stand relative to your goals (this season and longer-term)?
To what do you attribute your successes?
What kept you from realizing those goals that remain unfulfilled?
What would you do differently if you had it to do over again?
Assuming next year's racing calendar is similar to this year's, which would you designate your A races (planned peaks)?
Given your earliest likely A-race, when do you anticipate beginning your 2004 Annual Training Plan (ATP)?
Given all of the above, when should you plan your Transition period?
Tip 2: Make time for rejuvenation; go faster when it matters
The purpose of the Transition phase is to allow your body to rejuvenate while not completely detraining so that you can begin next year's Annual Training Plan ready and able to build upon this season's success. In short, the purpose is to go faster when it matters (i.e., not during the off-season).
After nearly eleven months of training, chances are your body is tired down at the central nervous system level. Rather than stop training cold turkey after your final competition, I prefer to take a week or two to progressively reduce both work volume (i.e., frequency and duration) and intensity and to shift the emphasis to exercises other than your primary sport. For cyclists, this might include running, hiking, swimming, tennis or yoga. Because of the reduced volume, the transition phase is also an excellent time to spend some extra time with those who support you throughout the season.
The appropriate length of your Transition phase will depend upon many factors, including your age, experience level, degree of psychological burnout, timing for your first peak in the following season, etc. Generally, however, a transition should last three to five weeks. During this phase, you should train two to four times per week. Remember, these sessions should be low intensity and low volume. The purpose is active recovery, not becoming a nationally competitive athlete in another sport.
Tip 3: Plan your upcoming season
Plan your upcoming season. For which races do you want to peak? Which will you use as training? See my article, The Six P's of Race Prioritization, for help on setting race priorities.
Tip 4: Transition and early Base present good times to make equipment changes
So you're thinking about rewarding yourself for all the hard work you put in this year with that pedal system you've been eyeing and some new cycling shoes, or a new power meter, or possibly an entirely new bike. The Transition phase and early Base are ideal for significant equipment changes. They give you time to fiddle with and fine-tune your new purchases. It can also be a very cost-effective time of year to acquire equipment because of the closeout deals available on this season's leftover merchandise.
Tip 5: Maintain balance during Base
Base is the time to lay a strong foundation of Endurance, Force and Speed Skills so that you can layer on the more advanced skills (i.e., Muscular Endurance, Anaerobic Endurance and Power) later. But it can also be a challenging time for training due to inclement weather, holidays, high training volumes and tempting group rides. And for all these reasons, it's important to maintain balance during Base. The following pointers might be helpful:
Consistency is important, but no one ride will make your season. It's okay to miss an occasional planned ride. Work demands, family obligations and inclement weather can cause a missed day. If the workout was a key workout, swap it to another day.
Leverage cross-training while you can. As you progress through Base, specificity becomes more and more important. Take advantage of the ability to cross-train while you can. This can be key to maintaining consistency during inclement weather, while traveling or to avoid wind trainer burnout later in Base.
Don't get sucked into becoming a Winter Star. Many of us enjoy the social aspect of group rides, but this time of year they often become Winter Star slugfests. While an occasional spirited ride won't break your season, don't get sucked into being overly competitive in January. You want to dish out the hurting during the competitive season, when it matters. If you don't have the discipline to drop off the back if the pace gets too hot, then organize your own rides with others who have the same ride goal in mind.
One-off big training weeks don't pay big dividends. It's tempting to pile on the miles during the holiday period. But one week of super high volume training isn't going to positively affect your peak and it may even lead to injuries if the increase in volume is too dramatic.
Tip 6: Base is the time to lose weight
Because it's difficult to lose weight without hampering recovery, Base is the time to shed any excess weight. With respect to dietary approach, I'm an advocate of the principles outlined in The Paleo Diet by Dr. Loren Cordain. This approach advocates we eat like our hunter/gatherer ancestors; namely: lean proteins, vegetables and fruit. It avoids starches and grains, highly processed foods, hydrogenated oils, saturated fats and dairy products. See his book for the details and the scientific support.
Note, however, that the Paleo approach needs some modification to accommodate an endurance athlete's needs during intense training (i.e, Build phases) and competition. During and after very long workouts as well as after very hard workouts, you need to restore muscle glycogen in order to promote recovery. The recommended way to do this is to consume high glycemic carbohydrates (e.g., recovery drinks, pasta, rice, potatoes, oatmeal, etc.) within thirty minutes and for up to two hours. Thereafter, you return to eating Paleo.
To contact Eddie Monnier at Ultrafit, click here.