The art of muscle care
Self-help massage and preparation tips from US Postal-Berry Floor's chief soigneur
About the author
Freddy Viaene in action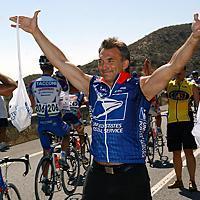 Freddy Viaene is an internationally known sports trainer and sports massage therapist. He is the US Postal-Berry Floor Team's chief soigneur, which means "one who cares for" in French. Soigneurs are an important part of professional cycling. They provide not only specially designed protective massages for the riders, but all the details of keeping the teams fit and at top performance from the training table nutritional regime to providing proper feeding during the event.
Freddy Viaene has been involved in the international sporting circuit for almost two decades. He was a cyclist himself until an injury at 19 cut short his career. For five years he studied reflexology, shiatsu, macrobiotics and nutrition. He also became a certified personal trainer.
His combination of skill and knowledge of a broad range of techniques as a personal trainer has built his world-wide reputation for the ability to assess and treat his athletes accurately and effectively.
As a result of his expertise, many of the world's best-known competitive athletes choose Freddy Viaene as their sports therapist. His ability to treat the US Postal-Berry Floor team for maximum performance with minimum strain and injury is one of the team's secret weapons.
M. Viaene has just introduced his own line of balms, Freddy's Choice, using the formulas he has developed for US Postal-Berry Floor. For further information, see www.freddyschoice.com.
As chief soigneur of the US Postal-Berry Floor team, Freddy Viaene looks after Lance Armstrong and arguably the most powerful cycling team in the world. While talent and hard training is a big factor in USPS' successes, Freddy believes that how riders are looked after is also extremely important - and so is how you look after yourself.
US Postal-Berry Floor maintains a staff of 16 to support the nine riders during a race: directors, doctors, mechanics, chefs. I have a staff of three experienced massage therapists. Not every rider can have a support team, but there is much you can do yourself and with your team-mates.
Too often riders and teams think riding is all they have to do to keep themselves at top performance. But your training can go sour and injuries ruin your season if you don't pay attention to protecting and repairing your muscles and giving your body the proper nutrition. All the members of the US Postal-Berry Floor Team from Lance Armstrong to the newest member understand that the muscle care we give them is as important being in top form as the days they put in riding.
The key to endurance, as well as quick recovery after an event is circulation. Tight, cold muscles squeeze the vessels and slow the blood so it can't do its job of renewing and protecting. Warm and flexible muscles reduce swelling and improve circulation through the muscles bringing them the nutrition they need and taking away the toxins that build up from fatigue.
Stretching, massage and balms all contribute to increasing circulation.
When I am in my hometown of Izegem, Belgium, in the off season, I work with my hometown football and triathlon clubs. I tell them what I know from experience is true, that massage, balms and stretching are the keys to winning.
Stretch
Be sure to stretch properly before training or events.
This is something we trainers preach constantly and I know how difficult it is for riders who are trying to find time to train and still meet the demands of family and work schedules. Take the time: it's worth it.
Stretching before and after a ride helps warm the muscles and speed recovery.
Stretching exercises are usually well known to the cyclist. Every member of US Postal-Berry Floor stretches for a long time before a race, particularly in the later stages. But even five minutes a day can help, especially if you combine stretching with the proper balms.
Even if you have only a short time, stretch slowly and hold the stretch for 15 to 30 seconds. Remember to breathe. And use your breathing to relax into your stretch. The object is to relax the muscles so pain is not the objective-it only tightens the muscles. So if you feel pain when stretching, you are pushing too hard.
Don't just concentrate on your legs. Your neck, shoulders, spine, lower back, groin and Achilles tendon are all vulnerable to injury and should receive attention.
Use balms and chamois cream
Balms help keep leg muscles warm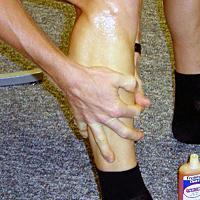 Recognize the importance of using balms: Use chamois cream all the time and warming balms in cool or rainy weather.
During a race, after breakfast and assuring that the day's race food and iced bottles are in the cars for the day's race, we give team members balms and chamois creams for the day. Applied before stretching, balms make the exercises more effective.
These are special balms I have devised over the years. In the early days, there were no commercial balms so I created my own and have continued to improve them in consultation with the team doctors. But conditions also dictate what we use. Because of the extreme heat during the Tour, for example, the rider received no balms. The skin had to breathe. But that's unusual.
As I write. I am preparing for the Vuelta in Spain. We will use a balm I have created for warm weather there and hotter balms with capisin for the cooler weather in the mountains to keep the rider's muscles flexible.
I experimented for years before I found a chamois cream that would really protect the buttocks and stay on. The real test is the race over cobble stones at Paris-Roubaix. When I had a chamois cream that protected the riders for that whole race, I knew I had the right formula.
Protecting the muscles during cooler and rainy weather can mean the difference between a yellow jersey and a rider who can't finish the day because of injury.
A good balm penetrates deeply through the surface of the skin and warms the leg muscles and, most important, is made to stay on and keep them warm and keep the blood circulating.
Warm muscles have elasticity and are supple so they are able to adjust to strain without soreness or injury. In addition to the legs, I recommend most riders rub the balm on the lower back and the chest, which are most exposed to the elements, as well as on the heels and feet.
Get a massage
Massage promotes recovery of sore muscles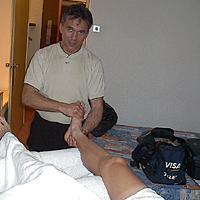 Every two weeks and after heavy training or an event, have your legs massaged for at least 50 minutes. If you don't have a massage therapist available, learn self massage.
When the US Postal-Berry Floor team completes their race day, our work really begins. At the end of each day, I have a meeting with Jeff Spencer, the team Chiropractor and the other doctors as needed. Together we examine each rider and discuss massage techniques needed and how to treat different problems. Early in the season we use softer techniques as the riders are getting into condition, but during races we do deep tissue massages.
Each team member's legs and feet are massaged for 50 minutes. Sometimes I start with 20 minutes on the back, especially if they have injuries, tightness or sore muscles. This helps to relax the leg muscles.
The kind of extreme stress put on muscles during a race damages the muscles. Massage reduces swelling and stretches sore muscles increasing circulation to help the muscles repair themselves. Fully recovered muscles are less like to be injured in the next day's ride. Massage also enhances performance by decreasing muscle tension and increasing flexibility.
A rider without a massage therapist can learn self massage or work with another member of the team so they can massage each other. There are many good books on the subject. Self massage is really a combination of massage and stretching exercises.
DIY massage is a good alternative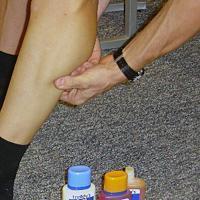 Find a place where you can sit comfortably with your legs stretched out in front of you. Begin with the feet and work upward. Massage each toe and the arch of the foot. Stretch the Achilles tendon by gripping the toes and pulling the foot back toward you. The motion will also relax your calf muscles and stretch your lower back.
Apply massage oil and rub your calf muscles rapidly for a minute to warm them Do the same with the knees and thighs of both legs.
When your legs are warm, bring your knees up and hold your calf tightly with both hands. Move it back and forth until you feel the muscles stretching and continuing kneading it for several minutes. Do the same with the hamstrings, and thighs.
Be sure you also work the muscles in the buttocks and upper thighs to loosen your hips.
After their massages I give each team member a muscle relaxing balm I developed, to keep the muscles relaxed during the night. This is particularly helpful for sore or injured muscles.
Look after injuries
Take care of your injured muscles and you will be riding without pain sooner.
Icing after gentle massage is usually the most effective way to help an injured muscles heal. An injury or bruise should not be massaged for 48-72 hours. Apply ice as soon after it occurs as possible. Wrap the ice in a towel if you have one available with one layer separating the muscle from the ice. It is also important to elevate the injury to increase the flow of blood around the injury. Lay on your back with your legs propped up higher than your head while you are icing.
To get immediate treatment going while you are still on the course, you can rub ice directly on injured muscle for as much time as you have available.