Tales from the (one-woman) peloton
A glorious swansong
On the evening of Saturday April 13, 2002, at Manchester velodrome, British rider Yvonne Macgregor ended her career in fine style by breaking the European and sea-level women's hour records. This is her own story of the lead-up to the ride, and a brief accountof the ride itself – brief because Hour record holders tend to prefer not to dwell on the pain of sixty minutes of maximal effort...
Going hard
Photo: © Andy Jones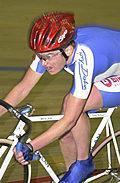 At last the agony is over! But all the suffering has been worthwhile after recording a new European record [and World sea-level best] of 43.689km for the Hour on Saturday, April 13 at Manchester. For me it has been a very pleasing and satisfying way to end my career on the world stage and all the more so when you consider the background to the attempt was not been the ideal way to approach such a feat!
I decided mid-January to make this my swansong after a great deal of deliberation. When you have previously attempted an hour record you know exactly what the score is and none of it is particularly pleasant. Hour record attempts are not to be taken lightly, which is why so few riders make them. I took some time over the winter to finally make a decision to commit myself to the project but it became a decision totally for my own personal satisfaction. However, part of my decision was dependent on the attempt taking place in the Spring. I decided to retire at the end of last season and I am keen to move on to the next stage of my life so I wanted the attempt sooner than later in the year. This meant training in the dire weather of an English winter to get the necessary solid endurance base - 99 percent of it on my own. In addition, my racing was restricted to a handful of local time trials, though all done on a standard road bike to simulate my riding position required for the hour.
Finally, the only available track times for training were at the unreasonably early hour of 8am, which meant a 5.30am start to my day! I had just eight sessions on the track to get position/testing and training sorted.
A huge vote of thanks here to Alyson France of 'Bikeline' - the cyclists' solicitors who provided funding to cover costs for this and the attempt as a whole.
UCI rules dictate the bike specification, but, for the technically-minded, I rode a traditional frame, made by Terry Dolan from Dedaccai steel tubing.
Wheels were standard sprint rims on Royce hubs with Dugast tubulars, 16-spoke front and 20-spoke rear. The gear was 51 x 14 and the position was longer and lower than my normal road position.
There is no doubt, as my body is still telling me, that riding in the 'new' hour position is quite a bit more uncomfortable than the old tri-bar position. As for my attempt, I set off on a schedule that gave me quite a buffer to Van Moorsel's time, and after 30 minutes I tired quite markedly after incredible saddle soreness set in, together with tightening gluteals. The cumulative fatigue that is nothing like you ever experience in any other form of racing, believe me!
It was a glorious swansong for me and a huge sense of relief that my career on the international stage is over. I have achieved so much in my career, have so many happy memories and feel privileged to have been involved in the sport. The bottom line is I enjoy riding my bike and that will not stop - I'm sure I'll still be seen riding around the roads... admiring the scenery for a change!
Yvonne's pre-attempt press statement
Manchester 2000
Photo: © AFP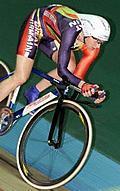 This Hour Record has been very much a personal goal for me and provides a fitting farewell to my career on the cycling world stage - and where better to end than at the Manchester velodrome. Illness and injury prevented me performing adequately at the Worlds last year and I didn't enjoy my career ending on what for me was a low note. However, it did take a couple of months over the winter where I was asking myself - 'do I really want/need to put myself through this again!' - but the seed had been sown and so here I am.
Another reason why I was attracted to the record is the new regulations applied by the UCI in 2000 whereby one is obliged to ride on a standard track frame where aerodynamic qualities are kept to a minimum - thus the Hour becomes a true athlete's record. I do believe the UCI now need to go one step further for it to become a true Athlete's Hour record. I've never been one to court controversy, but certainly always demanded fair play, and to this end I believe all attempts should now be made at sea level. There have been quite rigorous studies undertaken that indicate hour attempts at altitude can make a difference to a rider's performance of as much as 1.5km which leads one to question is it a true athlete's record?
My attempt this Saturday will be for the European Hour Record. Officially this is held by Cornelia Van Oosten-Hage from 1978 with 43.083km. However, for my own credibility, I feel the distance I should actually aim for is that set by Leontien Van Moorsel last September with 43.475km, even though it has not been officially ratified for technical reasons.
Because this is a personal goal for me , it has been a more low-key affair than any of my other records but I would like to say a very big THANK-YOU to a few people who have made this attempt possible. As I have now retired officially, I am no longer a member of the WCPP so I have relied heavily on a few very valuable people for their huge time and efforts. Terry Dolan is just one great guy who has bent over backwards for me to get a super bike built for the attempt. Peter Woodworth has been his usual self, quietly working behind the scenes to help set the attempt up. Alyson France, the cyclists' solicitor based on the Wirral, who has provided sponsorship for the attempt which has been hugely appreciated. Andrea Ingram at the National Cycling Centre for her assistance in arrangements for track training. Finally, Ken Matheson, who has not only coached me to the attempt but has been such a huge source of support in so many other ways too. So the rest is up to me and while Hour record attempts are never easy and certainly always painful I sincerely believe I can deliver the goods on Saturday evening.