To radio or not to radio: The pros speak their mind
Examining the issue and its effect on the professional cycling scene
By Anthony Tan
Here's what the pros had to say:
Brad McGee (La Francaise de Jeux)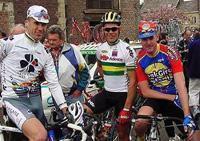 Brad's tuned in - but what about the rest of the Aussies?
Photo: © Miwako Sasaki
"I love them and think that anyone talking negatively about them should try and transport themselves back to the dark ages. It is the year 2002 and this technology is available, does not abuse or cheat the system, and offers another interesting part to the technical side of cycling.
"There is plenty of running and swimming races to watch if people do not like the technical side of sport. I can not think of an occassion where I have thought the earpiece has changed dramatically the course of a race (from my experience that is - the first few years I didn't understand a word the French directors said anyway).
" I think they are great tool in keeping a close team harmony. As far as there infleunce on tactics is concerned, I feel they only add to the value of the racing, as no longer are riders tearing through the country side with no idea of who is, where, or what is going on - it must have been a case of 'don't know... well just put the head down and go' (dialogue between DS and rider).
"With the radio's abilty to pass info on quickly, in my opinion, the performances are deliberate and precise, and much more appreciable."
Cadel Evans (Mapei-Quick Step)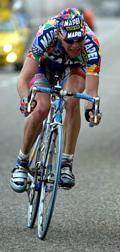 Cadel on the road
Photo: © Yuzuru Sanada
The former MTB champion and now emerging stage race rider for Mapei said "We did use them (race radios) for MTB races, mostly for time splits. On the road, they are a lot more useful, especially with the TV's in the cars, the directors are able to keep you well informed, hopefully with the right information.
Interesting note:
In Stage 6 in this year's Paris Nice - which Dario Frigo from Fassa Bortolo eventually won - Evans said afterwards that: "For how I rode, I didn't get the results I deserved... maybe if I had been up the Col d'Eze before, rather than doing it for the first time in a race, I could have tackled it differently.
"I know it's a climb which you can go up really fast, apart from the bottom where it's steep. Not my favourite kind of ascent, and that makes it more important to know it well." (Cycle Sport, May 2002, p.53)
Where was DS Serge Parsani at the time?
Anna Millward (Saturn Cycling Team)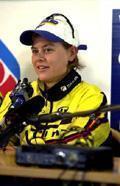 Talkback radio?
Photo: © Tom Balks
Anna's a big advocate of the race radio - here's what the winner of 2001 Women's World Cup said:
"Personally I think radios can be very useful little devices. But I don't think they change results very often, if at all.
"They are definitely useful if you have a team-mate in a break and you are coming across - you can let them know to just ease up on the pace a little while you bridge. Or if your GC rider punctures and happens to be behind you at the time - at least they can let you know before you are too far up the road.
"But a radio still can't teach you how to attack and to have the feel for the race, and just when is the perfect moment to put the hurt on everyone. It's one thing for your director to tell you to create a breakaway now or bridge up now but it's another thing to actually be able to pull it off.
"That's why I think radios don't often change results. They just help you a little with information and keeping you calm.
"But radios do seem to have a good knack for losing contact (with your DS or team mates) right at the critical point of the race, or not having quite enough range to communicate with the breakaway. You always have to be prepared to race just on your own intelligence and actually get beside your teammates to talk to them in the peloton. Novel concept!!"
John Lieswyn (7UP / Nutra Fig)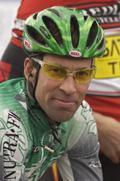 Radios are handy... sometimes
Photo: © Rob Karman
According to Lieswyn, race radios are an aid - but only that. The element of suprise is always there, and just like the ol' days, you "just need to be stronger than the rest" adds Lieswyn:
"On unfamiliar roads, your manager can call out the turns before you get there, helping to avoid accidents (providing the organisers have provided accurate and complete directions).
"If you are in a new break you can call back (to ask) your team leader and director who is in the move with you to help clarify much faster whether or not to work with it (the riders in the break).
"I've been (in situations) sitting on the back of a break telling my teammates on the radio that I felt like hell, and they better bridge another guy across in a hurry before the gap gets too big.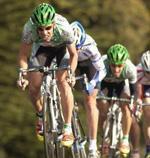 "It's still up to the riders"
Photo: © Jonathan Devich
"Team managers can give info like time splits, who is up the road, and instructions like chase or bridge. What the cycling fans must remember is that it is still up to the riders to use the info or carry out the instructions. I've read ridiculous comments where people think that cycling is becoming 'robotized'. These people don't have a clue - we aren't machines.
"A manager can say, attack now! - but if you don't have the strength or fortitude to do so, the radio makes no difference. The rider can still respond to the attacks of others, just as pro cyclists have always done - on instinct. It's not like you have riders getting on the radio and saying: "Boss, Beloki just attacked. He's 100m up the road, what should I do?"
"Yes, radios mean that riders can alert their teammates to an impending attack. For example, if I'm starting a jump, or displaying body language that indicates an attack and Gord (Fraser, Team Mercury) sees this, he'll tell his teammates "Lieswyn on the left."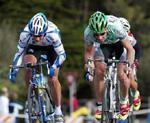 "Just be stronger than the rest"
Photo: © Rob Karman
"Attacks are still possible as they always were, but you have to really surprise everyone or just be stronger than the rest. Remember that many of the great races have been happening for tens of editions, and everyone knows where the smack goes down.
"The Arenberg Forest, the Kwaremont, the climb out of the Gila, the Cliff Dwellings - whatever the obstacle, EVERYONE knows where the heavy hitters will start racing - and radios make little difference at that point."
What do you think about the race radio? - Tell us your thoughts