Recently on Cyclingnews.com
Tales from the (Cuban) Peloton
Competing in Castro country
I Olimpiada del Deporte Cubano Journal
US citizens can't holiday in Cuba, but sporting links are allowed, and the Cubans are enthusiastic, friendly hosts and competitors — even if racing there means sitting through a Fidel speech, as Joe Papp tells in this tale of the 'Cuban Olympics'.
November 25, 2002 - orientation
Habana del Este, Cuba
Even I wouldn't have thought that one US rider could travel to Cuba four times in one year, and six in the span of 18 months to compete in Castro country - a land forbidden to most US citizens. Yet here I am again, less than one month after last departing la Habana.
Team USA
Photo: © Joe Papp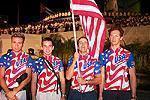 I arrived at the Jose Marti airport outside of the capital yesterday with my teammates Larry Perera and Mike Beers, and our manager Jerry Martinez. We've returned to Cuba to represent the United States in the I Olimpiada del Deporte Cubano, which is similar to the old US Olympic Festivals. In this case, however, the Cuban government and the Ministry of Sport (INDER) have organized the "Cuban Olympics" to give their athletes a forum in which to compete after opting out of the Central American Games in San Salvador. Ostensibly, Cuba decided not to participate in the Central American Games after the organizers and government of El Salvador could not guarantee adequate security against a terrorist who bombed a Cuban airliner after take off from Barbados in 1976. All 73 lives on board the plane were lost — among them the entire Cuban fencing team, which was returning from a tournament — and there was speculation that this individual would strike at Cuban athletes during the Games.
INDER gave the various Cuban sports federations the opportunity to invite foreign athletes, and since the relations between the Cuban Cycling Federation, the UCI Pan American Confederation and USA Cycling are pretty tight, here we are. Unfortunately, since the cycling competitions fall on Thanksgiving, very few US riders are in shape or willing to travel to compete. I like racing here, and since I've got several close friends in Cuba with whom I will spend the holiday, I came willingly.
We're staying at the Villa Mégano, a tourist hotel in the Playas del Este region, about 20km from downtown Habana. We're only a few hundred meters from the beach and in the morning when I walk out my door, I can see the Atlantic Ocean in the distance. Better than the snow in New York right now!
The track racing starts on Thursday, and the 140km men's road race is on Sunday, December 1. I've hardly trained during the past month, so Larry, Jerry, Mike and I rolled out along the coast for three hours to loosen the legs. Had dinner back at the Villa in the evening, but the place was dead, dead, dead. Tourism in Cuba is apparently way down, and since Cuban citizens aren't allowed into the tourist hotels (Cuban apartheid), it makes for a somewhat lonely atmosphere.
November 26, 2002 - opening ceremonies
la Habana, Cuba
Not the Brazilian soccer team
Photo: © Joe Papp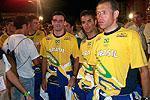 The Brazilian national team arrived late last night and will be staying with us at the Villa. Though I forget his name, one of their riders competed at the Housatonic Valley Classic this year for the Caloi team, and we shared some time there together off the back of the lead group. It's amazing in how small of a world the sport of cycling operates. Granted, we're not riding the Tour de France or anything, but it's funny to run into the same foreign athletes in Cuba and Connecticut.
Though the competitions start on Thursday, tonight was the opening ceremonies for the Olympiad, held at the Plaza de la Revolución in the Vedado section of Havana. The Cuban sense of time takes "island time" to a whole new level, owing in part to the country's utter lack of resources such as transportation, and the subsequent inability to guarantee a prompt arrival for anything. Thus, we left the hotel with the Brazilians at about 4pm to drive into Habana, even though the ceremonies don't start until 9pm.
And the band played on
Photo: © Joe Papp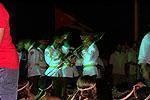 We hung around in the Plaza for several hours while the organizers finished setting up the stage and the crowd filtered in. As in any communist state, the Cuban government puts a big emphasis on mass participation in demonstrations, and the opening ceremonies of this event are no different. About 50,000 spectators were bused in to see the show.
Opening ceremony
Photo: © Joe Papp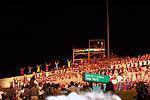 Once everything got underway, I have to admit that it was pretty spectacular. While I have a degree in history and political science and went to grad school to study government and public affairs, I try to be apolitical when I participate in sporting events, especially in a country with as tweaked a system as in Cuba. I have some incredibly close friends here, and it saddens me to see the economic, social and political conditions under which they and the vast majority of the Cuban population lives. However, rather than dwell on how worn-out the country is or how repressed the people are, I figured I would for once enjoy the spectacle of the show.
Jerry. Fidel Castro not pictured
Photo: © Joe Papp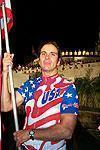 We marched in the opening parade and then stood only a few meters away from Castro himself while he gave an ultra-short 20 minute speech extolling the virtues of socialist Cuban sport. The guys and I were in the third row, behind and to Castro's left, but Jerry - our flag bearer - waved the stars and stripes with gusto for the entire proceeding. Picture this: Castro is giving a speech in the Plaza de la Revolución, one of the most sacred political spots in Cuba; he is surrounded by hundreds of the absolute best Cuban athletes, both past and present, many of whom are Olympic or World Championship medalists; the theme of his speech includes the traditional "anti-imperialist" (i.e., anti-USA) slogan; and there we are, four US cyclists, waving an American flag in front of tens of thousands of Cubans — all of this televised live on national TV. Dali couldn't paint a more surreal picture...
November 27, 2002 - tranquilo
Habana del Este, Cuba
Mike Beers
Photo: © Joe Papp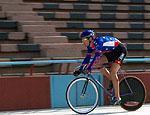 After last night's spectaculo, today was tranquilo. There's no racing until tomorrow on the track, and Larry and I don't get to throw down in competition until Sunday. Jerry and Mike headed over to the track to get some time in before the sprints and kilo on Thursday, so Larry and I rolled out for a six-hour ride. Larry is a different rider from the lad who barely completed the Vuelta a Cuba (UCI 2.5) this February. There, he was struggling to hold the pace each day, but after a respectable summer season he started training early this month with a vengeance. I'd say he's definitely our best hope for a result on the road. Mike has also has good form, owing to his intense winter training program. He is the reigning US national champion for the men's 1km ITT on the track, and is a regular sparring partner with Marty Nothstein, so I think he'll be able to match the well-prepared Cubans.
In the evening, a variety of Cuban athletes, including cyclists who represent the three regions competing in the Olympics, arrived at our hotel. While it's no big deal for us to hole-up in a place like the Villa, it is a dramatic change for the Cubans. They are used to accommodations that would make a Spartan shudder. You have to respect the abilities of a Cuban rider like Pedro Pablo Perez, two-time winner of the Vuelta a Cuba and the man who cracked then-Mapei rider Fillipo Pozzato on one epic climbing stage this year. However, when you see how little food he eats each day, how shitty his equipment is and you realize how generally bleak a future he has in socialist/communist Cuba, you have to respect not just his athletic prowress, but also his qualities as a human being.
A country wearing thin
Photo: © Joe Papp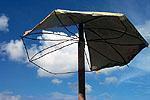 If I had to use one phrase to describe Cuba after six trips here, it would be a worn-out country. However, the people here are the most friendly I've met anywhere in the world, and they harbor no overt anti-American sentiment. While it can be especially challenging for foreigners to race at the elite level here, the opportunity to experience the cariñoso-side of Cuban culture and society makes it all worthwhile. In fact, I had the luck to meet Karelia, a fantastic Cuban woman, on my first trip here in April 2001. We kept in touch and saw each other during my subsequent visits, until finally, after this year's Tour of Habana del Este, I invited her to visit the USA. She's in the States right now, and while our relationship is in the gutter in a very strong crosswind, I have been looking in on her family almost every day that I've been here.
November 28, 2002 - first day of competition
Habana del Este, Cuba
Woo-hoo! Mike Beers won the bronze medal in the kilo today! Having medaled in one event, all the pressure is off the team for the rest of the competition. Mike's qualifying time for the 200m in the morning didn't put him into the top five, so we were definitely a bit down. However, his afternoon ride in the kilo was good enough to get the USA onto the podium. In fact, Mike's medal is the first to be won by a foreign athlete competing in the first-ever Cuban Olympiad. Again, we're keeping this in perspective, but it is still very, very cool for him to have earned that honor.
Men's 1km ITT Results
1 Michel Pedroso (Cuba)             1.07.586
2 Yosmani Poll (Cuba)               1.09.830
3 Michael Beers (USA)               1.11.339
4 Rodrigo DeMello (Brazil)          1.13.928
5 Armando Reis (Brazil)             1.14.856
Enthusiastic fans in the stadium
Photo: © Joe Papp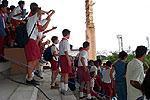 The Cubans are super-psyched to have us here, since the stars and stripes jersey always adds a bit of northern salsa to an already hot situation. When US riders first started competing in Cuba, the locals were cool to the gringos, to say the least. However, mainly through the efforts of former USCF President Mike Fraysse, who is now the Vice President of the UCI's Pan American Confederation, the Cuban Cycling Federation bends over backwards to make sure that we're treated as well as anyone here. In fact, Fraysse now takes amateur riders to Cuba for training camps and races during the spring and fall, and he managed the first-ever US team to race the Tour of Cuba this year. Being here as an athlete can be an awesome experience.
Maybis Y. Fuentes (Cuba)
Photo: © Joe Papp
The local riders are definitely taking these races seriously, and the amount of work done to refurbish the velodrome is impressive. For five years the roof overhanging the home stretch seats has been falling down, and spectators were prohibited from sitting there. However, repairs were finished yesterday, and with a fresh coat of paint the track looks as good as it did when it opened in 1991 for the Pan Am Games.
Salsa lessons
Photo: © Joe Papp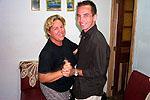 The Cuban women were tearing each other up today during the pursuit, and I think I saw at least three riders in which the victor caught her opponent. With the stands full of elementary school kids, the noise was deafening and the atmosphere very exciting.
Celebrated Thanksgiving with a traditional Cuban meal at Karelia's house, and afterwards had salsa lessons with her family!
November 29, 2002 - crash
Habana del Este, Cuba
At the velodrome
Photo: © Joe Papp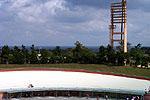 Decided to return to track racing today after a four-year layoff. I started the scratch race along with Mike and made the first attack of the day, only gaining about 7 seconds before the field ate me up and almost spat me out. I hung on, however, and made my way to the front to get back in the action. The average speed was 47.1kph for the 10km event, which seemed fast as hell to me! My heart rate was around 185bpm for most of the race, but we were still attacking and covering moves.
After the field split with about six laps to go, I was crossing the gap behind a random Cuban, set to catch the leaders in turn one. However, the rider in front of me either cracked or had bike problems and slowed down abruptly just past the start/finish. I backpedaled hard to avoid running into him, since I had a rider on my right and couldn't swing up, but in doing so somehow my bike lost its chain. My goal of not crashing but instead coasting off of the track (from 55kph without a chain - yeah right!) was lost when the rear wheel jammed and I skidded through the turn before going on my ass. Thankfully, the skid was so long that everyone had enough time to avoid me before I fell. Left the 'drome with my road rash painted with purple antiseptic solution by the track doctor. Nice.
Some of the track records for the Velodromo Nacional "Reinaldo Paseiro" are:
Men's 200m - 10.500s, ridden by none other than the USA's Marty Nothstein in 1996
Men's 4000m IP - 4:48.822, for the Cuban record, ridden by current Saturn pro Ivan Dominguez in 1997 (Juan Martinez of Spain holds the track record)
Women's 3000m IP - 3:50.142, set by World Champion Yvonne McGregor (GBR) in 1996
In the evening, while riding home from my ex's house in the dark on the Via Blanca, a crazy, unlit 4-lane highway that runs from Habana through the Playas del Este, Cuban Olympian Yoanka Gonzalez's husband Rosel stopped his motorcycle and gave me a lift back to the Villa. Nicer still.
November 30, 2002 - one day to go
Habana del Este, Cuba
The weather this trip has been spotty, with wind and grey skies one day, sun and pleasant tropical breezes the next. Today, however, was utterly gorgeous and I rode into Habana Vieja for a coffee in front of the Cathedral after doing some impromptu motor pacing on the Via Blanca. Speaking of moto-time, crazy Jerry has been going out every morning at about 5:00am to do an hour of motor pacing before taking Mike to the track. I hear him clicking along on the tile floor outside our rooms when he's about to leave, and have to chuckle before going back to sleep. When he returns to New York City, he'll definitely have the best form of anyone on the Central Park night ride!
Tomorrow is our road race, we're all very psyched, and even Mike Beers the trackie is going to ride. Though Cuba is definitely a tired country with respect to infrastructure, Cubans still love to enjoy themselves socially, whether it be dancing salsa at a club, sharing a bottle of rum on the beach or playing dominoes in the barrio. While we are focused on riding well tomorrow, and have been drinking our Extran and polishing our Rudy Project glasses, once the racing is done we will be on the prowl for a fun night out.
December 1, 2002 - Road Race!
Habana del Este, Cuba
What a race! Held on the "Guayaba" circuit, which is basically a 20km kermesse course with lots of wind and rolling hills, today's 140km men's event saw lots of attacking from the start and a tough finale. Since there were only three of us, we had no desire to expend a lot of energy in the first third of the race covering moves that probably wouldn't stick. Mike agreed to be the workhorse and to contribute as much as he could before he cracked, and Larry and I were committed to helping each other as best we could.
A safe way to ride one of these races when there are only a few of you on the team is to spend the middle portion of the event covering Pedro Pablo "P-Cubed" Perez. I hate to say it, as he's a good friend and a rider who I respect greatly, but if you mark him you've got a good chance of finding yourself in the right spot at the right time. Sure enough, after about 90km of racing, with a threatening break up the road, Larry stuck in no man's land trying to bridge the 1:30 gap and P-cubed biding his time in the field, the moment came. Perez clicked down a few cogs, stood up just as we were approaching the top of a roller and absolutely launched out of the field. I've got a quick sprint but was scrambling to grab his wheel. We passed the lead rider at about 50kph - on the climb - and rocketed down the other side of the descent. No one could come with us, and we caught Larry after a few km's. I pulled as much as I could, but Perez was killing us. When I downloaded my SRM data after the race, it showed an average heart rate of 192bpm for this 10 minute chase.
It hurt like hell, but we caught the break and after a couple of minutes to recover, Larry and I started driving the group. Unfortunately, the downside to riding with Pedro Pablo is that everyone else marks him too, and if you get in a break with him that is bigger than four or five riders, most of the Cubans will refuse to work. Thus, everyone, and I mean everyone, including the Brazilians who had three riders in the group, sat up! We were totally clear of the field and the break wouldn't work. Larry and I each tried to attack from the group, but both of us were blown from the chase and not strong enough to ride solo. Thus, with the peloton chasing just as hard behind as we had (remember, P-cubed is a marked man), we were doomed to be caught.
To add insult to injury, what would be the winning move went in a counterattack almost as soon as the field regrouped. Mike had abandoned by this point, and Larry and I were too wasted to follow. Maybe with August fitness we could have, but not on December 1.
After about a lap of wasting time, the field started to chase and blew apart with 10km to go. Larry and I were echeloning with the second group when a series of attacks exploded our chase. I finally found the energy to attack on a downhill in hopes of bridging to the first group pursuing the break, and only one rider went with me. I took a quick glance under my shoulder but couldn't tell who he was, so I tried the shake-and-break to ditch him. I think he must have laughed and smiled at my feeble effort, and then I realized that it was Perez. Seeing that I wasn't going to close the gap solo, and that we'd finally ditched most of the field, I drilled it in the crosswind in hopes of at least helping my friend make the bridge. With about 50m to go to the last rider, I totally and completely cracked, but not before I reached back and gave Pedro a madison-sling. He did get on, and told me later that each time he attacked the entire group chased him down, but no one would counter. In frustration, he crossed the line in 18th, the last of the frontrunners, while Larry and I finished 19th and 20th, respectively.
While it's never fun not to be able to contest the victory, I was satisfied with my performance, especially given the time of year and the training I'd done. Tonight - fiesta!
Men's Road Race Top-25 Results, 140km
1 Alien Garcia (Cuba)                       3.12.16 (43.689kph)
2 Rodrigo DeMello (Brazil)                     0.05
3 Reldys Perez (Cuba)                          0.06
4 Lizardo Benitez (Cuba)	
5 Eliecer Valdes (Cuba)	
6 Yosvany Falcon (Cuba)                        0.11
7 Arnold Alcolea (Cuba)	
8 Joel Mariño (Cuba)	
9 Adonis Cardoso (Cuba)	
10 Rainier Alvarez (Cuba)	
11 Damian Martinez (Cuba)	
12 Yeinier Lopez (Cuba)                        0.31
13 Luis A Romero (Cuba)	
14 William Leyva (Cuba)	
15 Marcos C Novello (Brazil)	
16 Serguei Viamontes (Cuba)	
17 Vicente Zababria (Cuba)	
18 Pedro Pablo Perez (Cuba)	
19 Lawrence Perera (USA)                       1.19
20 Joe Papp (USA)	
21 Quadri Hernandez (Brazil)	
22 Roman Pino (Cuba)	
23 Luis E Iglesias (Cuba)	
24 Yulien Rodriguez (Cuba)	
25 Armando Reis (Brazil)	
December 2, 2002 - post-Fiesta
Habana del Este, Cuba
Time for the beach
Photo: © Joe Papp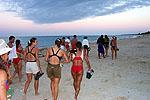 While there was no official party scheduled for after the race yesterday, Larry and I made our own when we headed out to the beach at Santa María del Mar with Lizardo Benitez, aka "Costa Rica," fourth place finisher in the men's road race. En route we stopped at a dollar-store and bought a bottle of Havana Club rum and a liter of cola for entertainment purposes…
Conga!
Photo: © Joe Papp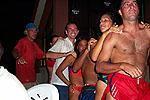 We walked down the beach and as luck would have it, ran into the Cuban national triathlon team. They were already celebrating the finish of their event, won by Yaccery Leal Lòpez, and the party was in full swing. We hung out on the beach with them and enjoyed the sunset, before moving over to their hotel for poolside shenanigans, swimming, a live rap show and - of course - salsa dancing. When they booted us out of the hotel, we walked to a roadside bar for more dancing. When they kicked us out of there, we crossed the street to another open-air club and danced the night away until 3:00am. What a life, and what a way to keep up relations between the pueblos of the USA and Cuba.
Jerry and Mike return to the States on Wednesday, but Larry and I stay on until Sunday December 8 for more training and another race on the "Guayaba." Whatever happens, I'm sure it will be interesting, as things always are here in Havana.