1966 Bordeaux rider's strike feature, August 18, 2006
There is power in a union
Like any other group of workers, cyclists are capable of industrial action to protect their rights. In 1966, cyclists flexed their trade union muscles to protest against mandatory drug tests and the botched way with which the tests were carried out. Les Woodland looks back on a chaotic, and ultimately tragic, period in cycling.
Anquetil after abandoning the Tour in 1966.
Photo ©: AFP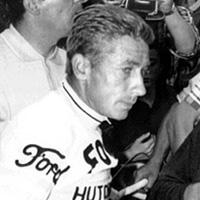 "Piss! Piss! Piss!"
Strikers' chants are rarely elegant but rarely this crude. In France, land of philosophy, the Enlightenment and Molières, it was this that riders in the Tour de France chanted 40 years ago this year as they pushed their bikes through the outskirts of Bordeaux.
Why? Because they had just been subjected to surprise drug checks. The law not simply of cycling but the French state said they had to have them and it was the police who descended to conduct them. Not for the first time, riders considered themselves beyond the law. It's worth remembering that to this day, four decades after Bordeaux, it's still the police and not cycling itself who have had the real effect on the drug issue in cycling.
There aren't many laughs in the Puerto investigation in Spain but in the Giro swoop of recent years we were at least entertained to tales of riders leaping out of hotel windows and hiding themselves in the shrubbery. And so it was that there was a bittersweet side to the events of 1966.
Raymond Poulidor in action in the 1966 Tour
Photo ©: AFP

The background is that France had followed Belgium in introducing a national law against drugs in sport. Belgian police had raided changing rooms and skidded to a halt on all the pills that riders threw from their pockets before they could be searched. At Bordeaux, the French police decided that the eve of the first stage in the Pyrenees would be a good time to make their own move.
The trouble was that word spread before they pounced. When they turned up in a hotel supposed to be full of riders, everyone had fled except for Raymond Poulidor. To this day he is amused by the moment.
"I was wandering through the hotel corridor when I came across these two men in plain clothes", he said. "They showed me their identity cards and they said 'Are you with the Tour?' I said 'Yes'. And they asked me 'Are you a rider?' I said 'Yes'. And they said 'Follow us.'"
The Tommy Simpson memorial
Photo ©: Sirotti

Now, the thing to remember is that in the mid-1960s, Raymond Poulidor was about the most recognised man in Europe, let alone France. His picture was in every paper, every magazine, and his duel with Jacques Anquetil on the Puy-de-Dôme two years earlier had captivated the cycling world.
"I promise you, it was just like that. They showed me into one of the rooms, I pissed into one of the bottles and they put a top on it without sealing it. Then they asked me my name and my date of birth, without asking me for any proof of who I said I was, and they left. I could have been anybody and they could have put anything in the bottle."
Raymond Poulidor on his way to a stage win
Photo ©: Mani Wollner

The riders who got off and walked in the Bordeaux suburb of La House on June 29 were upset by the principle of drug tests but they were angry about the blundering way they were conducted. Five riders had been ordered to give samples - Poulidor was the first ever to be tested on a Tour but Gilbert Bellone and Herman van Springel were among the others - and anger in the peloton exploded.
Jacques Anquetil, riding his last Tour, was among the stars in the front row of the strike. He and others were angry at the Tour doctor, Pierre Dumas, who had conducted a long campaign against doping ever since coming to the Tour in 1952. With the minister of sport, Maurice Herzog, he had helped prepare the new law. It was as riders saw Dumas that they demanded he too take a test. "Piss! Piss! Piss!" they shouted, for what right did doctors and officials have to ban riders from taking drugs that, for all they knew, the doctors and officials were taking?
jacques Anquetil in 1969.
Photo ©: AFP

As Anquetil put it, if Dumas had a headache, he could take aspirin. If he had a sore back, he could treat himself with whatever he chose. What right had anyone to tell a professional cyclist, who was only doing his own job just as Dumas was doing his, what he could or could not take to make his life less miserable?
The upshot of all this has an irony to it. Although several team managers were among those furious at the riders' conduct - the Frenchmen Louis Caput and Antonin Magne especially - the Tour's organiser, Félix Lévitan, believed it was managers and sponsors who had incited the riders to strike. It was the power of sponsors that led Henri Desgrange to ban trade teams in 1930; it was the pressure of sponsors that had overturned the highly popular national teams in 1962. The first to profit was Jacques Anquetil, who won three Tours in succession in the colours of an apéritif maker. The very same Anquetil who was leading the strike at Bordeaux.
Raymond Poulidor
Photo ©: AFP

Lévitan got nowhere with his inquiry into who had provoked the protest so he acted single-handedly. Next year he banned trade teams again and brought back squads of riders competing for their country. That inconvenienced the bigger nations but it was a godsend for smaller ones like Britain. Freed from his commitment to ride for colleagues in the Peugeot team that he wanted but wasn't allowed to leave, Tom Simpson pulled on a blue and red British jersey and set about winning the Tour de France.
Raymond Poulidor and Eddy Merkcx.
Photo ©: AFP

On Mont Ventoux he took pills from the phials that he kept in his back pocket. And he died just before the summit, the first and only doping death in the Tour de France.
Cause and effect? You can never say that. But had there not been a strike, there'd have been no national teams. With no national team, Simpson would still have wanted to win the Tour but he wouldn't necessarily have seen it as his one big chance. Next year is the 40th anniversary of his death. Yet still the doping scandals go on.