Maurice Garin feature, August 8, 2006
Cheating is nothing new in the Tour
All of the furore surrounding cheating in the Tour de France is nothing new. In the early days, riders were involved in devious practices that make today's Tour stars seem like choirboys. The first winner of the event, Maurice Garin, was disqualified the following year trying to defend his title for catching a train instead of riding his bike. Les Woodland puts the 2006 Landis affair into some sort of historical context.
50 years after the first Tour
Photo ©: AFP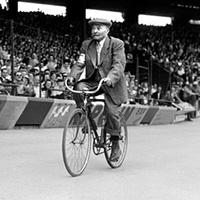 There's a historical irony in this Floyd Landis business. He'll be remembered, unless his lawyers can persuade us otherwise, as the biggest cheat in Tour history, the only man to have had his yellow jersey torn from his back.
But history will be wrong. The first big Tour cheat, Maurice Garin, would not only have failed any modern dope test but he also extended the concept of cycle-racing to include catching a train.
Nobody knows for certain that Maurice Garin waited at an out-of-the-way railway platform back in 1904. He wasn't caught with the ticket stubs in his pocket. But a while back I met a man, a gravedigger in Garin's home town of Lens in northern France, who knew him. The gravedigger was just a boy then and Garin an old man, but there was no doubt in the gravedigger's memory that Garin had admitted catching a train to skip round some tricky or boring bits of the course.
"He was amused by it," Maurice Vernaldé told me. "Not embarrassed, not after all those years, and he used to laugh and say 'Well, I was young…' and admit it. Maybe at the time he said he didn't, but when he got older and it no longer mattered so much…."
The first Tour winner
Photo ©: AFP

Garin was disqualified from the 1904 Tour, probably for catching a train when he should have been cycling. Why 'probably'? Because the French federation had grown alarmed at the uproar, enthusiasm and even anger that the Tour had created. This was the race, after all, in which riders were knocked off their bikes and even beaten up. Officials weren't going to do anything to make things worse and that included not publishing the findings of their inquiry. Just like what may happen to Floyd Landis in 2006, he was disqualified after the Tour was over.
Maybe the officials intended to say much later about what had happened but in time the filing cabinet full of papers disappeared. The original French federation vanished with the First World War and so, incidentally, did all the Tour's own records. They were placed in a van to be sent south to escape the invading Germans and were never seen again.
Paris-Roubaix winner 1898
Photo ©: Roger Thomas

Maurice Vernaldé wishes now that he had spent more time talking to Garin. But he was just a child at the time and he wasn't always happy to be sent to buy paraffin at the garage that Garin had on the edge of town. Garin was like many old men and couldn't - in the eyes of a young boy like Vernaldé - be stopped from rambling on and on with his memories.
More than that, Garin in his old age grew increasingly senile and towards the end of his life wandered through Lens reliving the Tours of years before. In the early Tours, riders were given route sheets and were told to sign register books in each big town to prove they had kept to the course. Garin would walk, mumbling, through the streets of Lens, growing ever more distressed, until finally he ended up at the police station to ask for directions for the 'contrôle'. He'd be patiently escorted back home again.
Remembered in 2003
Photo ©: AFP

Garin won the 1903 Tour and would have won the next year as well had he and a handful of others not been thrown out. Cheating was nothing novel to anyone in the field because, even if they didn't do it themselves, they were well aware that others were taking short cuts, being towed by cars (a wire fixed to a wing mirror and held between the teeth by a cork was a favourite trick) or even sitting inside them. Taking a train has to be seen in that context. And the fact that the Tour back then wasn't the Tour de France but just a Tour de France, a new race that nobody knew would grow into something special.
The alcohol they downed wasn't for cheating - not 'proper' cheating, anyway - even if it would have them thrown out of any modern Tour and into a modern jail had they been driving a car. Many an early bikie would have looked for the controls in a state as befuddled as Garin's. The only way they had to numb the pain and hunger of long hours in the saddle on unmade roads was to get themselves half-drunk on wine.
Italian-born Garin
Photo ©: AFP

When the excitingly-named Hippolyte Aucouturier was described as vulnerable in races, "because he drank too much", it wasn't because he rode with a bidon of water in his hand like Landis in his miracle stage of 2006. It was because he gurgled down more wine than his stomach could handle.
It did make some sense. Wine was the everyday drink of agricultural workers for whom the water supply was less than pure and alcoholism remained a problem in France right into the late 1950s. It was to combat excessive drinking that France led the way in banning sports sponsorship by drinks firms and the reason that teams like St-Raphaël (an apéritif) and Pelforth (beer) vanished so suddenly.
You can see pictures of old-time riders with wine bottles in their racks. In the absence of food stations or team cars, there are pictures of riders breaking into their 10-hour stages by sitting in a restaurant with a plate of food and yet another bottle of plonk. It was just the way it was.
After winning Paris-Brest-Paris
Photo ©: AFP

And it was the way it stayed until the 1960s. The Tour's organisers limited the water that riders could accept on the move. Anything they wanted above the limit had to be obtained from village pumps, springs or from helpful spectators. Or it had to be stolen from bars.
The chasse à la canette - the romantic name for jumping off your bike and running into a bar to steal any drink that could be picked up - was a shameful if colourful episode of Tour history that made for good pictures but a poor image. The big stars didn't do it but their domestiques did and they were expected to race back to the bunch to hand out whatever they had plundered.
Maurice Garin
Photo ©: Roger Thomas

Vin Denson, when he was a domestique for Rik van Looy, spoke English but only elementary Dutch and French. When van Looy bellowed "Denson… café!" in French, Denson knew his leader wanted a drink. Come the next bar, Denson brought van Looy a bidon. Van Looy, puzzled he hadn't been presented with a glass bottle, sniffed the contents and, with a wrinkled nose of contempt, poured the whole lot on the road.
"It was that day", Denson recalled, "that I learned that café meant not only 'coffee' but 'bar'."