Tales from the peloton, December 22, 2006
Cheats aren't meant to prosper
Rachel Dard, despite his name, was a man. Equally, to the French, George Hincapie should be a woman. It's Georges for a boy, George for a girl. The French language is like that. And so, that not unimportant detail cleared up, Les Woodland's tale can begin...
In 1976, a race in the south-western area of France became the scene of Peugeot rider Rachel Dard's downfall
Photo ©: Jon Devich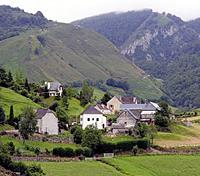 In 1976, Rachel Dard was a member of the Peugeot team. The manager, Maurice de Muer, had a spectacular history of doping offences. Of 70 positive tests between 1970 and 1978, two dozen were in his teams. One in three, in other words.
"I can't have eyes in the back of my head to watch my riders 24 hours a day," he once protested.
The Peugeot doctor, François Bellocq, was sacked as medical adviser of the French federation after being against drugs when he sat round the committee table but strangely enthusiastic about them when he took his suitcase to races. The team's star rider was Bernard Thévenet, who later admitted that his health had been ruined by the corticoids that he had taken for the two years in which he won the Tour de France.
"he filled a condom with someone else's urine, tucked it under his arm and connected it to a tube that ran out into his shorts"
- An old trick turned sour for Frenchman Rachel Dard
Dard, therefore, wasn't in the company of men from who'd you'd easily buy a secondhand car. He was, however, a promising rider eager to make a name for himself and at the start of the season he won a stage of a race in south-west France. Better still for Peugeot was that Jean-Luc Vandenbroucke was race leader.
In Dax, however, there was a dope test. Dard was picked by lottery but told not to worry because the doctor would turn a blind eye. Dard needed him to turn a blind eye because he had charged up for the stage, and so he filled a condom with someone else's urine, tucked it under his arm and connected it to a tube that ran out into his shorts. It was a common trick but it did need a little connivance by officials.
There was no connivance. The doctor was up to his job and Dard and another rider were caught. Dard was devastated. He would lose his prizes and his career was over before the season had properly started. He begged the doctor, Bruno Chaumont, not to turn him in. He begged so convincingly that Chaumont agreed to burn the reports.
But cheats are not meant to prosper. In an awful moment, Dard's mood switched from delight to doom. He realised that there may now be no positive reports to the federation but, equally, there were no negative ones either. Because there had been no test. He'd been caught before he'd filled the bottle. It was going to take a lot explaining if Chaumont got back to the French federation with bottles that Dard had left unfilled. He had gone from one sort of drug cheat to another - one who refused the test. There wasn't much to choose between the two. Except that there was now the further complication that, if the doctor arrived with empty bottles but no paperwork, it wasn't likely the doctor would say he'd lost the papers somewhere along the way. Dard's trickery would be bound to be revealed.
Dard raced back to the test centre to beg for the empty bottles. Chaumont had already left for the train to Paris. Dard got another Peugeot rider, Bernard Croyet, to drive him to the station and there they arrived just in time to see Chaumont disappearing towards Paris.
The two started a flat-out drive across France to get there before Chaumont. And there on the platform at Austerlitz station Dard begged until tears ran down his face. And Chaumont took out the bottles and smashed them.
Weeks, perhaps months passed. And then, quite separately from what had happened, the daily sports paper L'Équipe ran a story about dope-taking in French cycling. Chaumont had never got over the guilt that he felt. The story hit him hard and he went to the paper and told the tale. Fines and suspensions fell everywhere, including on Chaumont himself. Inquiries began, heads rolled, reputations were sullied.
Dard was a cheat but now he began seeing himself as a victim. He had nothing to lose, so now he too went to L'Équipe and spilled the whole story, right down to handing over the prescriptions that Bellocq had given him for dope.
Peugeot was in no moral position to fire him. But De Muer made sure he rode nothing better than third-rate events and, predictably, Dard left of his own accord. He didn't even try for another team. His career was over, as he predicted, before it had even started. He opened a bike shop in St-Germain-du-Plain in Paris and for all I know it is still there.