Rudi Altig feature, August 10, 2006
Clown prince of cycling
As an amateur Rudi Altig was better known for his feats of gymnastics than his cycling. It didn't take him long to make a successful switch from track to road, becoming one of the superstars of his new discipline. Les Woodland looks back on the career of the controversial German sprinter.
It's not every day that bikies stand on their heads at races and so, when it happens, such a fact ought to be mentioned.
Rudi Altig
Photo ©: AFP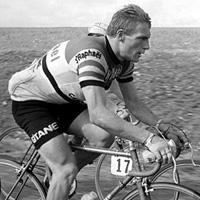 It was through his yoga tricks at track centres that Rudi Altig first came to be noticed. If a little relaxation was required, up he'd go, feet first, and he'd stay there until he felt ready to come back down again. Better than that, in La Rochelle he once walked out of a restaurant on his hands, a trick that others tried to copy but they succeeded only in crashing into other diners' tables and having all the loose change tumble out of their pockets.
Right now, with all this Jan Ullrich business, Rudi Altig must be wondering if he is still standing on his head. But first, some background…
Many nations have stereotypes and Altig fitted his well, the perfect image of the chunky German with fair hair and a square head. He was not only the country's big star of the 1960s but pretty much its only star. He held the yellow jersey for 18 days in four Tours de France and won 18 stages of the three grande tours.
As an unknown amateur, he rode a track meeting at Herne Hill in London in 1956 and, in the words of the organiser, "slaughtered a top-class field of international riders, with all our best home lads." Riding the summer track, though, had neither the glory nor, more importantly, the money that came from the road and so Altig rode the classics and stage races of Summer and then the six-day events of Winter. He moved to the road so smoothly that in 1962, as a sideline to helping Jacques Anquetil win overall, he took the green jersey and won three stages in the Tour. And he won the Vuelta.
There were times when power combined with tactical inexperience to bring problems for Anquetil, who was the greatest tactician of all. When Altig took the yellow jersey in the first stage of 1962, Anquetil bawled him out. Sure winning the stage had denied Rik van Looy a minute's bonus - the Belgian was the rider Anquetil most feared - but taking the yellow jersey had done nothing but put pointless pressure on Anquetil and his team.
Rudi Altig (St. Raphael)
Photo ©: AFP

It was as well that Altig wasn't too offended because Anquetil blew so badly when they rode the Trofeo Baracchi two-man time trial in Italy that November that Altig pushed Anquetil for 15km. And they still won. "Jacques wasn't happy and it didn't please him. But I wanted us to win. So I grabbed his saddle, I grabbed him by the shorts, and hop!"
Now, Altig likes to laugh. But above all, he likes to be recognised. He spent a long time at the head of international cycling - he was world champion in 1966 and second in 1965, remember - and he isn't shy about being interviewed by the Tour speaker, Daniel Mangeas. As a sideline to this story, Altig wears a hearing aid and, for all that he is happy to tell Mangeas of the great things he has done, the moment he walks away he curses the torrent of words that Mangeas pours out and the way his loudspeakers play havoc with his hearing aid.
Maybe it was being sidelined after all these years that made Altig so critical about Ullrich. He likes the man, he said during last year's Tour, but, "with him it's always the same thing: wait. He's like Dietrich Thurau [a glamorous but short-lived German hero of the 1970s], in that you can never tell him anything; he just does whatever comes into his mind. Jan gets 250,000 euros a month but brings nothing much to cycling."
A year later, with investigations going on into whether Ullrich has been dipping his hands into Spanish medical cabinets, Altig must be choosing his words with care. Otherwise pots are likely to be calling kettles black.
When Altig won the world road championship in 1966, he did it with the help of Gianni Motta, who was Italian and therefore a rival but also a member of Altig's trade team, Molteni. Claims of collusion were inevitable. But they were instantly overshadowed by what happened next: the leading riders all refused to give dope samples.
Altig with Alessandro Petacchi
Photo ©: Mani Wollner

Drug tests had only recently started in cycling and they had resulted in a strike in that year's Tour. Many guessed something similar would happen on the Nurburgring circuit and sure enough it did, with riders protesting that the tests were too amateurishly conducted and too likely to be wrong. But it went further than that. Many, led by Jacques Anquetil, believed that professional cyclists had a right to treat themselves in whatever way they chose. It was their living. Or, as Altig put it: "We are professionals, not sportsmen." He had also refused another test in Belgium, earlier in the year.
If the officials flapped, who could blame them? They had held a world championship to decide who would have the medals. Now the riders were, refusing to receive their medals. Nothing like it had ever happened before and the UCI didn't know what to do. It took ten days to decide that the best thing was to do nothing and so the results still stand.
Altig may have taken drugs or he may not. Only he knows for certain. The one thing we can be sure of is the one thing we can't be sure of: that we also just don't know. Which is the position we find ourselves in with Jan Ullrich and a very good reason, therefore, for Rudi Altig to choose his words with care.