Tales from the peloton, April 5, 2006
On course for Pro Tour 2009
Jonathan Vaugthers and his TIAA-CREF team are not settling for anything less than racing in the ProTour in 2009, a goal the former professional is working very hard to achieve. For 2006 the team has exploded in size, thanks to a new sponsor in Chipotle and a 'man behind the curtain' - an anonymous benefactor that believes this is the best way to secure America's future at the highest levels of cycling. Cyclingnews' Mark Zalewski takes a look at what that future may hold.
Jon Vaughters
Photo ©: Beth Seliga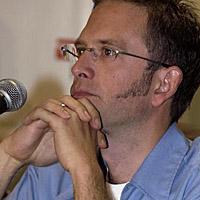 "There is not much to tell," said TIAA-CREF team manager Vaughters, maintaining the anonymity his team owner prefers. "He's a guy who is the team owner and wants to develop the next American ProTour team. He wants to enter the ProTour in 2009 and feels the best way to do that, as opposed to buying talent, is to actually nurture talent."
"Of course as we get closer to 2009 we will have to start buying certain riders to get us into a position to enter the ProTour, but at least for this year and next the priority is to get guys like Danny Pate and Brad Huff up to the point where they are good enough to be on a Pro Tour team, so that we can continue bringing this team up to that level. The core idea is going to remain - helping young American riders progress, as opposed to just buying our way in."
This private source, rumoured to have attempted purchasing the Cincinnati Reds recently, takes a lot of the usual pressure off Vaughters when it comes to securing sponsorship money from year to year in the fiscally-challenging world of cycling.
"TIAA-CREF is with us until the end of this year. But I'm imagining that will continue, and if it doesn't we are lucky enough to have private funding so that we can exist in a lot of different forms with a lot of different sponsors.
"The team will continue to become larger no matter who the title sponsor is. Chipotle is on until the 2008 Olympics so that is good. TIAA-CREF is the anchor and we would want to replace the anchor - but it's not a do-or-die situation, which is something that I've worked really hard to get over the past three years; where a sponsor can come and go but everything will still function normally," explained Vaughters.
Having a wealthy team owner bankrolling the team combined with the two major sponsors has seen the team's budget balloon considerably - it's now one of the biggest budgets in North America, second only to Discovery Channel.
"We are over twice what we were last year, and compared to 2004 we are more than seven times that budget. It's not going to me, surprisingly," he jokes. "When I sign that five million dollar sponsor contract then you can come by my big new house!"
Team management companies like US Postal's Tailwind Sports usually stay out of the limelight, and the same can be said for the company managing the TIAA-CREF team, Slipstream Sports. "The name of the company behind the team is something that I've never really advertised," said Vaughters.
"We run TIAA-CREF, the 5280-eSoles junior team and are considering branching out and doing a women's team in 2007," he said. The comparison to the US Postal team of the late nineties is a common theme running through Vaughter's program. "The way this team is set-up and the way it's run is very similar - based a lot on my time there and what I saw Lance doing. It's a model of how to get American riders in Europe on the biggest stage in the world; that model has worked, so we definitely emulate what that team was," he said.
Doing the double
Craig Lewis
Photo ©: Beth Seliga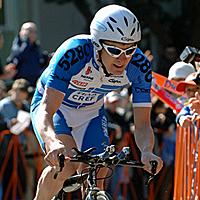 Another similarity to the old Postal ways is to run two teams on two continents, rotating riders back and forth based on need and training regime. "If you go back to Postal Service in 1997-98, it was a team that was mainly American riders and there was a lot of effort put in by team staff to get American riders up to speed. That kind of dissipated once Lance started winning because then the effort focussed on winning the Tour de France.
"So I am kind of trying to replicate that environment with the whole European-American double programme - how they took American riders and slowly notched us up as we went to larger and larger races," he said. "Now sure, the average here is considerably younger than what Postal Service was then, but the model is similar. We are doing slightly smaller races and keeping it more real for the younger riders."
"It's been very challenging to run a double program. It's not like, 'Hey, let's go over to Europe for three weeks and say we did racing in Europe'. We are over there the entire year. What we are doing is rotating riders in and out. We throw them in six-to-eight week stints over there - put them in and pull them out depending upon what our needs are at the time. It ensures the guys are doing the races that are suited to them all the time."
Leading the racing over there is veteran American rider Johnny Weltz, another link to the early US Postal days. Weltz served as team director in 1997 and 1998 and brings a lot of European experience to the team - both on and off the bike.
"We have two soigneurs full-time, two mechanics full-time, and a director with Johnny Weltz in Europe. They are running over 100 days of competition over in Europe. About 70 percent of the competition we do is in France, although the team is based out of Girona, Spain, where Johnny lives," says Vaughters.
Team TIIA CREF
Photo ©: Régis Garnier

While running two teams so far apart is quite challenging, Vaughters sees it as the only way to developing the next Lance Armstrong and the next American ProTour team.
"The idea with this team has always been to produce the next Lance Armstrong - it's a developmental team. You can't do that by doing the Hoboken criterium series ... to accomplish the mission of bringing American riders to the point where they can race the Tour de France, we have to go to Europe. It's that simple - we have to be there all the time. And we hope that the media picks up on that enough to justify it for our sponsor," he said.
Brad Huff (TIAA-CREF)
Photo ©: Régis Garnier

Now that TIAA-CREF is fairly well entrenched logistically across the pond, the developing can begin, albeit slowly. "It's not a matter of paying dividends so far. We are just trying to get the guys up to speed. It's March, so the guys are still in the sink of swim mode as far as racing in Europe is concerned.
"Obviously, having our first win in Europe with Brad has been a pretty motivating factor - it's like, 'Yeah, we can win here. Can we win the Tour de France? No! Can we win these other races? Yeah!'"
The win Vaughters refers to is Brad Huff's sprint finish win in stage one of the 2006 Tour of Normandie, something he said is the biggest accomplishment in the three years of the team. But the biggest surprise so far this year is a young rider on the team, even by TIAA-CREF's standards.
"Tom Peterson being just now 19 years old is a nice surprise - his performances at Tour of California and the overall level he is at is a big surprise for everyone. I was taking him on as a young rider we could send to races here and there, but he grew to be as strong as anyone on the team and with his young age that is a good omen for the future. He's going to Tour de Georgia as well. Having done Tour of Merced and Tour of California - and he seems to be getting better, as opposed to most 19-year-olds, who would be fried - it's pretty impressive to watch him develop forward." said Vaughters.
A little respect
Jon Vaughters looking good
Photo ©: Beth Seliga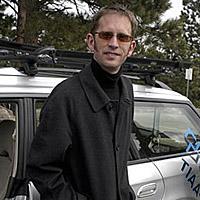 One aspect of European racing for many Americans, teams and individuals, is the sometimes cold response they get as Americans-in-Europe, even more so for a team made up of mostly unknown 'kids'. But Vaughters said his team has not had any problems integrating into the European peloton; quite the opposite at times.
"Honestly, we haven't had a problem. People liked our team over in France immediately, and I don't really know why. At the Tour de l'Avenir last year the ASO went out of their way to make it easier for us ... Jean-Marie Leblanc and Christian Prudhomme spoke with me at length about how pleased they were to see a young American team coming up.
"I mean, we have far more invitations than we know what to do with - we can't race all the races we have invitations to. So far the race organisers have been great and I really don't know why, but the team has a really good reputation over there.
"We almost feel like we have a responsibility to live up to the image we already have! That's almost more pressure than having to prove yourself," he said.
"He said, 'This is where it's going to have to happen if American cycling is going to survive past the next two or three years, otherwise it'll just wither away.'"
-Vaughters recalls Johan Bruyneel's reaction to the TIAA-CREF program
As far as reactions directly from the peloton, Vaughters pointed to the Tour of California for an example. "Dave Zabriskie payed us a really nice compliment, saying that we were the only domestic team that took charge of the race. Of course the guys paid dearly for having done that, but they were in the race, were aggressive, in the breakaways - we weren't waiting for the race to happen."
Vaughters' departure from the US Postal program was probably the last time he interacted with the people there beyond a wave - including Johan Bruyneel - until the Tour of California this past February.
"It's funny, at the Tour of California I sat down and had a drink with Johan Bruyneel which was sort of a peace pipe - it's been a long time coming and I haven't really spoken with him a lot since I left the team," he said.
"And he was really glad that a team like this exists in the US. He said, 'I don't understand why there aren't other teams like this that are focussed on young riders. This is where it's going to have to happen if American cycling is going to survive past the next two or three years, otherwise it'll just wither away'.
"He said, 'It seems like everyone else is just focused on just winning the races here and not in long-term investment in American riders'. Ever since then, it's kinda funny, both Johan and Lance have been supportive of what we are doing here. I'm really surprised by it and really flattered by it."
Team TIAA CREF
Photo ©: Régis Garnier

With so much time spent racing in Europe, racing back in the States is more a rarity, and interaction with the full-time domestic teams is also a consideration.
I asked Vaughters if racing here has changed now that the team is based more across the Atlantic. "I think we are competitive with the top teams like Health Net and Toyota-United. Are we better than they are? No, not yet. But with time, I think we will be, without question.
"Our guys are a lot younger and they are being trained by some of the brightest minds in the world and are racing over in Europe, so over time we will surpass those teams. But that's not the objective, so there isn't any great pride in that.
Team TIAA-CREF
Photo ©: Régis Garnier

"The objective is to enter the ProTour in 2009. If you look at it in that perspective, we are a long way off. There is no reason to be confident about anything at the moment. If your objective is to be a Ferrari, and you are gaining ground on a '73 Nova doesn't mean that you are cool!"
In addition to Vaughters' self-proclaimed bright mind leading the team, along with Johnny Weltz in Europe, the team employs well-known physiologist Alan Lim full-time, allowing him to only work with Floyd Landis outside of the team.
"Floyd is the only athlete I would let him work with outside of the team, so that he can learn from Floyd and pass it on to the guys on the team. He has been enormously helpful, especially with the team pursuit part of the team."
On 'track' for 2008
"Those four guys are as physically strong, or stronger, than the British or Australian teams."
-Vaughterson TIAA-CREF's track pursuit team
Beyond the main goals of developing the next Lance and the next American ProTour team is to develop American track cycling - a goal that Vaughters feels will serve the first two objectives as well.
The TIAA-CREF team pursuit squad consists of Mike Creed, Michael Friedman, Brad Huff and Danny Pate. In their first go-around (literally) at the Los Angeles World Cup, they qualified in seventh place, and are hoping to improve for the world championships.
Team TIAA-CREF
Photo ©: Mitch Clinton

"After these next races, they hop on the track and try to go fast for the world championships. It's just a matter of them putting it together on the track. The horsepower is there but they are still a little sloppy in their technique. They are really fast, but it's just they are hit or miss.
"Those four guys are as physically strong, or stronger, than the British or Australian teams. So if over the next two years we slowly mould them and teach them the finer art of track racing, they should be able to produce an Olympic medal. For the time being I just want them to do it here and there - not get overly focused on it because I see it as an occasional thing, and by the time 2008 comes around they will have been on the track a lot and be ready to go. I think racing in Europe is going to make them fast on the track anyway, and vice versa."
The next big race in the US will be the Tour de Georgia, where Vaughters expects the team to be as competitive as any other team this year and even more in the coming years.
"We are going to the Tour de Georgia again, and are we going to beat Health Net and Toyota-United? Nah, probably not. But we'll be competitive. In time, with hard European racing, these young guys they will be able to surpass and replace the more experienced riders on the American scene. The question is whether they'll be able to surpass the older riders on the ProTour scene."
And with the results the team has had recently, Vaughters is having fun thinking of his options for races like Georgia.
"I keep wondering if I should bring Brad Huff back in time to do Tour de Georiga, because he would just barely make it back after track worlds and only have a day before Georgia.
"But it would be fun to throw him in with the sprinters of that level - like McEwen, Boonen or the the other top guys that might be doing Georgia. But I want him to win a medal on the track most."
(Note: Cyclingnews.com is a supporting sponsors of TIAA-CREF.)
Also see:
January 9, 2005 feature: Jonathan Vaughters looks back at his first year as a team director