Tales from the [dusty] peloton, February 14, 2006
Nothin' to do but hit the dirt
Road riders found lurking at MTB race
Three former riders of the Belgium-based Team Cyclingnews.com found themselves on the same parcours last weekend, but this time it was the heat and dust of an eight-hour endurance MTB race in Lithgow, 150km west of Sydney, Australia. Gerard Knapp caught up with the trio to find out why they were there.
No more secret training
Photo ©: Gerard Knapp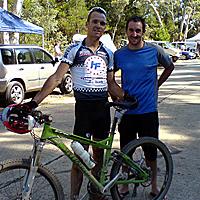 Nathan 'Chookman' Russell, Cody Stevenson and Josh Fleming were all racing in the first round of the RaceTech Working Week Series of endurance events held throughout NSW. For Fleming, it's not such a surprise given his credentials as a mountain bike racer - he's part of Australia's MTB squad for the upcoming Commonwealth Games - but it was a first-time experience for both Russell and Stevenson. Further, neither of the former team-mates knew they'd be racing in the same event - so much for any secret training.
And how did these experienced roadies find it? Well, harder than they thought it would be, particularly for Russell and Stevenson, who raced in the 'solo' category. But still, Stevenson finished sixth in the hardest men's group, while 'Chookman' came in 10th.
Ironically, the more experienced MTB rider - Fleming - teamed up with Ken McMillan and Julien Redmond to take out first place in the 'mixed three' category. Fleming said he used the event as a kind of interval training; this approach was confirmed by his 'lap' times - he knocked off each technical, 11km circuit in 32 minutes and took a break while his two team-mates rode their laps before returning to ride another 32-minute circuit. By comparison, the fastest lap time of the solo male category winner - Dennis van Mill - was over 35 minutes (see full results).
Tales of cramp and dust
Josh Fleming, a former Team Cyclingnews road racer
Photo ©: Gerard Knapp

The experiences of Stevenson and Russell reveal what appears to be a common problem for road cyclists who enter a long MTB race - the constant demands of a technical course plays havoc with an upper body that's used to being somewhat more passive in a road race. Both experienced cramping, and of course, there's no drafting. Stevenson said his average heart rate for the event was around 153; higher than what he'd experience during a normal Belgian road race; but in those events the final two hours can spent at close to the maximum while the preceding hours will be conservative bunch riding.
But overall, they thoroughly enjoyed the experience. Stevenson said he was desperate for a long hit-out in any kind of competition. Apart from high-profile events like the Australian Open and Jacob's Creek Tour Down Under, it's crit and track season in Australia. Consequently, he has also entered the local track derby called the 'Clarence St Cup on Wheels', again in search of a good hit-out. This year, the sprinter is staying local and riding for the Australian Continental squad called FRF Couriers - Caravello, a merger of two prominent domestic pro teams in Australia. The team's programme includes racing in Australia, South Africa, the Pacific, as well as the UK and Ireland (see related feature for details).
As for Russell, he was also there waving the flag for icycle, an emerging fitness business set up by his wife, Veronica, that offers a new twist on the indoor spinning class, such as full-tilt time trials using flat-bar Avanti road bikes set up on Elite mag trainers.
The tribe, it gathered...
Photo ©: Gerard Knapp

The appearance of these experienced road cyclists demonstrates how the MTB endurance events are finding broad appeal to many cyclists. Among the field, ability levels can vary from the elite through to the ambitious newbie, but the racing is done in a good spirit and the last competitor was applauded off the course (or perhaps they were relieved the presentations would soon commence). There were several categories of riders in the event, allowing riders to participate in teams given names like 'Does my bottom bracket look big in this?' and 'Go to bed Jessica'. In fact, nearly all entrants raced under pseudonyms that said more about the fun aspect of the event.
Also, most competitors waited around for the prizes, unlike the average country road race where usually only the winners and place-getters (and their friends and family) remain. With over 300 entries in Lithgow, the fields for these events keep increasing and the roadies agreed it had a different, more relaxed atmosphere to the average road race, with more emphasis on socialising and participating.
For more information on this MTB endurance series, see the Working Week web site. To learn more about the former exploits of Russell, Stevenson and Fleming racing on the roads of Europe - including Chookman's entertaining race diary - see the Team Cyclingnews section.
Photography
For a thumbnail gallery of these images, click here
Images by Gerard Knapp/Cyclingnews.com
Images by Grant Donnelly and Rob Parbery/http://singlespeed.smugmug.com