Tales from the (tattooed) peloton, February 10, 2005
Maori homage a bust
Webcor drops ultimatum on David Clinger
Webcor's new sprinter David Clinger is making waves this year as the first professional road racer with a full-face tattoo. Clinger recently had the upper half of his face tattooed in a traditional Maori war-mask, a decision that Webcor did not support. Instead, Clinger was ordered to remove the tattoos or be sacked from the team, as Cyclingnews' Ella Lawrence reports.
Once was David Clinger?
Photo ©: Rufus Staffordshire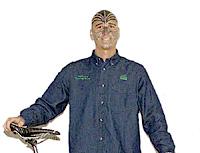 A little early in the season for scandal in the domestic peloton? Not really. 2005 has already seen the controversial termination of Matt Decanio from Kodak Gallery/Sierra Nevada for his 'anti-doping stance' and Webcor's near-sacking of their shining new star David Clinger.
Why would any team want to fire such spectacular talent? The sprinter who raced with Mario Cipollini on Domina Vacanze last year has gotten himself quite a new look for 2005. To be precise, his entire head is covered in tattoos modeled after the traditional Maori (the indigenous people of New Zealand) war-mask, and Webcor's management just doesn't think that's okay.
"Well, he has this full-face tattoo!" Webcor consultant Frank Scioscia exclaimed to Cyclingnews. "After having discussions with key sponsors, team management had to come to a resolution to decide if this is the image they want presented. Not all sponsors speak universally, but consensus lists that that's not why they're affiliated with pro cycling. 'Bad Boys' are not conducive to the sponsors' reasons for wanting to be involved with the sport. There's a certain level of decorum associated with being on the team. But the team isn't hanging David Clinger out to dry, we believe in him as an individual and as an athlete. We're trying to help him be a member of a productive team."
So to keep his job, Clinger must endure tri-weekly sessions of laser tattoo-removal, the first of which began today. In his friendly, soft-spoken way, Clinger reflected on what today's session was like. "Getting the stuff done with the laser was not too bad," he told us. "Today was the first time, and it only took 10 minutes. They put on a numbing cream before. I started without numbing cream, and it was kind of a longer burn. The cream cools the skin down. Friday is my next session, and I'm not looking forward to it. I'm in pain a little bit. My face is redder, and raw to the touch, [the laser] actually cuts the skin, it burns it. You can see the laser but I didn't look."
Clinger has been kept painstakingly out of the media's eye by team management, on the grounds that his 'bad-boy image' will be detrimental to the team's sponsors. He was flown promptly back to his parents' home near Los Angeles after collecting his bike at Specialized, missing Webcor's training camp while the team's managers decided how to handle the situation.
"He has to exhibit a certain level of professionalism off and on the bike," Scioscia explained. "We don't have a clear bright line [as to when Clinger's race season might begin]. We're trying to work with him as opposed to simply canning him, [but] it's upsetting. I'd rather talk about how we'll succeed in being competitive with other organizations rather than talking about David's tattoo. It's a distraction to the sport."
David Clinger
Photo ©: Rufus Staffordshire

A tattoo is a hugely personal choice, and shouldn't Clinger be allowed to make those choices for himself? "I don't know," sighed Clinger. "I guess they have got issues. All I did was change the colour, the pattern of my skin. It's different, so they're judgemental. They're not looking at [the] speed [of a racer], the dedication of somebody, but just how they look."
Webcor team manager and racer Ted Huang commented on the team's policy: "When any cyclist dons a matching jersey, that's an image, a duty to the sponsors. If you're completely distracting from that image, that's not in the sponsors' best interest."
Clinger added, "I didn't think I'd have to ask the team beforehand! Sure, everyone wears the same clothing. Telling me what colour I can't dye my skin, that's the highest form of racism right there. People are divided in to countries by their jerseys, into cities as well, and that's bad enough right there. People are segregating, and not liking others because of where they live, and they're judging me on the way I look now."
Scioscia will not be moved. "It's fine if it's not a distraction from what you're trying to achieve, maybe a tattoo in a different place...the sponsors are trying to get their names associated with a certain perception of excellence. Does David's tattoo distract from that perception of excellence? YES. If Webcor wanted an edgier image, maybe they would sponsor a mountain-biking or a skateboarding team. But that's not who they choose to associate themselves with."
So Clinger is having the tattoos removed. Or most of them, anyway. Clinger didn't have the lower half of his face filled in when he got the tattoos a few weeks ago in Argentina (where he resides with his fiancée), because he'd an inkling that team management might not be too keen on his new look. The laser surgery is taking place only on the lower-half of his face; the already filled-in black patterns on his forehead and scalp will stay, the 'offensive' designs being easily covered by his helmet and sunglasses.
Clinger seems quite laid-back about removing the painstaking work that took twenty hours total time (he spent eight hours one day and twelve full hours another in the tattoo artist's chair), and further inquiry leads me to believe that the tattooing was as much about the process as it was the final effect for him.
When asked about what his friends and family think about his indelible homage to traditional Polynesian culture, Clinger replied calmly, "I didn't do it for anyone but myself. I was in different countries, listening to different languages, and I had a bunch of tension in my face. It helped relieve it, the tension. I'd done acupuncture in my legs before and I knew it helped me there."
Until the laser surgery is completed, Clinger will be under the radar at his parents' home in L.A. "The managers want to keep up to date on when I can start racing," he told us. "I've basically got two months on my own to decide what I want to do. The doctor's got to test my skin and then he'll know [when I can race]. If it takes two or three months to complete the surgery, that will be a problem but if we can get it done in one month I'll be okay to race at Redlands, Sea Otter."
If all goes according to plan, Clinger will hopefully be crushing the competition in his Webcor jersey for the team's target races in June, July, and August. For now, he's hanging with his childhood friends and putting in 4-5 hours a day on the bike. The Postal Service veteran is a seemingly shy 27-year-old, who comes out of his shell the most when I compare the pain scales of my tattoos. He interrupts my next question to ask me to describe in detail the large piece on my stomach, and murmurs, "Wow, that's really cool. That sounds really great." Just then (and much to his chagrin), Clinger's mother picks up the telephone extension in an attempt to get her son off the phone with the media. We end with the comment that indeed, mothers will be mothers, and I tell Clinger I'll look forward to meeting him at Sea Otter.
According to Clinger's Webcor teammate Andy Jacques-Maynes, "Hey, pro's are people, too!" a statement that rings clear as a bell in the face of David Clinger's inking adversity.
Also see: Webcor meeets in Menlo Park: Training in the Californian winter sun